Editor's note: This is the 17th in a 30-day series highlighting high school football teams in the Acadiana area. Up next are the Notre Dame Pioneers.
WHAT WE KNOW
It seems like it would have happened by now, considering the insane amount of success the Notre Dame High football program has had in the 22 years Lewis Cook has been in charge. 
By now, you would think, the Pioneers would have repeated as state champions at least once. Two of the program's six championships would have come in back-to-back seasons, right?
Not quite yet, however. The opportunity to defend a title — a 42-21 win against rival Catholic-New Iberia in the Division III championship in December — is another reason for the fourth-winningest coach in the history of the state to get excited for a season. Cook doesn't harp on it with his players, he said, but it's a challenge they embrace nonetheless. 
Notre Dame has been close to going back-to-back under Cook, who won a title at Crowley in 1989 to go along with his four championships with the Pios. They finished as the runner-up three years in a row from 2003-05, then finished as the runner-up again in 2008 before winning it all in 2009. They lost to Catholic-NI in the 2017 Division III title game before getting revenge on the Panthers in 2018 championship. 
But the quest to repeat could be a bit different this year — in a good way. 
Cook hasn't had a returning starter at quarterback the year after winning a championship since his son, Jeff, was manning the position in 2001, and Jeff got hurt midway through his senior year, which ended in the semifinals. 
Ben Broussard returns for his senior year as the clear leader of the 2019 team. His mobility made the Notre Dame offense truly dynamic last year, but he can certainly beat you through the air. Broussard has returning starter to throw to in senior wideout Jack Faulk, who Cook said has plenty of potential.  
All-state running back Noah Bourgeois, one of the best running backs to come through the program in recent memory, left large shoes to fill. But his backup last year, senior CJ Thibodeaux, has massive potential. Cook admits plenty will be placed on the 6-foot, 220-pounder's shoulders, but he's embracing it. Thibodeaux will have a veteran blocking for him in returning starting fullback Gabe Menard. 
On the other side of the ball, the experience in the front seven, particularly on the defensive line, should have defensive coordinator Jimmy McCleary resting easy.
Three linemen return, defensive tackles Joe Pommier and Daniel Gielen and defensive end Tylan Turner, as well as linebacker Gabe Link. A fourth linemen, defensive tackle Kane Link, started games last year as well. McCleary's two sons, Ethan and Dylan, are senior projected starters at defensive end and linebacker.
So at the very least, the Pios should be salty in the trenches. 
WHAT WE DON'T KNOW
Despite graduating 23 seniors, Notre Dame welcomes back nine returning starters total, which is a higher amount than usual for the Pios. Some of those returning starters come in key position groups, like the aforementioned offensive backfield and defensive line.
But one area where the Pios have less experienced is on the offensive line, though Notre Dame is bigger there than it was last year. Tackle Ben Robicheaux is the only returning starter and three other seniors are projected to start. Cook said he is also pleased with the development of junior center Boyd Gray. 
Tight end Joe Brown is also a new starter and he has big shoes to fill in replacing all-district tight end Thomas Bellard, who proved to be a valuable weapon for the Pios last year down the stretch. 
Another green group is the secondary, which doesn't return any starters and loses all-state safety Jacob Dore. The safeties are mostly new, Cook said, but strong safety Dom Thibodeaux "is as good an athlete as we have back there." 
Cook also has to replace an all-state kicker in John William Lamm, but Lamm's replacements do have experience. When Lamm went down with a quad injury during the regular season meeting against Catholic-NI last year, Blane Zaunbrecher took over the punting duties, and Lucas Simon, as a freshman, showed no nerves as a place-kicker. 
HOW WE SEE IT
MaxPreps recently named Notre Dame the ninth-most dominant football program in Louisiana over the past decade, having won three state championships (2009, 2015 and 2018) and been the runner-up twice (2012 and 2017). The Pios finished in MaxPreps' Top 25 state computer rankings six times. 
But the dominance goes further than MaxPreps' criteria for the list, topped by John Curtis Christian and featuring Acadiana High at No. 5. Notre Dame hasn't lost a regular season game in nearly five years. 
That's right. Since losing to Catholic-New Iberia 56-28 on Oct. 2, 2014, the Pios have ripped off 44 straight regular-season wins. The streak is actually longer than the total amount of games Cook has lost (37) in 22 years at Notre Dame. 
But in reality, all the triumphs in the regular season and title game appearances — the Pios have now reached the final 10 times under Cook — doesn't make winning it all any easier. 
Especially not two years in a row. With so many upperclassmen contributing on a yearly basis, the Pios deal with turnover regularly.
Health is always a factor, and injuries have hindered the Pios' chances of repeating before. But if Notre Dame can stay healthy, the greater-than-normal returning contributors should give Cook's squad an excellent chance of going back-to-back. The addition of St. Charles Catholic and Lafayette Christian to Division III makes that playoff bracket even tougher, but history is certainly on the Pios' side. 
Whether Notre Dame can keep that regular season streak alive is a different question. Aside from LCA being in the Pios' league now, the nondistrict slate offers plenty of potential stumbling blocks, including matchups against a pair of Class 5A schools in Comeaux and Sulphur. 
MARQUEE MATCHUP
Oct. 17: versus Lafayette Christian
Notre Dame has not been challenged often during district play over the past two years, even with non-select Class 2A power Welsh as a league member. But with a supremely talented LCA program moving up in class and jumping into Notre Dame's district, the Pios could see their stiffest league test in years. 
This will also be a battle of two teams who have each lost only one time over the past two years. The Knights' lone loss came in a regular season meeting against Vermilion Catholic in 2017, and they later avenged that loss in the semifinals on their way to their first state championship in school history. LCA then posted a 14-0 record last year en route to defending its Division IV title. 
COACHSPEAK
After passing Don Shows last year on the Louisiana high school football coaches' all-time wins list, Cook needs just 10 wins to pass Alton Franklin to move into third place. When Cooks jumps into third place, two of the top three spots on the list will be occupied by Acadiana-area coaches. St. Thomas More's Jim Hightower is in second place with 431 wins, behind only John Curtis' J.T. Curtis (583 wins). 
NOTABLE NAMES
QB Ben Broussard, 5-6, 150, Sr.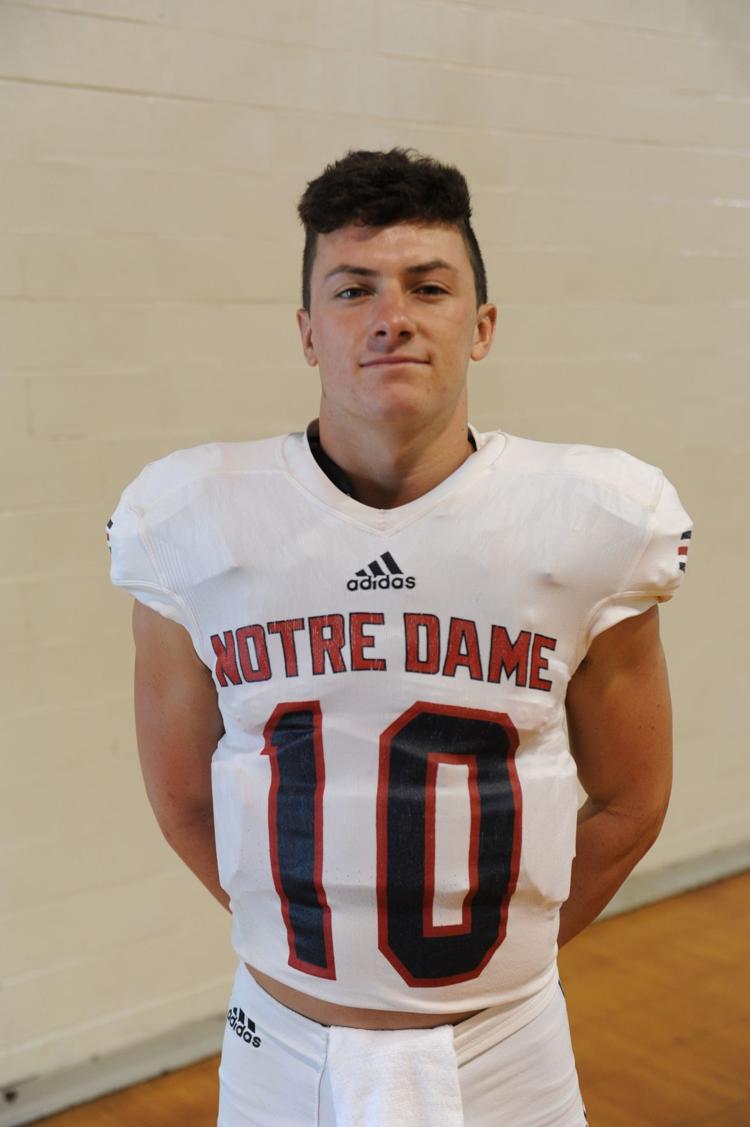 Broussard is the first returning starter Notre Dame has had play quarterback since Joe Faulk in 2015, but Faulk actually played another position during his junior season. Moreover, the Pios haven't had a quarterback returning the year after a championship since Cook's son, Jeff, was under center in 2001. But Broussard's ability is just as noteworthy. He's the perfect fit for Cook's offense. He excels with his legs, but his timing and accuracy make him a threat through the air. He commands the respect of his teammates, too. 
RB CJ Thibodeaux, 6-0, 220, Sr.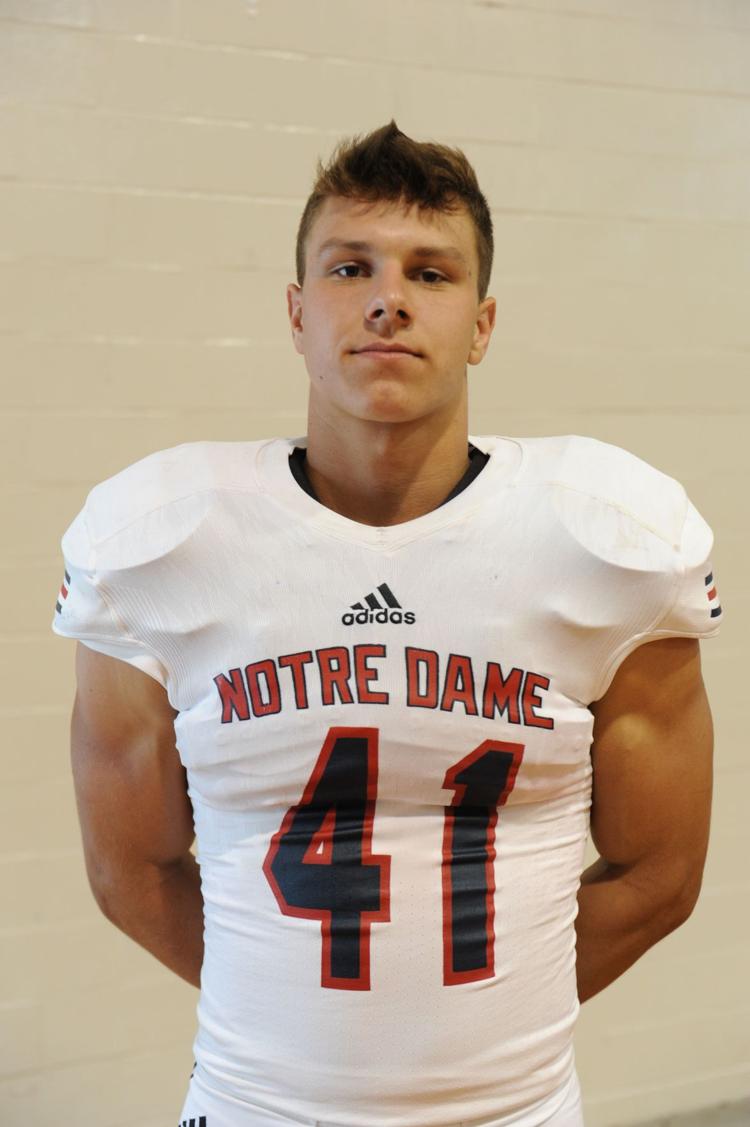 If you're going to replace an all-state running back like Noah Bourgeois, who ran 1,789 yards and 25 touchdowns as a senior, it helps if his replacement has been playing since he was a sophomore. Notre Dame has that in CJ Thibodeaux, who was the thunder to Notre Dame's thunder and lightning rushing attack last year. Cook admits there's going to be plenty placed on Thibodeaux's shoulders, but he said Thibodeaux is embracing being the Pios' workhorse.
DT Joe Pommier, 5-10, 190, Sr.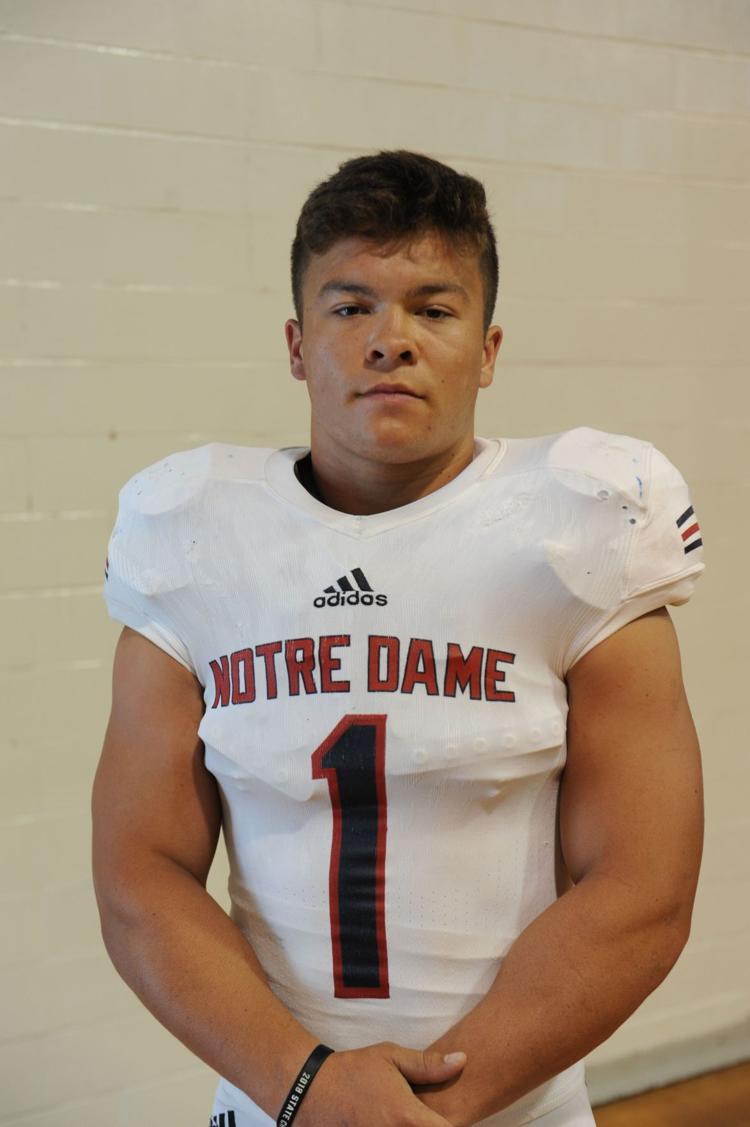 Cook coached Pommier's father, Brad, at Crowley, and despite Brad's lack of size, no one could block him. Joe, an all-district first-teamer as a junior, is the same way. The 5-foot-10, 190-pounder isn't exactly slight, but he shows great strength for his frame and is tough for opposing linemen to handle. As Cook points out, quickness and power can be more important than size in football, and Joe certainly has that.
LB Gabe Link, 5-10, 200, Sr.
After Cody LeBlanc earned first-team all-state honors as a senior last year, Link could be the next star in the middle of the Pios' defense. Link battled through an injury last year, but Cook lauded his speed, toughness and feel for the game. He fits the bill of a Notre Dame linebacker and will be key to grooming the less-experienced linebackers beside him. Depth is somewhat of a concern for Cook in that position group.
TE Joe Brown, 6-2, 225, Jr.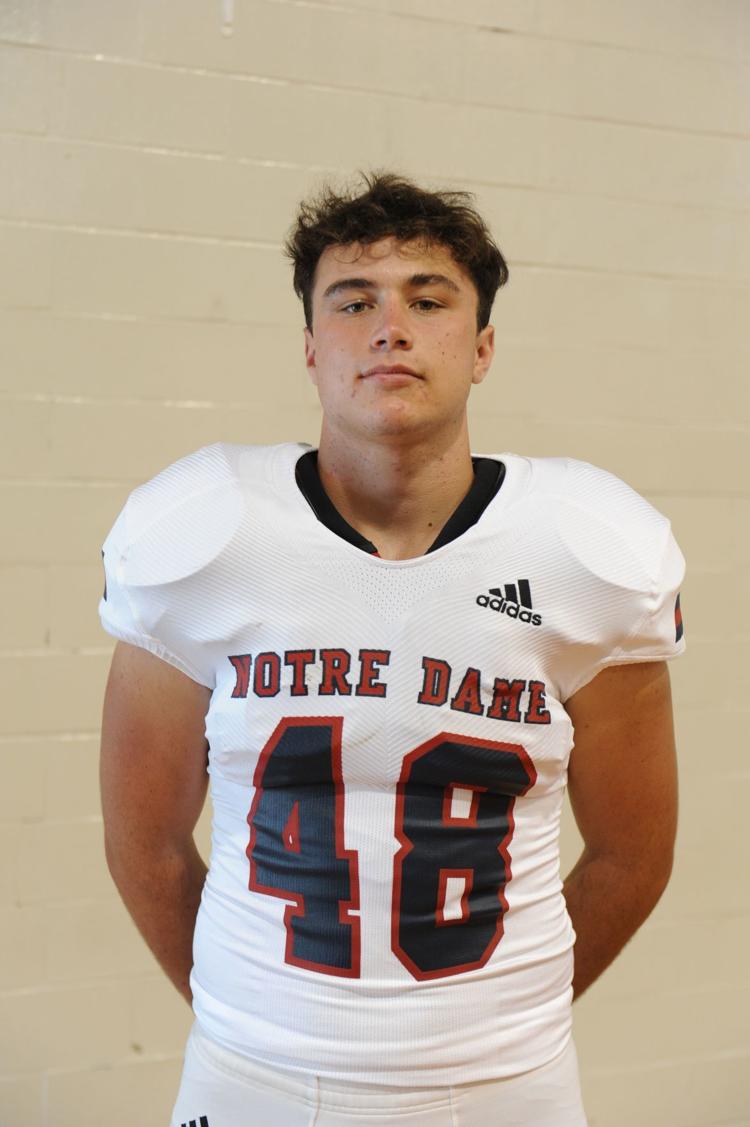 Cook calls the contributions of tight end Thomas Bellard last year a "blessing" and "more than we ever expected." So replacing Bellard will certainly be a challenge, but Brown and Sebastian Roche appear to be capable. In the case of Brown, he looks the part of a tight end, but Cook also commended his speed and hands. Cook is hoping both tight ends become weapons once each gets more experience.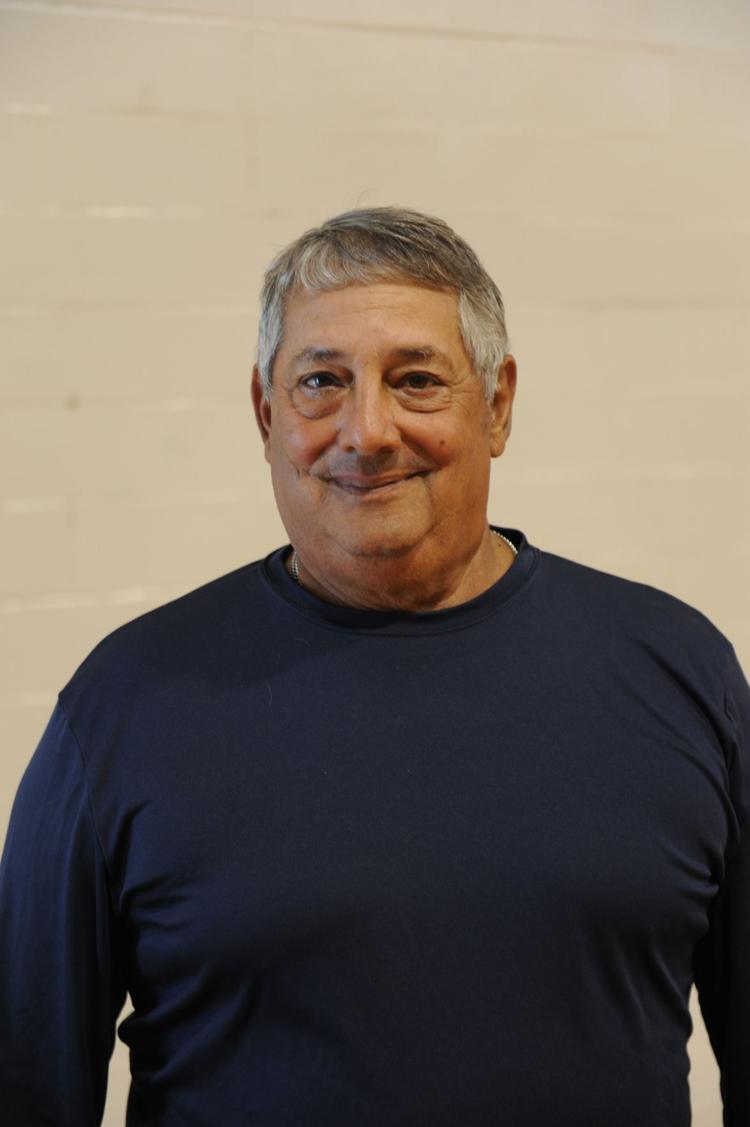 Head coach: Lewis Cook
Record: 357-82 overall; 257-37 at ND
2019 SCHEDULE
September
6 Church Point
13 SULPHUR
20 COMEAUX
27 Teurlings Catholic
October
4 KAPLAN
11 Welsh*
17 LAFAYETTE CHRISTIAN*
25 Central Private
November
1 LAKE ARTHUR*
8 Port Barre*
*--denotes district game
HOME GAMES ALL CAPS
2018 REWIND
Overall: 13-0
Beat LaGrange 35-14
Beat BREAUX BRIDGE 40-28
Beat TEURLINGS CATHOLIC 28-14
Beat Catholic-New IBERIA. 49-0
Beat Kaplan 20-6
Beat KINDER 49-3
Beat Lake Charles Prep 35-21
Beat Ville Platte 49-0
Beat WELSH 57-0
Beat Lake Arthur
Playoffs
Beat EPISCOPAL 41-0
Beat NEWMAN 48-21
Beat CATHOLIC-NEW IBERIA 42-21  
PAST FIVE SEASONS
2018: 13-0 (state champion)
2017: 11-1 (state runner-up)
2016: 12-1
2015: 14-0 (state champion)
2014: 9-3
Key losses: RB Noah Bourgeois, WR Kizer Lamm, TE Thomas Bellard, OL Alex Roy, K John William Lamm, LB Cody LeBlanc, DB Jacob Dore, CB Stephen Cormier, CB Kane Bergeron.
Base offense: Multiple I
Base defense: 4-3
PROJECTED STARTING LINEUP
Offense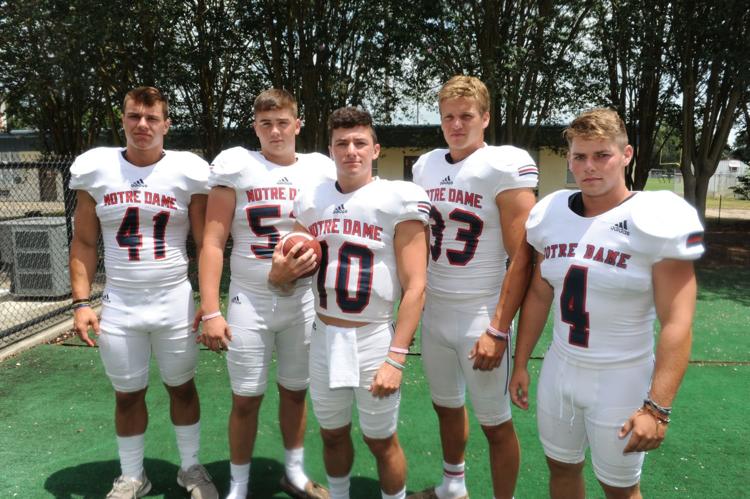 WR Jack Faulk (6-0, 190, Sr.)* 
WR Barrett Harriington (5-10, 160, Sr.)
TE Joe Brown (6-2, 225, Jr.)
OT Nyles Billy (6-1, 240 Sr.)
OG Hayden Istre (5-10, 270, Sr.)
C Boyd Gray(5-11, 215, Jr.)
OG Brian Francis (5-10, 255, Sr.)
OT Ben Robicheaux (6-0, 210, Sr.)*
QB Ben Broussard (5-6, 150, Sr.)*
RB CJ Thibodeaux (6-0, 220, Sr.)*
FB Gabe Menard (5-8, 180, Sr.)*
Defense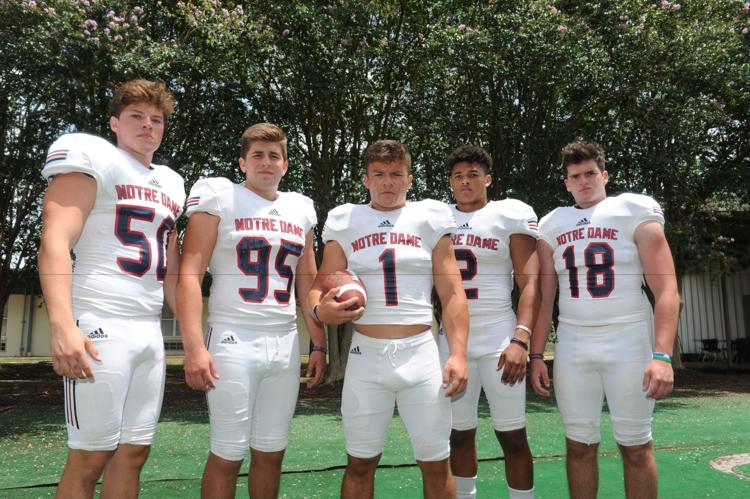 DE Tylan Turner (6-0, 190, Sr.)*
DT Joe Pommier (5-10, 190, Sr.)*
DT Daniel Gielen (6-0, 215, Sr.)*
DE Ethan McCleary (5-10, 185, Sr.)
LB Dylan McCleary (5-10, 175, Sr.)
LB Lance Castille (5-11, 210, Jr.)
LB Gabe Link (5-10, 200, Sr.)*
CB Brandy Theunnisen (5-10, 160, Sr.)
CB Drew Fruge (5-10, 170, Sr.)
SS Dom Thibodeaux (5-10, 185, Jr.)
FS Zac Higginbotham (6-0, 175, Sr.)
*--denotes returning starter
Thursday: Southside Sharks