For many kids, it wouldn't have been as alarming as it was to St. Thomas More junior outfielder Brennan Breaux that afternoon more than five years ago.
It was the fifth inning of the Cougars' road game against Cecilia and his family wasn't there to watch.
"They were always like the first ones there every game no matter where it was at," Brennan remembered. "About the sixth or seventh inning, I see my Dad pull up. After the game, he pulls me off to the side and says you're going to ride back with me, we've got to have a talk."
The reason why his grandparents and other family members weren't at his game that day is his maternal grandfather, Jerry Meaux, had been killed that afternoon in a car crash by an impaired driver.
It was April 24, 2014.
"That was the first real tragedy that I had experienced," Brennan said. "I had never experience any loss in my family. It was so sudden, you just don't know how to approach it. Life just kind of throws it at you and says, 'Hey, you've got to figure it out now.' "
Fortunately for Brennan, his younger sister, Avery, and the rest of his family, their support system was extra large. A close family got even closer in the effort to somehow move on.
"We had to rely on each other because the loss of a loved one is very difficult," Avery said. "How close our family was before his passing compared to now, we kind of all had to rally together and support each other. Be there for my grandma and just kind of support each other. So our connection and our bond has really grown from that experience."
That accident robbed the family of many untold memories. Topping that list, though, was Meaux's ability to watch his daughter Michelle's children compete for the UL Ragin' Cajuns.
After both were standout athletes at St. Thomas More — Brennan at baseball and Avery in basketball and volleyball — Brennan originally signed with LSU and eventually transferred to UL, while Avery just earned second-team All-Sun Belt honors in volleyball.
There will be plenty of incentive for both teams when the UL Ragin' Cajuns and the UL-Monroe Warhawks end the regular season at 6:30 p.m. Satu…
Long before they were born, their grandfather was an assistant basketball coach under Beryl Shipley in the glory days of then-USL basketball.
"One of my biggest regrets is my Dad who coached here never got to see his grandkids play here," Michelle said. "A lot of my childhood … I grew up in Blackham. I remember all of that … Beryl Shipley, Tom Cox, Bo Lamar, absolutely. We would be the last ones in the stands to leave. We'd wait for our dad to come out. It was phenomenal."
While he's unfortunately not around to witness this family legacy play out, he's certainly not forgotten.
Brennan wears No. 4 on the baseball field to represent the month their grandfather was killed and Avery wears No. 24 in volleyball to remember the day.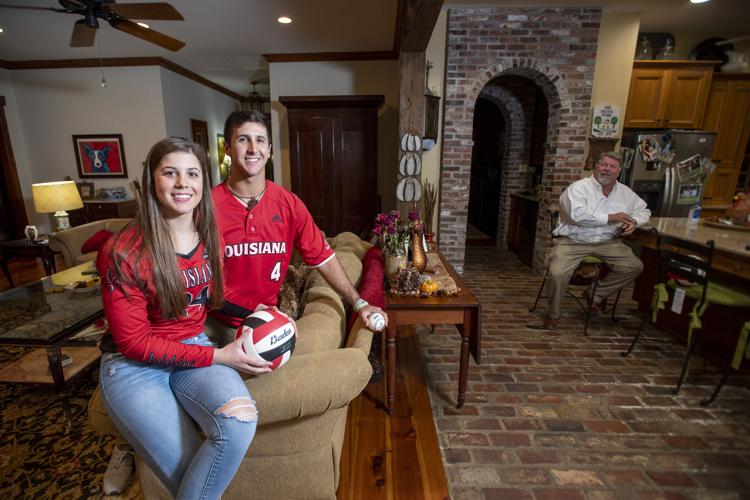 Moreover, these days when Brennan's baseball game is over, the Breaux and Meaux families regularly gather on Tigue Moore Field to support their favorite UL athletes. During the games, they have a box for the whole crew in the cooking club.
And for Avery's volleyball games in E.K. Long Gym, an entire section is filled with her family members.
"I didn't realize how unique that was, but unique isn't the word I would use," Michelle said of her two children both playing Division I sports in their home town. "Truly blessed is the word I would use. We have been so blessed to be able to watch them compete, for their grandparents to watch them compete, for their aunts and uncles to watch them compete on an every-game basis."
Once she got to college, Avery began to understand how special her family's support system really is.
"I'm pretty lucky," Avery said. "A bunch of my teammates are from out of state or different areas throughout the country. It's a pretty special experience to look into the stands and see my whole family, or the majority of my family there, for every game, as well as some of my old friends and teammates. Even my high school and club coaches are there."
Those lessons transfer to their home life, as well.
"Every Sunday, my mom cooks at our house and we have a family get-together almost every Sunday," Avery said. "I thought that was a normal thing. I thought every family does that and it's really not that special. But until I had some teammates from out of town where family wasn't as part of their culture as much, it was really eye-opening."
Indeed, the ties that bind this extended family are tighter than most, especially when it comes to the relationship with grandparents.
In many ways, the death of his grandfather five years ago interrupted Brennan's daily routine.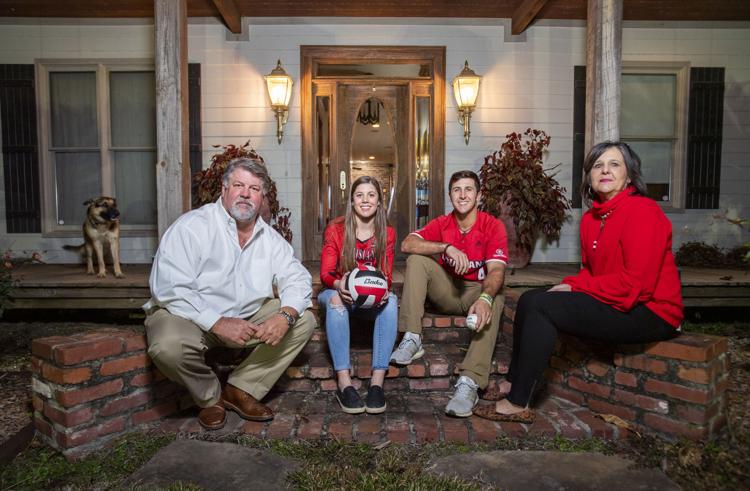 "We were extremely close," Brennan said. "He (grandfather Jerry) would call us two or three times a day almost like clockwork. He knew our schedule better than we did."
Then during the summer, their other grandfather — Lee Breaux — died after a three-decade battle with heart disease.
"I went talk to him (grandfather Breaux) one day," Brennan said, "He said people tell him, 'You know what, you must be feeling bad. I tell myself I'm not feeling bad.' It stuck with me. It was like a willpower thing for him. He fought so long and fought so hard.
"For a guy like that to fight so long and go through what he went through and to still be as available to us as he was, I mean it meant so much to us.
"You think back on the memories you had with them (grandfathers) and the lessons they've given you and it's invaluable, especially for me. They're one of the biggest role models I have."
For the entire family, Brennan transferring to UL was great news. Grandparents, aunts and uncles got to watch him play more.
"I was overjoyed," Michelle said.
"Most of the reason for coming back here was so they (grandparents) could come watch me play, because they didn't come watch me play when I was in Baton Rouge," Brennan said. "He came to maybe two games when I was at LSU and it was killing me the whole time.
"The first game I played here, I looked up and three of my grandparents were sitting in the stands and that made it all worth while for me."
His return also strengthened his already tight relationship with Avery, who is two years younger.
"So him making that transition here, I was super excited," Avery said. "When he was in Baton Rouge, I'd talk to him every now and then, but I think our relationship grew a lot since he came back."
The siblings are extremely close.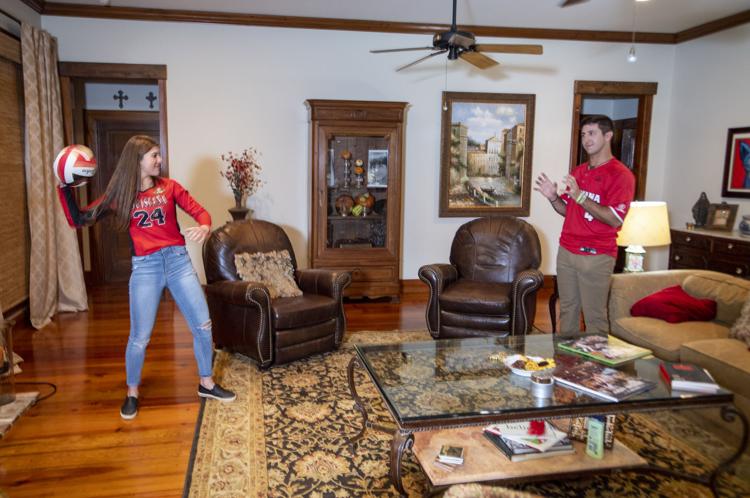 Growing up, they didn't often see each other compete. Michelle was typically traveling with Avery on volleyball trips and Brian was taking his son to travel baseball games.
When obstacles came, though, they were always there for each other.
"You'll seldom find one of them at a sporting even where the other one isn't the best cheerleader for them," Brian said. "In Avery's adversity, Brennan has been there and they talk and help each other through it. They're brother and sister, but they're probably best friends, too."
Like most athletic siblings, the two grew up competing hard against each other.
Avery said she hopes their children compete in a similar fashion.
"Hopefully they'll compete with each other, because that's what makes it fun," Avery said. "I think that's why Brennan and I are so close, because we're able to compete with each other and able to joke around.
"When my parents were out at work, it would be Brennan and I by ourselves at home and we'd have baseball games in our living room and soccer games that my family didn't know about. I hope our kids inherit that competitive spirit as well."
Ask each one about the other and you quickly sense the mutual respect.
"When I watch her compete, she never stops moving," Brennan said. "She's always trying to think one step ahead, two steps ahead. In her sport, they play above the net. It's a height sport, like basketball is. So already she's at a disadvantage.
"I sent her a huge text saying how proud of was of her (when she made second-team All-Sun Belt), because the cards are stacked against her from the get-go. She just works so hard at it and she genuinely cares about every single one of those girls on the team and wants to make them better too."
VOLLEYBALL: UL (5-12, 1-3) at South Alabama (11-6, 3-1)
In many ways, it's like looking in a mirror.
"When I watch him play, it's his leadership," Avery said. "He's not the most vocal player on the field, but he has a way of leading by example. Just his drive and his competitive spirit. You can just see it when he plays. He's all in and he's all in for his teammates too. He loves those guys and he loves the sport, so it's fun to watch him do what he loves to do."
Much of those values on the field came from their parents.
Like in many cases, Brian was more competitive with it, while Michelle tried to make it fun.
But both had requirements to compete.
"They (parents) were truly everything," Avery said. "Whatever sport we wanted to play, they were all in for it. Their only rule was whatever we did we had to finish out the season and we had to give it everything we had. Brennan and I joke around all the time, if we had a bad game or a lazy game, we were hearing about it the whole way home."
It was about learning a life lesson.
"Our parents had a standard of: You give everything you have every single game, because there are kids out there that don't get that opportunity," Avery continued. "They raised us with the mentality of don't take anything for granted and give it everything you have."
"We didn't raise our kids to be good athletes," Brian said. "We raised our kids to be good people and they just happen to be athletes."
Brian said it wouldn't have mattered if they were athletes or musicians, the standards wouldn't have changed.
"Sports is only one aspect of their lives," he said. "If they wouldn't have done this, we would have encouraged them to be the best karate kid, or the best kid on the debate team. It's about excellence. It's about understanding that God has given you a gift … whatever that gift is, it's there for you and excel at those gifts."
If neither had ever reached the Division I level, Brian said there would be no regrets.
"Oh no, it's wonderful to watch your kids excel," he said. "I'm not going to tell you that it's always been great. We've had our ups and downs. We've gone through injuries and we've gone through loss. It's been a roller coaster ride, but I'd go to that amusement park again and I would ride it all over again.
"We had no regrets as far as the time and the effort we spent doing those things. There's no other way to say it, it's been a wonderful experience."
So what are these two involved parents going to do once their playing days are over?
"We're going to be lost," Brian laughed. "She and I pick on each other that I'm going to need a hobby."
"That's been our life since my kids were 4 when they started playing soccer," Michelle said.
And all the lessons athletics has taught them along the way make it all worth while.
"The thing I'm most proud of is who they are as people," Brian said. "The most important for us as a family is that we did it as a family."