To fully comprehend why UL senior second baseman Melissa Mayeux almost worked her way to giving up college softball, you have to understand the road she's traveled to become one of the top performers on this year's Ragin' Cajuns squad.
At the age of 14, she left her home in Le Barcares, France, to attend one of her home country's two baseball academies. Unlike in America, there aren't high school sports in France.
She only saw her family on weekends and vacations.
"Every Sunday I was crying to leave them again and I was coming back the Friday," she revealed.
The goal of those attending is to one day play at higher levels in the United States. In June 2015, Mayeux became the first female baseball player named to MLB's international registration list.
But upon investigating her playing options in America, Mayeux learned baseball wasn't an option.
"When they told me I couldn't get a scholarship playing baseball (as a female), I didn't have the means to pay for a sport in America," said Mayeux, whose Cajuns (38-11, 20-4) will begin their final series of the regular season at ULM on Thursday needing three wins to secure the league title.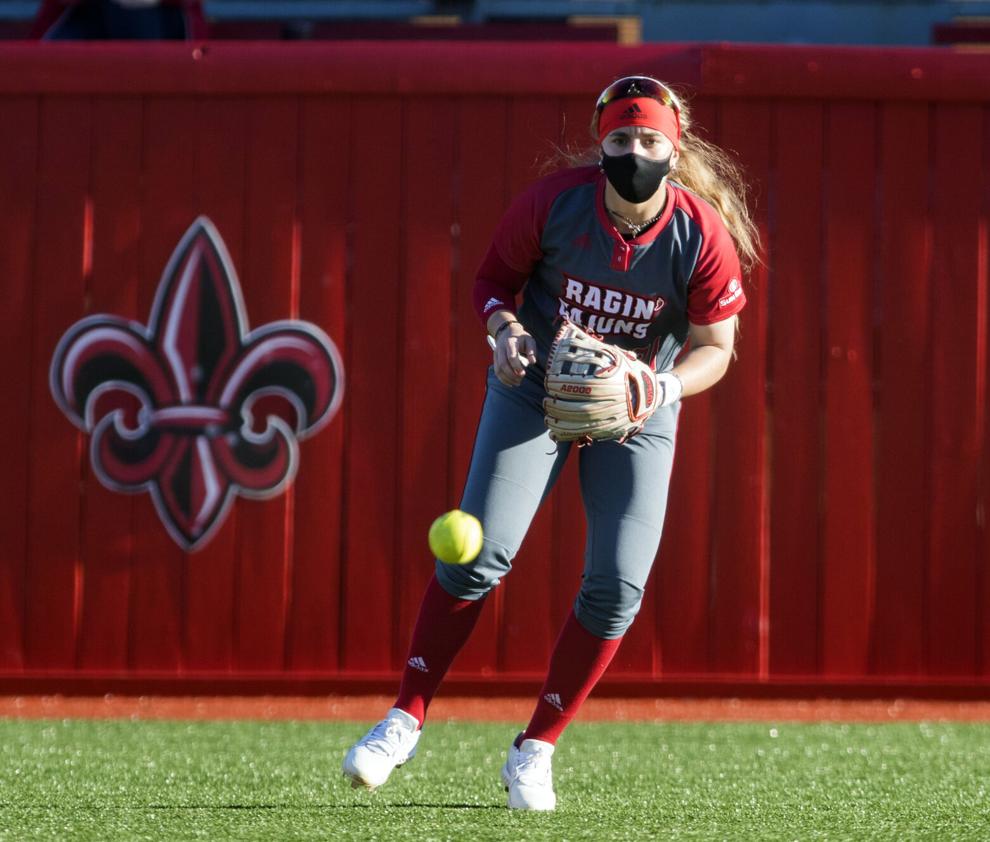 So she very reluctantly made the switch to softball.
"For me, I never understand why if I started a sport, why I was not able to keep doing it until I don't want to play it anymore," Mayeux said. "That was never an option in my head to just switch sports because people wanted me to play another sport."
That reality "that I was a girl and there are boys and rules" began to hit her as a 12-year-old. She promptly told the federation president if he wouldn't let her play baseball anymore, 'I'm just going to make a surgery, so I could play.'
"I think that made him push back the limit to 15 years old."
Finding a softball home
At 18, Mayeux decided to make the big move. Originally she was headed to New York until she found out it's cold there. So instead she tried for "all those cool places" like San Diego, Los Angeles or Miami.
She ended up at Miami Dade Junior College. Her mother came down with her that first month, but her family hasn't made another trip since.
The transition to softball wasn't smooth for Mayeux. Hitting, throwing the ball — nothing came easily for her.
"Everybody was saying coming from baseball, it's easy to just go out there and drop bombs and throw the ball and you're good, but no," she lamented. "I was spending hours and hours with my coach in my juco. I couldn't even hit the ball from the machine that was throwing like 50 miles an hour.
"And to throw the ball, that was something else too. From shortstop, I was throwing it in the stands all the time."
Through her hard work, she left Miami Dade with seasons hitting .377 and then .431 to earn all-conference honors and a scholarship offer from UL.
But it wasn't just softball that she had to learn.
A language barrier
Mayeux arrived in Miami not knowing how to speak English and somehow overcame that obstacle.
"I loved my time over there," she said. "That was great for softball and for my education. I couldn't speak a word of English the first time I got in the States. They put me in English classes … it wasn't easy, but my coach was really good with me and she helped me with everything I needed."
Coming to Cajun Country where many speak a version of the French language didn't eliminate the language barrier.
"People have tried to speak French with me, but they don't get very happy when I don't understand," Mayeux said. "It's different. I can understand, but it takes me time.
"Like if they say a feeling, they're going to say a whole sentence to explain that feeling, where I would just say one word."
In her first season here, Robert Harris, longtime UL softball public address announcer, celebrated a Mayeux double with a French phrase over the speakers at Lamson Park.
"He asked me if I did my laundry," Mayeux laughed. "I didn't know if that's what he meant."
Losing, rediscovering the passion
Her first season at UL ended prematurely with the COVID-19 shutout a month into the season. 
"In my head, I always wanted to work for what I can get through it," Mayeux said. "For me, that was another obstacle. I never took it like it was against me.
"In my head really, I felt like it gave me more time to work on, own and develop my skills. So in a way, I was kind of grateful."
Year two, though, didn't go well. Mayeux only batted .234 with four homers and 26 RBIs in 50 games.
She was angry at herself for not progressing and now more homesick than ever.
"I think if I start doing something, I want to be good and quick," she explained. "For me, I don't have time to just spend on something that I'm not proud about.
"I'm putting the time in, then I get my reward but I got the result. Until I have what I want, I'm not happy."
However, pushing herself more and more made things worse. Before long, Mayeux noticed she wasn't even enjoying softball anymore. She even thought about quitting.
"I was losing the most important thing because I wasn't having fun," she said.
Ironically returning to Florida to play in the Florida Gulf Coast league last summer reignited her passion.
"The summer league really opened my eyes," she said. "It taught me how to love the game again. It was more about having fun and I didn't really care about result at the end. Getting my mind off the result and staying more focused on the process, that changed the whole mentality I had before."
No one was happier for Mayeux's turnaround senior season than coach Gerry Glasco. When asked about Mayeux going 2-for-2 with a triple, a homer and five RBIs on senior day last Saturday at Lamson Park, he just smiled.
"Just the way you envision it," Glasco said. "She's just a great player. Nobody's worked harder in my coaching career. She's one of the hardest-working, day in and day out … every day she works hard. To see her have success her senior year and show out in front of the crowd on senior weekend is really fun."
Mayeux enters the weekend hitting .351 with 11 doubles, two triples, six homers and 26 RBIs.
"I think learning to play in the present and not worried about what she did yesterday, not worried about her batting average, not worried about her opinion of how she played last … just go out today and play the best she can play and having a real in-the-moment approach," Glasco said.
"She's such a hard worker and such a hard critic of her own performance that she had a hard time letting go of it. She's done a really good job of that this year."
Over the next month, Mayeux hopes to help the Cajuns reach the Women's College World Series, as well as graduate in General Studies.
She hopes to play softball professionally or pursue coaching options in the United States.
"I really want to make a life here," she said.