Thousands of tourists stream down the winding roads of West Feliciana Parish each spring and fall for the prison rodeo at the Louisiana State Penitentiary at Angola.
Alongside the raucous rodeo events, the crowds are drawn to the outdoor crafts fair set up outside the ring, where prisoners sell artwork, leather goods and furniture while mixing with relatives and customers. All the inmates allowed to take part have records of good behavior. Many have earned degrees — high school equivalency diplomas, vocational certifications, even advanced seminary degrees.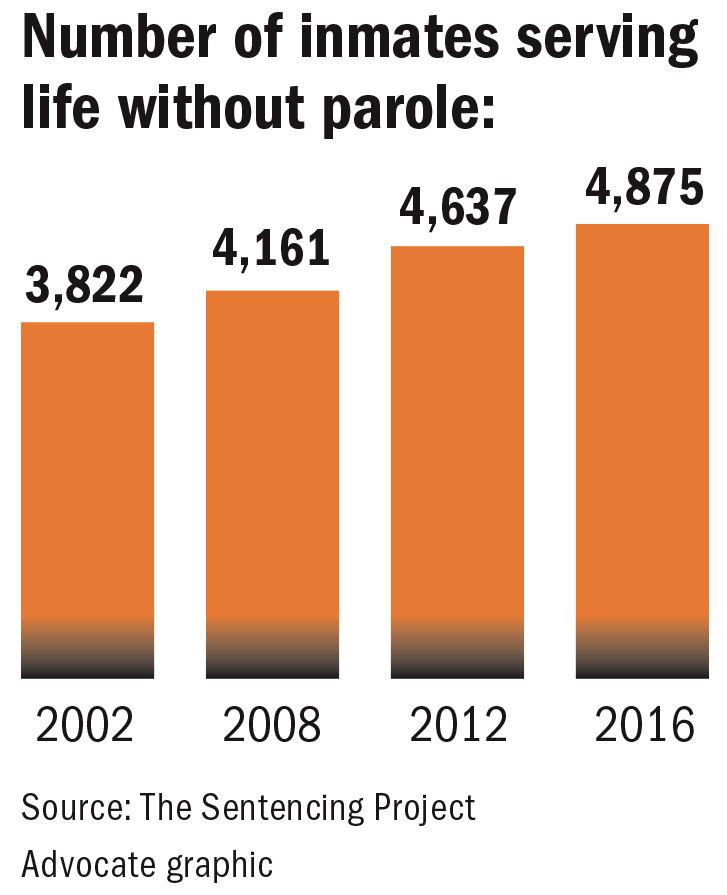 Most are serving life sentences. Nearly all of those inmates will die behind prison walls, barring a major change in Louisiana law. And the number of men and women serving life without parole in Louisiana prisons keeps growing, now approaching 5,000.
Even after the total number of prisoners serving sentences in Louisiana's sprawling and infamously swollen prison system peaked in 2012, the number sentenced to live out the remainder of their time incarcerated has continued to climb.
The state's heavy use of the sentence — the only punishment besides death allowed under state law for adults convicted of murder or aggravated rape — makes it a dramatic outlier nationally and puts Louisiana at odds even with neighboring Southern states.
Louisiana has more than six times as many people serving life without possibility of parole than Texas, a state five times larger, according to a 2017 report from the Sentencing Project, a research and advocacy organization that compiled corrections data on prison systems across the country. Add Texas' prisoners to those in Arkansas, Mississippi, Alabama and Tennessee and the five states still have fewer people serving life without parole than Louisiana.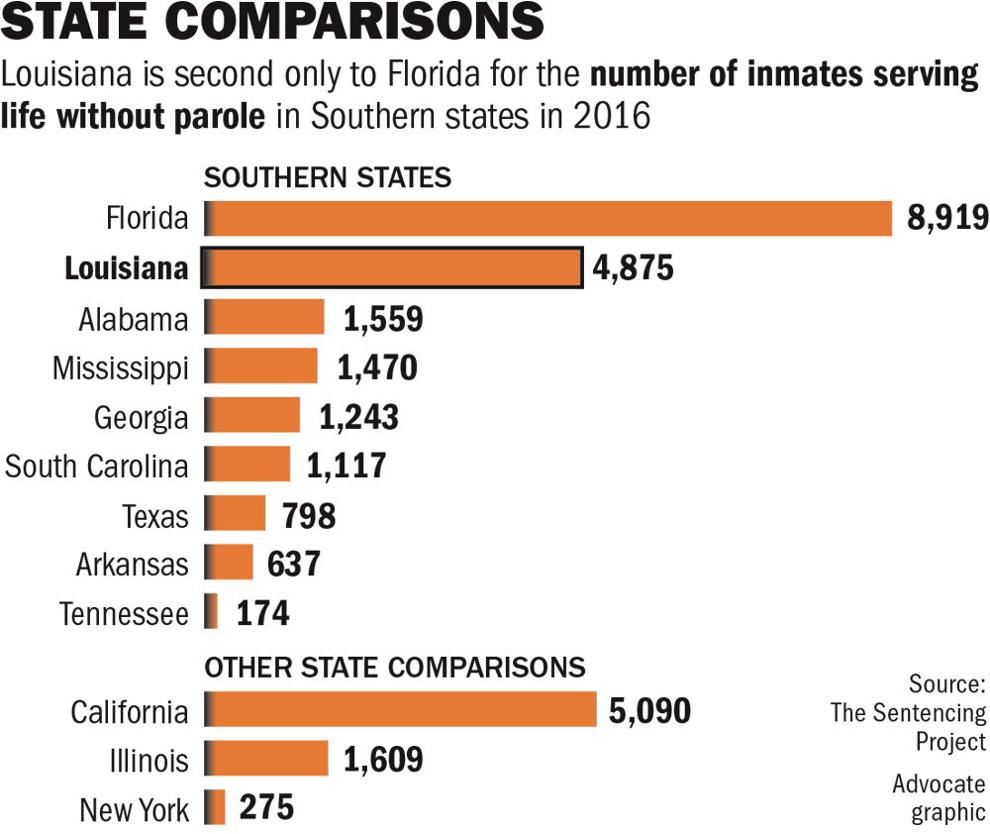 Louisiana prison officials describe it as an alarming trend for a prison system that's already dealing with climbing medical costs and an aging population.
"The costs are going to go up tremendously," said Jimmy LeBlanc, secretary of the state's Department of Public Safety and Corrections, who called the sentences in many cases "draconian" and a relic of a wave of tough-on-crime laws beginning in the 1970s.
Even with new legislation projected to cut the number of imprisoned people in Louisiana by 10 percent over the next decade, the growing ranks of the elderly, the infirm and the dying could sap away those savings. National studies peg the cost of aging inmates at two or three times their younger counterparts, figures that some experts say could be even higher for Louisiana lifers, as most prisoners with short sentences served their time in far cheaper parish jails.
The vast majority of those serving life without parole were convicted of murder or rape, gruesome crimes that cast long shadows over any discussion of their possible release on parole. Just 4 percent were sentenced under the state's tough habitual offender law, which allows prosecutors to seek life in prison for those with multiple prior felony convictions.
The number of people sentenced to life without parole has remained relatively steady, LeBlanc said, with between 90 and 100 new inmates arriving with life sentences each year. Only a handful ever leave — roughly 100 inmates serving any kind of sentence have received pardons or commutations since 2004 — and newly sentenced lifers arrive far faster than aging ones die behind bars.
The sweeping slate of criminal justice bills passed by the Legislature this year touched only a small number of those serving life sentences, primarily by restoring parole eligibility to a group of roughly 130 men convicted in the mid-1970s whose original life sentences included a chance for parole that was later taken away. 
A far broader provision included in one of the bills would've given all lifers except those convicted of first-degree murder an opportunity at a parole hearing after serving at least 30 years and passing the age of 50. But the provision met fierce political resistance and was quickly stripped from the legislation as part of a deal with the state's sheriffs and district attorneys that helped win the package passage.
State Sen. Danny Martiny, the Metairie Republican who sponsored the bill, said there was little chance of pulling together the votes to pass it without limiting parole opportunities for lifers.
"You have to be realistic. When you're talking about people who are murderers and rapists, if the District Attorneys Association and the Sheriff's Association comes out against what you're trying to do, the chances of passing that legislation are very much diminished," Martiny said. "It's all still politics and mathematics."
Louisiana's strict "life means life" laws have left it with the toughest punishment for murder. Combined with a statewide homicide rate that's led the nation since the beginning of the 1990s and the number of inmates serving life without parole has skyrocketed — jumping 27.6 percent since 2002, according to the Sentencing Project — even as crime rates here and elsewhere have dropped significantly.
For aging inmates, the costs to state taxpayers can spike dramatically. Almost all are held at state facilities, like Angola and Elayn Hunt Correctional in St. Gabriel, where costs are already higher than at local lockups at $20,000 or more a year. Medical costs also rise, in some cases dramatically. The cost of medications and specialty care alone can top $100,000 for some incarcerated people.
"I have inmates in Angola that are in fetal positions, who are paralyzed from the neck down, are in hospice," said LeBlanc. "Their life is over, it's done, they're finished. Why do we need to keep them in prison? There's no reason for that. They can spend their last few days with their family."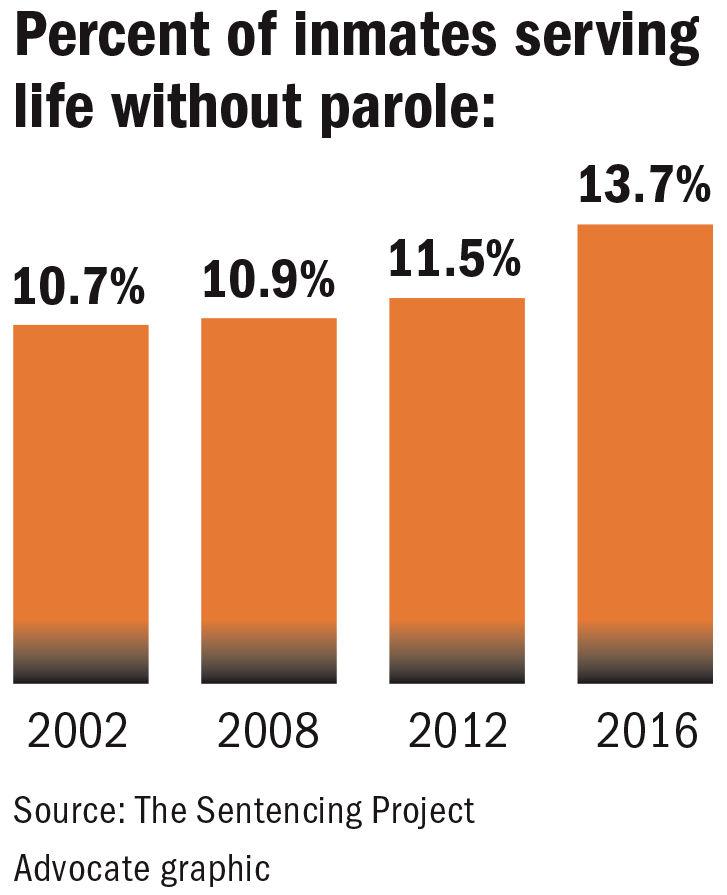 Prosecutors and several lawmakers who opposed expanded parole eligibility for those serving life sentences have argued their growing share of the prison population — 13.4 percent of all Louisiana prisoners are now serving life without parole — is merely a reflection of the underlying violent crime problem plaguing the state. The hefty expense constitutes the price of justice, they've said.
"Cost doesn't mean a lot to that victim's family. They don't get that opportunity a defendant's family gets to go visit them," said Bo Duhe, the district attorney for St. Martin, Iberia and St. Mary parishes, who sat on the task force that crafted the criminal justice package. "That's just never been a persuasive argument to me."
But critics of Louisiana's criminal justice system and the lengthy sentences it doles out to defendants point to a growing body of research indicating that continuing to imprison once-youthful criminals well into middle age does little to tamp down crime.
"Life without parole is the ultimate 'lock 'em up and throw away the key' policy," said Flozell Daniels, president and CEO of the Foundation for Louisiana and a longstanding critic of Louisiana's criminal justice system who worked on the task force. "What we've seen is that hasn't helped abate violent crime where there is violent crime. It's just not working. But the politics are entrenched and have been that way for generations."
State Rep. Walt Leger, a New Orleans Democrat and former prosecutor, described the dramatic gap between the number of prisoners serving life without parole in Louisiana and other states, particularly Texas, as one of the most startling revelations during a year spent reviewing the prison system.
"The stats are so eye-popping, it makes it unsustainable," said Leger.
Leger said he understands objections to changing the sentence of convicted killers and the difficulty in gathering votes for change. But a growing body of data "just doesn't suggest that we're getting more safety for the harsher penalties we're giving," Leger said.
"I'm not suggesting people don't deserve to be punished for serious mistakes and committing horrific acts, but does that mean life without parole or could it mean 40 years of service and then ability to apply for parole?" Leger said. "Other states have done that and seen no loss of public safety."
LeBlanc, the corrections secretary, said he's been a guest on Angola's prison radio station several times in the last several months to update inmates on the progress of legislation in Baton Rouge. The possibility of so-called geriatric parole for most aging lifers "got hopes up" in the prison, which houses many of the state's convicted murderers.
When that provision was scaled back, LeBlanc said, "there was obviously disappointment up there, and it created anxiety." But the possibility of a parole hearing for at least a fraction of those who'd been serving life gives some hope, LeBlanc said, and the chance for former inmates to show politicians and voters they've redeemed themselves after decades behind bars by building successful new lives on the outside.
Besides those sentenced to life in the 1970s, at least some of the roughly 300 prisoners convicted of murders committed as juveniles will also get a shot at parole after the Supreme Court twice deemed their automatic life without parole sentences unconstitutional. New legislation in response to those decisions gives those one-time juvenile defendants —many have since grown old in prison — eligibility for parole after serving 25 years unless a district attorney asks a judge for a re-sentencing hearing.
Over the past two decades, Keith Nordyke has represented more than 400 inmates petitioning for pardons or parole, nearly all of whom had served at least a quarter century in prison and many of them convicted of murder. He's kept in touch with most of those released from prison and knows of only one former client who committed another crime.
A 2013 study Nordyke co-authored with LSU researchers looked at former inmates convicted of murder who were pardoned, paroled and released since the first term of Gov. Edwin Edwards in the 1970s. They found none of those convicted of second-degree murder (and only 4.8 percent of those convicted of first-degree murder) had committed a new offense within five years of their release, a much lower figure than other former prisoners in Louisiana. Studies in other states have shown similarly low recidivism rates for those released after serving decades in prison.
"These older guys don't come back," Nordyke said. "You're never going to hear from them again except on April 15th when they pay their taxes."
Advocate staff writers Rebekah Allen and John Simerman contributed to this story.