They built this musical on classic rock.
Featuring songs by Journey, Bon Jovi, Poison, Styx and two dozen more classic-rock acts, "Rock of Ages" ranks alongside other hit jukebox musicals like "Mamma Mia!" and "Jersey Boys." 
The 10th anniversary edition of "Rock of Ages" will rock the Mahalia Jackson Theater on Saturday and Sunday.
Set on the Sunset Strip, the show weaves 28 classic-rock hits into a 1980s coming-of-age story. Drew Boley, an aspiring rock star, and Sherri Christian, a small-town girl from Kansas who dreams of being an actress, work at the Bourbon Room. Foreign developers plan to demolish the storied West Hollywood bar and music venue to build a strip mall.
The Bayou Country Superfest is headed home to Baton Rouge next year.
After opening in 2009, "Rock of Ages" received five Tony nominations. Running for 2,300 performances on Broadway, the show lives on as a touring production.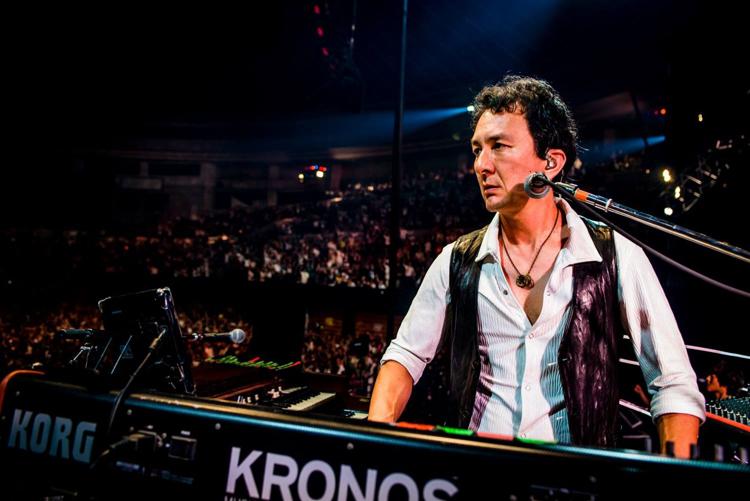 Keyboardist Brandon Ethridge toured with "Rock of Ages" for two years as its music director, conductor and keyboardist. Now, as the show's New York City-based music supervisor, he continues to be one of its guiding hands.
"This show has so much heart, just the right amount of cheesiness, all the songs you want to hear and a beautiful story," Ethridge said.
Of course, nostalgia is a big part of the appeal, too.
"Our show transports you back to the '80s," Ethridge said. "The movie version of the show didn't manage to do that."
Indeed, the 2012 film adaptation of "Rock of Ages" — with a cast including Julianne Hough, Tom Cruise, Russell Brand, Paul Giamatti and Catherine Zeta-Jones — drew negative reviews and disappointing box office. Ethridge was touring with the stage version of the show when the movie debuted.
"We thought it was going to make the 'Rock of Ages' tour explode," he said. "But the movie wasn't what we thought it would be."
Nonetheless, "Rock of Ages" on stage kept thriving. Ethridge's tours with the show were among the best times he's ever had at a musical theater gig.
"Usually with shows, musicians are physically separated from the actors, either in a pit or a separate room," he explained. "But in this show, the musicians are on stage with the actors. It's so much fun. It's the biggest feeling of togetherness I've ever had on a show."
The rock music featured in "Rock of Ages" — including songs by '80s hair-bands and glam-bands Poison, Warrant, Whitesnake and Twisted Sister — has been much-maligned, especially by music critics. The critics missed the point, Ethridge said.
What makes a concert good, or even great? The answer is inevitably subjective, colored by personal tastes, your mood and even the people sitti…
"It's music for partying, not for deep reflection," he said.
Poison's "Nothin' But a Good Time" is a prime example of what '80s music and "Rock of Ages" are all about, Ethridge said.
"That says it all right there," he said. "The show gives you the chance to take your mind off your troubles and just have a good time. The poetry of Bob Dylan and Neil Young is great, but it doesn't take your mind off your problems."
Ethridge's current role as "Rock of Ages" music supervisor, unlike his earlier work with the show, requires him to supervise the show's total presentation. In doing so, he collaborates closely with the director and choreographer.
"Leading the band on stage is different from seeing how the whole thing comes together," he said. "I hear it the way it sounds and looks from the audience's perspective. Shows always need a second set of ears and eyes, someone who works with the director to help the music tell the story just right."
The 10th anniversary "Rock of Ages" tour stars Anthony Nuccio as Drew and Katie LaMark as Sherrie. Also in the show, John-Michael Breen co-stars as narrator/character Lonny Barnett and Sam Harvey plays Stacee Jaxx, the rock star who comes between Drew and Katie.
Ethridge, in addition to being musical supervisor for "Rock of Ages," tours as music director and keyboardist for "The Ultimate Queen Celebration." The British classic rock band Queen may be more famous than ever.
In addition to "The Ultimate Queen Celebration," "Bohemian Rhapsody," the hit biopic about the band, opened in November. And singer Adam Lambert and surviving members of Queen are in the third year of their "Queen + Adam Lambert" tour.
"Queen has been, with The Beatles, one of the top bands in the United Kingdom, South America, continental Europe and the rest of the world," Ethridge said. "But in America, they've reached their height of prominence now, 40 years after most of their songs were released. They're more popular in the U.S. than they've ever been."
Unlike "Rock of Ages," which has a cast and story, "The Ultimate Queen Celebration" is a straight-ahead rock concert. On a break following its 2018 tour dates in the U.S., Australia and Hong Kong, the show resumes touring North America in April.
"The Ultimate Queen Celebration" stars lead vocalist Marc Martel. When he sings Queen classics, the Montreal native sounds uncannily like Queen's late singer, Freddie Mercury.
That persistent 2019 New Orleans Jazz Fest rumor about the band with the multiword name that starts with "R"? It is absolutely true.
Martel's singing is featured in the film "Bohemian Rhapsody," blended with Mercury's recordings and the voice of actor Rami Malek. Martel's voice and piano solo performance of the movie's title song has generated nearly 12 million YouTube views.
"Marc is phenomenal," Ethridge said.