The New Orleans Jazz & Heritage Festival leaves no musician behind.
Nearly every marquee act from the COVID-canceled 2020 and 2021 Jazz Fests that didn't appear in 2022 will get another chance at the Fair Grounds in 2023.
That list includes flute-toting R&B force of nature Lizzo; the Grateful Dead-derived Dead & Company; alternative-folk band the Lumineers; contemporary R&B guitar hero H.E.R.; veteran rocker Melissa Etheridge; rapper Ludacris; and the world premiere of the Wu-Tang Clan's collaboration with New Orleans' own the Soul Rebels.
They'll join Ed Sheeran, Mumford & Sons, Jill Scott, Santana, Robert Plant & Alison Krauss, Kane Brown, Leon Bridges, Kenny Loggins, Herbie Hancock, Tom Jones, Jazmine Sullivan, Maze featuring Frankie Beverly, the Steve Miller Band and hundreds of local musicians on the festival's 14 stages April 28-30 and May 4-7.
Multiple Grammy-winning Kenner native Jon Batiste, who appeared on the 2022 Jazz Fest poster but was unable to perform that year because of a scheduling conflict, tops the roster of homegrown talent.
That roster also encompasses Trombone Shorty & Orleans Avenue, who traditionally closes the main stage on the final Sunday, as well as the Revivalists, Irma Thomas, Galactic, Anders Osborne, Terence Blanchard, Cyril Neville, Tank and the Bangas, the Dirty Dozen Brass Band, Kermit Ruffins, John Boutte, Dumpstaphunk and even car-dealing crooner Ronnie Lamarque, back at the Fair Grounds for the second consecutive year.
The 52nd edition of what is officially the New Orleans Jazz & Heritage Festival presented by Shell will celebrate the music and culture of Puerto Rico on both weekends. Puerto Rican musicians, cultural displays, parades and cuisine are part of the expanded programming around the festival's Cultural Exchange Pavilion.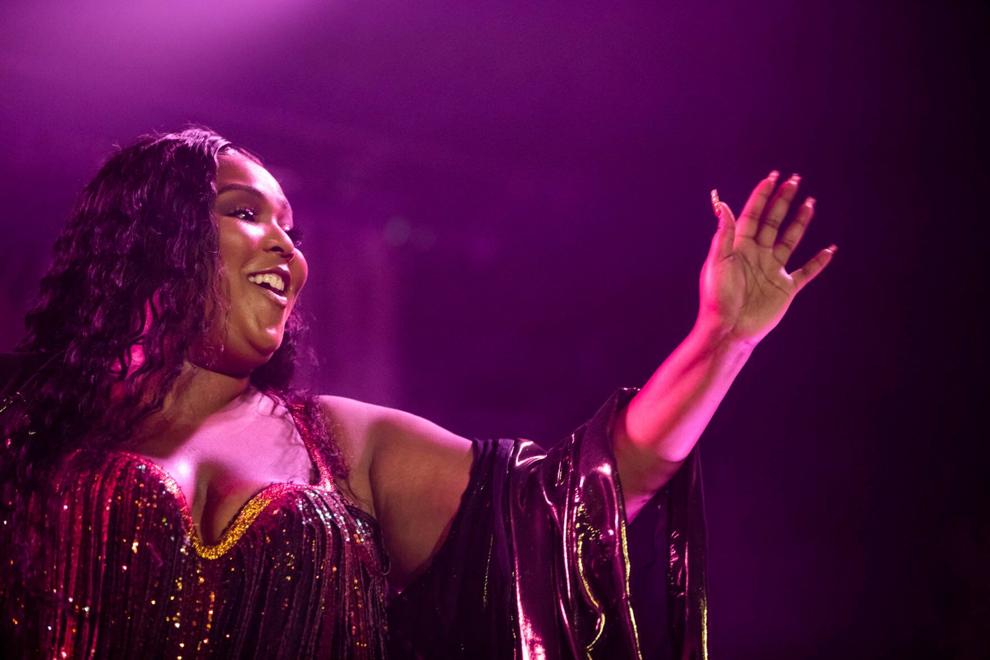 Friday's announcement listed performers by weekend. Only weekend passes are currently on sale at the festival's web site, www.nojazzfest.com. The early-bird rate is $225 for the three-day first weekend and $275 for the four-day second weekend, plus fees.
Three VIP ticket packages are also on sale, in limited quantities.
May 4 is "Locals Thursday." Louisiana residents with identification can buy two single-day tickets at the gate that day for $50 apiece.
British singer-songwriter Ed Sheeran is one of this year's major coups. Sheeran's upcoming North American tour consists mostly of Saturday night appearances at football stadiums. The tour kicks off May 6 at AT&T Stadium in Dallas.
His Jazz Fest appearance the previous weekend – likely on Saturday, April 29 – will essentially serve as a warm-up for his stadium tour, which is being produced by AEG Presents, Jazz Fest's co-producer.
Sheeran is likely to draw the largest crowd of the 2023 festival. His fans swamped the Gentilly Stage field in 2015 at the same time his pal Elton John entertained an even larger crowd at the main stage.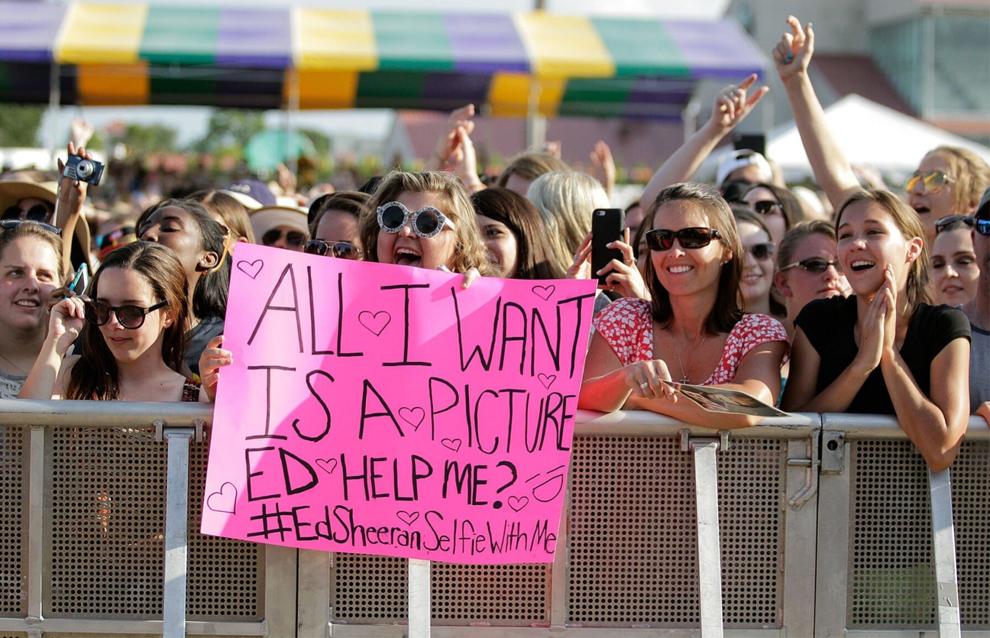 Sheeran's popularity has only increased. On Halloween night in 2018, he stood alone onstage in front of 37,000 fans at the Superdome. His crowd at Jazz Fest's main stage this year may rival Elton's in 2015, but skew younger.
Mumford & Sons frontman Marcus Mumford spent 2022 touring as a solo artist, but is reuniting with Mumford & Sons at Jazz Fest on May 7, the festival's closing Sunday. 
Former Led Zeppelin frontman Robert Plant and bluegrass star Alison Krauss combined for one of the best shows of the 2008 Jazz Fest. They've since returned to the Fair Grounds with their individual projects.
They released their second collaborative album, "Raisin' the Roof" – with a cover of the Allen Toussaint composition "Trouble With My Lover" – in 2021. They'll perform songs from that album on April 28, the 2023 Jazz Fest's opening day.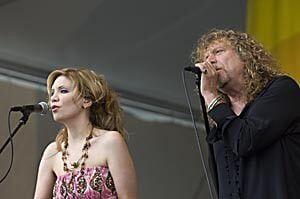 Dead & Company, featuring guest star guitarist John Mayer alongside Grateful Dead veterans Bob Weir, Mikey Hart and Bill Kreutzmann, was booked at Jazz Fest in 2020 and 2021, to no avail.
The band kicks off its final tour on May 19 at the Forum in Los Angeles. Like Sheeran, Dead & Company agreed to play a special, pre-tour gig at Jazz Fest. They'll headline May 6, the festival's second Saturday.
The Lumineers are also scheduled for May 6. They'll likely close the Gentilly Stage while Dead & Company are on the main stage.
The world premiere of the onstage collaboration between legendary hip-hop ensemble Wu-Tang Clan and New Orleans brass band/hip-hop hybrid the Soul Rebels was originally slated for the 2020 Jazz Fest.
After a three-year delay, the Wu-Tang/Soul Rebels mash-up will finally take place on the 2023 festival's first weekend.
Melissa Etheridge was booked for the 2021 festival, then rebooked for 2022, only to drop out at the last minute after a member of her road crew contracted COVID.
"I am hoping I can be asked back again," she tweeted at the time.
She was.
The most prominent name from the COVID-canceled '20 and '21 Jazz Fests that is still missing is Foo Fighters. The band was to have made up the missed shows in 2022, only to cancel in the wake of drummer Taylor Hawkins' death.
This week, Foo Fighters announced upcoming appearances at several festivals, including Bonnaroo in Tennessee, but not Jazz Fest.
Before the COVID shutdown, Jazz Fest had been on a roll. Attendance for the 50th anniversary festival in 2019, which consisted of two four-day weekends, was 475,000, the largest total since Hurricane Katrina.
The 2022 Jazz Fest matched that 475,000 total with one less day than 2019.
Jazz Fest is owned by the non-profit New Orleans Jazz and Heritage Foundation, which uses proceeds to fund an array of cultural and educational initiatives, as well as smaller, free festivals.
The festival is produced by Quint Davis and his Festival Productions Inc.-New Orleans in partnership with international live entertainment powerhouse AEG Presents.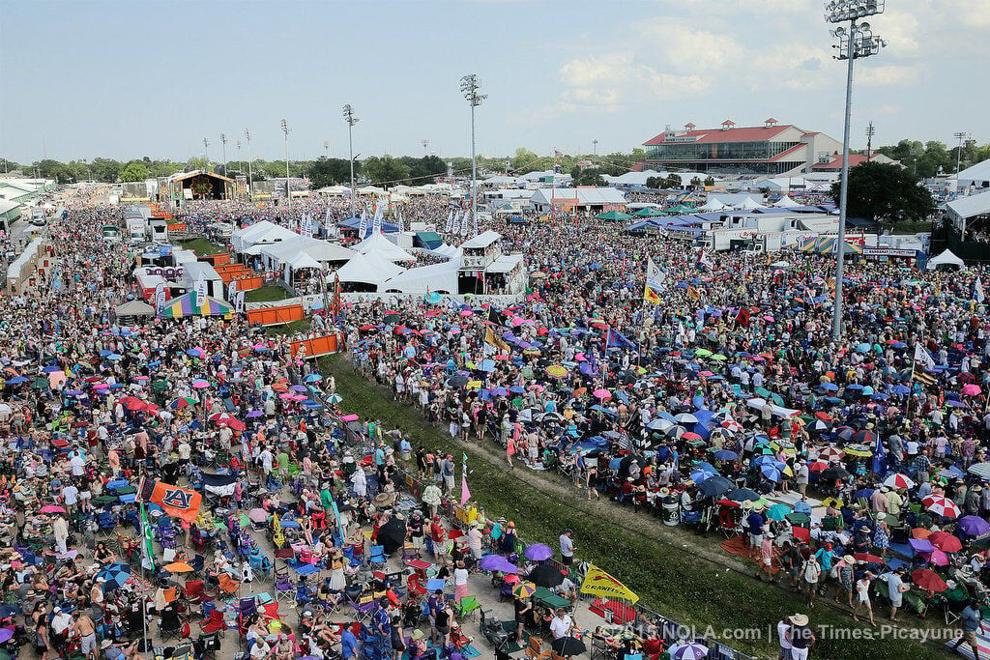 The complete list of announced acts for the 2023 New Orleans Jazz & Heritage Festival:
WEEKEND 1: APRIL 28, 29 and 30, 2023
Ed Sheeran, Lizzo, Robert Plant & Alison Krauss, Steve Miller Band, Tedeschi Trucks Band, Gary Clark Jr., Jill Scott, Kenny Loggins, Wu-Tang Clan + The Soul Rebels, Jazmine Sullivan, The Revivalists, Big Freedia, Los Lobos, Jamie Cullum, Tank and The Bangas, Taj Mahal Quartet, Allison Russell, Mavis Staples, Marcus King, Angelique Kidjo, Samantha Fish, Christone "Kingfish" Ingram, The Dirty Dozen Brass Band, Kermit Ruffins & the Barbecue Swingers, Ivan Neville's Dumpstaphunk, Rebirth Brass Band, Charlie Musselwhite, Cyril Neville, Jon Cleary & the Absolute Monster Gentlemen, Leo Nocentelli, Sonny Landreth, Cory Wong, Mdou Moctar of Niger, The Campbell Brothers, The Gospel Soul of Irma Thomas, Nicholas Payton ft. MonoNeon & Corey Fonville, Sweet Crude, Terrance Simien & the Zydeco Experience, Little Freddie King Blues Band, Sunpie & the Louisiana Sunspots, Big Chief Monk Boudreaux & the Golden Eagles, Charmaine Neville Band, New Orleans Classic Recording Revue featuring The Dixie Cups, Clarence "Frogman" Henry, Wanda Rouzan, and Al "Carnival Time" Johnson, Davell Crawford, Lost Bayou Ramblers, Original Pinettes Brass Band, Dragon Smoke, Dr. Bobby Jones, Lil' Nathan & the Zydeco Big Timers, Leah Chase, Honey Island Swamp Band, The Zion Harmonizers, Tribute to Sidney Bechet featuring Donald Harrison Jr. and Aurora Nealand with Dr. Michael White, Geno Delafose & French Rockin' Boogie, Something Else! featuring Vincent Herring, James Carter, Randy Brecker, Lewis Nash, Dave Kikoski, Paul Bollenback & Essiet Essie, Jordan Family Tribute to Kidd Jordan featuring Stephanie, Rachel, Marlon, and Kent Jordan, From Puerto Rico: La Tribu de Abrante, Plena Libre, Ángel "Papote" Alvarado y el Grupo Esencia, Conjunto Típico Samaritano, Tambuyé, and the Vejigante Parade with Casa de la Plena Tito Matos, Naughty Professor, Storyville Stompers Brass Band, Stooges Brass Band, Germaine Bazzle, Luther Kent & Trickbag, Tommy McLain + CC Adcock, The Iguanas, Mia Borders, Johnny Sketch & the Dirty Notes, Motel Radio, Paul Sanchez and The Rolling Road Show, 79rs Gang, Maggie Koerner, Roddie Romero & the Hub City All-stars, Seratones, The Iceman Special, John "Papa" Gros, Shamarr Allen, Kenny Neal, Catherine Russell, 3D Na'Tee, Dee-1, Doreen's Jazz New Orleans, Charlie Gabriel & Roger Lewis, Leroy Jones & New Orleans' Finest, Steve Riley & the Mamou Playboys, Omari Neville & The Fuel, Bassekou Kouyate of Mali, Rey Vallenato & Beto Jamaica of Colombia, The Lawrence Sieberth Collective featuring Oz Noy, Jason Marsalis with special guest Warren Wolf, Gregg Martinez & the Delta Kings with special guests TK Hulin and Johnnie Allan, George Dean & the Gospel 4, Pat McLaughlin, Adonis Rose & the New Orleans Jazz Orchestra featuring Jazzmeia Horn, Creole String Beans, King Oliver Creole Jazz Band Centennial featuring Don Vappie, Soul Brass Band, Cha Wa, Cedric Watson et Bijou Creole, John Michael Bradford and The Vibe, Tuba Skinny, Mitch Woods & His Rocket 88's, Russell Batiste & Friends, Tonya Boyd Cannon, Helen Gillet, Andrew Duhon, John Fohl, Alexey Marti, Panorama Jazz Band, Javier Olondo and AsheSon, Preservation Brass, Kristin Diable, Dave Jordan & the NIA, Lane Mack, On the Levee Jazz Band, Margie Perez & Her Trio Latino, Jon Roniger and The Good For Nothin' Band, Eric Johanson, Shades of Praise, The Tanglers Bluegrass Band, New Wave Brass Band, Kevin & The Blues Groovers, Hot Club of New Orleans, Javier Gutierrez & VIVAZ!, Arthur Clayton and Anointed For Purpose, Inspirational Gospel Singers, Anne Elise Hastings & her Revolving Cast of Characters, Max Moran & Neospectric, glbl wrmng, T'Monde, John Mahoney Big Band featuring Meryl Zimmerman, Deak Harp, Horace Trahan & the Ossun Express, George French & New Orleans Storyville Band, Tonia Scott and the Anointed Voices, Native Nations Intertribal, Black Magic Drumline, Higher Heights Reggae Band, Bill Summers & Jazalsa, Midnite Disturbers, Dr. Brice Miller & Mahogany Brass Band, Creole Wild West Mardi Gras Indians, John Lawrence & Ven Pa' Ca Flamenco Ensemble featuring Antonio Hidalgo of Spain, Herbert McCarver & The Pin Stripe Brass Band, People Museum, Craig Klein's Musical Conversations on Lucien Barbarin featuring Kevin Louis, Molly Reeves, Mitchell Player, Steve Detroy & Gerry Barbarin, The New Orleans Guitar Masters featuring John Rankin, Jimmy Robinson, and Cranston Clements, Tyron Benoit Band, Fi Yi Yi & the Mandingo Warriors, Kumbuka African Drum & Dance Collective, Kid Simmons' Local International Allstars, Lyle Henderson, Dominic Scott, Golden Comanche, Black Flame Hunters, Golden Sioux, and Wild Apaches Mardi Gras Indians, Bonsoir, Catin, Brother Tyrone & The Mindbenders, Secret Six, Paulin Brothers Brass Band, Vegas Cola Band, Franklin Avenue Baptist Church Choir, Da Lovebirds featuring Robin Barnes and Pat Casey, Raphael Bas and Harmonouche, New Orleans Gospel Soul Children, The Pfister Sisters, New Leviathan Oriental Foxtrot Orchestra, Curley Taylor and Zydeco Trouble, Gregg Stafford's Jazz Hounds, Wendell Brunious and the New Orleans Allstars, Connie & Dwight Fitch with the St. Raymond & St. Leo the Great Choir, Otis Wimberly Sr. & The Wimberly Family Gospel Singers, Kathryn Rose Wood, Zulu Male Ensemble, Watson Memorial Teaching Ministries Mass Choir, New Orleans Mardi Gras Indian Rhythm Section, CASMÈ, Baby Boyz Brass Band, Clive Wilson's New Orleans Serenaders, Archdiocese of New Orleans Gospel Choir, Coolie Family Gospel Singers, David Reis, Free Spirit Brass Band, Semolian Warriors Mardi Gras Indians, Trombone Shorty Academy, The Junior League, The Desert Nudes, Johnette Downing and Scott Billington, OperaCréole, New Hope Baptist Church Mass Choir, Pastor Jai Reed, Rising Dragon Lion Dance Team, Jonté Landrum, Mount Hermon Baptist Church Delegation Choir, Tulane BAM Ensemble, The Gospel Inspirations of Boutte, Ladies of Unity, NOCCA Jazz Ensemble, Da Truth Brass Band, Westbank Steppers, Valley of Silent Men, Devastation, and Nine Times Ladies Social Aid & Pleasure Clubs, Black Foot Hunters, Shining Star Hunters, and Uptown Warriors Mardi Gras Indians, The Chosen Ones Brass Band, Arrianne Keelen, DJ Ro, Lady Tambourine, Ninth Ward Hunters, 8th Ward Black Seminole, Young Brave Hunters, and Black Hawk Hunters Mardi Gras Indians, The Knockaz Brass Band, Loyola University Jazz Ensemble, DJ Arie Spins, Gray Hawk presents Southeastern Native American Lore & Tales, Kat Walker Jazz Band - Scat with Ms. Kat, Brasshearts Brass Band, First Division Rollers, Untouchables, New Look, Furious Five, and Big Steppers Social Aid & Pleasure Clubs, 21st Century Brass Band, ISL Circus Arts, David & Roselyn, Kai Knight's Dance Academy, Big Nine, Keep n It Real, and We Are One Social Aid & Pleasure Clubs, Brazos Huval's Student Showcase, KID smART Showcase, The RRAAMS, Grey Seal Puppets, All for One Brass Band, Apache Hunters, Golden Star Hunters, Wild Red Flames and Washitaw Nation Mardi Gras Indians, Young Fellaz Brass Band, Sisters of Change, Family Ties, Divine Ladies, and Uptown Swingers Social Aid & Pleasure Club, Young Men Olympian Jr. Benevolent Association, Big 6 Brass Band, New Generation, Single Ladies, Nine Times, Single Men, and Sisters of Unity Social Aid & Pleasure Clubs and more!
WEEKEND 2: MAY 4, 5, 6 and 7, 2023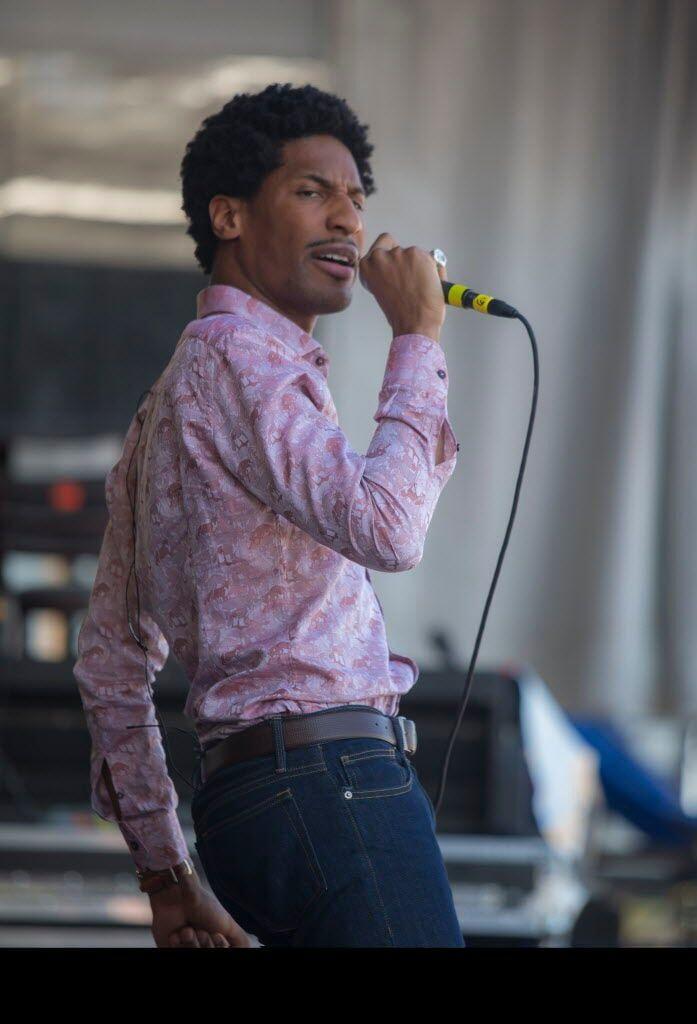 Dead & Company, Mumford & Sons, The Lumineers, Santana, Jon Batiste, H.E.R., Kane Brown, Trombone Shorty & Orleans Avenue, Farruko, Ludacris, Leon Bridges, Tom Jones, Herbie Hancock, Buddy Guy, Irma Thomas, Melissa Etheridge, NE-YO, Galactic featuring Anjelika 'Jelly' Joseph, Keb' Mo', Tab Benoit, Preservation Hall Jazz Band, Terence Blanchard featuring The E-Collective and Turtle Island Quartet, Anders Osborne, The Radiators, Maze featuring Frankie Beverly, Hurray for the Riff Raff, David Shaw, Zigaboo Modeliste and The Funk Revue, George Porter Jr. & Runnin' Pardners, Big Sam's Funky Nation, Kermit Ruffins' Tribute to Louis Armstrong, Hot 8 Brass Band, Big Chief Donald Harrison Jr., Durand Jones, Christian McBride's New Jawn, John Hiatt & The Goners, The Soul Rebels, Robert Randolph Band, Nathan & the Zydeco Cha Chas, Cowboy Mouth, Larkin Poe, Dee Dee Bridgewater Quartet, Leyla McCalla, Martha Redbone, Eric Gales, Morgan Heritage, Chris Thomas King, The Flatlanders, Eric Lindell, Marcia Ball, Bonerama, Molly Tuttle & Golden Highway, Rockin' Dopsie, Jr. & the Zydeco Twisters, J & the Causeways, Boyfriend, New Orleans Nightcrawlers, From Puerto Rico: Pirulo y la Tribu, Atabal, La Raíz - Bomba Mayagüezana, Emplegoste, Tambuyé, and Vejigante Parade with Casa de la Plena Tito Matos, DJ Shub presents War Club Live, Ceferina Banquez of Colombia, RAM of Haiti, Low Cut Connie, Continental Drifters, John Boutté, Trumpet Mafia, Amanda Shaw, Khris Royal & Dark Matter, Delfeayo Marsalis & the Uptown Jazz Orchestra, Jeremy Davenport, CJ Chenier & The Red Hot Louisiana Band, BeauSoleil avec Michael Doucet, Dwayne Dopsie & the Zydeco Hellraisers, Deacon John, Meschiya Lake & the Little Big Horns, The Roadmasters' Tribute to Walter Wolfman Washington with special guests, Artemis, Glen David Andrews Band, The Topcats, Coltrane Legacy featuring Tony Dagradi & Trevarri, Wayne Toups, James Andrews & the Crescent City Allstars, Jourdan Thibodeaux et Les Rôdailleurs, Erica Falls, Kinfolk Brass Band, Savoy Family Cajun Band, Charlie Sepulveda & The Turnaround, ÌFÉ, Astral Project, Buckwheat Zydeco Jr. and The Ils Sont Partis Band, Pine Leaf Boys, Charlie Gabriel and Friends, Don Vappie & his Creole Jazz Serenaders, Bon Bon Vivant, Big Chief Bo Dollis Jr. & the Wild Magnolias, Judith Owen & Her Gentlemen Callers, Hasizzle, Chubby Carrier & The Bayou Swamp Band, Ronnie Bell, David Batiste & the Gladiators, Treme Brass Band, 6 HEARTS of Prince Edward Island, Tommy Malone, John Mooney & Bluesiana, Alynda Segarra, Dr. Michael White's Original Liberty Jazz Band featuring Thais Clark, Anthony Brown & Group TherAPy, Ray Boudreaux, Jeffery Broussard & The Creole Cowboys, Rumba Buena, Aurora Nealand's Royal Roses, Ronnie Lamarque, Jo-EL Sonnier, The Johnny Sansone Band, Solid Harmony's Tribute to Topsy Chapman feat. John Boutté, The Deslondes, J. Monque'D Blues Revue, Big Chief Kevin Goodman & Flaming Arrows Mardi Gras Indians, Ty Morris & H.O.W., Malcolm Williams with the New Orleans Celebration Choir, Yvette Landry & the Jukes, The Rumble featuring Chief Joseph Boudreaux Jr., Papa Mali, Shantytown Underground, Joy Clark, Guitar Slim, Jr., Tribute to Ma Rainey featuring Thais Clark, Yolanda Robinson, and the Lars Edegran Band, Sunpie & the Louisiana Sunspots, Flow Tribe, Lena Prima, Lulu & the Broadsides, The Quickening, Mahmoud Chouki, Blodie's Jazz Jam, Mississippi Mass Choir, Bruce Daigrepoint Cajun Band, Feufollet, Big Chief Dow & the Timbuktu Warriors, Black Mohawk, and Cheyenne Mardi Gras Indians, Sue Foley, Sweet Cecilia, Darcy Malone & The Tangle, Sierra Green & The Soul Machine, Michael Doucet & Chad Viator avec Lâcher Prise, Thunder Hill, Jackson Square All Star Brass Band, Josh Kagler & Harmonistic Praise Crusade, Jesse McBride, Mariachi Jalisco, New Breed Brass Band, The Lilli Lewis Project, New Orleans Klezmer AllStars, Tin Men, Gal Holiday and the Honky Tonk Revue, Jambalaya Cajun Band, Ingrid Lucia, Greg Stafford & his Young Tuxedo Brass Band, Mark Braud's New Orleans Jazz Giants, Tim Laughlin, Anna Moss, Julio y Cesar Band, Sam Price & the True Believers, James Rivers Movement, St. Joseph the Worker Music Ministry, The Rocks of Harmony, Banu Gibson, Jamil Sharif, David Torkanowsky: A Tribute to The ELM Music Company, Ernie Vincent & The Top Notes, Jonathon Long, The Revelers, D.K. Harrell, Sons of Jazz Brass Band, Spy Boy J & Thee Storm Mardi Gras Indians, Undivided Band, Gerald French & the Original Tuxedo Jazz Band, Kris Tokarski Jazz Band, Betty Winn & One A-Chord, Wild Tchoupitoulas, Wild Mohicans, 7th Ward Creole Hunters, Black Feathers, and Buffalo Hunters Mardi Gras Indians, Stephen Walker, Corey Ledet Zydeco, Marc Stone, Deelow Diamond Man, Kris Baptiste, Will Dickerson, Michael Juan Nunez, Los Güiros, Lars Edegran's New Orleans Ragtime Orchestra, The Palm Court Jazz Band, The Gray Hawk Band, DJ Captain Charles, New Soul Inc., Donny Broussard and the Louisiana Stars, Ricky Sebastian, Gabrielle Cavassa, Roderick Harper, The Slick Skillet Serenaders, Louis Ford & his New Orleans Flairs, Kiera Hicks, Loose Cattle, Jenn Howard, Xeno Moonflower, Zack Landry & Phaze, Tommy Sancton's New Orleans Legacy Band, New Orleans Music Program led by Donald Harrison Jr., Original Four, VIP Ladies, and Women of Class Social Aid & Pleasure Clubs, Smitty Dee's Brass Band, Northside Skull & Bone Gang, 9th Ward Black Hatchet, Wild Squatoulas, Comanche Hunters, and Seminoles Mardi Gras Indians, Alex McMurray with Glenn Hartman, The Roots of Music Marching Crusaders, Les Freres Michot, New Birth Brass Band, Papo y Son Mandao, Forgotten Souls, The Jones Sisters, The Bester Singers, Joe Dyson Look Within, Dynamic Smooth Family of Slidell, Dustin Dale Gaspard, Kim Carson & The Real Deal, Kelly Love Jones, Sam Dickey and Read the Sands, Pocket Aces Brass Band, Big Chief Bird & The Young Hunters Tribe, Fermin Ceballos Band, Sam Doores & Sabine McCalla, TBC Brass Band, Malentina, Big Chief Juan & Jockimo's Groove, Southern University Jazzy Jags, Delgado College Jazz Band, Leo Jackson & the Melody Clouds, Treces del Sur - New Orleans Latin Music Band, One Mind Brass Band, Young Magnolias and Young Eagles Mardi Gras Indians, Black Magic Drumline, The City of Love Music Ministry, The Showers, Tom McDermott, Jermaine Landrum & The Abundant Praise Revival Choir, Voices of Peter Claver, Creole Osceola Black Masking Indians, Glenn Hartman and The Earthtones, Young Pinstripe Brass Band, André Bohren + The Electric Yat Quartet presents Peter & The Wolf, Mark Brooks & Friends, The N'awlins D'awlins Baby Dolls, Donald Lewis, Rainy Eyes Band, Bamboula 2000, Terry and the Zydeco Bad Boys, UNO Jazz All Stars, Hardhead Hunters Mardi Gras Indians, Evangelist Jackie Tolbert, The Electrifying Crown Seekers, High Steppers Brass Band, The Sudan, Undefeated Divas, and Good Fellas Social Aid & Pleasure Clubs, Don "Moose" Jamison Heritage School of Music, Jessica Harvey & the Difference, Craig Adams & Higher Dimensions of Praise, Flagboy Giz, Blato Zlato, Da Souljas Brass Band, Treme Sidewalk Steppers, The Maroons, Young Guardians of the Flame, Musical Diversity in India with Andrew McLean and Mehnaz Hoosein, Tchefunky Playground, Kim Che're, Lady Tambourine, Arthur & Friends Community Choir, Louisiana Repertory Jazz Ensemble, E'Dana, Nineveh Baptist Church Mass Choir, Algiers Warriors Black Masking Indians, Swingin' with John Saavedra, Voices of Femme Fatale, Lady Prince of Wales, Men of Class, The Perfect Gentleman, and Original Pigeon Town Steppers Social Aid & Pleasure Clubs, Tyrone Foster & the Arc Singers, Val and Love Alive, Free Agents Brass Band, Big Chief Trouble & Trouble Nation, Mohawk Hunters, Monogram Hunters, and Young Seminole Hunters Mardi Gras Indians, Culu Children Traditional African Drum & Dance Ensemble with Stiltwalkers, Mestre Curtis Pierre "Samba Man", Dancing Grounds Elite Feet Dance Krewe & Youth Co, Eleanor McMain "Singing Mustangs", L. B. Landry High School Gospel Choir, Edna Karr Voices of Pride, Pastor Tyrone Jefferson, NOCOA Community Choir, Sporty's Brass Band, Original New Orleans Lady Buckjumpers, Prince of Wales, Men Buckjumpers, and Original CTC Steppers Social Aid & Pleasure Clubs, One Shot Brass Band, The Hoot-n-Holler Inn, Square Dance NOLA, New Orleans Dance Collective, Stephen Foster's Foster Family Program, Real Untouchable Brass Band, Original Big Seven, Scene Boosters, and Revolution Social Aid & Pleasure Clubs, The TMM Project featuring Amanda Roberts & Lady Chops, Young Audiences Performing Arts Showcase, Calliope Puppets, New Generation Brass Band, Lady & Men Rollers, Old & Nu Style Fellas, and Dumaine Street Gang Social Aid & Pleasure Clubs and more!