It's a Monday morning and a group of women, all dressed in white, are on the croquet court at BREC's City Park, mallets in hand.
They are members of the Croquet Coquettes, a club within the Red Stick Croquet Club, and they get together once a week to get into and out of a few sticky wickets. It's a game most haven't played since they were children.
"We used to play in our front yard," club founder Mary Nell Netterville said. "I loved knocking my big brother's ball into the street."
She and a handful of other Coquettes rediscovered the game in and around Highlands, North Carolina.
"All of the clubs in the area have croquet teams and tournaments," said Netterville, a member of the Highlands Country Club's Chicks & Sticks team.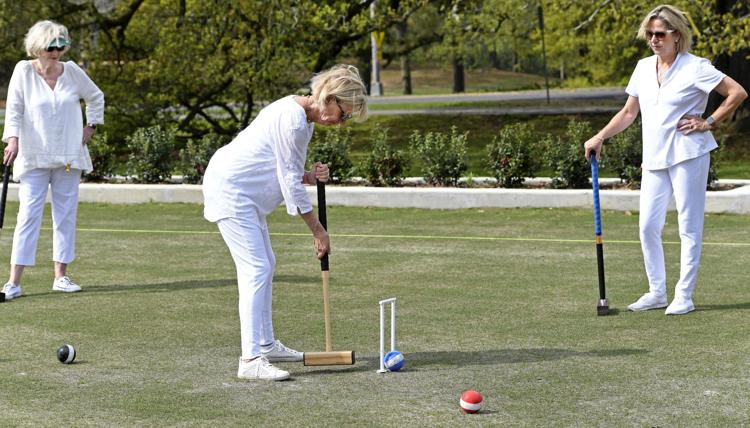 Back home in Baton Rouge, she wanted to continue playing, so she invited friends to meet her at City Park for a game.
"About eight showed up, and they were all in white," said Netterville. "I didn't even tell them about the all-white tradition. This is pretty much the same group."
Gathering weekly on the grass with Netterville are Melinda Collins, Mary Jo Delahaye, Inez Cancienne, Maury Hawking, Susan Kantrow, Carol Little, MaryJo Mayfield, Mary Kay McKee, Paula Murphy and new member Aong Dengler.
On the court recently, the women got in some practice and instruction from Red Stick Croquet Club member George Cochran before an April 6 tournament, one of several fundraising events being hosted by the club and Friends of the City Park Golf Course. There's also the Red Stick Soirée that evening.
The April 6 festivities begin with the official ribbon cutting for the croquet court at 8:30 a.m. with the tourney getting underway at 9 a.m. Some of the proceeds from it and the soirée will be used to help keep the court in tip-top shape.
"The Red Stick club was founded in October 1999 by Carl Jarrett. He's in his 80s and still involved," said Cochran, an LSU math professor who has been playing for some 20 years. "We never had a court before (the one installed by BREC at City Park). It's an official tournament-quality court — the first in Baton Rouge. The only other one is in Shreveport — a man built it in his backyard. There are two public courses and two private ones in Houston and three in Jackson, Mississippi, that are all private."
Cochran is a three-time champion of national backyard croquet, one of several different types of croquet, a game that's been around since the late 1850s. Backyard croquet, also called nine-wicket croquet, is what most folks recall from their childhood.
In Baton Rouge, the most popular game is six wicket, which is what the Coquettes play. There's also golf croquet, the fastest-growing version of the game and the one most often played by Red Stick men, who play every Wednesday and Saturday.
Just about anyone can play croquet. Red Stick Croquet Club members range in age from 30 to 80. Some are tournament-caliber players, but all skill levels, including first timers, are welcome. The game also provides a great social setting.
"Twice a week at Highlands, we have 'Wine & Wickets,'" Netterville said of playing in North Carolina. "I think the average age of team members at Highlands is 75."
And while all agree the game is fun, don't believe for a minute that the Coquettes and other members of the Red Stick Croquet Club don't take it seriously, often playing for long stretches of the day.
"The court is strictly for croquet — no frisbee or golf," Netterville said. "We'll eventually learn to set it up but George graciously helps us out now.
"People walking or jogging past us will stop and watch us play. We always invite them to come join us, and they do. The game is getting a lot of momentum."
Roaring Red Stick Soirée
A fundraiser hosted by Friends of City Park and the Red Stick Croquet Club
WHEN: 7 p.m. Saturday, April 6 
WHERE: BREC's Baton Rouge Gallery, 1515 Dalrymple Drive
TICKETS/INFO: (225) 926-3181 or bontempstix.com/events/city-park-soiree