Colton Moore is an unlikely LSU fan. The 9-year-old spina bifida patient lives in Odenville, Alabama, in a family of diehard Auburn supporters. His classmates learned to say "Roll Tide" or "War Eagle" in infancy.
But how many of those kids get to meet their favorite football coach? That's what Colton will do on Oct. 5.
When Colton's mom, Jennifer Moore, posted a photo of her son on her Facebook page saying how much he wanted to meet football coach Ed Orgeron, it took only moments for LSU to notice. And only a few more moments for the floodgates to open.
"As the day went on, I got it sent to me, I guess — conservatively — about 1,000 times by social media," said Derek Ponamsky, special assistant to Orgeron. "Of course, we wanted to reach out and see if we could make it happen."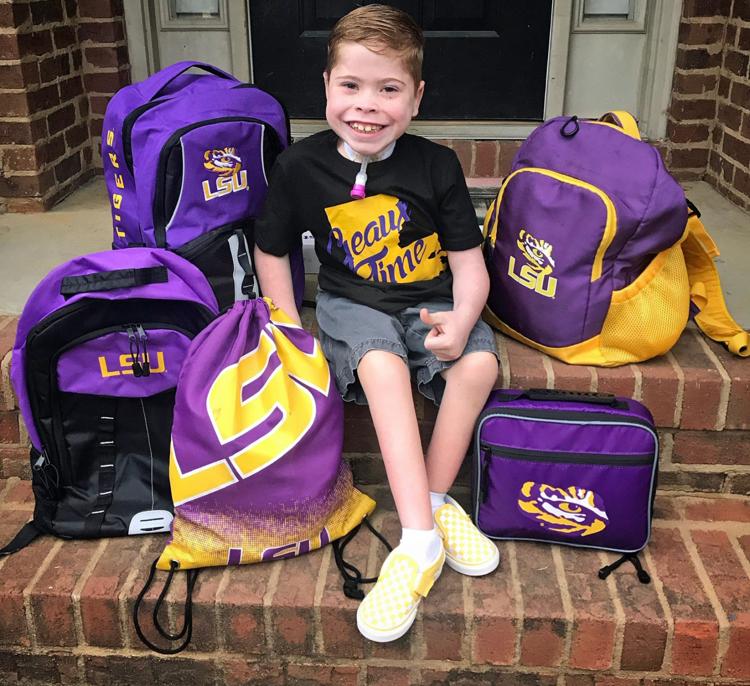 The meeting will culminate a remarkable journey in fandom for Colton.
The Alabama youngster has had a number of medical issues in addition to spina bifida, a birth defect in which a baby's spinal cord fails to develop properly. He contracted meningitis that doctors thought he wouldn't survive, cannot take food by mouth and requires breathing assistance at night. Colton has had 38 surgeries, with two more scheduled before the end of January.
When a family friend offered the Moores tickets to the 2017 Southeastern Conference Baseball Tournament finals in nearby Hoover, Alabama, they brought Colton to watch as LSU beat Arkansas 4-2 to win the tournament. After the game, the Moores stopped by the LSU team bus, where Tiger players greeted Colton and gave him souvenirs.
"They were compassionate. They talked to him," Moore said. "One of the coaches … gave him one of the shirts they passed out, one of the championship shirts. It was, of course, adult size, so it was huge for him, but he had to wear it on the way home, and on the way home he made us stop by Walmart because he wanted an LSU shirt."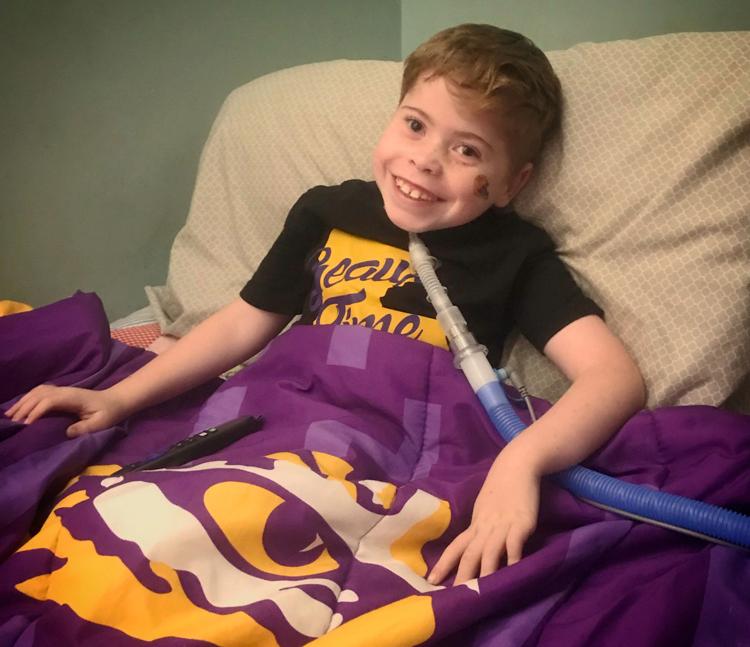 This being Alabama, Colton had to settle for a purple T-shirt until they could order some LSU gear to support his new passion, which hasn't waned.
"We were watching a football game, and it zoomed in on Coach O," Moore said. "Colton was, like, 'Who's that, Mom?' I told him that's the football coach, Coach O. He just was amazed.
"During the press conference after the game, Colton was still watching TV and he looked at me and said, 'Mom, Coach O.' 'Yes, Coach O.' He watched him, then he turned and looked at me and said, 'Mom, what's he saying?' I said, 'Buddy, I don't know.' We laughed."
With the availability of LSU information online and on sports channels, Colton follows the Tigers obsessively. It bothers him that his wheelchair — ordered before his conversion as a fan — is Auburn orange and blue, not LSU purple and gold. But he has a closet full of LSU gear, and when he goes to the hospital, his mom packs his LSU pillowcase and blanket.
More than anything, though, Colton is fascinated with Orgeron.
"I really don't know," Moore said. "I can ask Colton, 'Why do you like him so much?' He'll be, like, 'I just do, Mom. I like Coach O.'"
After Pomansky called to invite Colton to meet Orgeron when LSU plays Utah State, Moore broke the news.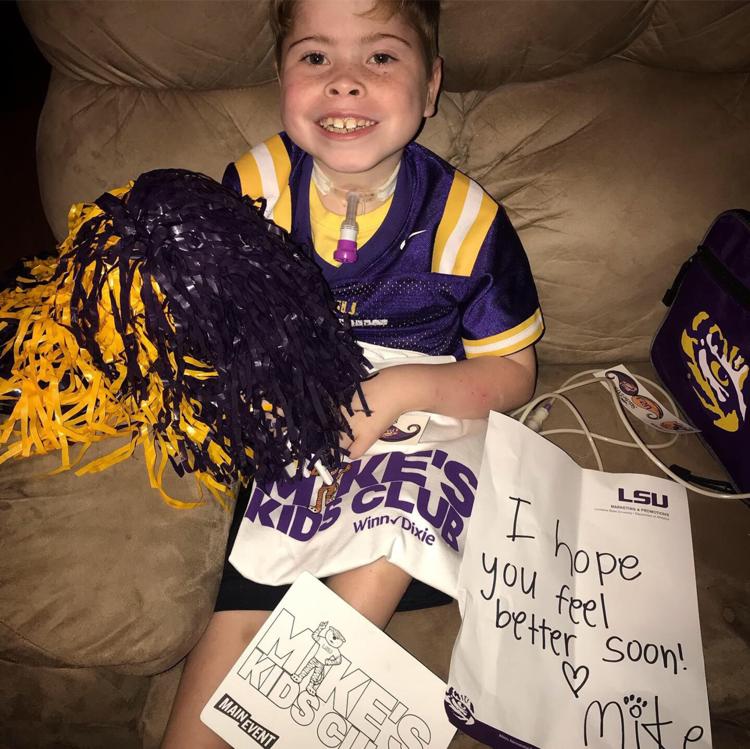 "He went to school that day with a smile they said they could not wipe off of his face," she said. "He told everybody he passed in the hallway he was going to meet Coach O. He told his teachers, his friends. He called his grandparents on the phone and told them. He went crazy with it."
A friend set up a crowdsourcing fundraiser to defray the cost of the trip for Colton, his mom and his father, Brandon, including a handicap-accessible van. The effort quickly reached its goal.
"The LSU fans have blown me away," she said. "It's been amazing. The majority of the Go Fund Me has been from people we have never even met, people that have just seen a Facebook post. I'm wowed."