Lizz Winstead has no fear about bringing her Abortion Access Front stand-up comedy and sketch show to Louisiana.
"I mean," she replies, half-asking if the question of fear is a serious one. "Do I have a fear of people who hate me? I don't know. That's been a long-standing thing I've had to deal with, being a woman with an opinion."
On Monday, Sept. 23, Winstead, the co-creator of "The Daily Show," will be joined by comedians Mehran Khaghani and Joyelle Nicole Johnson for the Abortion Access Front show at Mid City Ballroom in Baton Rouge. Doors open at 7 p.m. Tickets are $15.
Formerly known as the Lady Parts Justice Tour, Winstead started working with fellow comedians as early as 2010 to host shows that would benefit health care clinics around the country that provided access to birth control and abortion. The tour grew from a summer tour to a yearlong string of shows, now hitting areas of the country "where it's gotten really hard for folks," Winstead said.
"It just hit me that I have a platform," she said about her early days in forming the show and organization. "I know a lot of people in my industry who have benefited from birth control, from clinics, and I wanted to be able to do more than be me on tour.
"I gathered writers, comedians, videographers and graphic designers together and said, 'There is a real need that's not being serviced, and that is to bring aid and comfort to clinics,'" she added. "After these shows, we have a conversation between the audience, the folks who work at the clinic and the activists within that community about what they can do to help."
After one show in Oklahoma City, a landscaper in the crowd raised his hand and asked if doing his job, mowing the lawn of a clinic and getting paid for it, was activism. Winstead responded, "Yeah, and the activism is you park your van in front of that clinic in a show of support."
The comedy of such a show comes secondary to facilitating the needs of the clinics, especially as Louisiana passed a near-total abortion ban, signing into law that abortions are banned after a fetal heartbeat can be detected. The bill has exceptions for rape or incest.
By connecting clinics with their advocates in what Winstead described as "deserts of care," these shows give audiences knowledge of how to help and what services can be rendered.
"A lot of times well-meaning people don't know what they can do to help and how to help," Winstead said. "It's been rewarding to be able to bring information that's tangible and accessible. The comedy is the tool that can help get a bunch of people in a room that activists and clinics might not have access to."
Such shows aren't without protests, but that pushback doesn't faze the comedian's pursuit — especially when the protest is against a "comedy show that doesn't provide abortions or health care," Winstead said. "The protesters don't do themselves any kind of service by constantly forcing this issue of reproductive oppression on people."
The tour is Winstead coming full circle in her career. When she started performing stand-up and writing, her political bits would rile up crowds who constantly asked what they could do to help.
"The problem was in the first part of my career, I didn't know how to respond to that question," she said. "I would say, 'I'm a comedian. You figure it out.' I didn't want to keep being that person who was an anger fluffer. Once these restrictive laws started passing in 2010, I knew it was time to have the conversation about why access to birth control, abortion, and all the resources for healthy parents who want healthy children aren't around. It's always been an issue that's been put on women, and it's time we say that this is an issue for all of us."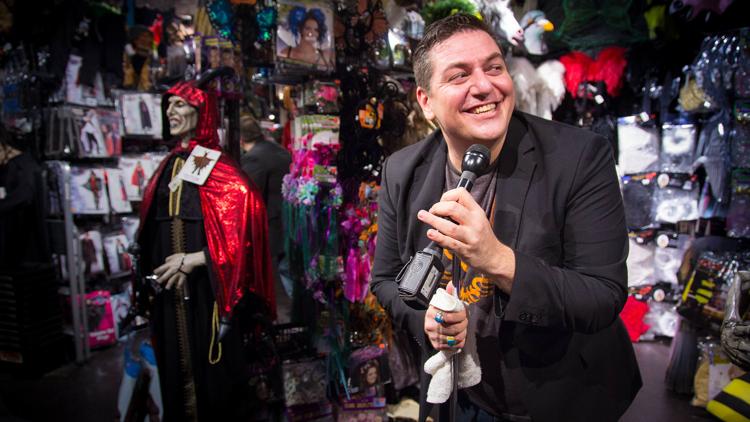 Mehran Khaghani discusses working with the AAF tour
Mehran Khaghani, a New York-based comic, began working with Lizz Winstead on the Abortion Access Front tour about three years ago. When he first got a call about the shows, it was an opportunity the Iranian-born comic couldn't pass.
"I come from a feminist mother, and my father was a neuropsychiatrist and doctor, and we had to come to the United States because my mother was on the list to be executed in Iran," Khaghani said. "Women's issues, specifically abortion access has always been super important to me. With my father's background, the medical aspect isn't lost on me at all. This is incredibly important work. Of course, I'm going to go to these places and be an idiot."
When discussing how the shows have provided connection between clinics and advocates, Khaghani gets emotional. 
"The show doesn't stop at informing people," he said. "What's important is people rallying and understanding their access. The comedy has a specific role. If you go up to someone at a bar and say, 'These are fascist movements designed and executed by old, white men,' you killed the buzz, my friend. But, if you go and turn this show into a social event, the audiences are more open then they want to discuss what they can do to help."
Khaghani is fully aware of his background and his "report card" to know how to deal with touchy topics and sensitive audiences. In polarizing times, especially for a comedian, his goal is to remain true to himself. 
"I know where I come from and where I land on topics like feminism," he said. "I will police myself to a certain extent just because I have to read the room. Sometimes, I'm on the stage in hopes that we can hit fast-forward on the social values vindication and keep ourselves vigilant and ready to fight the real enemy. It's a tough thing to negotiate, but audiences smell on me pretty quickly that I'm a harmless idiot." 
With Abortion Access Front, he finds joy in bringing his humor to a different outlet — one that enlightens while having fun.
"I think people are afraid that the enlightenment is joyless," he said. "What this group does so well is show that the party is still on."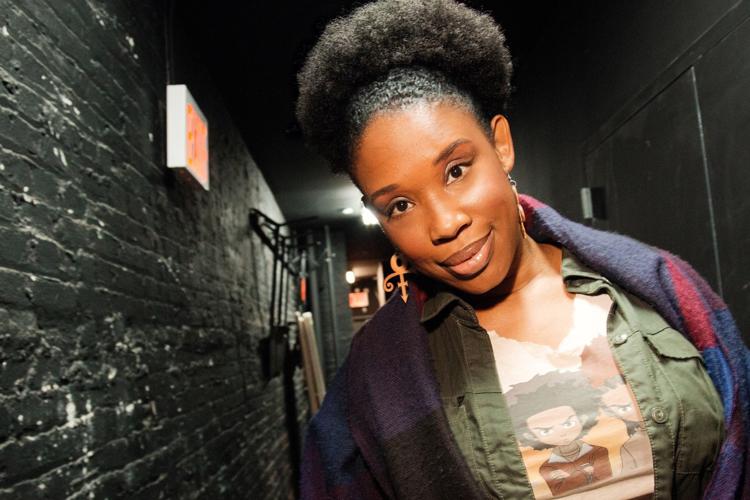 Joyelle Nicole Johnson, aka 'The Protest Whisperer', has been with Abortion Access Front since day one
When Abortion Access Front first started touring across the country as Lady Parts Justice, comedian Joyelle Nicole Johnson was doing something on stage she had never done before — talk about her abortion.
"I went on stage and went for it," she said. "I ended up crying on stage. It was a cathartic experience because a lot of women will have an abortion then never talk about it. If you don't talk about it, it will sit on your spirit. The goal is to normalize the word 'abortion,' to make sure women don't feel ashamed about it."
Johnson describes herself more as a storyteller than a stand-up comedian, but on tour, she's gained another nickname — "the protest whisperer."
"I'm the person who goes and talks to protesters and tries to hear what they're trying to say," she said, mentioning she doesn't mind push back. "Honestly, when a protest happen, it means we're doing something right. The show is causing a stir."
Key to Johnson's delivery on and offstage is her positive spirit. She doesn't operate her life in fear, especially when performing with these shows. Instead, she takes the approach of "operating from a loving perspective," she said. The knowledge of women fighting for rights in areas without care "puts a fire under me."
Johnson knows how easy it would be to disassociate from the "constant assault of emotions" that she sees in everyday news, but working with these shows gives her hope.
"It's all too much, but I can't disassociate because there are so many important things happening," she said. "My hope is that we can do the work to fix the damage that has been done."
---
ABORTION AF: THE TOUR
Hosted by Lizz Winstead. Featuring Mehran Khaghani and Joyelle Nicole Johnson.
8 p.m. Monday, Sept. 23. Doors at 7 p.m.
Mid City Ballroom, 136 S. Acadian Thruway
$15 at ticketweb.com
facebook.com/midcityballroom; aafront.org
This is an all ages show.