There are many quotable quotes about Independence Day, one of the earliest from the second U.S. president, John Adams.
"It will be celebrated with pomp and parade, bonfires and illuminations from one end of this continent to the other," the Founding Father said.
Adams' idea of a patriotic party continues in 2021. Adding to the specialness of this year's celebrations — most of last year's events were cancelled due to the pandemic. All the more reason to mark the holiday in grand fashion.
Here are our top seven Independence Day events happening this weekend in the Baton Rouge area:
1. 'Ready … fire!'
WHAT: War of 1812 cannon firing demonstration
WHERE: Audubon State Historic Site and Oakley House, 11788 La. 965, St. Francisville
WHEN: Every half hour from 1 p.m. to 3 p.m. Saturday
COST: Included with park admission — Oakley House tour and grounds is $10 for adults (age 18-61); $8 for senior citizens (age 62 and older), $6 for students (age 4-17), and free for children, (age 4 and younger); Grounds-only admission is $5 per person (ages 4 and older) and free for children (age 4 and under). 
DETAILS: Watch costumed park staff and volunteers as they show how a cannon worked during the war. "This program commemorates the War of 1812 and its effect on Louisiana," says John House, site manager. "We want every visitor to Audubon State Historic Site to experience the site's rich heritage."
MORE INFO: Go to AudubonStateHistoricSite@wordpress.com, or call (888) 677-2838 or (225) 635-3739
2. Time to parade
WHAT: 49th Annual Kenilworth Independence Day Parade
WHERE: Through the Kenilworth neighborhood, starting and ending at Kenilworth Science & Technology School, 7600 Boone Ave.
WHEN: 6:30 p.m. Saturday
COST: Free
DETAILS: A family-friendly event. Grand marshal is 104.5 ESPN radio personality Matt Moscona and residents of the year are members of City of Baton Rouge Fire Station 10. This year's theme is "America: Forever Resilient." 
3. 'Patriots and Pirates'
WHAT: The USS KIDD Veterans Museum's "Patriots and Pirates, a Revolutionary Celebration" 
WHERE: 305 S. River Road
WHEN: All day Sunday
COST: All riverfront activities are free. Regular admission applies for museum.
DETAILS: Military displays on site, Will Wesley performing from noon to 3 p.m., the Marine Forces Reserve Band from Belle Chasse from 6 p.m. to 9 p.m., kid's activities, a River Road Market with food, beverage, arts, and souvenir vendors.
LAGNIAPPE:  A V.I.P. (Very Important Patriot or Pirate) event starts at 5 p.m. Tickets ($50 per person) include access to the museum for the evening, food and beverages, entrance to ship beginning at 8 p.m. for prime fireworks viewing. Tickets available at www.usskidd.com/product/4th-of-july-patriots-and-pirates-a-revolutionary-celebration/.
MORE INFO: Go to www.willwesleymusic.com, https://www.marforres.marines.mil/, www.usskidd.com, or call (225) 342-1942.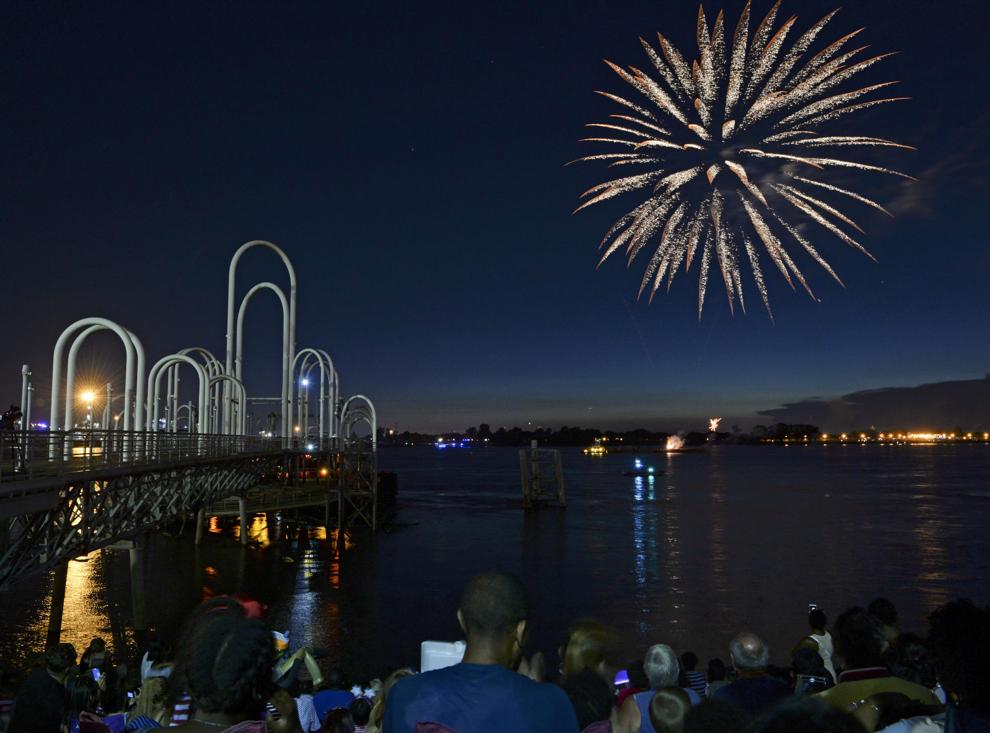 4. Strike up the band
WHAT: Baton Rouge Concert Band concert
WHERE: EBR Main Library, 7711 Goodwood Blvd.
WHEN: 7 p.m. Sunday
COST: Free
DETAILS: The ensemble, led by conductor Sheily Bell, will perform marches and celebratory music. Attendees are asked to wear red, white and blue; and bring chairs and water.
MORE INFO: Check the band's Facebook page.
5. The sky lights up
WHAT: WBRZ's Fireworks on the Mississippi
WHERE: Downtown riverfront in Baton Rouge and Port Allen
WHEN: 9 p.m. Sunday
COST: Free
DETAILS: Sponsored by The Baton Rouge Clinic and presented by Visit Baton Rouge, the display will be accompanied by a live telecast on WBRZ+, WBRZ.com, and WBRZ News 2's Facebook page.
MORE INFO: WBRZ.com
6. Freedom fun
WHAT: Freedom Rules Weekend
WHERE: L'Auberge Casino Hotel, 777 L'Auberge Ave.
WHEN: Friday-Sunday
COST: Varied
DETAILS: Wayne Toups concert starts at 9 p.m. Friday in the Event Center. On Sunday, Eagle 98.1 presents fireworks at 9 p.m. The rooftop pool viewing party runs from 7 p.m. to 10 p.m. featuring Geaux DJ. Edge Bar balcony viewing party is 8 p.m. to midnight with Press 1 for English. Catch the Lawn viewing party from 7 p.m. to 10 p.m. Also, a party on The Promenade from 8 p.m. to midnight with The Anteeks. https://www.lbatonrouge.com/entertainment#lbbr-events
7. Party in Plaquemine
WHAT: 20th Annual Hometown Celebration
WHERE: Plaquemine Waterfront Park, 57845 Foundry St., Plaquemine 
WHEN: 5 p.m. to  9 p.m. Sunday
COST: Free
DETAILS: Kids' rides, dancing, food, crafts, boat parade at 5:30 p.m., veterans ceremony at 6 p.m., jitterbug contest at 7 p.m. Phat Hat plays its first public show of 2021. Fireworks show at 9 p.m., accompanied by patriotic music by Plaquemine Council 970 Corp.
MORE INFO: plaquemine.org/events or (225) 687-3116