As we watch our neighbors to the west go through our worst nightmare from a year ago, we can feel their heartache. And the stress. 
What comfort we find might come in the shape of a large pizza with everything on it. Pizza, after all, is the food we turn to when the going gets tough ... or when we just want something that's easy, delicious and will take our minds off the world's latest disaster. 
In Baton Rouge, there is no shortage of pizza joints, and everyone has an opinion on which is the best. While some prefer the chains or even a slice from Costco or Whole Foods, we decided to take a look at some more Louisiana-style institutions that are serving up a good slice, with a few exceptions, as well as some that are coming soon.
These are the pie places that will get you through the best of times — and the worst. 
---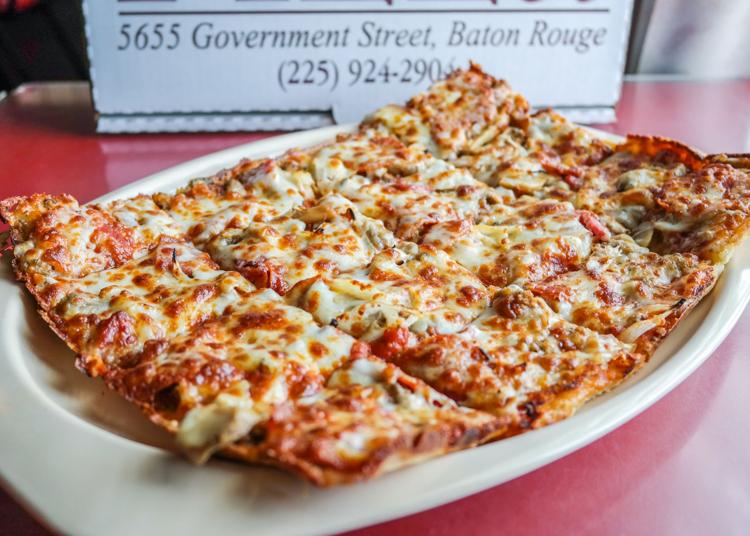 WHERE: 5655 Government St.
INFO: fleurdelispizza.com, (225) 924-2904
If you've ever been to this Mid-City institution, no need to read another word. Fossils frozen in amber change more than Fleur de Lis, which has had the same look for decades. The interior has definitely seen better days. If you're used to new, shiny and pristine, this will come as a shock. Fleur de Lis is best approached with an anthropological spirit of someone looking for a vintage neighborhood hangout.
What to get: Round the World ($9.25 small, $13 large) — Fleur de Lis' signature dish features Italian sausage, mushrooms, pepperoni, salami, onions and anchovies, but no tomatoes are harmed in the making of this pizza. Without a single drop of tomato sauce and the acidic tang it provides, we recommend keeping the anchovies, even if you're not an anchovy fan. — George Morris 
Editor's note: Fleur de Lis still doesn't accept credit or debit cards. But, hey, they do accept checks! 
---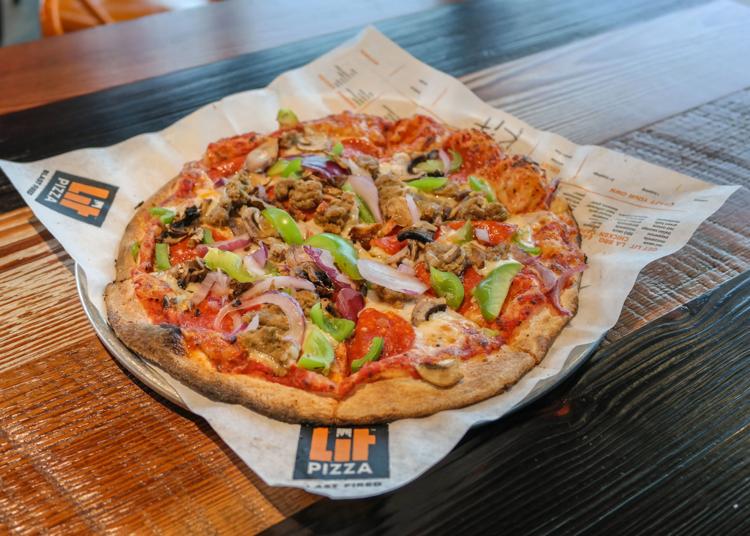 WHERE: 3930 Burbank Drive, Baton Rouge; 14601 Airline Highway, Suite 101, Gonzales
INFO: lit.pizza, (225) 454-6797 on Burbank, (225) 402-4445 in Gonzales 
It seems that the Baton Rouge area is getting lit these days and with good reason. From the creators of Izzo's Illegal Burrito, Lit Pizza crafts made-to-order, personal pizzas then fires them in the oven right before your eyes. It's freaky fast, cheap (with most pies coming in at $8), hot and delicious. In just a year, Baton Rouge has caught on as its Burbank location is popular throughout the day. A Gonzales location just opened, and more locations are on the way. 
What to get: Lit lets you custom design your pizza with any or all of their toppings. You could go a safe route with pepperoni and red sauce. Or you could go for a signature-crafted pizza if you're indecisive. Of its selection of crafted pies, you can't go wrong with the Get Lit ($8) with red sauce, mozzarella, pepperoni, Italian sausage, red onions, green bell peppers and mushrooms. It comes out hot, fresh and — yes, we're repeating ourselves — fast. — George Morris
---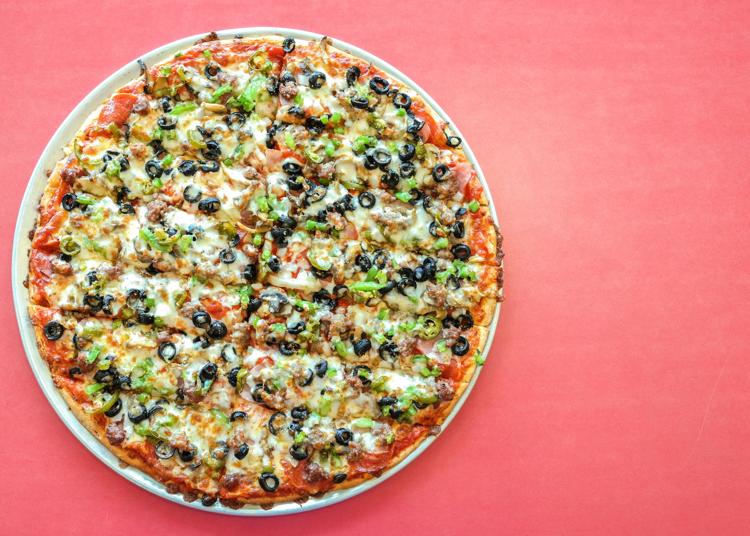 WHERE: 8873 Highland Road, Baton Rouge; 14790 Wax Road, Central
INFO: johnnysph.com, (225) 763-9797 in Baton Rouge, (225) 615-8335 in Central  
Johnny's is a North Louisiana institution that harkens to the days when pizza was still mostly a dine-in experience. Johnny's still has that, including a buffet for those who can't make up their mind or just want to gorge themselves. 
What to get: For those who believe that pizza crusts are simply a delivery device for ingredients, and lots of them, the Sweep the Kitchen ($8.19-$20.19) is an obvious choice. This one comes loaded with mozzarella, pepperoni, mushroom, ham, black olives, anchovies, onions, sausage, hamburger, bell peppers and jalapeños. They're jammed together like afternoon traffic on Interstate 12. A word of advice: Skip the anchovies, the saltiness is not needed. — George Morris
Editor's note: Johnny Huntsman, the founder of Johnny's Pizza, died at age 77 in June. Without Johnny's in my life growing up in West Monroe, I don't think I could've survived. Thank you, Johnny. 
---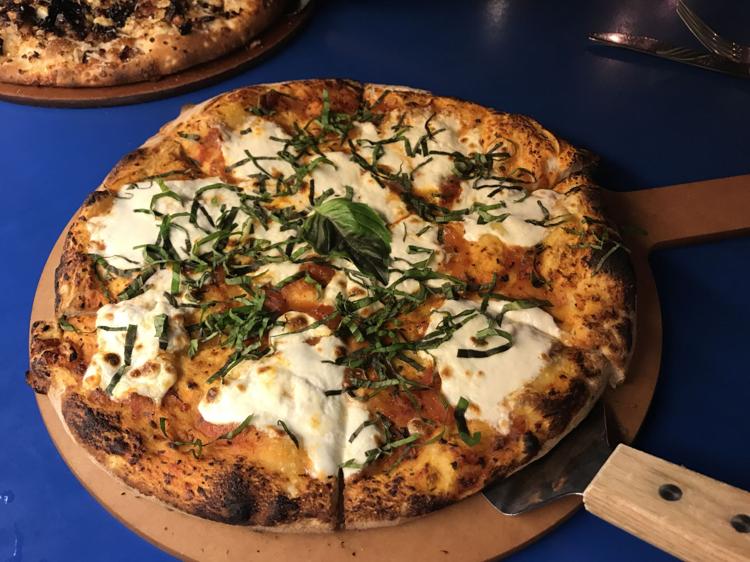 WHERE: 684 Jefferson Highway
INFO: reginellis.com, (225) 231-1313 
Born in New Orleans 20 years ago, Reginelli's has made its way out of the Crescent City with locations in Baton Rouge and Houston. Located on the crust of Mid City, Reginelli's is often overlooked and underrated, which is surprising because it's one of the best pies in town. The menu has been revamped in celebration of its 20th anniversary. There are a few changes, but don't worry — these pizzas are still great, with that crispy crust, and the sauce-to-toppings ratio is just right. 
What to get: If you want a more traditional pizza, go for a classic combo ($12.95-$18.25) with pepperoni, Italian sausage, onions, green peppers and black olives. But if you're willing to take a chance on something else, you can't go wrong with the Saltimbocca ($12.95-$18.25) with garlic herb sauce, chicken, prosciutto, spinach, capers and lemon juice. The Margherita ($11.95-$17.50) is also choice with burrata cheese and fresh basil. The more I think about these, the hungrier I get. — Matthew Sigur 
Editor's note: Not in the mood for pizza? Try a Dream State sandwich, with goat cheese, cherry tomatoes, pancetta, roasted eggplant, walnuts and mixed greens on toasted focaccia. 
---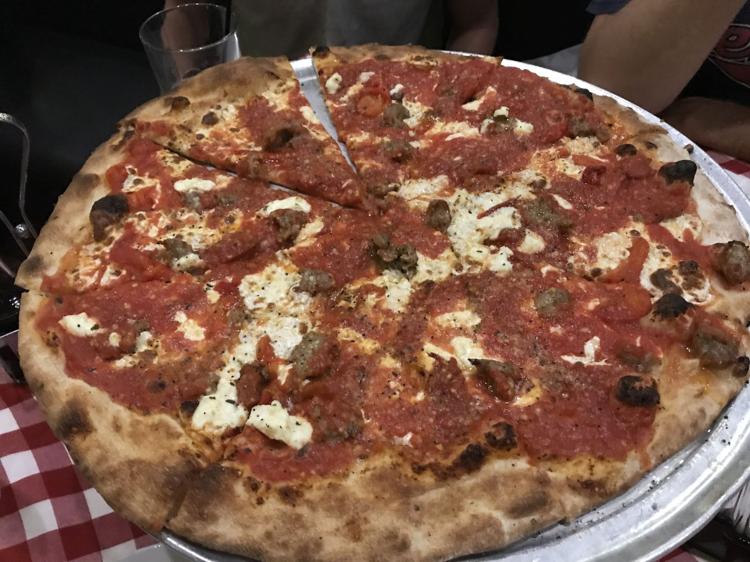 WHERE: 6401 Bluebonnet Blvd., Suite 560 
INFO: grimaldispizzeria.com, (225) 768-0861 
The original Grimaldi's pizza joint, one of New York's most popular, literally stands in the shadow of the Brooklyn Bridge. The Baton Rouge iteration at the Mall of Louisiana can't boast as dramatic a backdrop, but it does serve up the some of the better New York-style, coal-fired pizzas you'll find in the area. The atmosphere inside is charming, the appetizers are tasty, the prices reasonable and the pizzas are pretty darn delicious. 
What to get:  The Brooklyn Bridge ($17-$24) comes with roasted red peppers, ricotta cheese and Italian sausage. It's a traditional pick that hits the spot. If you're looking for a vegetarian-style pizza, go for The Garden ($16-$23) with huge amounts of tomatoes, onions, mushrooms and black olives. If there were any more toppings on this pizza, it would fall apart. — Bryn Stole 
---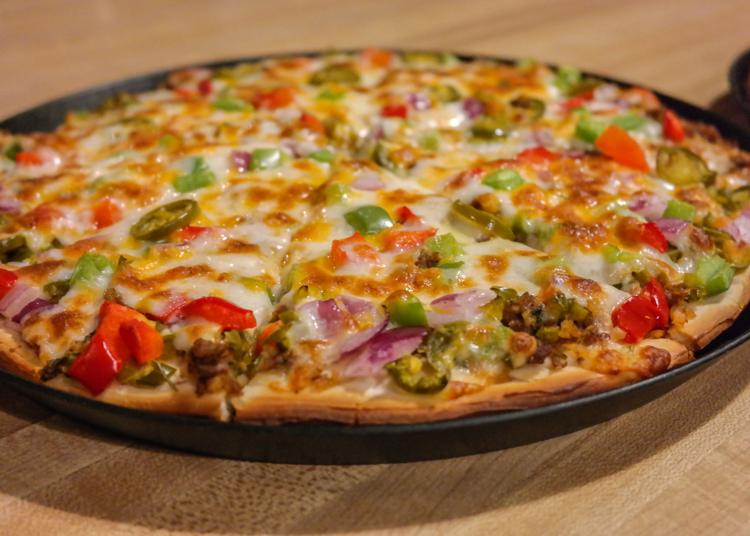 WHERE: 252 South Blvd. 
INFO: pastimerestaurant.com, (225) 343-5490 
Pastime is another one of those local institutions. Open for more than 70 years, this is about as laid-back as it gets in Baton Rouge. The furniture is worn in an inviting way and decades worth of LSU Tigers memorabilia hang on just about every inch of available wall space. The beer on tap is cold, and the pizza comes out hot. It's nothing too fancy, but I wouldn't say no to a cold one and a pizza at Pastime. 
What to get: The Boudin Pizza ($13.75-$21) is trademarked. How's that for a certificate of approval? But really, this is what you must try here. Each pizza comes on a thin crust, and the toppings are stacked so high that some are bound to stumble off. Other go-to favorites are The Papa Joe ($13-$18.25) with ground meat, pepperoni, black olive, green bell peppers and jalapeños; and the Downtown Special ($10.75-$16) with ground meat, pepperoni and onions. If you like seafood on your pizza, Pastime also offers a Bayou State Pizza ($14.50-$22.50) with shrimp, crab meat and crawfish. — Bryn Stole 
---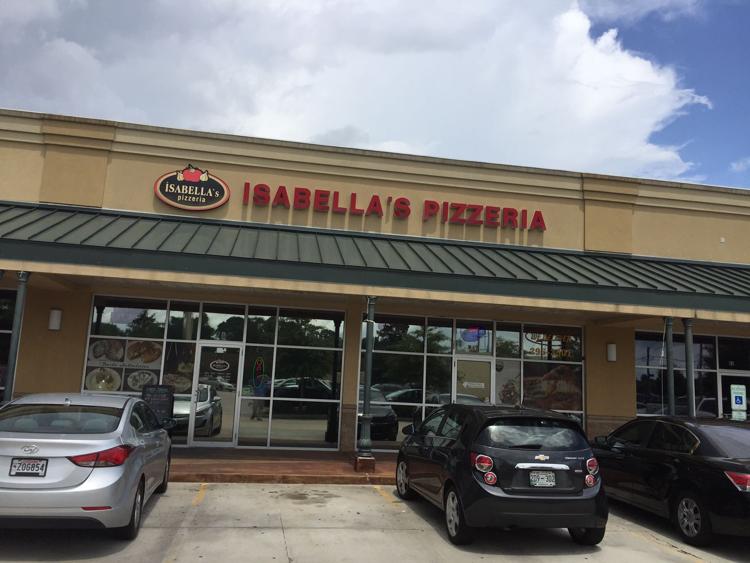 WHERE: 10330 Airline Highway, Suite B5
INFO: isabellaspizzeria.net, (225) 295-3501 or (225) 295-3504 
A dimly lit neighborhood joint that features an array of pizzas, pastas, calzones, wraps and salads. Isabella's serves pizzas on a medium thick, yeasty crust with a few nice twists that make them different from the standard pie, like offering salami on the meat combo and scallions on the roasted garlic chicken. 
What to get: A vegetarian pizza ($11.50 for a 10-inch small up to $20.50 for a 16-inch extra large). The pie is nice and salty, because of two different types of brine-y olives and feta cheese. The generous serving of roasted eggplant will keep you from missing the meat. Its signature pizza, the Four Seasons ($18.95-$21.75), is a good choice for a party. This comes divided into fourths by dough ropes and is like four pizzas in one with garlic herb sauce, green onion sausage, shrimp and spinach sections. — Timothy Boone
---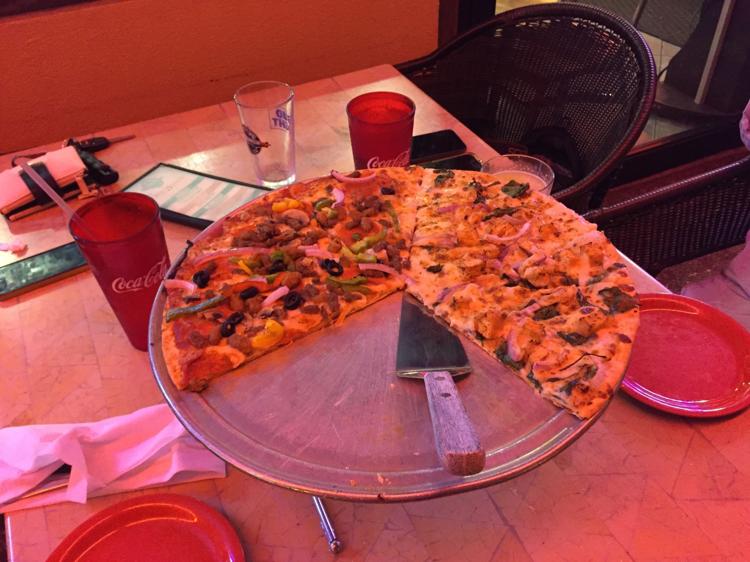 WHERE: 4395 Perkins Road
INFO: redzeppelinpizza.com, (225) 302-7153
With an awesome outdoor patio and prime local craft beers on tap, Red Zeppelin has become a go-to pizza joint on Perkins Road. Serving specialty pizzas, calzones and sandwiches, these options have a rock 'n' roll twist, but not obnoxiously so. Its hangout vibe and open-air atmosphere make it one of the more welcoming pizza spots in town. 
What to get: If you like boudin (and how could you not) you have to try the Bou-Ray ($12.95-$21.99). Instead of sauce, this has a delicious sprinkling of boudin and is covered in an array of toppings, including alligator sausage. Don't miss out on the Alfredo sauce pizzas like the Back in Black ($12.95-$21.99) with spinach, red onions, garlic and blackened chicken. If you're feeling less adventurous, you can't go wrong with the classic Mothership ($12.95-$21.99), a hearty combination of pepperoni, ground beef, Italian sausage, peppers, onions and green olives. — Grace Toohey
---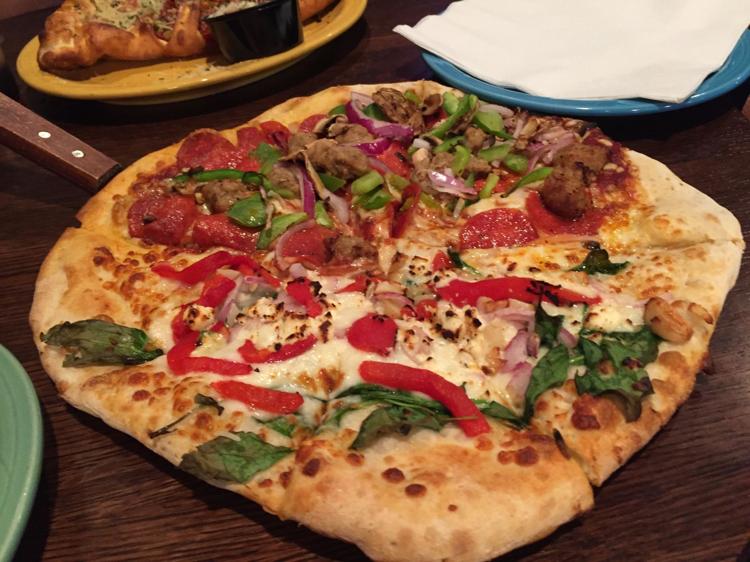 WHERE: 8342 Perkins Road, 2985 Millerville Road 
INFO: rotolos.com, (225) 636-2646 on Perkins, (225) 388-5525 on Millerville 
Started in the late 1990s in south Louisiana, Rotolo's is a mix between sports bar and pizzeria which makes it a prime spot for casual, family and sports dining. With cozy booths and an ample bar, Rotolo's is versatile and easy-going, serving up sandwiches, wings, pastas and calzones to go along with its pizzas. Baton Rouge is a big fan, too, with another location coming soon at the intersection of Burbank Drive and Ben Hur Road. 
What to get: The Deluxe Combination ($14.99-$23.99) is the traditional meat lovers'-style pie, with pepperoni, Italian sausage, green peppers and red onions. If you're looking for a lighter option, go for the Popeye ($14.99-$23.99), which comes with an olive oil sauce, red onions, feta cheese, roasted red peppers, mozzarella and spinach. On Wednesdays, get a calzone. They're $6, down from the normal $9.50, and it's a steal for the amount of food packed into these. — Grace Toohey
---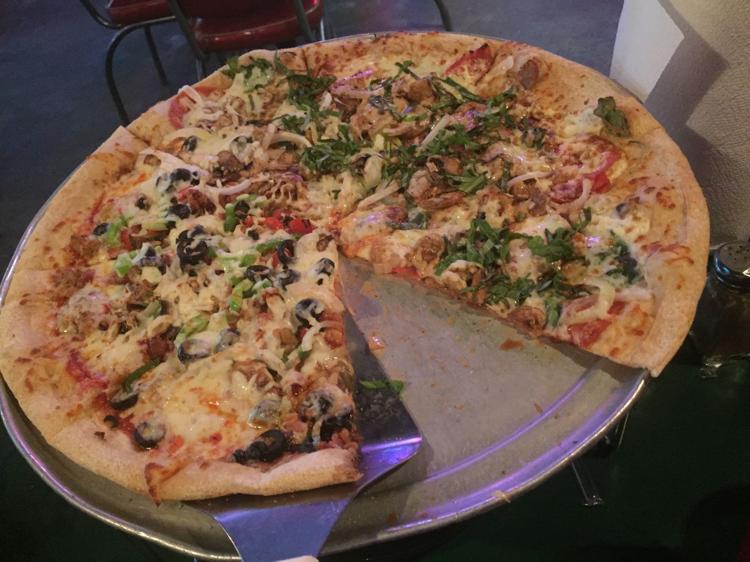 WHERE: 301 Third St., 2355 Ferndale Ave.
INFO: schlittzandgiggles.com, (225) 218-4271 on Third, (225) 361-0776 on Ferndale 
Schlittz & Giggles is known for its large slices and its awesome slogan: "silly name, serious pizza." The sports bar-style pizza place is family-friendly, great for socializing or watching the game. If you're downtown on Third Street, you've no doubt seen the sign during those late night treks for "Hot Slices Now." The slices are like greasy sponges to sop up the evening's fun. 
What to get: A slice of pepperoni usually does the trick, running around $3. If you go for a full pie, go hungry. A large, 18-inch thin crust pizza is cut into huge, flimsy slices that buckle from the weight of the toppings. The Kitchen Floor ($21.99) has pepperoni, ham, Italian sausage, bacon, roasted red peppers, green bell peppers, onions, mushrooms and olives. You'll need to eat this with two hands and fold it into your mouth. If you like barbecue sauce on your pie, go for the K.C. Master-Pizza ($19.99), which comes with chicken, jalapeños, red onion and roasted garlic. Either way, you're sure to have yummy leftovers the next day. — Grace Toohey
---
MORE PLACES FOR PIZZA 
Flambée Cafe — Relatively new to Baton Rouge's scene, Flambée Cafe is from the owners of Bistro Byronz, and they didn't want to open a run-of-the-mill pizza place. Its signature dish, the Tarte Flambée, is a French-style thin crust that's fired in a brick oven. Choice toppings include bacon lardon, brie, crème fraîche, boudin and house-cured salmon. I'll have a dozen please. 8210 Village Plaza Court. flambeecafe.com. 
Mellow Mushroom — A college kid's dream, Mellow Mushroom serves classic, thin or gluten-free crust-style pizzas with a heavy nod to funk with names that will make stoners giggle. 4250 Burbank Drive. mellowmushroom.com. 
The Original Italian Pie — This New Orleans-born restaurant has locations in Harahan, Covington, Marrero and two more in Baton Rouge. Its menu boasts gourmet pizzas, overstuffed calzones and lavash wraps. 7731 Perkins Road, 15540 George O'Neal Road. italianpie.com.
Bistro Italia — A small but delicious Italian restaurant on Coursey Boulevard, Bistro Italia serves up specialty pizzas, calzones, pastas and sandwiches. This joint is super underrated. 11903 Coursey Blvd. facebook.com/bistroitaliabr. 
Ruffino's — When people talk about nice restaurants in Baton Rouge, Ruffino's usually gets thrown in the mix. It's known for its pastas, steaks and Italian specialties, but don't sleep on its wood-fired pizza, which is also pretty darn good. 18811 Highland Road. ruffinosbatonrouge.com. 
DiGiulio Brothers — Another prime Italian restaurant, DiGiulio Brothers is located near the Perkins Road overpass and known for its brilliant traditional entrees like osso bucco, spaghetti and meatballs, and eggplant parmigiana. The pizzas are no joke either. 2903 Perkins Road. digiulios.com. 
Louis DeAngelos — This casual Italian eatery serves up New York-style pizza with toppings ranging from pepperoni to banana peppers, and meatballs to wild mushrooms. You could go for a specialty pie, but a simple cheese pizza isn't bad either. 7550 Bluebonnet Blvd. louisdeangelos.com. 
Newk's — A quick casual eatery with a couple of locations in Baton Rouge, Newk's serves traditional personal pizzas (pepperoni and margherita) as well as options like the Carolina Gold pulled-pork pizza with onions, dill pickles (?!) and barbecue sauce. 7211 Corporate Blvd., Suite B.; 3332 Lake St. newks.com. 
The Grind — Next door to the arcade and bowling alley Quarters, The Grind serves up amplified takes on wings, burgers and flatbread pizzas. And these pizzas don't mess around, either. The toppings sink the thick bread. You'll need two hands for these hunks of goodness. 4530 S. Sherwood Forest Blvd. quartersbr.com. 
BJ's Brewhouse — A restaurant and brewhouse chain located near the Mall of Louisiana, BJ's serves signature deep dish, "tavern-cut," and gluten-free pizzas. What does "tavern-cut" even mean? I guess I'll go find out now. 6401 Bluebonnet Blvd., No. 740. bjsrestaurants.com. 
California Pizza Kitchen — This chain in Perkins Rowe serves up signature personal pizzas with original-style, thin and gluten free crusts, all with inventive ingredients. 10001 Perkins Rowe, Suite 110. cpk.com. 
---
COMING SOON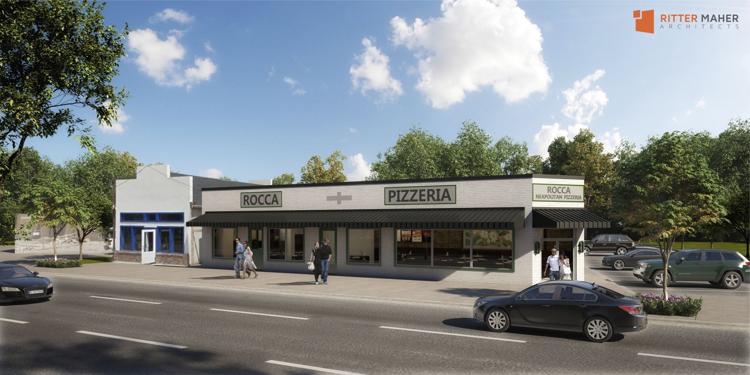 Rocca Pizzeria — A new wood-fired oven pizzeria will open in the fall at 3897 Government St. in the former location of Goûter. This new concept comes from Ozzie Fernandez and Gary Kovacs, the founders of Izzo's and Lit Pizza. Unlike Lit, Rocca will feature counter service and new twists on Neapolitan-style pizza. facebook.com/roccapizzeria.  
Dat'z Italian Wood Fired Pizza — A mobile wood-fired pizza oven that has been a hit at festivals, Dat'z Italian is owned and operated by Joe and Shelly Forte. These pizzas are seriously delicious. If you haven't been able to find them, you can shelve those concerns as a brick-and-mortar location will open in the upcoming White Star Market on Government Street later this year. We can't wait. facebook.com/datzitalianwoodfirepizza. 
Toppers — A pizza chain based in Whitewater, Wisconsin, Toppers is coming to Baton Rouge, courtesy of LSU alum David Arrington. Two locations will open near campus. Specialty pies include mac 'n cheese, taco topper and loaded tot-zza (with tater tots and ranch). toppers.com. 
Noble Wave — This local brewpub and pizzeria, run by Riley Vannoy and Karl Schultz, is set to open in spring 2018. The hype for this one is building. A location and more details should be announced soon. facebook.com/noblewave.