The king cake tradition is alive and well in the capital city. 
As Mardi Gras rolls through Baton Rouge, bakeries, shops, restaurants and grocery stores put out their best and wildest versions of the signature pastry. 
If you haven't had a slice of king cake this year (What's wrong with you? It's late January.), don't fret. What follows is a list of where you can find this seasonal, regional and deliciously sweet treat. 
Tiger Deaux-nuts: 5162 Government St., (225) 421-1091. The Mid City doughnut shop offers traditional and special flavors by request in small, medium and large sizes. The store's staple, however, is the sweet, savory maple bacon king cake. facebook.com/tigerdeauxnuts.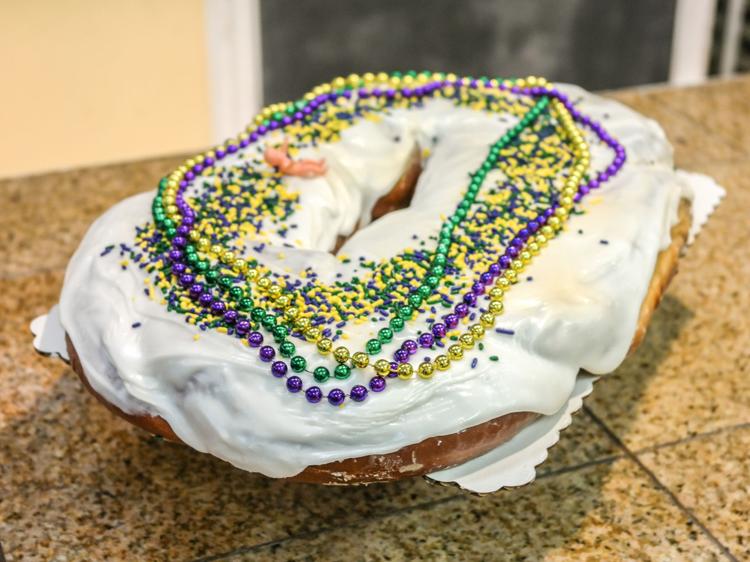 Thee Heavenly Donut: 17732 Highland Road, (225) 753-7711; 5830 S. Sherwood Forest Blvd., (225) 368-0090. This local doughnut shop calls itself the home of the fried king cake, filling its doughnut-like version with everything from cream cheese to Cajun boudin and even topping one with fried chicken in a Chicken and Waffles-style version. theeheavenlydonut.com.
The Ambrosia Bakery: 8546 Siegen Lane, (225) 763-6489. A staple in the capital city, this bakery and deli offers traditional and filled styles, king cake kits, and a Zulu king cake with coconut, cream cheese and chocolate. ambrosiabakery.com.
District Donuts: 7415 Corporate Blvd., Suite 900 (225) 999-7944. The Baton Rouge location of the hip Crescent City doughnut shop offers a king cake doughtnut once a week as well as Cuccidati king cakes, with a swirled filling of fig, walnut, date, raisin, orange and spices. districtdonuts.com.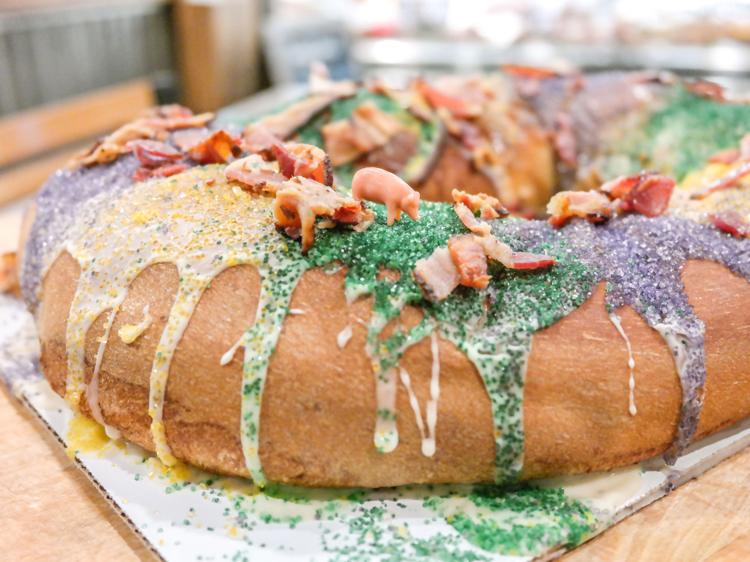 City Pork Deli & Charcuterie: 2363 Hollydale Ave., (225) 300-4550. Nestled in the Perkins Road overpass area, City Pork doesn't play around when it comes to sandwiches and smoked meats. The restaurant's king cakes are no joke, either. City Pork's savory options include toppings of boudin and, of course, bacon. citypork.com.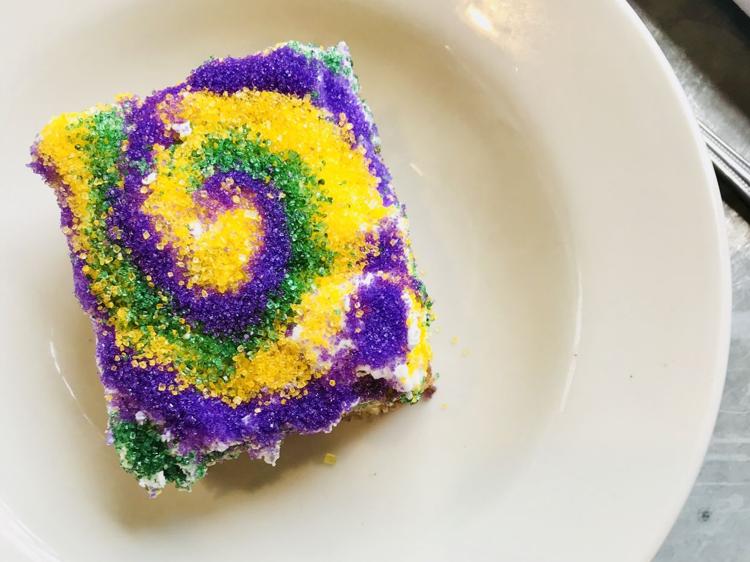 Bistro Byronz: 5412 Government St., (225) 218-1433; 8200 Village Plaza Court, (225) 367-4170. Bistro Byronz knows its south Louisiana patrons love this time of year, and the restaurant celebrates it with the always-popular Mardi Gras bread pudding. bistrobyronz.com.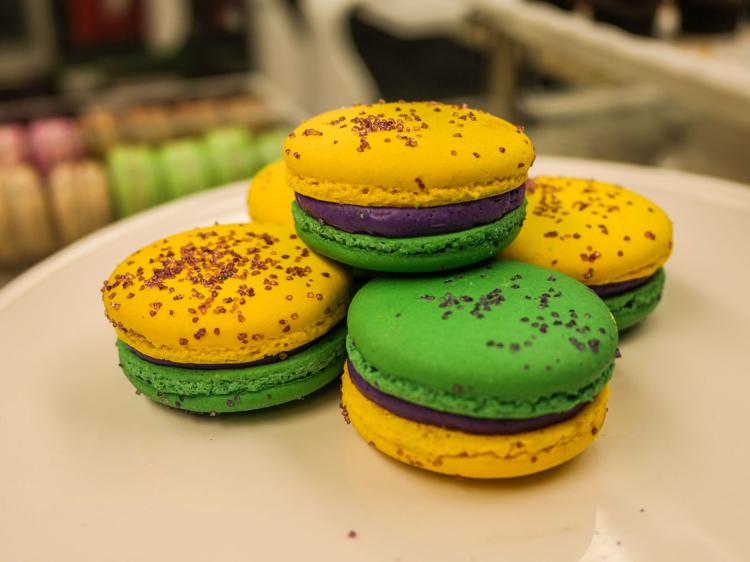 Les Amis Bake Shoppe: 11826 Coursey Blvd., (225) 293-8115. This small but oh-so sweet bakery offers a traditional take on the seasonal cake as well as king cake cheesecake, cake balls, macarons and bread pudding. lesamisbakeshoppe.com.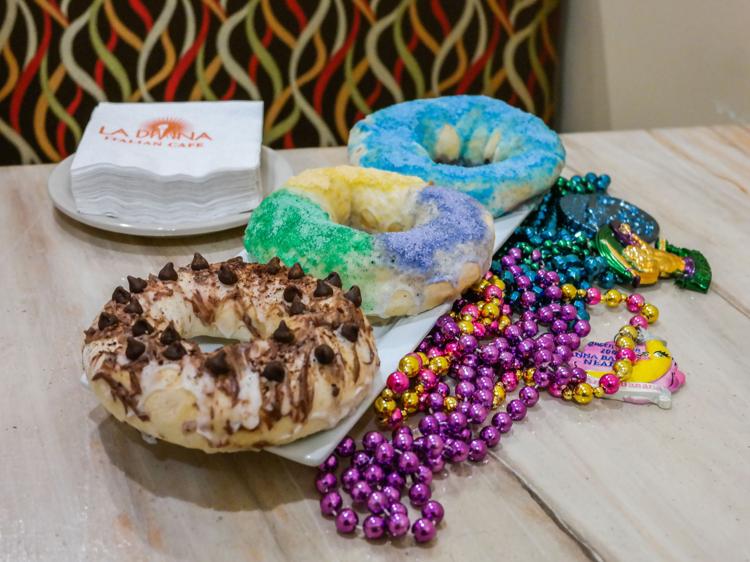 La Divina Italian Cafe: 3535 Perkins Road, (225) 771-8488. This restaurant and gelateria near the intersection of Perkins Rowe and South Acadian Thruway is known for its gelato, sandwiches, soups and quaint, cozy atmosphere. Thanks to chef Erik Lefort, the shop also offers smaller, personal-sized versions of king cakes with different flavors. This is great, because when I eat, I often have to tell people, "Stop eyeing my plate! You can get your own!" facebook.com/ladivinabatonrouge. 
Brew Ha-Ha!: 711 Jefferson Highway, Suite 2-A, (225) 923-1923. This Mid City coffee shop is a casual, cozy favorite that offers a variety of flavors of king cake balls (chocolate, raspberry, strawberry and Zulu are just a few options) and a king cake latte. facebook.com/brewhahabr. 
Gambino's Bakery: 8646 Goodwood Blvd., (225) 928-7000. Gambino's is one name that always pops up in Baton Rouge when you talk about where to get a king cake, and with good reason. The special recipe has cinnamon infused into the dough and can be filled with cream cheese, pecan praline, and lemon, among many other options. Fun fact: Call your friends, because this bad boy feeds 15-18 people. gambinos.com. 
Gourmet Girls: 3025 Perkins Road, (225) 252-0999. Katia Mangham's storefront in the Perkins Road overpass area offers exquisite catering options, cakes and pastries. During Mardi Gras, Mangham does even more, offering king cake cookies, mini Brioche cinnamon king cakes (or baby cakes), macarons, cupcakes as well as regular or large king cakes with a variety of flavors, fillings and toppings. gourmetgirlsbr.com.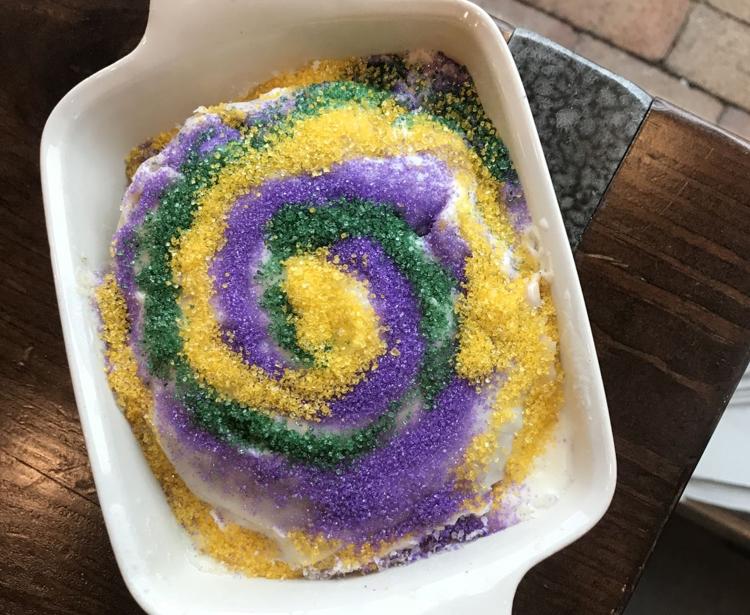 Flambée Cafe: 8210 Village Plaza Court, (225) 960-1100. A newer spot on the dining scene from the owners of Bistro Byronz, Flambée Cafe is now offering a French-fired Mardi Gras pot au feu. The dish uses the restaurant's Tarte Flambée dough as a base, rolls it up, stuffs it with filling, then tops it with icing and sprinkles. Can I have one of these for dinner? flambeecafe.com.
Baum's: 8046 Florida Blvd., (225) 927-0760; 10550 Perkins Road, (225) 767-4838. Since 1934, Baum's has been making some seriously good sweets. The bakery's king cakes are no different. The best-seller is the pralines and cream cheese, but other styles include the Zulu Who? (with cream cheese, pecans, coconut and chocolate chips, iced in more chocolate and pecans), Banana's Foster (cream cheese, bananas and brown sugar, iced in caramel), and Tim's Original (cinnamon almond filling, iced in caramel and pecans). Tim sounds like a good dude. baumspastries.com.
Calandro's Supermarket: 4142 Government St., (225) 383-7815; 12732 Perkins Road, (225) 767-6659. This bakery and deli (originally known as the Plee-zing Food Store) is another name Baton Rougeans will constantly bring up when discussing local king cakes. For this year, some additions have been made, including a Who Dat (with peanut butter, chocolate and cinnamon) and the Touchdown (Nutella, Bavarian cream and butter pecan). The store has more than 50 flavors, so take your time or try them all. calandros.com. 
Rösch Bakehaus: (225) 772-0506. Jim Osborne and Melodie Reay are no strangers to making fresh, mouthwatering pretzels and breads. During Carnival season, the duo makes specialty king cakes that sell out quick. This year, Rösch is offering certain flavors weekly for pre-order that can be picked up from 10:30 a.m. to 5:30 p.m. Tuesdays and Fridays at Studio C, 3786 Government St. These aren't your traditional King Cakes, though. These are gourmet, artisan breads filled with interesting flavors. For example, this week, they are offering dark chocolate pistachio with halva. tiny.cc/order-bread, facebook.com/rosch.bakehaus. 
Cupcake Allie: 5251 Nicholson Drive, Suite O, (225) 302-7096. Located outside LSU, but known across the city for wide ranges of cupcake flavors and goodies, Allison Bookman's shop has king cake cupcakes, cake balls, and 4-, 6- and 8-inch king cakes available with toppings such as chocolate ganache and praline fudge drizzle, and even a mirror-glazed version. facebook.com/cupcakealliebr.
Chris' Specialty Meats: 3075 Millerville Road, Baton Rouge, (225) 755-1783. This shop specializes in sausage and smoked meats, but also offers one heck-of-a savory boudin king cake during Mardi Gras. chrisspecialtyfoods.com.
Strands Cafe: 226 Laurel St., (225) 344-5346. The downtown pastry and coffee shop offers traditional French king cake, or Galette des Rois, as well as more traditional, glazed and sugary Louisiana-style king cake, and seasonal king cake cheesecake and lattes. strandscafe.com.
Stinky's Fish Camp: 5500 Hilton Ave., (225) 615-3870. This new restaurant offers crawfish étouffée king cake. You're not dreaming. This is a big, savory, bready dish topped and filled with the south Louisiana staple and topped with some andouille sausage for good measure. We gotta try it at least once, right? stinkysbr.com.
Mason's Grill: 13556 Jefferson Highway, (225) 756-8815. One of the city's more popular brunch spots won't be outdone by all your flavors of king cake. Mason's says, "Get outta here," and is offering a Mardi Gras burger. That's a burger, bacon and cheese between two king cake buns. Somebody call a doctor already. facebook.com/masonsgrill, masonsgrill.com.
---
King cakes are also available at these Baton Rouge stores: 
Robert Fresh Market: 7355 Highland Road, (225) 767-0074. robertfreshmarket.com.
Matherne's Market: 440 N. Third St., Suite 100. (225) 343-0600. mathernes.com. 
Mr. Ronnie's Famous Hot Donuts: 216 Lee Drive, Suite D, (225) 223-6116. facebook.com/mrronniesbrlsu. 
Rouses: Multiple locations. rouses.com. 
Alexander's Highland Market: 18111 Highland Market Drive, (225) 615-7800. alexandersmkt.com. 
Whole Foods: 7529 Corporate Blvd., (225) 218-0452. wholefoodsmarket.com/stores/batonrouge. 
---
OK, so what about the Mardi Gras parades in Baton Rouge? Here you go. 
Sunday: Mystic Krewe of Mutts. 10 a.m. Bark at the Park event at North Boulevard Town Square, followed by 2 p.m. parade. caaws.org.
Feb. 2: Krewe of Artemis. 7 p.m. kreweofartemis.net.
Feb. 3: Krewe of Mystique. 2 p.m. krewemystique.com. Krewe of Orion. 6:30 p.m. kreweoforion.com.
Feb. 4: Mid City Gras. 1 p.m. midcitygras.org. 
Feb. 9: Krewe of Southdowns. 7 p.m. southdowns.org.
Feb. 10: Baton Rouge Mardi Gras Festival. 10 a.m. batonrougemardigrasfestival.com. Krewe of Spanish Town. Noon. spanishtownmardigras.com.
---
Looking for king cakes in Lafayette? Go here. 
Ricky Meche's Donut King: Multiple locations. rickeymechesdonuts.com, mecheskingcakes.com.
Twins: 2801 Johnston St., Lafayette, (337) 268-9488. twinsburgersandsweets.com. 
Southside Bakery: 4519 W. Congress St., Lafayette, (337) 233-8636. southsidebakery.com. 
Keller's: 1012 Jefferson St., Lafayette, (337) 235-1568. kellersbakerydowntown.com. 
Poupart's: 1902 W. Pinhook Road, Lafayette, (337) 232-7921. poupartsbakery.com. 
Cajun Market Donut Company: Multiple locations. cajunmarketdonutco.com. 
Did we miss a shop serving up King Cakes or other Mardi Gras-themed goodies? Drop us a line at red@theadvocate.com.