If we're being totally objective, the bar is pretty low for AMC's eight-episode, New Orleans-shot adaptation of Anne Rice's "Interview with a Vampire."
As beloved and as game-changing as her 1979 book was — reigniting the vampire genre and spawning a literary universe Rice continued nurturing until her death in December — it hasn't had a lot of luck being adapted for other media.
That starts with 1994's big-studio adaptation of "Interview," which famously drew Rice's contempt when the short, dark-haired Tom Cruise was cast as the statuesque, blond vampire Lestat.
Rice later recanted, and understandably; Cruise is the least of the film's troubles.
Then came 2002's "Queen of the Damned," which even Rice urged her fans to forget about.
Let's oblige. Ditto for that monstrously ill-conceived "Lestat" Broadway musical.
TV loves vampires
Now, we get AMC's attempt at raising "Interview" from the undead. And if there's anything to learn from the first five episodes provided to critics for review, it is this:
"Interview With a Vampire" should have been a TV series to begin with.
A gothic romance steeped in gore, melodrama and homoeroticism, Rice's original work is too layered a story to be sufficiently captured in a two-hour feature. But with the luxury of time afforded by episodic storytelling, it becomes a compelling watch worth sinking one's teeth into.
10 New Orleans landmarks to see in 'Interview with the Vampire' series, starting Sunday
Those familiar with Rice's work know it explores rich stories and themes, most notably the burden of great loss. They also know those stories and themes haven't been properly explored outside the covers of her book.
Until now.
Romance? Horror? Comedy?
Anchored by strong lead performances from Sam Reid as Lestat and Jacob Anderson as his love-bitten companion Louis, this fantastical new "Interview" plays at various times like a romance, like a horror movie, like a historical drama, like a melodrama and, for brief moments, like a campy comedy.
("Did you eat the baby?")
Impressively, those varied tones never clang against one another. Rather, they work in concert, demonstrating a narrative elegance that can be counted on to broaden the show's appeal far beyond the fans of the books.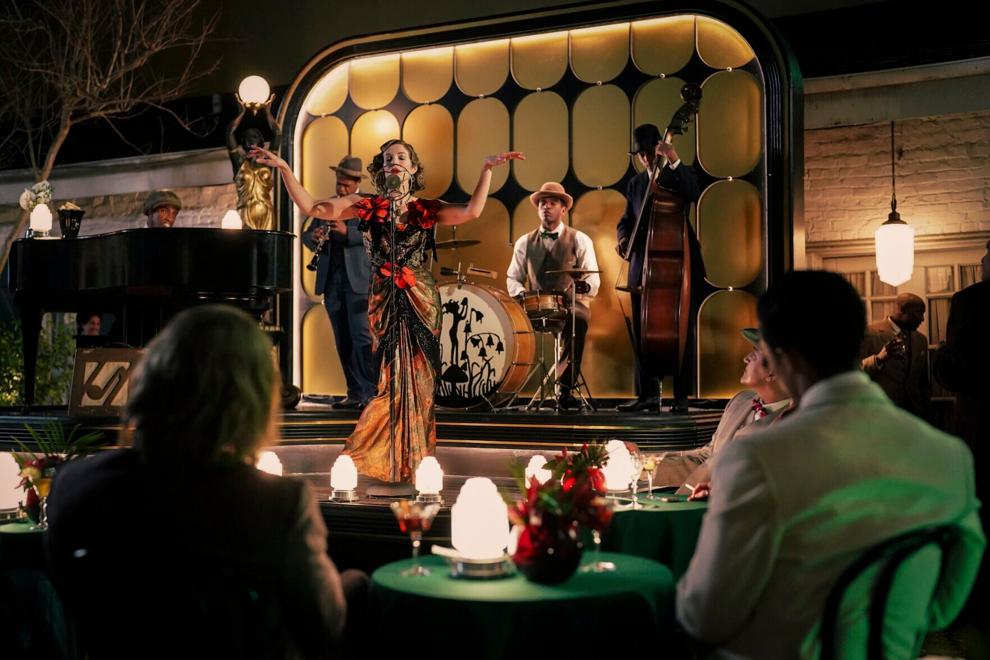 Given that it was largely shot in New Orleans, that will include fans of the Crescent City. If nothing else, this "Interview" is beautifully shot, and it showcases the city nicely.
It will also attract attention for its embracing of the gay romance at the center of Rice's book, something the movie was too timid to do.
Positive changes
That being said, the new "Interview" is just as notable for the liberties it takes with Rice's original source material. Almost universally, those changes add to the tapestry.
For example, the interview in the title — between a Bourdain-like reporter (Eric Bogosian) and a reflective Louis — is nicely reset to modern times, even including a mention of the COVID pandemic.
A more significant change, adding even more modern relevance, involves the character of Louis, the grieving son of a plantation owner who succumbs to the charms of the vampire Lestat.
In Rice's book, Louis is described as green-eyed with fine, dark hair. In the movie, he was played by Brad Pitt. In this telling, he is a Creole man of color.
Somehow, that just feels right for a New Orleans story.
Another interesting alteration: this new Louis is an enterprising man of independent means, running a high-class brothel in New Orleans' notorious Storyville district. That provides the show's creators with rich textures to mine.
Early hurricane
Local history nerds might bristle at the glimpse in Episode 1 of a woman drinking what appears to be a classic hurricane cocktail, which wouldn't be invented for another three decades. But they'll be delighted by the real-life New Orleans characters that cycle in and out of the story, including jazz giant Jelly Roll Morton and Storyville impresario Tom Anderson.
In fact, Louis gets into the Storyville game by purchasing Anderson's Fair Play Saloon, which was a real establishment, at Basin Street and present-day Iberville.
Created by Rolin Jones with Rice and son Christopher overseeing as executive producers, AMC's "Interview" was envisioned by Rice as a "Game of Thrones"-style epic. But with touches like those, it feels more akin to "Boardwalk Empire," which was also rooted in real history.
Similar nods, which fans of Rice's works will lap up, are given to some of her other books, including the "Mayfair Witches" trilogy — which, incidentally, AMC is developing as a separate but connected series.
It's also worth noting that, when it purchased the rights to "Interview" and "The Mayfair Witches," AMC also snagged the rights to all 14 of Rice's other "Vampire Chronicles" stories, so they've got a lot more story to tell.
If they turn out anything like this new spin on "Interview," that's a good thing.
Mike Scott can be reached at moviegoermike@gmail.com.