BeauSoleil avec Michael Doucet, the most widely traveled and famous Cajun-French band, has launched its final tour.
However absolute that sounds, the celebratory trek isn't BeauSoleil's last hurrah. The band will continue to perform and, if the muse strikes, record.
"We'll play music," singer, fiddler and bandleader Michael Doucet pledged. "We have to. That's what we do."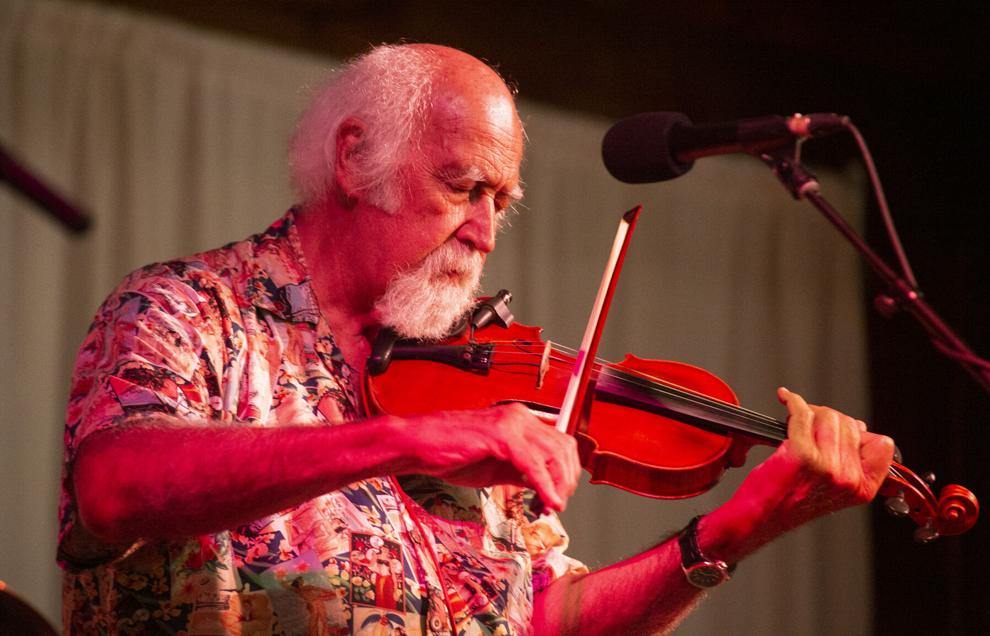 Decades of international touring, two-dozen albums, two Grammy Awards and 11 Grammy nominations translate to BeauSoleil being many people's first exposure to Cajun music. The band's profile — and Louisiana in general — also received a major boost when BeauSoleil guest-starred in Mary Chapin Carpenter's country hit, "Down at the Twist and Shout," which reached No. 2 on Billboard.
Early in BeauSoleil's 47-year history, Doucet set an ambitious goal: Cajunize the United States by playing in every state in the Union. Along the way, the group also appeared in 19 foreign countries, including Yemen, Saudi Arabia and Bahrain.
"We were lucky," Doucet remarked. "We were the first (Cajun) group to make a living on the road. We played in every state more than three times, including Hawaii and Alaska. This last tour we'll revisit every state again."
BeauSoleil's grand finale excursion comes to the Manship Theatre Thursday, Aug. 18.
"My idea," Doucet said of his other early quests, "first of all was to revive this distinctive music and showcase the people who made it, like Canray Fontenot and Dennis McGee. In the '70s, their music wasn't in the Cajun repertoire. Nobody played them or Amédé Ardoin."
Doucet and the surviving early 20th-century Cajun and Creole musicians who became his mentors shared a fluid vision for Cajun music.
"There are no restraints," he said. "That's why it's so beautiful. That's why it grows in different ways."
Doucet further promoted pride in the long-repressed Cajun culture. That work included visits to public schools with fiddler Dewey Balfa and teaching a comprehensive course about French music in the state at University of Louisiana at Lafayette.
"I brought awareness to the treasure that we had, our music — to people in southwest Louisiana first and then to the world — before it was totally gone," Doucet said. "I'm of that last generation that grew up with French. That's just the way it is."
Pre-pandemic, the band began 2020 by receiving a lifetime achievement award at the International Folk Music Awards in New Orleans. Two months later, BeauSoleil, like other traveling bands, was out of work.
"During COVID, I didn't know if I was retired or unemployed," Doucet said. "But the idea of retirement, for our generation, I don't think that's going to be. I say I'm going to 'retread.' "
As the pandemic subsided, BeauSoleil's postponed shows reappeared on the band's schedule.
"All those gigs came back," Doucet said. "Which is amazing because a lot of the places that we are so associated with can't make it anymore."
Closed and struggling venues influenced BeauSoleil's decision to stop touring.
"Things were dwindling," Doucet said. "For the most part, it's not viable to make a living at this thing anymore. But we were there at the right time."
Earlier this year, an accident in Alaska briefly took Doucet off the bandstand. On April 1, after BeauSoleil played a morning concert for children in Fairbanks, Doucet slipped on black ice covering a parking lot. When he phoned his bandmate and brother to tell him the fall injured his hip, David Doucet assumed it was an April Fool's joke.
"Everybody did," Doucet said with a laugh. "But I was the fool, and it wasn't a joke."
The band usually billed as BeauSoleil avec Michael Doucet performed in Fairbanks and Anchorage as BeauSoleil sans Michael Doucet.
The fall in Fairbanks was part two of a double whammy for Doucet, following knee surgery in May 2021.
"I'm actually dealing more with the knee than the hip," Doucet said. "It slowed me down, but I'm doing fine. I ride bikes. I walk. I didn't stop playing. We played in Berlin (in July) and did that long flight. That wasn't bad at all. We've got some good stuff going on this fall. We're having more fun playing now than we ever have. Forty-seven years, three more years to making 50."
BeauSoleil avec Michael Doucet
7:30 p.m. Thursday, Aug. 18
Manship Theatre, 100 Lafayette St.
$40-$50