Looking for a good bite to eat in 2017? You'll have no problem finding one in Baton Rouge. 
After another stellar year for the local restaurant scene, this year will feature mighty debuts from locally known chefs, as well as some new flavors (think more global and seasonal) and even a few homecomings. 
This is our list of restaurants, bars and spots we can't wait to try in 2017. 
---
Kalurah Street Grill 
Kelley McCann has been writing menus for years. 
After working his way up the ladder at Galatoire's Bistro, the Baton Rouge native now has his own playground at Kalurah Street Grill. 
"Some of this is stuff I've written, created and served three or four years ago," McCann said. "These are dishes I remembered, put a sticky tab on, and I knew when I was given the opportunity, I knew these would be there on the menu." 
The restaurant is now open in the former Chelsea's Cafe off Perkins Road. Brad Watts and Chad Hughes are co-owners. Ben Sherman, formerly of Bistro Byronz, is the general manager. For now, the restaurant is open for dinner from 5 p.m. to 10 p.m. Monday-Saturday. Hours will extend in the future with lunch and brunch offerings. 
At Kalurah Street Grill, patrons can expect a "modern American" menu with some Spanish influence. There are starters of jerk duck breast Wellington and braised pork and lamb shanks. Entrées include braised short ribs and grilled hangar steak. 
Each dish is full of "nice, bright, bold, flavors," McCann said. Dishes won't be swimming in a sauce. McCann says the main protein and vegetable ingredients will do the talking. 
"I think Baton Rouge is ready for it," McCann said. 
Now open at 2857 Perkins Road 
5 p.m. to 10 p.m. Monday-Saturday. Business hours will expand to include lunch and Sunday brunch 
---
BRQ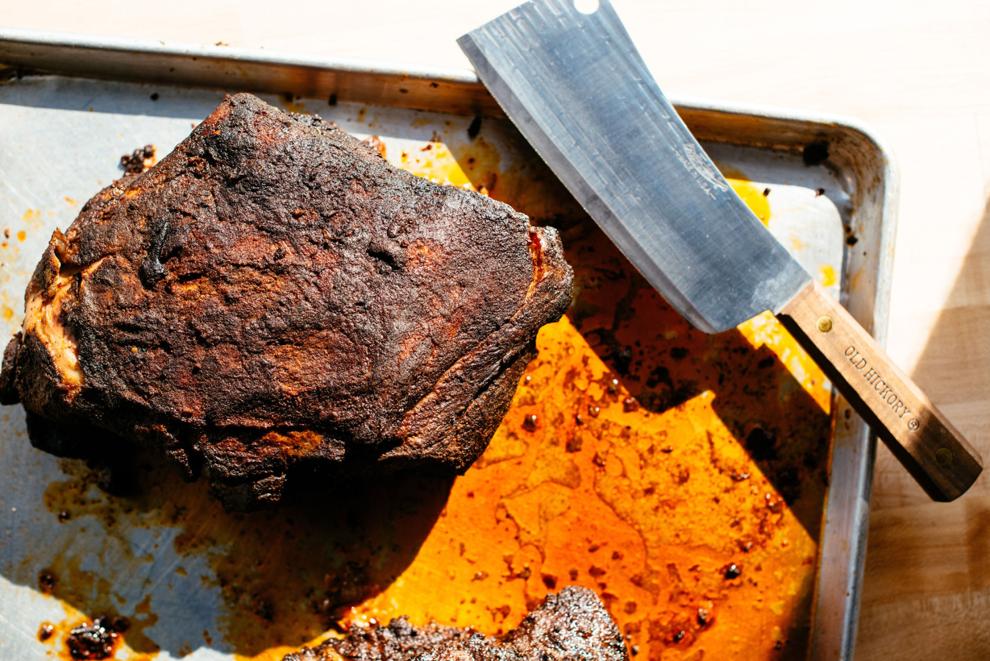 For chef Justin Ferguson and general manager Jonathan Nunez, the devil is in the details at their upcoming BRQ Restaurant. 
"I like to say it will be a relaxed atmosphere, but with a little more class," Nunez said. 
Ferguson and Nunez grew up together, attending Denham Springs High School. While Ferguson went on to work at restaurants in Boston, New Orleans and Chicago, Nunez was working at bars and helping to open hotels in New Orleans. 
Ferguson fell in love with chef-driven, competition-style barbecue working for renowned chefs like Art Smith and Lee Ann Whippen in Chicago. Nunez worked at the bar of Restaurant R'evolution then opened an absinthe bar, The Green Bar, at The Westin Canal Place.
"We're bringing a lot of different mindsets and ideas from everywhere else," Ferguson said. "We're going to be showing our style of how we do things." 
Patrons can expect briskets, ribs, sandwiches and gulf seafood at BRQ. The 180-seat restaurant is expected to open in May and will be located at 10423 Jefferson Highway behind Louisiana Culinary Institute. 
The goal is perfection without pretension. It'll be a balancing act, Nunez admits. 
"We're talking about meat that will be smoked for 16 hours, high-quality barbecue," Nunez said. "If you have that, you need to have cocktails and service that have that much attention to detail as well. But we want you to feel comfortable. When you sit down, this is the highest quality food, service and bar program you can get." 
That BRQ is a new opportunity to flex those culinary muscles was reason enough to return to Baton Rouge. 
"What I love about Baton Rouge is the welcoming nature of the people here," Nunez said. "The heart of the restaurant is that you need to feel welcomed, you need to have a good time."
For Ferguson, BRQ is everything. 
"This is my life," he said. "Cooking is what I do. This is it. I've been grinding for the last 15 years to get to this point. I want this to be a hub for Baton Rouge." 
Projected opening date: May 
10423 Jefferson Highway 
Want to give it a try? Head to LCI (10550 Airline Highway) on March 9. BRQ hosts its second pop-up from 7 p.m. to 9:30 p.m. Tickets are $75 per person on eventbrite.com
---
Cocha 
Farm-to-table isn't just a catchphrase for Cocha. 
At least 75 percent of what the new downtown restaurant uses is locally sourced, said co-owner Saskia Spanhoff. But Cocha isn't using ingredients from the farmers market for southern-style dishes. No, the restaurant is focusing on global flavors. 
Spanhoff, a Baton Rouge native, and her husband, Enrique Pinerua, moved back last year, wanting to bring global, more health-conscious plates to the Capital City. 
"I would come back to Baton Rouge a few times a year, and as much as I like Louisiana food, I noticed there was a lack of diversity," Spanhoff said. "There are a lot of gaps in the cuisine. Another part that was concerning to me was the health aspect — frying everything, using sticks of butter ... People can't afford to eat that way everyday. All those factors played in my head." 
Spanhoff had worked in the restaurant industry previously, opening the original Fleming's in Newport Beach, California, before it was sold and became a chain. While California had a wealth of flavors from local farmers markets, the couple had also traveled, experiencing new flavors and falling in love with different types of cuisine. 
They got the itch to start a restaurant, but starting one in California was too pricey. 
"We looked there, and it wasn't feasible," she said. "I had been looking at the development in downtown Baton Rouge. Once I started to see businesses like IBM and Marriott come in, I knew there was momentum behind the development. It was really encouraging." 
At first, there was the challenge of finding the right spot, but it all fell into place. The restaurant opened at the top of the year, with a craft cocktail menu to match its seasonal lunch and dinner menu.  
"The whole process was a challenge," she said. "This location was an empty shell, but it's been amazing so far. We're having a lot of fun." 
Now open at 445 N. Sixth St. 
11 a.m. to 9 p.m. Monday, Wednesday-Friday, 5 p.m. to 10 p.m. Saturday, and 5 p.m. to 9 p.m. Sunday. 
On staff: Chefs Jourdan Fulbright (formerly of The Overpass Merchant) and Katelyn Alaniz (formerly of the City Club of Baton Rouge)
---
Mid City Beer Garden 
The owners of the upcoming Mid City Beer Garden are taking their time.
Brian Biaimonte, one of three owners with the upcoming neighborhood bar, said construction is on track to start in the spring. But he didn't have too many other details. 
"We want to take our time and do it right," he said. "We're not in a major rush to open."
However, Biaimonte said patrons can expect a few things like "a whole lot of outdoor seating, covered pavilions and open-air space." 
"We want it to have a cozy environment," he said. "We want it to be somewhere you would want to spend a little while with family or buddies." 
The beer garden will have some food, but Biaimonte cautions that the bar won't have the most beers in the city. 
"We're not trying to have the bragging rights of the most beers on tap," he said. "We'll have a respectable selection of beers." 
More so than the bar is the vibe. Like Radio Bar before it, Biaimonte and co-owners Dave Remmeter and Kelli Paxton all want to present something that is good for the neighborhood. 
"The majority of the neighborhood embraced the idea," Biaimonte said. "Being able to walk or ride their bike to a place that has a good meal and drinks then walk or bike home, that's the vibe that will be good for that neighborhood." 
Construction starts in the spring 
3808 Government St. 
facebook.com/mid-city-beer-garden-507593862741718
---
White Star Market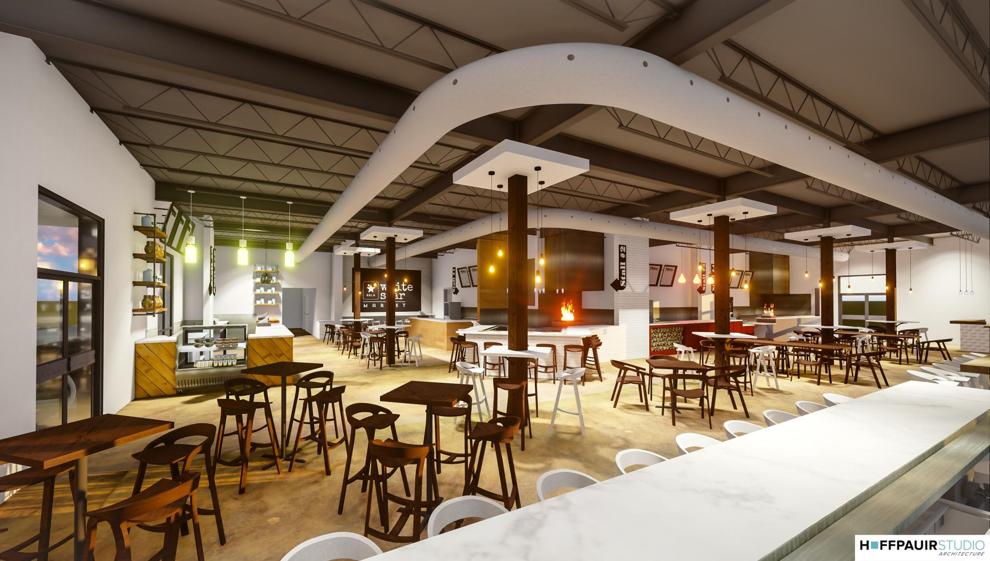 Mid City Baton Rouge could become a major hub for the city's restaurant scene with the opening of White Star Market, a 5,900-square-foot food hall inside the upcoming Square 46 development. 
The Government Street project is set to open in late spring/early summer and will feature vendors such as Jay Ducote's Gov't Taco, Jesse Romero's Robear Ln., Dat'z Italian wood-fired pizza and Rêve Coffee Roasters. 
Owner Clark Gaines said he hopes White Star Market exposes Baton Rouge to some new ways of thinking about cuisine. 
"There are a lot of talented, creative people in the food scene here who didn't have a platform to get their product out, in a way they could manage," he said. "Once we announced the market, it drew out this pent-up interest of people wanting to see new things from the food scene. It confirmed we weren't as crazy as we thought we were." 
Projected opening date: early June 
Who's in? Jay Ducote's Gov't Taco; Jolie @ the Market, a second location of Jolie Pearl Oyster Bar; Jesse Romero's Robear Ln.; Michael Mangham's Another Silver Spoon; Micah Martello's Fete au Fete; Rêve Coffee Roasters from Lafayette; Vu Le's Chow Yum Phat; Joe & Shelly Forte's Dat'z Italian. White Star Market will also feature a yet-to-be-named bar and one more concept that hasn't been announced. "We're letting him go at his own pace," Gaines said of the mystery vendor. 
4624 Government St. 
---
Southfin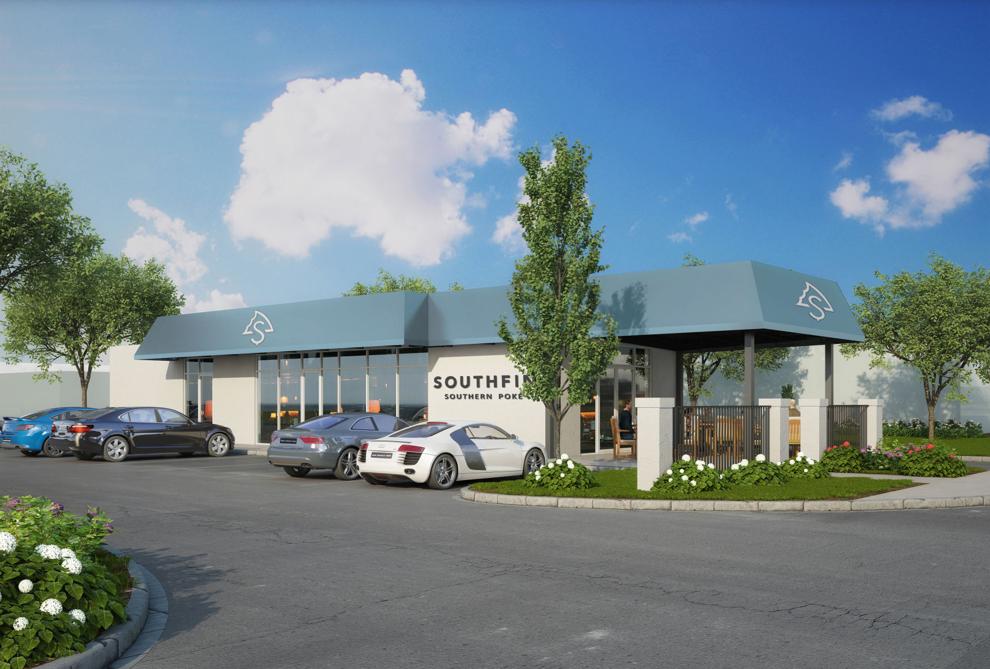 The City Pork restaurant and hospitality group is always looking to bring new, different flavors to Baton Rouge. While they capitalized on house-made charcuterie boards, locally-sourced ingredients and pies at the first three restaurants, the group will go in an entirely different direction at the upcoming Southfin Southern Poké. 
Eusebio Gongora II will be the general manager of Southfin, which will serve bowls of shrimp, tuna and salmon as well as chicken and tempeh atop rice, noodles or greens. Poké is a national trend, Gongora said, and it was one they thought would be a perfect fit for Louisiana. 
"The more we got into what Poké is and what it's about, the more we thought of how much it related to Louisiana and our own cuisine," he said, describing that the dish was created of necessity by fishermen. Scraps of fish were taken, cooked in a pot and served over rice. 
"Poké by itself means to cut or cube, so we take that literally," he said. "We'll cube and cut fish, then add our own flavors, sauces and ingredients."
The restaurant, which is to be located in the old Truly Free Bakery & Deli in the Southdowns Shopping Center, will be set up similarly to an Izzo's. Customers will walk their way down the line, but also can choose from six signature bowls. A bonus is that the majority of what's served is gluten-free. Inside, there will be room for around 30 seats. Another 20 seats will be available outside on the patio. 
For Gongora, this will be his first time as a general manager. But he's excited for the challenge. 
"I try to understand what makes people go out to eat," he said. "I think Southfin is going to deliver. It's fast, fresh, healthy, friendly, welcoming and inviting. We're trying to catch everybody." 
Projected opening date: mid-February 
4321 Perkins Road 
---
Rock N Roll Sushi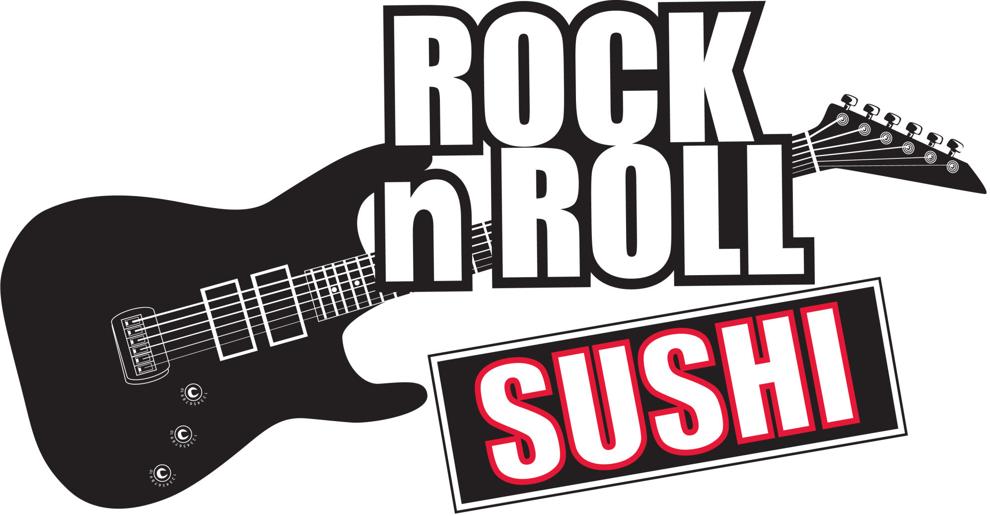 The first Louisiana location of Rock N Roll Sushi, an Alabama-based chain, will open on Jefferson Highway by March 15, according to owner Chip Burr. Patrons can expect rock and roll music playing in the background and a relaxed atmosphere.
Rolls are named after pop-rock icons like Kiss (a shrimp tempura roll topped with chopped shrimp, scallop, crabmeat, eel sauce, spicy mayo and crunchy flakes) and Michael Jackson (a fried roll with tempura shrimp and cream cheese, topped with a baked scallop, crabmeat and shrimp). 
The Jefferson Highway location won't be the only Baton Rouge stop for Rock N Roll Sushi, which started in Mobile and now has 13 locations in Alabama, Florida and Mississippi. Burr said he is planning several locations in the Baton Rouge market. 
Projected opening date: mid-March 
7949 Jefferson Highway 
---
Elsie's Plate & Pie 
Mid City will get a new restaurant and pie shop this spring. 
Elsie's Plate & Pie will feature house-made savory and sweet pies as well as appetizers, salads, soups and other entrees. It is set to open around the end of April, according to chef/owner Paul Dupre, in the old Honeymoon Bungalow building off Government Street. 
While pies and southern cuisine are the catch, Elsie's will also feature a small bar with a few local and regional beers on tap. Business hours will be 11 a.m. to 10 p.m. weekdays and extended hours on the weekends. 
Projected opening date: end of April 
3153 Government St. 
facebook.com/elsieskitchenandbar 
---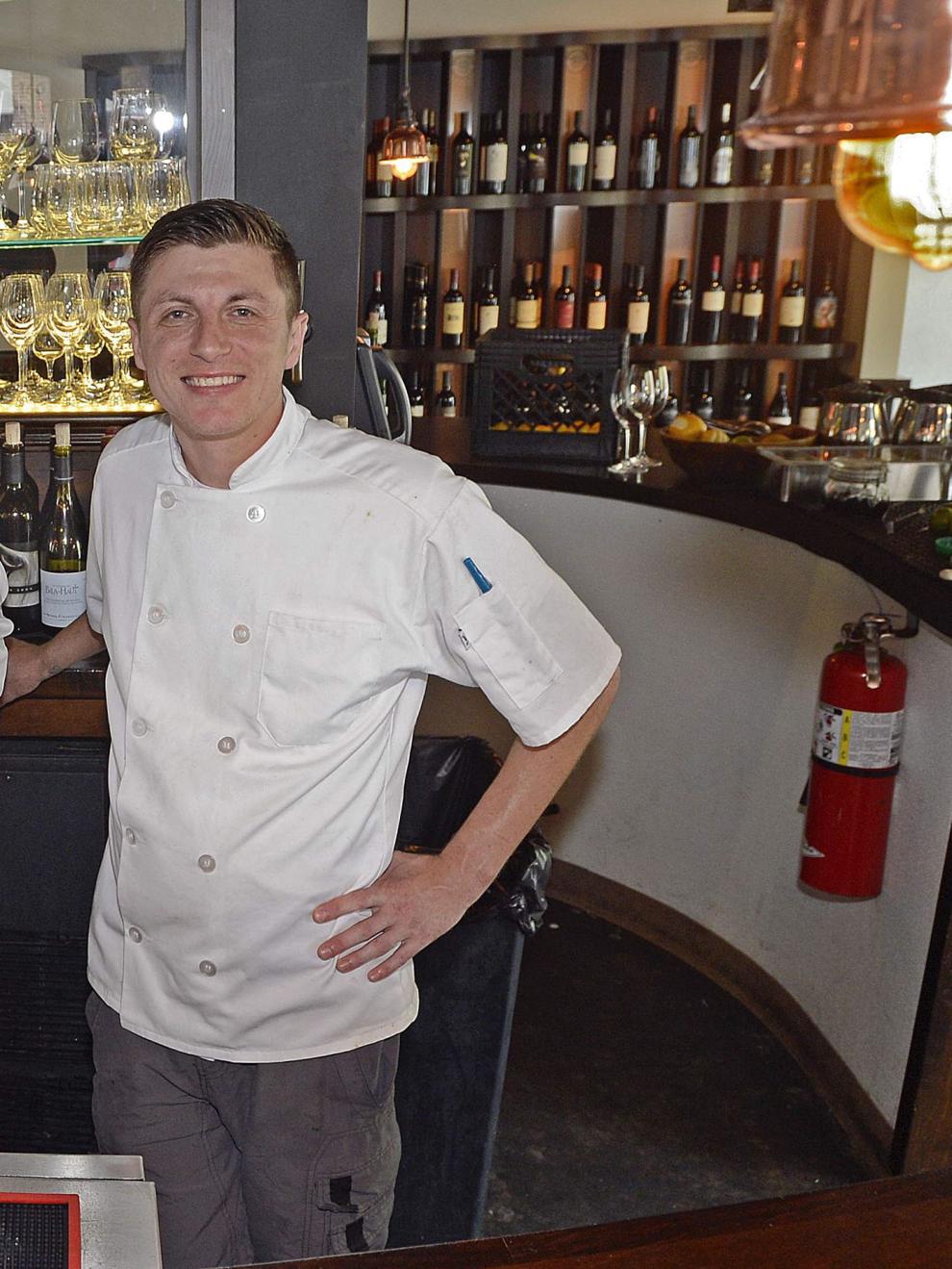 Rico Louisiana Latin Cuisine 
Chef David Dickensauge will make his return to the Baton Rouge market in 2017. 
Dickensauge, the former chef at Bin 77, has spent the last two years opening and managing Corks and Cleaver in his hometown of Gulfport. By February, he hopes to have a new restaurant, Rico Louisiana Latin Cuisine, open in Baton Rouge in the former location of Fernando's on Coursey Boulevard. 
"I spent four years in Baton Rouge and fell in love with the community," Dickensauge said. "I felt like it was time for me to open up my own spot. I've been yearning to do something for Baton Rouge."
Dickensauge said the restaurant should open by the first week of February.
Though that area is full of Mexican cuisine, Rico Louisiana Latin Cuisine will encompass flavors from Puerto Rico, Brazil and the Dominican Republic.
"You're not going to get chips and salsa," he said. "Think tapas, tacos and paellas, with a nice small entrée list for dinner." 
Projected opening date: First week of February 
10655 Coursey Blvd. 
---
Other restaurants to try in 2017 
La Contea Ristorante: A new Italian restaurant that's set to open in the first quarter, La Contea Ristorante features pizzas, pasta and seafood. The restaurant is located in the former DeAngelo's at 7970 Jefferson Highway, Suite F. laconteabr.com 
District Donuts: New Orleans' own District Donuts will open its Baton Rouge location in the former Starbucks Coffee at 7415 Corporate Blvd., next door to Bonefish Grill and Zoe's Kitchen. District co-owner Aaron Vogel said the shop is set to open in late spring 2017. donutsandsliders.com
Another Broken Egg downtown: The breakfast, brunch and lunch spot is set to open off North Street in the ground floor of the IBM Building in the beginning of February. Customers can expect business hours to be 7 a.m. to 2 p.m. daily. When it opens, the restaurant will have new menu items to be included at all Another Broken Egg locations. anotherbrokenegg.com
Dearman's: Though slated to reopen over the holidays after a fire damaged it in March 2016, this local favorite burger and milkshake joint has had its opening delayed over and over again. An opening date has not been set. However, Dearman's is expected to open this year in its same location at 7633 Jefferson Highway. 
Los Reyes Mexican Grill: The owners of Albasha will open a new Mexican restaurant on Coursey Boulevard in early 2017. Los Reyes Mexican Grill, located at 11333 Coursey Blvd., in the former Las Palmas, is scheduled to open this month. The restaurant is a family-friendly, casual spot with Tex-Mex favorites. The menu features appetizers such as tequila glazed wings and tampico egg rolls; and entrees such as fajitas, quesadillas, tamales and tacos. losreyesbr.com 
Repeal 33: The Roux House downtown on Third Street is set to become a new gastropub called Repeal 33, which will feature gourmet hamburgers, slow-smoked meats and alcoholic milkshakes. It is located right next door to another new downtown restaurant, Lava Cantina's second location. An opening date has not been set. 
Stab's Prime: Wayne Stabiler's Stab's Prime will be located on Jefferson Highway right across the street from his newest Italian restaurant, Palermo Ristorante. In 2015, Stabiler told The Advocate that the menu will be larger than the Central location of Stab's Steak & Seafood. The restaurant is said to have seating for more than 200 people, too. stabscentral.com  
Superior Grill's second location: The Mexican restaurant is projected to open in the Kenilworth Shopping Center on Highland Road in the summer. The restaurant is said to be similar to the Government Street location. batonrouge.superiorgrill.com 
Noble Wave: Keep your eye on Mid City as a new brewpub and pizzeria, Noble Wave, will solidify its location in the coming months. Co-founders Riley Vannoy and Karl Schultz said they hope to open the new restaurant and brewery by the end of 2017. enjoynoblewave.com