A supersized blank canvas always hung in the garage whenever Hunter Roth threw one of his Fourth of July parties.
Or maybe they were Halloween parties. Brad Jensen doesn't quite recall exact holidays, but he does remember revelers in costumes adding a few strokes to the canvas during the course of the evening.
But Charles Barbier "stayed there the whole time," Jensen says. "If you were looking for him, that's where you'd find him — at the canvas painting."
Barbier, a longtime Baton Rouge artist, was a beloved local figure. His death on Aug. 2 at age 71 came as a shock to the arts community.
This month, Baton Rouge Gallery will feature Barbier's work in "Celebrating Barbier," the gallery's first show in over a decade entirely dedicated to one artist. The exhibit opens with a 6 p.m. reception on Saturday and includes pieces from the artist's collection, as well as some loaned by collectors.
Jason Andreasen, the gallery's executive director, hopes this show will stand as a memorial for Barbier, where people can swap stories while celebrating the artist through his work — work that will do most of the storytelling. For Barbier told stories about himself and the condition of the world around him through his paintings.
"Anyone who wanted to know him could look at his paintings," says Paul Neff, an artist who collaborated with Barbier. "His work was like a diary. He painted out of his own head, his mind, and he painted for himself."
Barbier had been an artist member at Baton Rouge Gallery since 1994, but his fingerprints can be found across Baton Rouge. He showed in juried and group exhibits throughout the city, and his public murals cover a variety of subjects, from Harding Field in a piece at Baker's Greenwood Community Park and Baton Rouge's blues legends at American Cash Pawn on Government Street to LSU football on pylons along Nicholson Drive beneath the Interstate 10 bridge.
Paint was Barbier's primary medium, although he also experimented with collage. His style had elements of folk and surrealist art, where his caricatured subjects are painted in bright, fluorescent colors.
You might have seen Barbier without realizing it: The artist often put his "Alfred Hitchcock" stamp on his works by discreetly painting his likeness somewhere in the composition. Sometimes portraits of other artists were also included if Barbier collaborated on the work.
While Barbier's artist friends were many, Hunter Roth's name is always one of the first mentioned among Barbier's collaborators. Roth, 42, can't remember if he first met Barbier at Caffery Gallery or the LSU Union Gallery. But he does remember that he was in his late 20s.
Barbier hosted regular Tuesday night poker games in his Baker home, and he invited Roth to show up early to paint. That was in 2005, and this first meeting led to a tradition that would last six years.
"Even when we were painting together, he would have a plan," Roth says. "Charles could be a very stubborn man. We'd stand elbow to elbow and paint and yell and argue about the colors, but he taught me to loosen up and be carefree as an artist."
Their collaborations came to a halt in 2011, when Roth moved to Norman, Oklahoma, for a position in the University of Oklahoma's College of Architecture. He's now the digital fabrication specialist at the University of Texas at Arlington.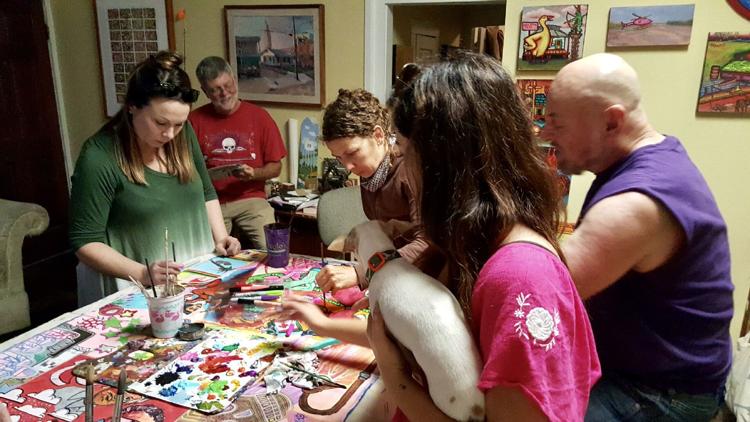 Still, Roth considers Barbier a mentor.
"Charles came into my life when I was trying to discover myself as an artist and needed some kind of outlet," he says. "As long as he was painting, he was happy. He took art and made it fun."
Barbier was a self-taught painter for 15 years before earning his bachelor's degree in fine arts from the University of New Orleans and his master's degree in fine arts from LSU. He also had a brief teaching stint at Catholic High School from 1986 to 1987.
The artist cited his experiences in the Vietnam War from 1968 through 1969 as a strong factor in his development as an artist. He wasn't afraid to tackle controversial subjects and themes, which often reflected a local context. His compositions were complex and often influenced by pop culture. Their meanings were left open to viewers' interpretation.
Jensen was 24 years old when he met Barbier in 2003.
"I'm probably the youngest out of all the artists who hung out with Charles," Jensen says. "And though I didn't collaborate with him, I would say that Charles had an influence on all of the artists who knew him."
Jensen was planning to feature Barbier's work at his gallery, Bricks & Bombs, as was LSU's Glassell Exhibition Gallery. But Barbier's sudden death not only changed those plans but left the local arts community stunned.
The military veteran died from sepsis after developing pneumonia. He had been hospitalized at Lane Regional Medical Center in Zachary.
Barbier had been "into the gallery the week before," Glassell director Malia Krolak says. "He was planning all new work for the show. He said he definitely did not want to do a retrospective."
Barbier never had a chance to create the new work, so Glassell is planning an exhibition of his art for next fall.
Glassell will have a table set up at Baton Rouge Gallery for the "Celebrating Barbier" reception. "We'll be looking for information on Charles' artwork that we might not know, maybe some of his earlier pieces or pieces owned by collectors that haven't been exhibited," Krolak says.
Friends and collectors also can share information on the Facebook group page "Charles Barbier: In Memoriam."
Baton Rouge Gallery is focusing on filling its gallery walls with paintings that celebrate Barbier. This show will replace the gallery's annual group show, which traditionally features one piece by each of its artist members.
"Our artists felt strongly about recognizing Charles," Andreasen says. "He was one of those people who was always there. He was a big part of the art community, and he supported other artists by going to their shows. And he also supported local musicians."
He was a mainstay at openings and events. When Barbier was absent from an opening reception at Baton Rouge Gallery the night before his death, people noticed.
"And we didn't know where he was," says Andreasen. "We knew something must be wrong. The next day, he died."
Paul Neff was 37 when he met Barbier at photographer Brian Baiamonte's Third Street studio, which led to a 17-year collaboration between the two artists.
"Our collaborations weren't like his and Hunter's," Neff, who is now 53, says. "We'd usually hand paintings off to each other. We wouldn't be painting on top of each other yelling and screaming. People would look at that and say, 'That doesn't look fun.' But Charles and Hunter loved it."
While Neff considers himself a hobbyist painter, his style was loose and less linear. As the two collaborated, he found that his style was moving more in the way of Barbier's style, where each line was carefully planned.
"He liked to outline things, so I just moved into doing that, too, when we worked together," Neff says. "His subjects spanned the emotional spectrum, ranging from dark stuff from his experiences in Vietnam to people having fun."
And a large portion of those subjects covered the walls in his Baker home.
"If you visited his house, you would see his work everywhere," Andreasen says. "It was on the walls from the floor to the ceiling. He was so driven to paint that he would find a place on the underpass to paint a mural. or would find a side wall that no one ever thought of putting a mural on and breathe new life into it."
Still, Barbier wasn't occupied with being larger than the Baton Rouge arts community.
"I used to tell him he needed to get representation, but he was so humble; he wasn't worried about that," Neff says. "But he was interested in legacy. He wanted his paintings to be known after he died."
Neff pauses to think about that legacy. Barbier definitely has left an impressive body of work that has garnered fans.
"But for me, I just miss him," Neff says. "I miss caring about him and him caring about me. He was my best friend."
---
'Celebrating Barbier'
Reception at 6 p.m. Saturday. On display through Nov. 29
Baton Rouge Gallery, 1515 Dalrymple Drive
12 p.m. to 6 p.m. Tuesday through Sunday
Free admission
(225) 383-1470; batonrougegallery.org