It's difficult to succinctly describe Red Stick Social.
With 10 bowling lanes, a stage for live music, a full-service restaurant, multiple bars, a rooftop deck and a beer garden, the new Government Street business can be called a lot of things.
But Red Stick Social owner Robert Lay is quick to call it a "gathering place."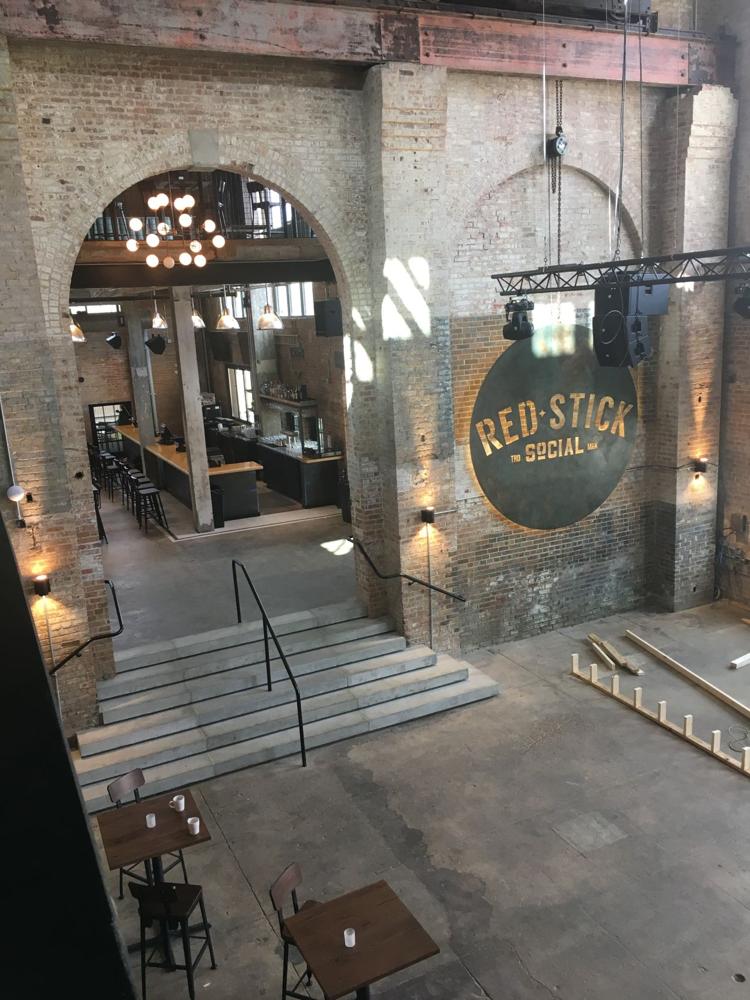 "What we're trying to create here is that kind of sense of community where, regardless of race, regardless of religion, of age, it doesn't matter, this is a place where we want people to come and feel comfortable," he said.
Red Stick Social will open Monday, April 15, at 1503 Government St. in the 104-year-old brick building that formerly housed the Baton Rouge Electric Co. power plant, later owned by  Entergy. The business is the anchor for the Electric Depot, which features two other buildings that will house apartments, a new coffee concept with ties to Community Coffee Chairman Matt Saurage, a yoga studio and other restaurant and retail spaces.
Plans for the Electric Depot and Red Stick Social were announced in May 2017, four years after Entergy gave the property to the East Baton Rouge Redevelopment Authority, which began pushing for private redevelopment of the site and ultimately worked with a team led by Weinstein Nelson Development. That company's co-founder and lead designer Dyke Nelson's architecture firm, DNA Workshop, was also involved in the Electric Depot project.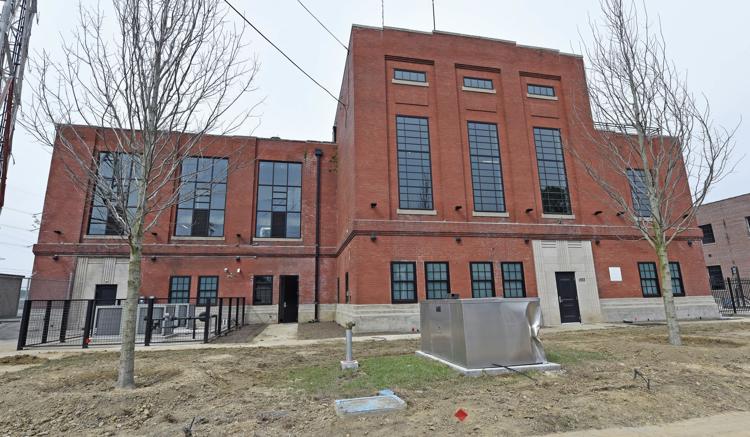 Lay, a Shreveport native who attended LSU, felt like the "social hub" concept was missing and needed in Baton Rouge. Red Stick Social, he said, is similar to Pinewood Social in Nashville, Tennessee, and Punch Bowl Social in Denver and Chicago. He and businesses partners had been working on the idea for five or six years, Lay said, and when the Electric Depot project started to develop, it presented the right opportunity.
"Where the trend is going is not, 'How do I go out for 30-45 minutes, an hour?' " Lay said during a recent media tour. "It's, 'How do I make a social experience out of it? How do I go somewhere, sit, be comfortable for a couple of hours and be engaged and have a bunch of different options and not be bored?' "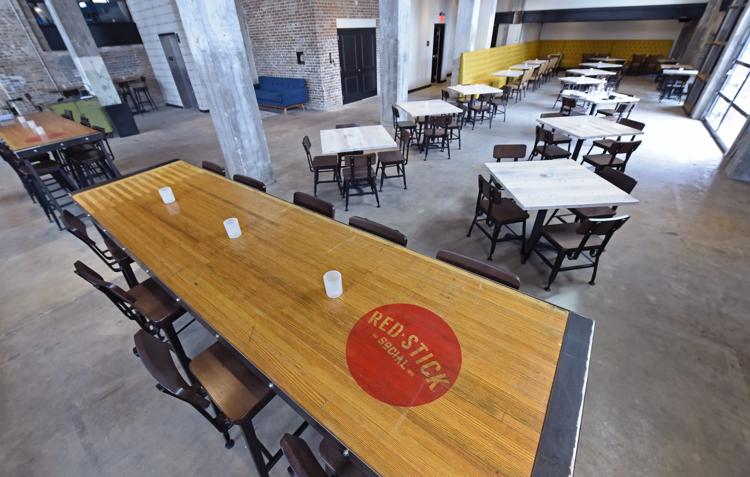 Renovations to the 30,000-square-foot building began in 2017. After years of disuse, the first floor of the building was covered with water and a jungle was growing up the brick walls, Lay said. But a lot of the building's original features are incorporated into Red Stick Social's design: an overhead 20-ton gantry crane and brick archways with concrete floors are contrasted by modern furniture and tables built out of old bowling alley wood.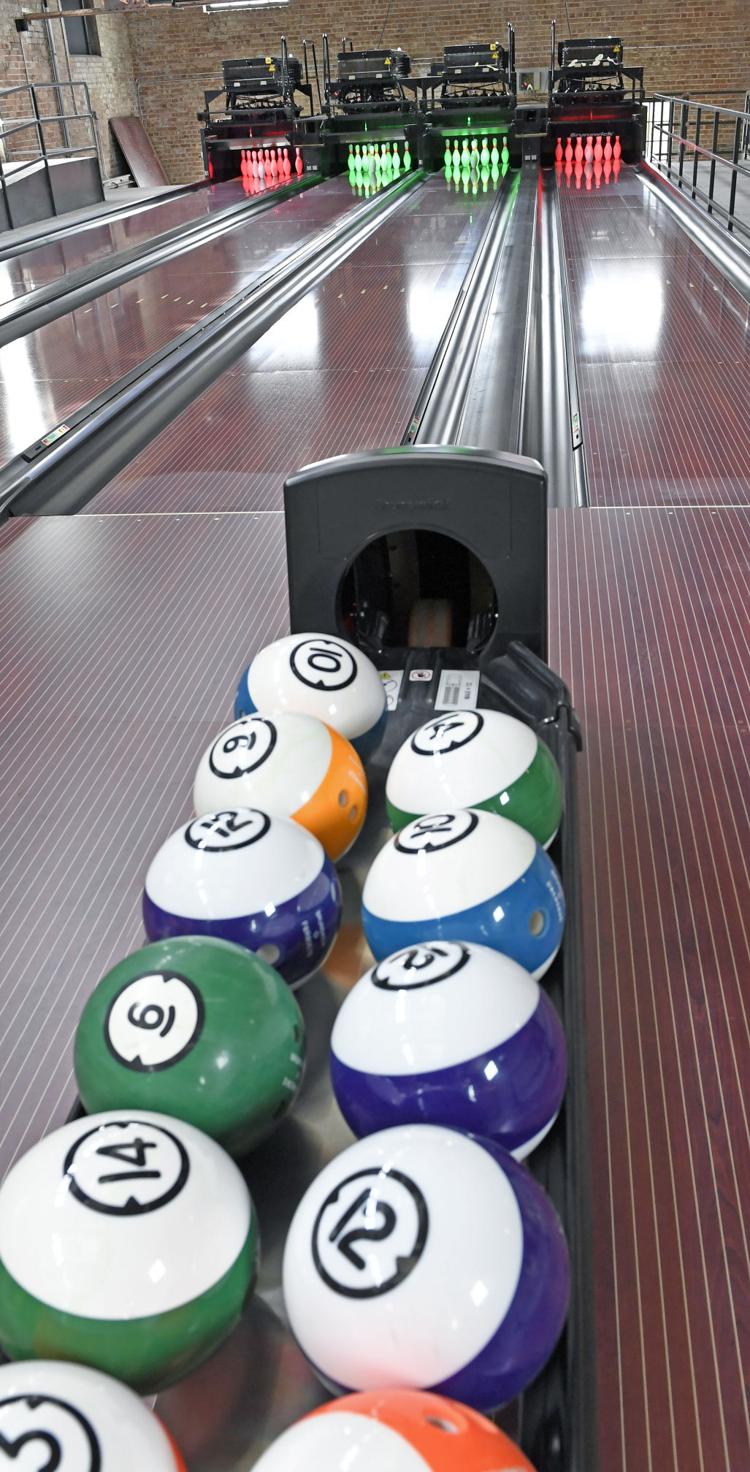 The first thing you'll probably notice when you walk in is the colossal size of the space. The entry is wide open, with views up all five levels. Bowlers at the six lanes on the third floor or the four lanes on the fifth are able to look down on the stage on the first floor. 
The first two floors are filled with tables and seating for the full-service kitchen and long cocktail bar. Executive chef George Sittig is focusing on a "modern Southern" and "modern Acadian" menu that features dishes such as crawfish mac 'n' cheese ($17), chicken and waffles ($12) and the C'Asian flatbread ($14), which is Korean barbecue, pickled cucumber and carrots, red cabbage slaw and sambal mayo. The menu also features tacos, burgers and sliders, salads and shareable dishes such as charcuterie, wings and pork rinds.
"When people come to Red Stick Social," Sittig said in an interview last month. "I believe they're just coming to a regular party in someone's backyard or a regular function that a friend or a family is having. And they're going to eat good food at that function, and they're going to party, and they're listening to good music, and they want to have fun."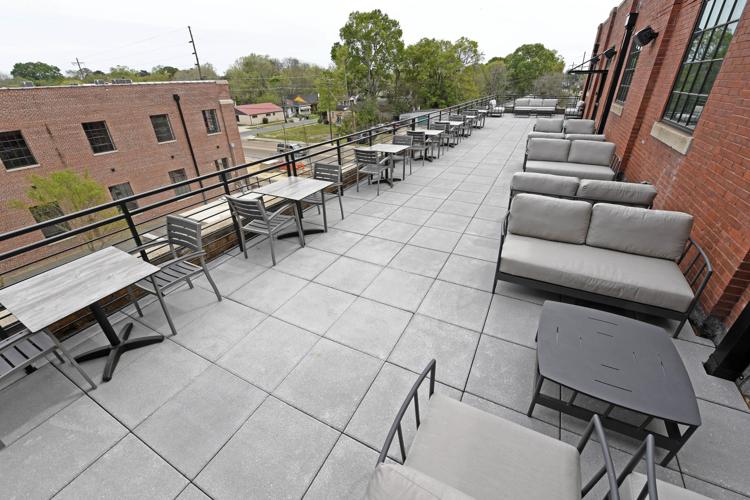 The fourth floor has a space available for private events. And the fifth floor, which has another bar next to the four bowling lanes, is also available to book — the lanes and bar will be open normal hours if there's no private event scheduled. And the kitchen has an extensive catering menu available.
Bowling lanes can accommodate up to six people and will be available on an hourly basis.
"We have all kinds of stuff here that people can do because the space is so conducive to all the different things that engage us socially and create that sense of community that we're trying to accomplish," Lay said.
---
Red Stick Social
1503 Government St.
10 a.m. to 1 a.m. Monday through Thursday; 10 a.m. to 2 a.m. Friday and Saturday; and 10 a.m. to midnight Sunday