Nonney Oddlokken began questioning her reality after Hurricane Katrina.
Oddlokken is among the artists showing more than one piece at this year's Surreal Salon exhibition at Baton Rouge Gallery. Her textile works "Sorceress of the Bayou of the All Knowing" and "Raising Brahma in the Bayou of Divinity" focus on the Louisiana swamp, a place Oddlokken didn't discover until Hurricane Katrina forced her out of New Orleans.
She had been a lifelong resident of New Orleans' Mid-City neighborhood and had never ventured into the area's surrounding landscape. She's since lived in St. Charles Parish's rural St. Rose, where she has to drive past a swamp to pick up groceries.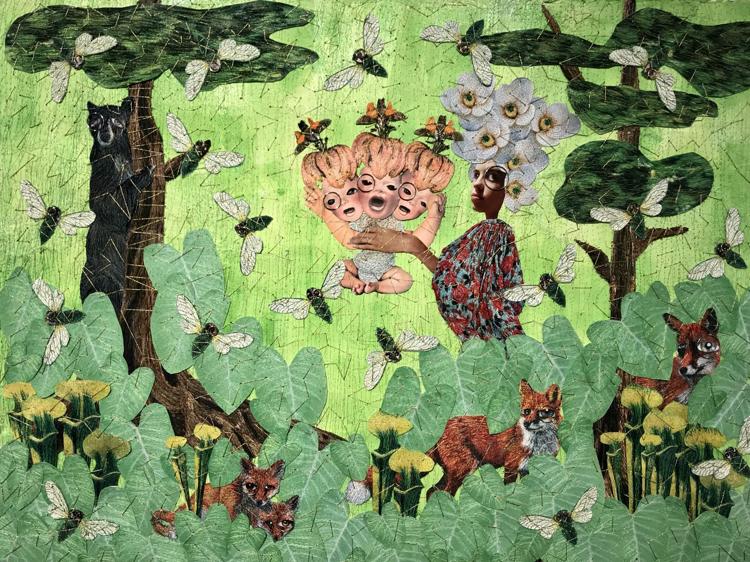 "I started really looking at the swamp, and life there was amazing," Oddlokken said. "What would have been a catastrophe for me turned out to be amazing."
Oddlokken was already making art from her own handmade paper, but her images took a different turn as the swamp began invading her imagination. She incorporated Louisiana myths and legends into her work through textiles, binding them together with gold thread, which, she said, "represents the life force."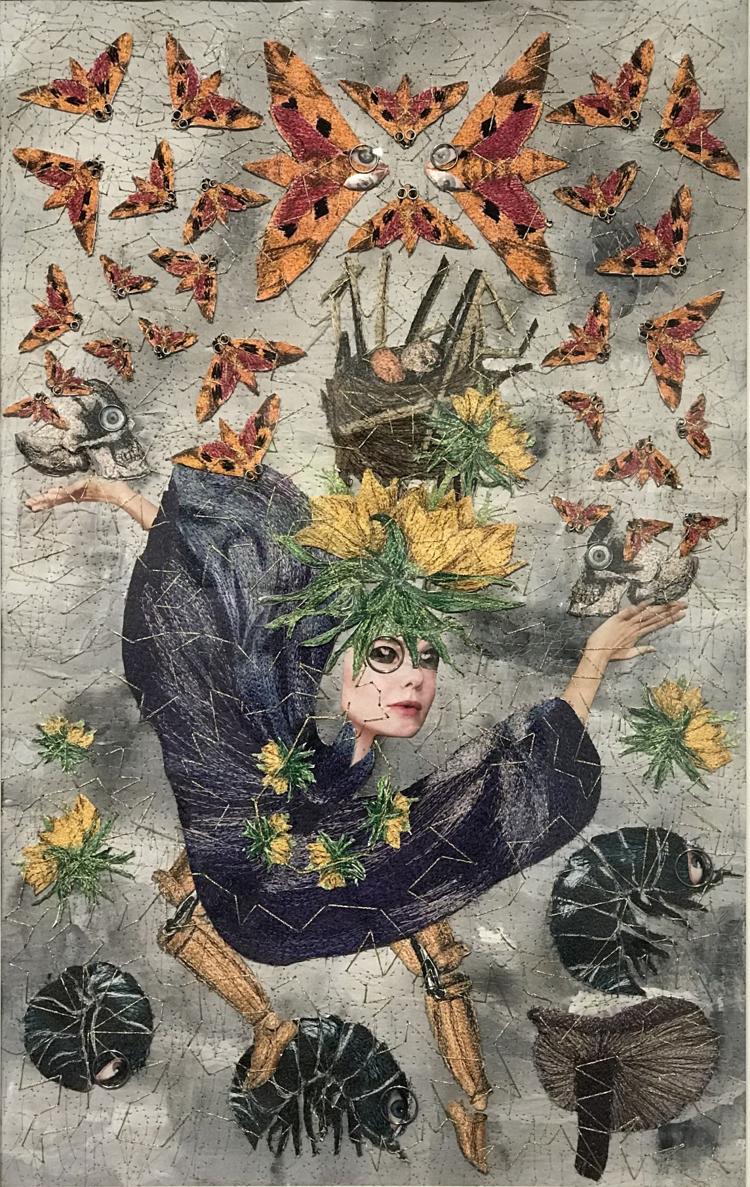 "Each of my works is a tiny little fable," she said. "Each of the characters has a circle around one eye, which represents the enchanted people. I replaced the wolf in Louisiana's loup-garou legend with the red fox, which represents wisdom. And I have the white alligator, which represents magic, as the unicorn of the swamp."
That questioning of reality and blending of the fantastic is the point of Surreal Salon, Baton Rouge Gallery's annual, juried, international art show. It wouldn't be fun, otherwise.
"We're always surprised by the pieces for this show," said Jason Andreasen, the gallery's executive director. "There are no boundaries on the artists' imaginations, so it's always fun."
Although the show is in its 11th year, Andreasen considers 2019 a do-over from what was supposed to be last year's 10th anniversary. The exhibit's monthlong run was a success, but its annual accompanying party, the Surreal Salon Soiree, was rained out.
"We ended up having it the day after, which was a Sunday, and Sunday isn't really a good day for this kind of party," Andreasen said. "So, we're inviting the same band we invited last year, and we're going to try again."
---
Can't see video below? Click here.
---
The band is Peelander Z, a Japanese punk band based in Austin, Texas. Along with its crazy, colorful costumes, the band's stage show is wild, incorporating comic antics like wrestling-style moves and human bowling.
Peelander Z had to cancel last year because of the inclement weather, but it will take the stage when the Surreal Salon Soiree opens at 7 p.m. Jan. 26. The night at Baton Rouge Gallery is an interactive art experience, where patrons blend with the artwork by dressing in costume.
"It's the one place where you're out of place if you're not in costume," Andreasen said. "And as in past years, we'll be giving prizes for the best costumes."
Puppeteer and artist Clay Achee also will interact with guests, and DJ Musa will play a set of music.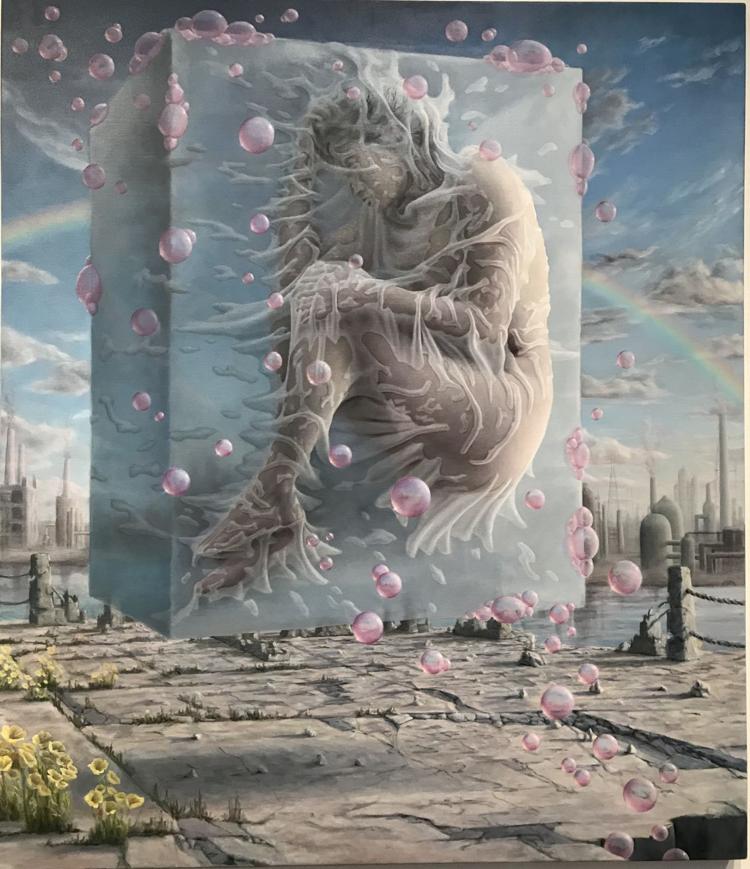 The night's biggest guest will be surrealist artist and exhibit juror Camille Rose Garcia, who will announce the grand prize-winning work that will appear on the cover of Juxtapoz Magazine, the definitive quarterly celebrating pop-surrealist and lowbrow art.
For this year's Surreal Salon, Garcia chose work by 48 artists through a blind selection process.
"As in past shows, we presented the judge only with the artwork," Andreasean said. "All information about the artists were removed. Camille chose the pieces only from what she saw, and in many cases, she chose more than one piece by the same artist."
Nonney Oddlokken not only is a Surreal Salon artist but a Baton Rouge Gallery artist member, as is James Flynn, whose black light paintings, "The Ancient Nommo from the Stars..." and "Epiphany" were chosen for this exhibition.
The New Orleans artist's paintings are optical illusions inspired by quantum physics, which, he said, "challenges what we think we know."
The story behind "Ancient Nommo from the Stars..." presents such a challenge. It's based on an ancestral tale by the Dogon tribe of Mali, West Africa, which connects its 10,000-year-old origins to extraterrestrial beings called from Sirius, also known as the Dog Star.
Flynn forms his images through linear and curved lines that coalesce and collapse into wave patterns. Add the red-tinted glasses hanging next to the painting and his love of quantum physics comes to life.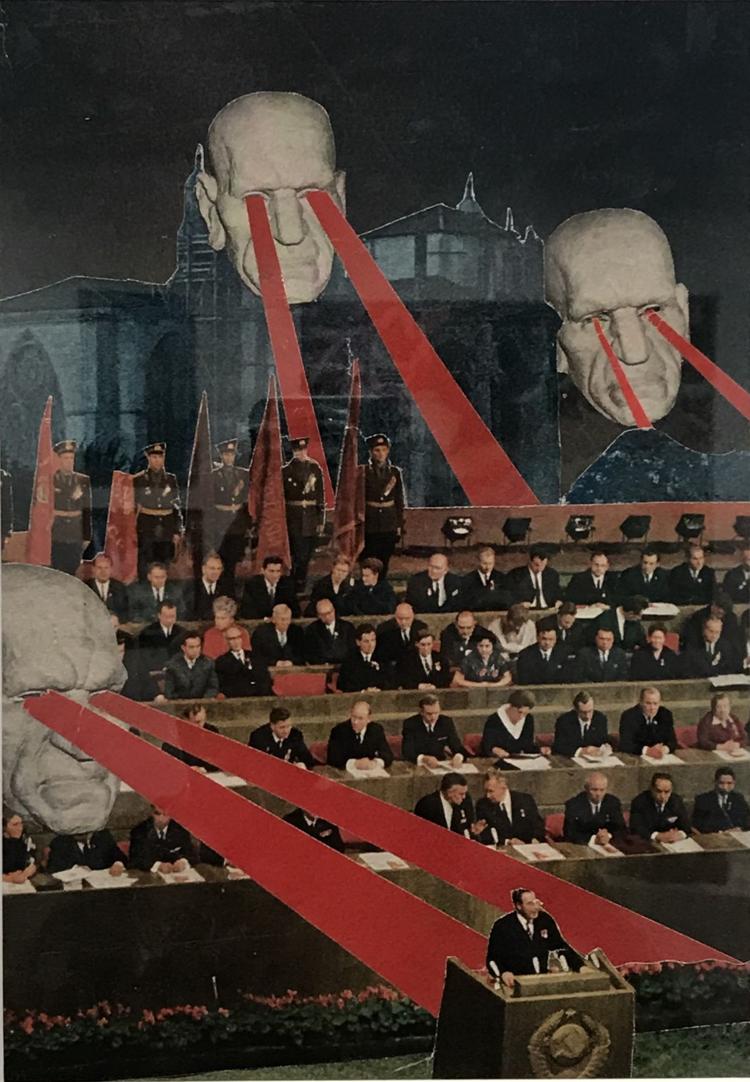 Because it's here where viewers question reality. Whereas a human form seems to dominate the painting, the curved lines come together to form alien-like faces through the glasses.
Could this be the Nommos' ancestral souls melding with the Dogons? Flynn leaves this part of the visual story up to his viewers.
But he isn't the only painter serving up optical challenges. Sibling duo Carrie Ann Baade  and David Jones offer their own optical tests in their piece "Conversations with Alice (Sibling Rorschach Series)."
---
Can't see video below? Click here.
---
The siblings live in Havana, Florida, outside of Tallahassee, and viewers will notice that Jones paints under the name Lordscience Universal.
"He painted as a street artist, and that was his street artist name," Baade said. "We paint together now, but we don't get along. So, I'll paint my part, then he'll paint his part, then I'll come back and finish up."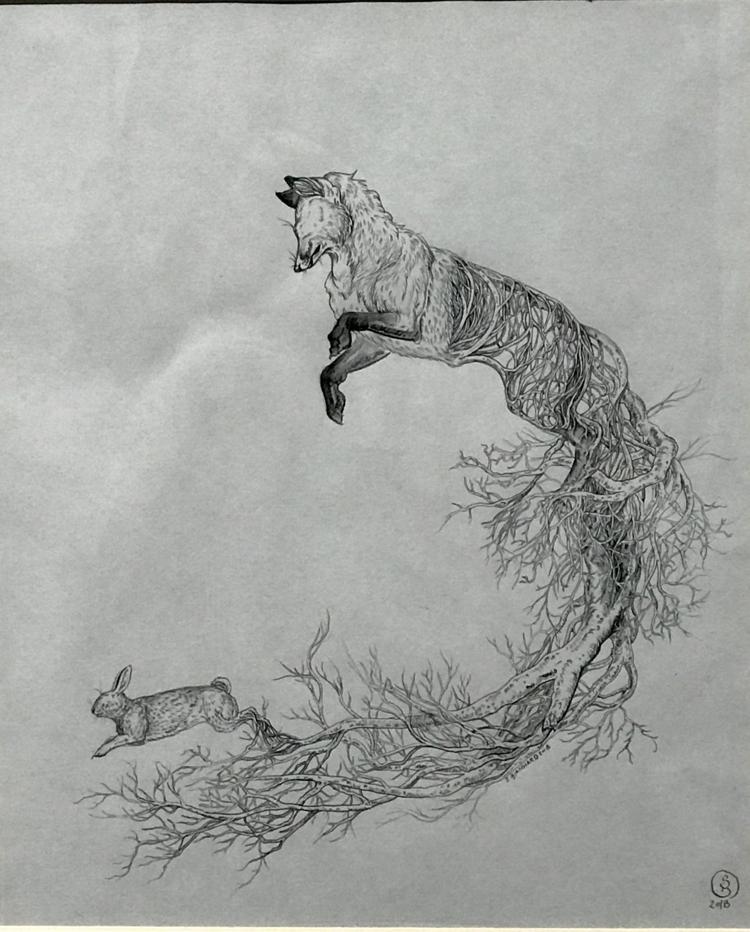 The result is two separate paintings that can be rotated then pushed together to form a single, symmetrical image. And with each rotation comes a new abstract story — which makes the siblings' relationship as surreal as their work.
"We can't work side-by-side, but we're inspired by working together," Baade said. "He has my mother's birthday, and I have my father's birthday. He's like my mother, and I'm like my father. We're not twins, but we're like twins who are kinetically reversed. And it works."
And then, in another part of the gallery, is Theodoros Bargiotas' digital messiah, emerging from the phantasmagoric-filled walls.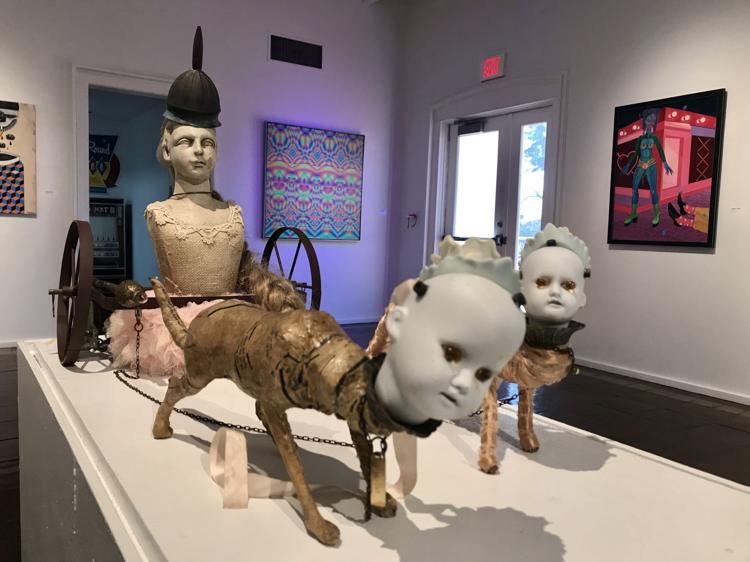 Bargiotas admits that his painting, "Reaching Out to the Somnambulists," is dark, yet the image is thought-provoking.
The painting is part of his doctoral degree series at LSU, where he's also teaching art classes. He considers the painting more of a narrative than he does surreal.
"I try not to anchor it too much," he said. "I use the word 'uncanny' when describing it. It's neither here nor there."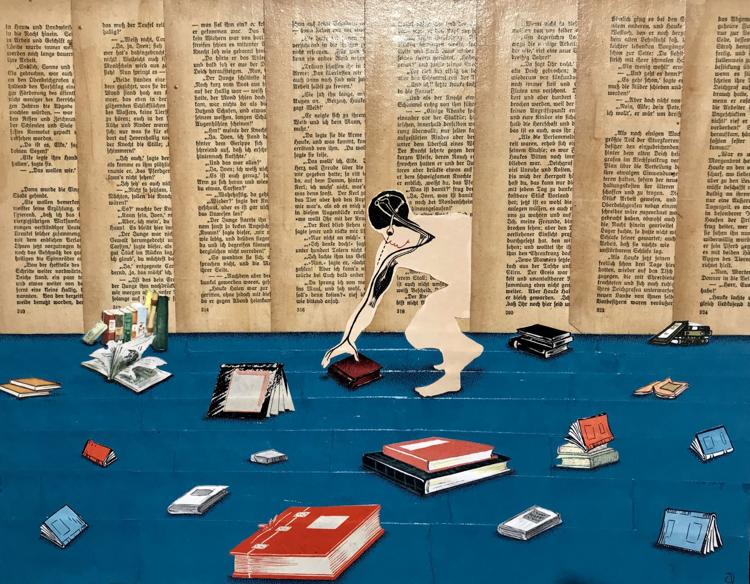 The painting shows people connected to computers and mobile devices, ecstatic in hysteria. Bargiotas' narrative tells the story of a digital messiah emerging from digital software.
"It's black humor," he said. "I use a lot of people around me as models for my work, and I'm hoping at the end of this series that I can get a book of the paintings and written narrative published, hopefully with LSU Press."
---
The Surreal Salon Soiree
7 p.m. to 11 p.m. Saturday, Jan. 26.
Baton Rouge Gallery, 1515 Dalrymple Drive
$25 advance; $30 door if in costume and $35 if not in costume.
(225) 383-1470; batonrougegallery.org
The 11th annual Surreal Salon exhibit runs through Jan. 31. Gallery hours are noon to 6 p.m. Tuesday through Sunday. Free admission.