Carissa Cropper was running late for her audition.
Around 2012, she was just starting to act onstage more often and was hoping to take part in a project made by Baton Rouge comedian Howard Hall, but she ended up going to the wrong place.
"I'm at the wrong place, and it's so unprofessional and I was having a breakdown," Cropper said. "I called my friend and I was like, 'Should I still go?' She said 'Yeah, just use it.' "
Cropper dug through her car's trunk, found a pair of sweats and a head scarf, took a breath, and went into the audition "like the late girl."
She dug deep, acting like she had her daughter with her and had just come from Walmart, begging to still audition. And she nailed it — about 15 minutes after she left, she got a call asking her to host the show.
Over the last seven years as a standup and sketch comedian and stage actor in Baton Rouge, Cropper has built on her talent at being relatable. It's easy to identify with the "late girl," or see someone you know in one of her characters on the locally produced sketch show "Laugh Now Laugh Later."
Onstage, Cropper flows through her material almost like she's talking to friends at a party, letting her delivery get just a little more wild as the story builds.
"I think you relate to people when you're just real," Cropper said. "I just talk about me, and I try to relate to people. I'm a mom, I'm a woman, I make mistakes — I mess up all the time, and it's OK."
Last month, Cropper appeared on Comedy Central as a featured comic in an episode of Kevin Hart's "Hart of the City." Hosted by Hart, each episode travels to a different city to feature emerging standup comedians. Cropper's episode was shot at the Howlin' Wolf in New Orleans and also featured Shaddy McCoy and Arron "AO" Odom, another Baton Rouge comic.
Click here to watch part of Cropper's set on YouTube.
One part of her set starts out by asking if anyone in the audience is dating.
"It's hard out here," she says. "You know, a lot of females get up here and say it's the men. It's not. It's me — it's always me. I don't know what I want. I want, like, a skinny, fat, church-going sinner, who sells drugs and got good credit. I want it all."
As the set goes, Cropper picks up the flow, feeding back off the energy of the crowd — someone in the audience yells out "preach" — and she builds into how instead of roses and nice comments, she wants a man who will change her oil and rotate her tires. She quickly switches to talking about her boyfriend — "He's responsible. He bought me a two-month supply of multivitamins. You know what — you know what — he cares about my whole body."
"Hart of the City" also includes a conversation segment between Hart and the comedians, talking about their influences, the comedy industry and the culture of their hometowns. Usually Hart travels to the city being featured, but because of a recent tour, the show flew Cropper, McCoy and Odom to Los Angeles.
"And it was really dope," Cropper said. "We were the first ones in New Orleans they highlighted. We were bringing a light that there are funny people in Baton Rouge and Louisiana and in New Orleans. We actually have a comedy circuit here."
Born and raised in Baton Rouge, Cropper is a mother of two and has been a pre-K teacher for 23 years — something that provides a lot of inspiration for her standup material. She has always liked acting and theater, and about seven years ago, when she was going through a divorce, people encouraged her to get on stage.
"I was like, 'Eh, I don't really feel that great.' But they said, 'That's great. Use that depressing crap and get on the stage and just put it out there,' " Cropper said.
It was around that time that she was running late for an audition.
After landing the hosting part in Howard Hall's project, Hall and other local comedians started to help Cropper learn to write jokes. Soon, she was trying material at open mics, like her first five-minute set at Cate Street Pub in Hammond.
"I was about to die. This is really putting yourself out there," she recalled. "Now, looking back, it was not the best five minutes of comedy, but at the time it was like, 'whoa!' After that, we just kept going."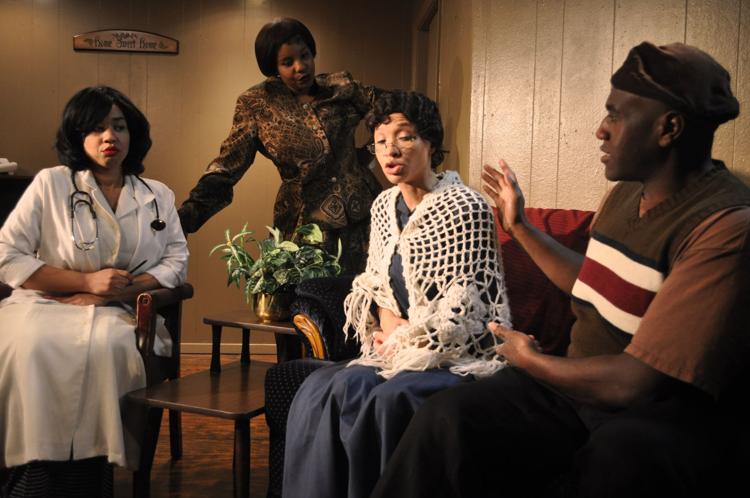 Cropper started performing and writing more and studying the craft — she references Hart, Dave Chappelle and Ellen DeGeneres as major influences. Kind and talkative, Cropper sprinkles sage sayings throughout our conversation.
In 2015, Cropper opened for Katt Williams when he played the River Center downtown. And earlier this month, right after her "Hart of the City" episode aired, Cropper opened for Marsha Warfield at the Black Girl Giggles Comedy Festival in New Orleans.
Along with her standup career, Cropper has been a regular on "Laugh Now, Laugh Later" and on stage with New Venture Theatre. And she frequently posts short videos of sketches or commentary on YouTube and Facebook, like a 2018 video loving on Chick-fil-A's service that went viral and got millions of views.
"It's been an amazing journey," Cropper said. Comedy "helped me just be myself again."
---
Carissa Cropper
Find more about the comedian at facebook.com/carissacropper