The Rev. Bill Miller, rector of Christ Episcopal Church in Covington, has made pilgrimages to Jerusalem and such sacred sites as Patrick Mountain in Ireland and the Scottish isle of Iona.
In the summer of 2017, he embarked on a religious journey of a different sort: to Liverpool, birthplace of the Beatles.
"I'd really call it a Beatles pilgrimage," Miller said. "Some really extraordinary, creative things happened in that place that continue to shape the world. There really aren't enough superlatives. I had the same feeling that day as when I go to Patrick Mountain or Iona or even Jerusalem."
Thus inspired, Miller will preside over "All You Need Is Love," a "Beatles Mass" — a service using the songs of the Fab Four instead of hymns — on Sunday at Christ Church (120 S. New Hampshire St. near Bogue Falaya Park in Covington).
The Beatles Mass follows the hugely popular U2-themed "U2charist" Miller staged a year ago, which packed Christ Church's 300-capacity sanctuary. The church will host two Beatles services on Sunday, at 9 a.m. and 11:30 a.m.
"It seemed like a natural thing to do because of the timelessness and the spirituality of their message," Miller said. "They were a religious movement, really. The message is thought-provoking and, for the most part, spiritually and theologically sound. There's some depth to it.
"And let's face it: Their music is superior to a lot of what you hear in churches."
Music plays a major role in Miller's life and ministry. He co-founded Padre's, a music club in the tiny west Texas arts enclave of Marfa. He's produced jazz festivals at churches in Texas and on the Hawaiian island of Kauai. While attending seminary in Chicago, he haunted South Side blues joints. A picture of Miller with the members of Def Leppard, snapped backstage after he delivered the invocation at the Houston Rodeo, occupies a place of honor on his mantel.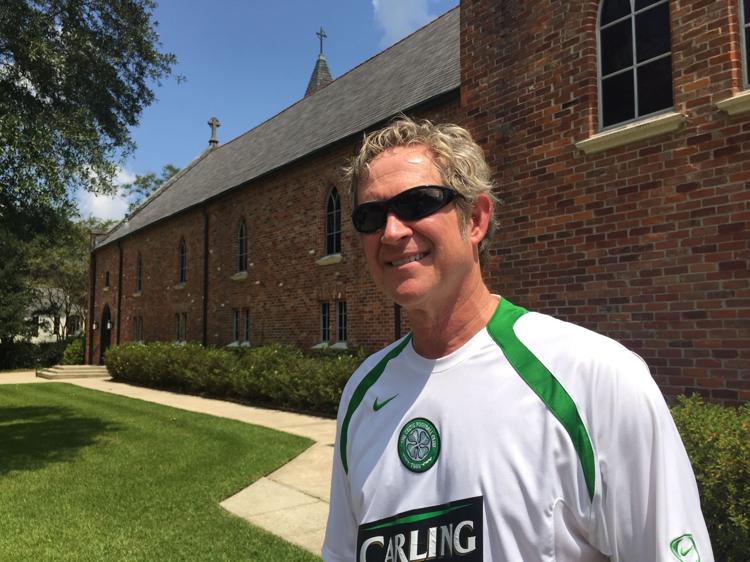 U2, whose lyrical themes often align with the philosophy of the Anglican church, has always been a favorite. The success of last year's "U2charist" at Christ Church made an encore inevitable.
"I had so many people come up to me and very genuinely say, 'That was the best worship service of my entire life, and it profoundly affected me,' " Miller said.
"What makes a profound or sacred religious moment an authentic service? It's good music. It's reflecting on readings from a tradition that centers us and reminds us of what matters. It's prayer. And it's love that motivates people to be there in the first place, their love for God or for one another or the world.
"And the fact that we, in our extended family at Christ Church, have these great musicians — we can do anything."
Those musicians include keyboardist Matt Lemmler, vocalist Ashley Lemmler and Crispin Shroeder, a professional musician who is also the pastor of the north shore's Vineyard Fellowship. The Christ Church choir will also lend their collective voice to the Beatles canon on Sunday.
The hardest part was selecting the songs and making sure all four Beatles were represented.
"When I was 5 years old, the defining question of the age was, 'Who's your favorite Beatle?' The answer to that question determined who you were and your place in the universe," Miller said. "And my favorite Beatle was Ringo."
Alas, the Ringo Starr composition "Octopus's Garden" wasn't quite right for a religious program. But "With a Little Help From My Friends," on which Starr sang lead, was.
"I tried to get Ringo in there," Miller said, laughing.
Other selections for Sunday's worship services include "Revolution," "My Sweet Lord" and "All Together Now," which will be a participatory moment for the children in attendance. During communion, the band will play "Help," "Hey Jude," "Let It Be," "The End" and "Imagine."
Lennon's "Imagine" opens with the lyric, "Imagine there's no heaven" and later longs for a world with "nothing to kill or die for/no religion, too." To Miller, such sentiments are not necessarily an indictment of religious belief.
"The point, I think, is (to counter) whatever divides us, whatever we obsess on as a way of finding difference — and religion has been used in the same way as nationality to pit 'us' versus 'them,' " Miller said.
"Jesus had some pretty harsh things to say about religion as it was practiced in his time. There's a quote from Lennon where he says something about, 'I've got no problem with Jesus — it's the way his followers have twisted him.'
"We hope that we're celebrating a religious tradition that doesn't seek to divide. That gets at the essence of what Lennon was hoping for, that we would come together and be one and not let things divide us. I think the spirit of the song fits."
The Beatles Mass will conclude with George Harrison's "Here Comes the Sun." "Send them out with some hope," Miller said.
He's planning more music-themed services, including a bluegrass Mass and, in January, an Elvis Presley-themed service staged in collaboration with a church in Las Vegas.
To Miller, the Beatles were "an obvious choice." He sees parallels between such lyrics as "the love you take is equal to the love you make" and "all you need is love" with the Bible's first epistle of John 4:7: "Beloved, let us love one another, for love is of God, and everyone who loves is born of God and knows God."
"The late '60s were a time of challenge and tribulation," Miller said. "Certainly today we're divided and conflicted, and there's a lot of meanness and a lack of coming together and loving each other and loving the world.
"The Beatles' overarching theological and spiritual themes are just as relevant as they have ever been."