This year is a time of celebration for Mavis Staples.
"I must be the happiest old girl in the world," she says.
The gospel great and pop-soul star is approaching her 80th birthday on July 10. And surrounding the May 10 release of her Ben Harper-produced new album, "We Get By," she's performing a trio of special guest-filled birthday concerts at the Apollo Theater in New York City, Ryman Auditorium in Nashville, Tennessee, and The Theatre at Ace Hotel in Los Angeles.
"Oh, Lord, I feel so blessed," Staples says. "I never thought I'd be looking at 80 years old. I'm grateful for my longevity. And I can't stop. I still have all of my voice. I have my health and strength."
On Sunday, April 14, Staples will headline the second day of the 25th annual Baton Rouge Blues Festival, performing at 6:30 p.m. on the Crown Royal LA 1 Stage. Less than a month later, Staples will be back in south Louisiana on May 2 to play the 50th New Orleans Jazz and Heritage Festival.
Last year, Staples had to cancel her much-anticipated appearance at the Blues Fest following the death of her sister Yvonne, just days before the festival. In February, festival officials announced the singer's headlining appearance at this year's Blues Fest with much fanfare.
While singing with her father, sisters and brother in the Staple Singers, Mavis Staples became a gospel star in 1956 with the group's breakthrough single, "Uncloudy Day." The Staple Singers crossed over to pop and rhythm-and-blues stardom in the 1970s via a run of Top 40 hits, including "Respect Yourself," "Let's Do It Again" and "I'll Take You There."
Following the death of the family patriarch, Roebuck "Pops" Staples, in 2000, Mavis Staples overcame her crippling grief with the help of Yvonne.
"I couldn't get up," she told The Advocate in 2011. "I said, 'Why should I still be here? I can't sing anymore.' Yvonne came to my house, looked at me and said, 'Mavis, you get up from there. You know Pops would want you to continue to sing.' I won't say some of the words that Yvonne said to me, but she told me off good! That was all I needed."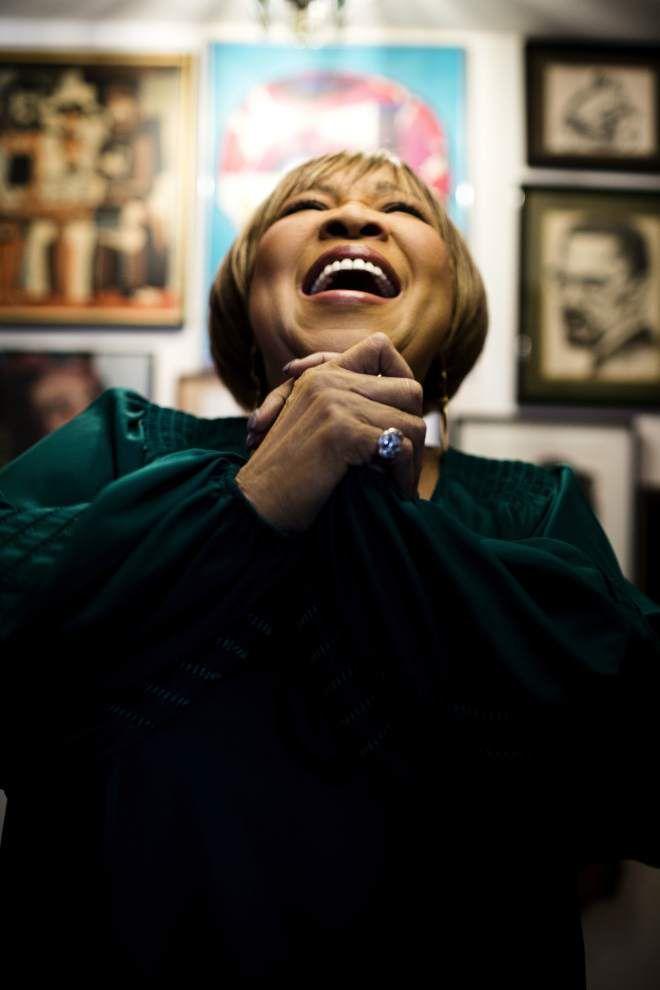 Mavis Staples also overcame rejection from a music industry that didn't believe she could be a viable solo artist. After financing her 2004 album, "Have a Little Faith," herself, she has sustained an acclaimed recording career through such subsequent releases as 2007's album of civil rights-era songs, "We'll Never Turn Back," and 2010s Grammy-winning "You Are Not Alone."
A succession of admiring younger artists — Jeff Tweedy, Nick Cave, Neko Case, Arcade Fire, Gorillaz and Hozier — showed their respect, writing songs for the Blues Hall of Fame and Rock & Roll Hall of Fame inductee and collaborating with her in the studio.
Ben Harper, the eclectic singer, songwriter and multi-instrumentalist, composed and produced Staples' upcoming album, "We Get By." The musically diverse project encompasses Memphis and Motown soul, funk, primal electric blues and, of course, gospel. They can be topical, too.
"Pops used to tell the songwriters, 'If you want to write for the Staple Singers, read the headlines,' " Staples says. "We want to sing about what's happening in the world today. And if there's something going wrong, we want to sing a song to try to fix it."
The songs on "We Get By" are classic Staples, custom-made for her mighty expression and conviction.
"I'm just so proud and honored that Ben wrote these songs for me," she says. "He's a great artist. And Ben knows me. He actually took me back to church. When I was in that studio singing these songs, they made me feel like I was singing with my family again. Brothers and sisters!"
Staples believes new songs that sing truth to power and the classic freedom songs she sang with the Staple Singers in the 1960s are more relevant than ever.
"Oh, yes," she says. "We are living in a crazy world right now. It seems that all of the hatred and bigotry is back again. It had calmed down. At least I thought it had. But there are so many things happening now that are just wrong. These songs are needed."
---
Mavis Staples
Baton Rouge Blues Festival
6:30 p.m. Sunday, April 14
Crown Royal LA 1 Stage, Repentance Park