When Thomas Rhett looks back at 2017, the milestones will include his third album, two new daughters and, as of this weekend, his first-ever show in a domed stadium.
On Sunday, he'll perform at the Mercedes-Benz Superdome between Blake Shelton and Hank Williams Jr. on the closing night of the 2017 Bayou Country Superfest.
He earned that prominent slot with such hits as "Die a Happy Man," "T-Shirt" and "Get Me Some of That;" he's also written songs for Jason Aldean, Lee Brice and Florida Georgia Line. His third album is due later this year. The first single, "Craving You," features fast-rising country singer Maren Morris.
In early May, Rhett, 27, and his wife, Lauren, welcomed Willa Gray, an 18-month old girl from Uganda they adopted. Lauren is due to give birth to another daughter in August.
Days after Willa Gray arrived from Uganda, Rhett called from his home in Tennessee.
I hope I'm doing you a favor by getting you out of changing a diaper.
Rhett: Oh my gosh. I literally was just changing a diaper 25 minutes ago.
Is it safe to say that you hadn't changed many diapers before Willa Gray arrived?
Rhett: We've been in the adoption process forever, so I've spent a bunch of time with her in Uganda. I'm somewhat of a pro at this point. It's been six months of perfecting diaper changing.
And you're about to get really good at it, with the arrival of baby No. 2 this summer.
Rhett: I know what it's like to have a two-year-old. Now we've got to figure out what it's like to have an infant. It's going to be a big year of firsts for us.
Have you noticed a difference in the songs you're writing?
Rhett: Absolutely. The last 20 or so song titles I've put in my phone have been about my daughter. I feel like the whole next record is going to be a pretty mushy one about my kids.
The record that is going to come out later this year was written before I had kids. There are a couple songs that allude to how life is going to change drastically in the next year. But on the fourth record, for sure, there's going to be a lot about my children. How can you not write about people that you're with every day and that make you laugh and make you want to just go outside and take a deep breath for a minute?
When you go on tour, you're going to experience that pang of being away from them.
Rhett: I've texted a bunch of my artist buddies about that. I texted Jason Aldean the other day and said, "How do you ever leave the house and not feel guilty?"
He said that feeling never really goes away, but that when you leave the house now, you get on the bus for a different purpose. Before you had kids, it was all about going out there and trying to win at awards shows and sell as many tickets as possible and trying to have multi-week No. 1 (singles).
After you have kids, you still want those things. But at the forefront of your brain is, "How can I give my child the best life humanly possible?" (Aldean) said that's what helps him get on the bus on the weekends. That's the best piece of advice I've gotten so far.
Now that you have daughters, it will be interesting to see if you keep doing the sexier songs, like "T-Shirt"…
Rhett: …or if it becomes a completely G-rated album? That's the only movies I've been watching lately.
The video for "Craving You" casts you as an undercover cop and Maren Morris as a bank robber. Was that your idea?
Rhett: I've been working with the same director for the last five or six (videos). On this one, I just got to a point where I was so over shooting a music video where I stood in front of the camera and sang the song. I'm just so sick of doing that.
I said, "Let's shoot a music video where we get to actually do some interesting, fun things." So we came up with the concept of basically shooting an action-packed movie trailer. Me and Maren got to say a couple of lines. I (display) some poor acting skills. There are some fun driving scenes, some fake punching scenes. It's like "Oceans 13" meets "Drive" meets a music video. I think my fans were a little freaked out watching me hit somebody with a baseball bat. But I thought (the video) was a lot of fun to do.
Your delivery of the line "I thought I had this" in the video recalled George Clooney in "Oceans 13."
Rhett: We wanted to mix in a little bit of humor with the darkness in the video, just to give it a little light-heartedness.
Maren seems frighteningly comfortable with a pistol-grip shotgun.
Rhett: I know, dude. She is such a bad-ass. It's almost like she was made to be a bank robber in a movie. I'm glad she got to live out her dreams.
How did you approach your third album?
Rhett: I did not write any of these songs in Nashville, or at a house. Every one was written with other songwriters that came out on the bus with me during weekends of shows. Lately that's been the only way I can write. I feel like I'm already in a creative space because I'm about to play a show. The writers get to go out in the crowd and get inspiration and ideas, go back to the bus, get creative and write some cool songs.
I've never written more than I did last year. I wrote almost 100 songs last year. We cut 22 songs in the studio, which is way too many. I don't want to do a double album, so we're trying to figure out how to put 20-ish songs on a record without calling it a double album.
The songs are all over the place. It's a very eclectic album full of songs about real-life stories about me growing up, real-life stories about my wife, and songs that you would never really expect me to sing. I really went for it on a couple of songs, trying different things vocally. I'm chomping at the bit to get it out there.
What is it about some songs that will surprise fans?
Rhett: If you can rewind your brain to 1950 and think Frank Sinatra, that's what would come out of this song, which kind of makes no sense. On my love songs this time, I went more for '50s and '60s doo-wop love, more simplicity in the songs and less gacking out on production and vocals.
There are songs about my future kids, which I wrote six months ago. There's songs about my wife and me being really young, dating in high school. It's a very nostalgic record.
It makes sense that you're taking stock of your pre-fatherhood life.
Rhett: This is my last hurrah to let you know what I was like when I was 16 years old.
What do you think as you look back at yourself at 16?
Rhett: At 16, I never would have thought I'd be doing this, and neither would my wife. There's a song on the record called "Sixteen" about being 16 and wanting to be 18, being 18 and then wanting to be 21, and then, by the time you're 30, all you want to do is be 16 again.
"Nostalgia" is the perfect word for this record. A lot of it is very throwback, not only in production and melody, but in the storylines as well.
When you say you never would have imagined doing this at 16, do you mean being a dad or being a successful artist?
Rhett: I always knew I'd be a dad, Lord willing. But being 16, playing nothing but Matchbox 20 songs around a campfire, I never really dreamed that I'd be doing an interview about playing in a stadium opening for Blake Shelton.
It's amazing to see how far you can come in 10 years. We've been really blessed, being on the road and having some really successful songs. If you had told my 16-year-old self I'd be doing this, he would have called you crazy.
But it wasn't as far removed for you as it was for other folks. Your dad, Rhett Akins, is a recording artist and successful country songwriter.
Rhett: Yeah, but you look at your dad and you think, "That's Dad. Dad is really good at doing that." I haven't perfected that craft of songwriting yet. I'm not a great guitar player. I don't feel like I'm a great singer.
Even though Dad was in the business … yes, I knew a lot of these people. But never in a million years did I think that would be my life, being onstage and actually being successful at it. Looking back, it's such a surreal journey that I've been on these last 10 years, getting to where I'm at today.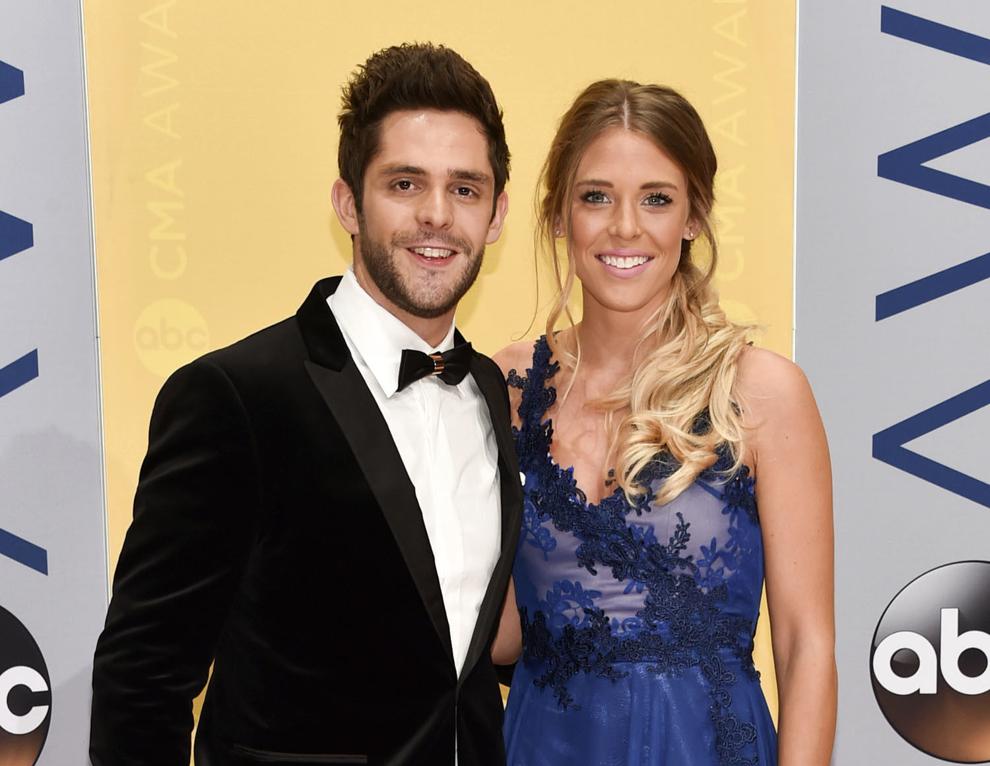 Talking about twists of fate, Willa Gray is going to have a very different life with you and Lauren, a successful, happy couple in the United States, than she would have in Uganda.
Rhett: A lot of people will say, "Why her? What drew you guys to her?" We always knew we would adopt. Lauren's mom is adopted, so I think it's always been in Lauren's heart for sure. Knowing Lauren's mom the way that I do, it's always been in my heart, too.
Neither of us thought we'd (adopt) first. We had this plan of having three kids and then maybe adopting a couple. But life took a turn. We tried (to conceive) for a little while and had no success. My wife went on a couple mission trips to this town in Uganda and met this baby. I remember Lauren talking about her on the phone and it literally already felt like she was ours. I can't fully describe it. I literally blurted out one day, "Let's bring her home."
We started that process over a year ago. It's been an amazing process to get to know our daughter in Uganda as well as knowing her here in America. I can't imagine how overwhelmed she is by seeing all the stuff here that she didn't have in Uganda, and eating the food here that she didn't have in Uganda, and having easy access to water, or Sprite.
For us, it's been the most amazing blessing that we could ever ask for. She's changing our lives as much as I hope we're changing hers.
Does the thought of playing the Superdome rattle your cage?
Rhett: I get so nervous before I play a stadium. Playing an arena or an amphitheater has gotten to become normal, because I've been opening for other artists for four or five years. I don't think playing in stadiums will ever get "normal."
That's something that I'll have to talk to Kenny Chesney about at some point: How in the world do you capture that many people's attention for an hour and a half? You can't hardly see anybody, especially the people sitting in the back and the top.
I've played the Smoothie King Center three or four times (as an opening act). I've always looked over across the street and been like, "Dang, I wonder what would it be like to play in there?" I've never gotten to play in a dome before, so I'm very excited about that. It's going to be a lot of fun.