The Cove finds safe harbor on Essen Lane
In September, The Cove closed its doors after 10 years on CitiPlace Court. The bar had become well known for its extensive beer and spirits selection and had developed a loyal following.
When it announced through a Facebook post that it would close, The Cove hinted it would be re-opening in a new location. On Friday, May 17, that new iteration, The Lost Cove, will have its grand opening at 5625 Essen Lane.
The Lost Cove (briefly called Smuggler's Cove) is located in the former French Quarter Daiquiri location, a standalone building near Zorba's Greek Bistro.
"It was kind of our time to move on" from the old location, said general manager Jeff Barnett. The business was looking for a new building, with more parking, and was wanting to add food to its menu, Barnett said.
Tom Ange is still the owner of the Cove business as well as the Port Royal Lounge on College Drive.
The new building has gone through extensive renovations, Barnett said, beginning last fall. And the main room is now wide open, with tables and booths, and a new wooden bar and high shelves holding The Lost Cove's considerable spirit collection. There is also a patio on the building, and the business hopes to have regular outdoor events, Barnett said.
The Lost Cove has a gastropub-style menu, with sandwiches, small plates — check out the boutine, a take on poutine using boudin and lightly fried cheese — and desserts, like a flourless chocolate cake. The plan is to rotate items off of the menu each week, said chef Garrett Couvillon.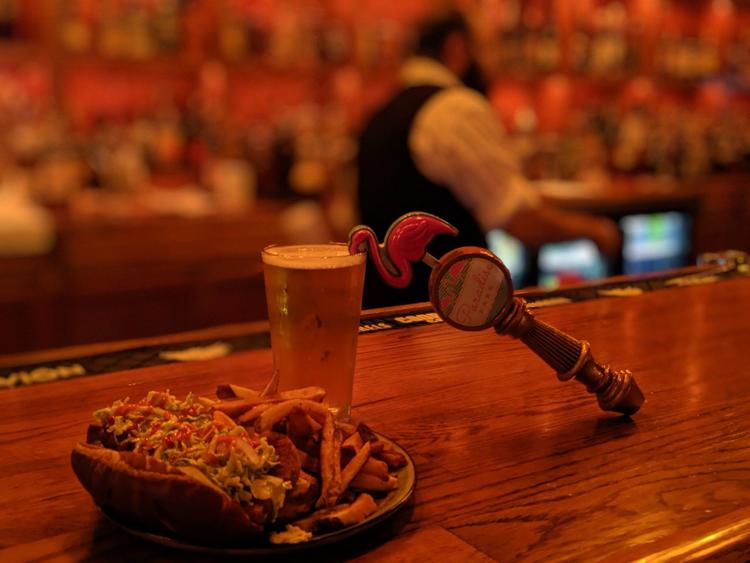 The Lost Cove had to downsize a little from the relocation, Barnett said, but there are still hundreds of individual spirits to choose from along with more than 80 different bottled beers and 11 draft lines. Bartenders will be trained to help people navigate the selection.
The cocktails on The Lost Cove's menu is built around the individual spirit, letting the liquor stand on its own, Barnett said. "A lot of the new age stuff tends to be more about masking the flavor a little bit," he added. "Definitely spirit-forward cocktails, strong drinks and a pretty relaxed environment."
The Lost Cove is open 3 p.m. to 2 a.m. Monday through Saturday and 3 p.m. to midnight Sunday. More information can be found at facebook.com/lostcovebr.
On the calendar
The next edition of The Dining Dragon Tavern, a three-course dinner pop-up and Dungeons & Dragons session, will take place from 3 p.m. to 9 p.m. Saturday, May 18, at Southern Craft Brewing Co., 14141 Airline Highway. The menu, by chef Richard Markert, will feature crispy garlicky Vietnamese sticky wings; chile-glazed shrimp with herbs and rice noodles; and a key lime tart. Tickets are $15-$45, and all D&D skill levels, from newbies to experience players, are welcome. facebook.com/thediningdragon.
The Jambalaya Shoppe recently opened its newest location at the Acadian Perkins Plaza, 3617 Perkins Road, and will host a grand opening celebration from 11 a.m. to 2 p.m. Saturday, May 18. There will be free jambalaya samples, door prizes and a chance to win free jambalaya for a year. The new location of the Gonzales-based chain is open 10:30 a.m. to 8 p.m. Monday through Saturday and 11 a.m. to 4 p.m. Sunday. facebook.com/tjsacadian.
Martin Wine Cellar's third annual Vino Italiano Festival will take place from 6 p.m. to 7:30 p.m. Saturday, May 18, with more than 20 Italian wines available for sample. The fest, at Martin Wine Cellar, 7248 Perkins Road, will also have meats, cheeses and light bites available. Tickets are $20. facebook.com/martinwinecellar1946.
Two Perkins Road Overpass bartenders will throw down Monday, May 20, in a cocktail contest at the new Bumsteers, 3109 Perkins Road. Todd Key, of Duvic's Martini Bar, will defend his title against Adam Fontenot, of Bumsteers, in the "Battle of the Overpass." The event, co-hosted by the Greater Baton Rouge Bartenders' Guild, starts at 8 p.m. and is open to the public. facebook.com/greaterbrbg.