Eating at City Slice Pints & Pizza is like taking a culinary road trip around the United States.
Primarily a pizza joint, City Slice serves a selection of regional American comfort foods — Buffalo wings, Connecticut-style pizza and Chicago hoagies.
The main attraction, the pizza, is advertised as "apizza," a style originating from New Haven, Connecticut, that Connecticut food writer Amy Kundrat described as "hotter, crispier and dirtier" than traditional Neapolitan pizzas.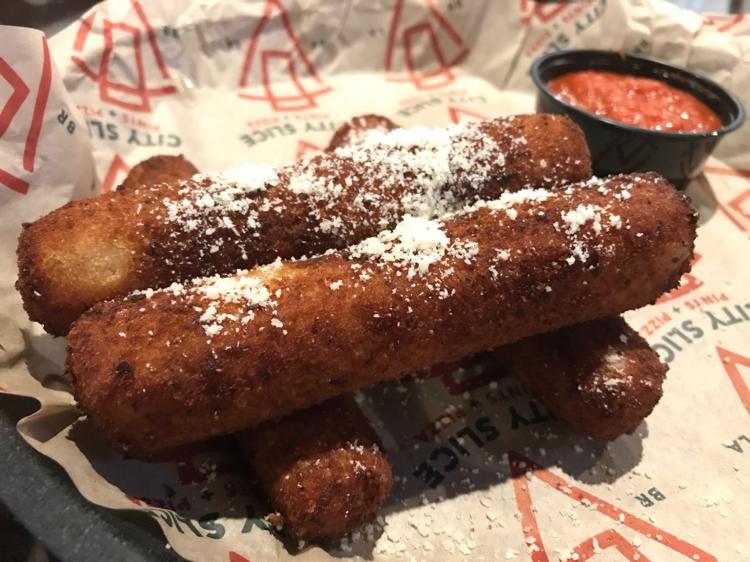 City Slice, part of the City Pork family of restaurants, opened in August on Chimes Street in the LSU North Gate area. It's entering a crowded market of higher-end pizza joints in Baton Rouge.
Inside, City Slice shares some design elements with the other City Pork establishments: rough-cut, pine-colored wainscoting on one wall and chalk art menus behind the bar. But it's mixed with quasi-futuristic fixtures, including an amoeba-shaped ceiling structure that holds modern light pendants and a shiny metallic border around the kitchen entrance. Televisions dominate nearly every wall.
My friend and I started lunch last week by asking our waitress which appetizer she preferred. She directed us to the mozzarella sticks ($8). They were huge logs of chewy cheese served with a side of a savory marinara. Each stick had a cold spot or two near the middle. While they were perfectly edible, they were pulled from the fryer or oven a little too quickly.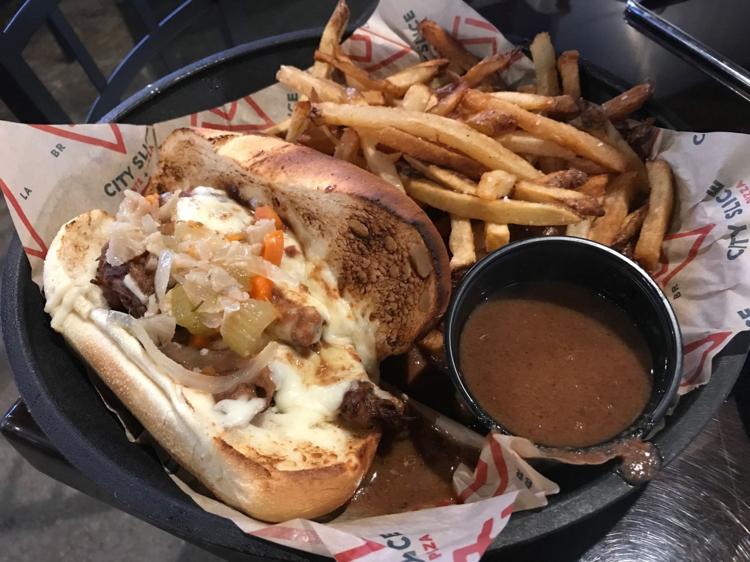 Scanning the list of specialty apizzas, we settled on The Fightin' Tiger ($18), which is packed with pepperoni, bacon, ham, Italian sausage, hamburger and andouille. It fit what I understand to be the New Haven style of apizza, with plenty of toppings and a hand-shaped crust. That crust was chewier than I expected, and the gobs of cheese took awhile to break down. The spice of the andouille stood out among the other salty meats — it would be a great topping for those who love Tabasco on pizza.
For both of us, The Fightin' Tiger was too salty, too cheesy and too greasy — just too much. We each tired of it after a slice, and on the way out we gave our leftovers to some college kids at the coffeehouse next door.
Along with the apizza, I tried one of City Slice's specialty sandwiches, the Italian hot beef sandwich ($12), which was well-executed. A Chicago specialty, the sandwich is packed with juicy sliced steak, mozzarella cheese and giardiniera, an Italian relish made with pickled carrots, celery, bell peppers and other vegetables. Served on a crispy hoagie roll au jus, the sandwich stacked up against some of my favorite po-boys in New Orleans. The hand-cut fries served on the side were as good as fries get — freshly made and golden brown.
Because the pizza on my first visit was disappointing, I wanted to give City Slice another try. I returned for lunch a few days later and ordered the Neapolitan ($15). Because a Neapolitan typically features a thinner, crispier crust with minimal cheese and only fresh tomatoes and basil as toppings, it seemed the antithesis of The Fightin' Tiger. While City Slice's version was a little cheesier than expected for a Neapolitan, which typically has minimal mozzarella, I enjoyed this pizza. This time I took the leftovers home for dinner.
Situated just outside of the LSU campus, City Slice is ready to serve pizza and beer to the college crowd, especially the sports bar-loving students. But in Baton Rouge's crowded high-end pizza market, the restaurant will need to do more to stand out.
---
City Slice Pints & Pizza
124 W. Chimes St.
11 a.m. to 10 p.m. Sunday-Wednesday; 11 a.m. to midnight Thursday-Saturday
(225) 388-5454; cityslicepizza.com
Pros: French fries are outstanding. The Italian hot beef sandwich is excellent.
Cons: The chewy, salty, greasy Fightin' Tiger pizza was overkill. Mozzarella sticks were a little undercooked.