The leadership behind Rouj Creole has a lofty goal.
The group that helped make City Pork a Baton Rouge staple now wants to sample flavors from around the world in order to create a "nouveau Creole" cuisine unique to Baton Rouge. Rouj Creole intends to innovate, pulling from a melting pot of flavors from south Louisiana and beyond.
Rouj Creole's menu pulls from those countries and regions that influenced Creole cuisine, like France, Spain, Italy, Germany and the Caribbean as well as New Orleans. The restaurant hopes to "evolve dishes that can be represented as a respectful take on a nouveau Creole cuisine that can be Baton Rouge's own," said Stephen Hightower, City Group Hospitality's managing partner, in a statement ahead of Rouj Creole's opening this summer.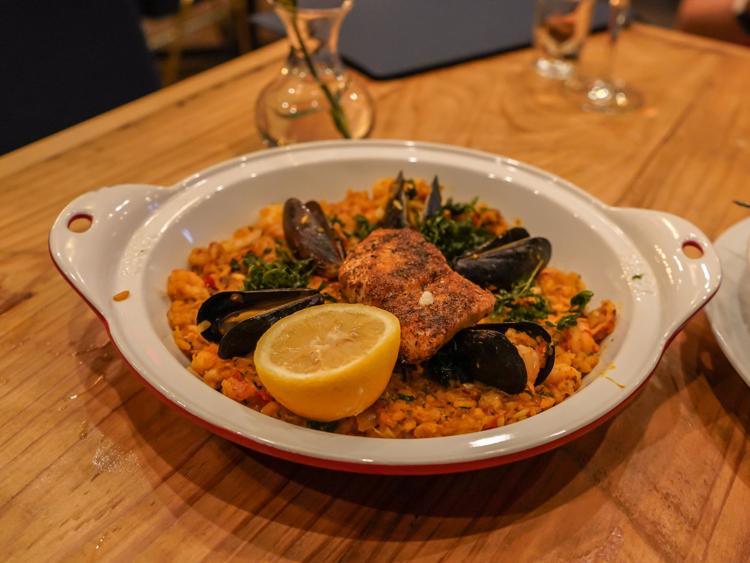 That's a lot to chew on for a new restaurant in a city that hasn't historically been known as a foodie town, like its sister city to the southeast. Baton Rouge has, however, recently been experiencing a food boom, with new developments like White Star Market and the success of unique restaurants like Soji and Elsie's Plate and Pie.
It's an ambitious goal to innovate on a cuisine that has been developed over three centuries by countless chefs fine-tuning and tweaking in their homes and restaurants.
After two visits, I can say that Rouj Creole has accomplished its goals of creating a unique dining experience, serving dishes that are skillfully executed. But truly only time can tell if Rouj's nouveau Creole takes on the flag as a cuisine for Baton Rouge.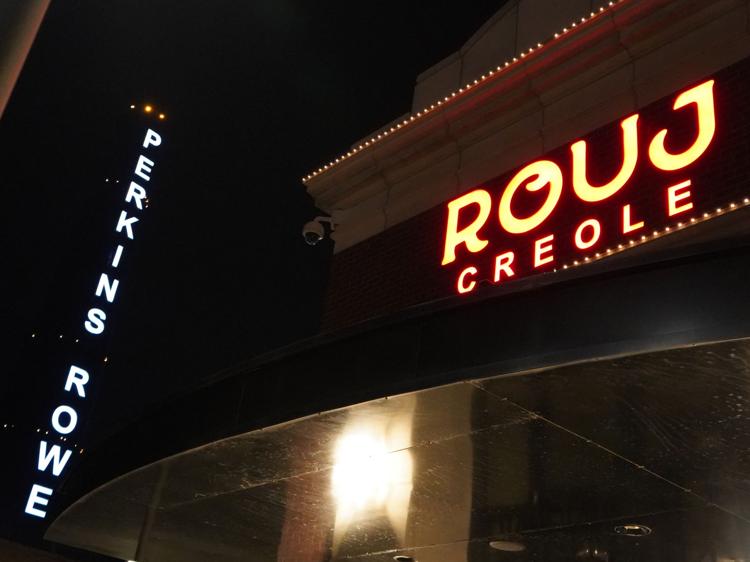 Hightower and executive chef Rory Wingett's intentions are clear as soon as you open the menu. It's divided into sections, including "The World's Fare" and "Classic NOLA — Nouveau Rouj."
Even the cocktail menu had distinct sections for Rouj cocktails — including a Creole Mule, made with gin, acidic watermelon and ginger beer in a great twist on the original mule — and NOLA classics, like an Old Fashioned and Sazerac.
Rouj certainly delivers "an experience from around the globe," as Hightower wrote ahead of the opening. You can see hints of that in the dishes, from the peppers topping the Crab Cake Maison appetizer ($19) to the crawfish in the paella ($28).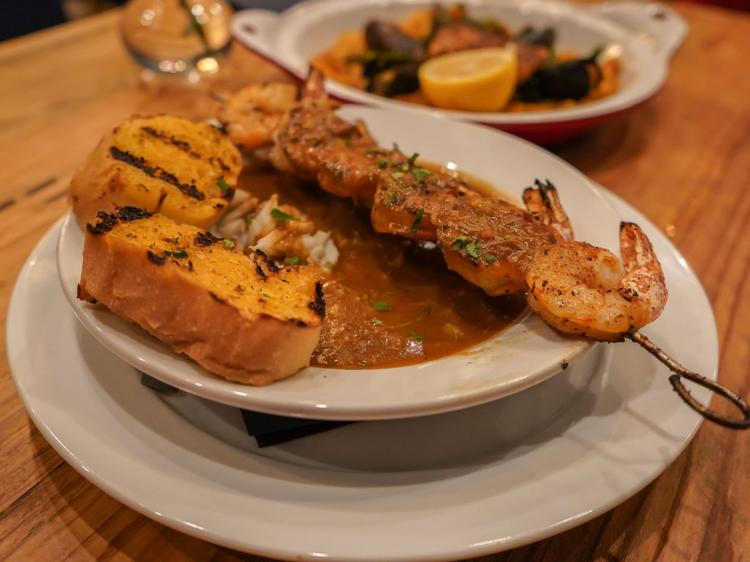 Everything was skillfully executed, as intended. I joked with my table that it looked like each French fry was individually placed on the moules frites ($12) — steamed mussels, garlic, white wine, butter and house cut fries — before it was topped with a dollop of beurre blanc sauce. That same sentiment goes for the fresh berries over the sugar cane spice cake ($8) and the crab perched on top of linguini in the softshell crab piccata dish ($24).
If I were to nitpick, the softshell crab itself lacked seasoning and the crawfish tamales appetizer ($13) we tried fell apart too easily. Overall, however, every dish was well done and would be something I would order again.
The dishes and drinks were worth the price tag, and there were cheaper sandwich options for lunch as well as more elaborate entrée options that lend themselves more to a full dinner.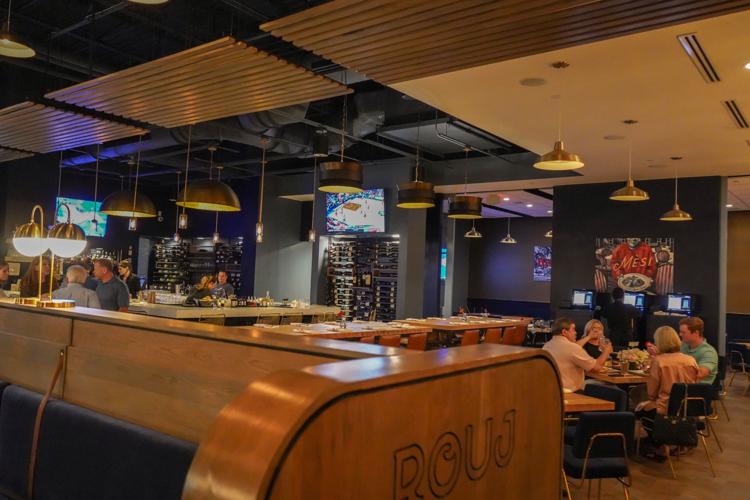 Rouj's location itself could be a metaphor for its intentions. Filling an old Applebee's location in Perkins Rowe, Rouj replaces a former location of a chain (in an area heavy with chains) with a local, new restaurant.
While it shares a parking lot with Orvis and is just a hop and a skip from a Barnes and Noble and a Starbucks, the design inside Rouj sets it apart.
The atmosphere is set with several paintings by Ellen Ogden that feature Louisiana Creole words and phrases like "Shae bebe" and "Lalwizyan" over distinctly local images.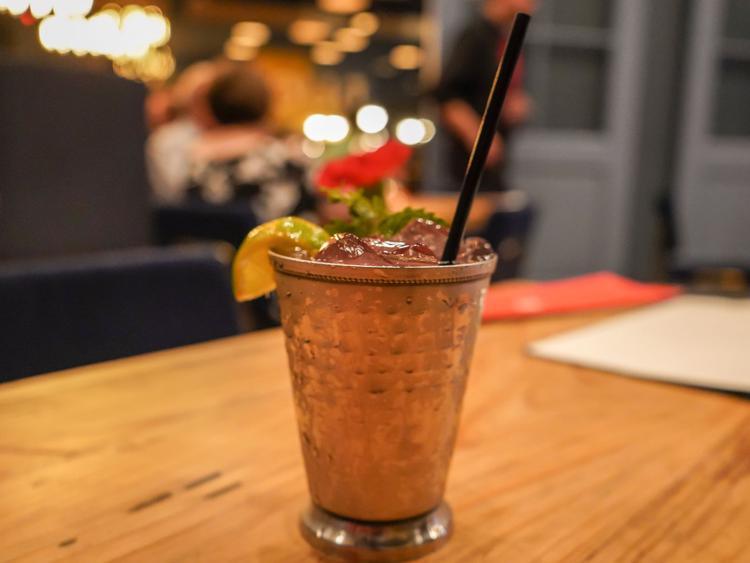 Rouj adds something new to the Baton Rouge dining scene.
My table found ourselves asking, "Where could we have a similar experience to Rouj in town?" While we could recommend a great po-boy or a go-to restaurant for paella (it's Solera, by the way), we weren't able to put our finger on a single location where we could find it all.
Everything was enjoyable and seemed carefully considered. But it would be impossible to confidently say that Rouj has achieved its goal of creating a new take on Creole cuisine specifically for the Red Stick.
This is a style that has been around for hundreds of years, urged on by countless cooks and restaurants. It's difficult to think that a restaurant open for just a few months — no matter their skill or ambitions — could immediately craft the next evolution.
Only time will tell.