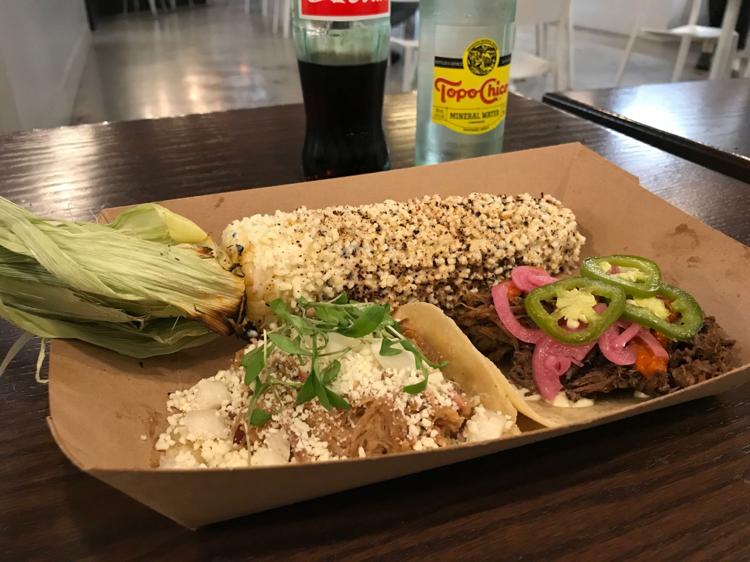 Taco purists might balk at Gov't Taco. The innovative joint combines Cajun, Southern and Mexican flavors to create tacos centered around counter-intuitive ingredients, like catfish, glazed carrots and macaroni and cheese.
But over-particular taco snobs would be depriving themselves of some of the best tacos this side of the Sabine River.
Created by Baton Rouge food entrepreneur and personality Jay Ducote, the Gov't Taco counter is among the most popular at the White Star Market food hall on Government Street. Ducote and company focus on a few meticulously designed tacos and pair them with solid sides, which are anything but an afterthought.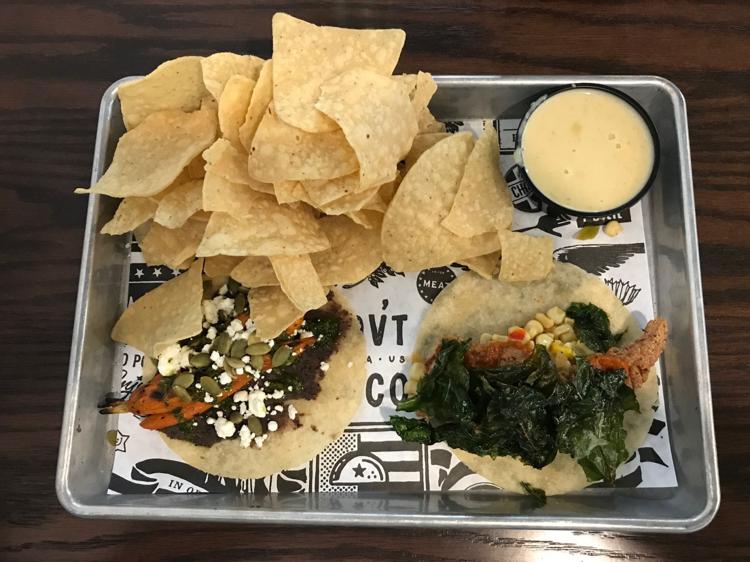 Located at the western end of the Mid City food hall, Gov't Taco's booth features a black-and-white motif that playfully combines tacos with American imagery — historic flags, symbols and bureaucratic signage. On the bottom of the counter, there's an eagle clutching a taco in its talon over a banner that reads, "In order to form a more perfect taco." A bright white neon sign proclaims, "In Tacos We Trust."
Tacos already are perfect, purist might say, in the traditional taqueria form of a warm corn tortilla filled with carne asada (or lengua or barbacoa), onions and cilantro.
I would counter that Gov't Taco serves one of the best tacos I have ever eaten. The Catfish Are Coming ($3.50, the going price for all regular tacos) features a corn-flour hybrid tortilla stuffed with molasses-and-mustard-fried catfish and corn maque choux. It's topped with hot sauce and light-as-air, thin pieces of greens. The combination of sweet, spicy and salty flavors and crispy and delicate textures is incredibly pleasing. You should close your eyes and savor each bite.
The Magna Carrot, perhaps the most nontraditional taco on the menu, might be my other favorite. Sugar cane-glazed carrots are paired with black beans, goat cheese, little squash seeds and chimichurri, a parsley and garlic sauce. The pungent goat cheese and savory black bean mush complement the sweet carrots, and the toppings provide layers of satisfactory tastes.
The menu is filled with impressive tacos: The Uncle Swine's moist orange, pepper and cherry-braised pork is paired with a mild cheese and pickled jicama, and the Bovine Bureaucracy features beef rubbed with coffee and peppers that carried a surprising depth.
You might be tempted to order the chips and salsa — and you should, eventually — but first try The Supreme Corn ($4), Gov't Taco's take on Mexican street corn, commonly called elote. The boiled corn is coated with mild cheese, ancho chile dust and lime aioli. It is messy and delicious.
In addition to cold bottles of Mexican Coke and Topo Chico mineral water, Gov't Taco also sells aguas frescas — fresh, light fruit-and-water blends. The pineapple sage agua ($3) was sweet and a bit tart with a bright herb flavor.
Gov't Taco succeeds at blending Southern flavors with traditional Mexican fare. With its interesting menu of tacos and sides, the food hall booth could easily expand and carry its customer base to a full restaurant elsewhere. Let's hope it's somewhere on Government Street so Ducote and his team can retain that playful Gov't Taco motif.
This article is the first in a series of reviews of White Star Market vendors. Look for more in future issues of Red.
---
Gov't Taco
Inside White Star Market, 4624 Government St.
11 a.m. to 9 p.m. Monday through Thursday; 11 a.m. to 10 p.m. Friday and Saturday
PROS: Satisfying, innovative tacos and sides.
CONS: Taco purists may balk at the nontraditional fare