Cheese tea just may not sound right to many first-time customers of MoMo Tea.
The sweet and salty treat that has swept China is a specialty at the Baton Rouge tea cafe, but owner Ronnie Wong has to educate many customers on its merits.
"That's the first thing," Wong said. "When I say cheese foam tea, people give me a crazy look."
Popularized in Asian cafes over the last decade, cheese tea usually features a layer of thick cream cheese and heavy cream atop a cup of iced green or black tea.
According to a 2018 article on the trend from Eater.com, Taiwanese tea stands created the treat in 2010 with beverages concocted from powdered cheese, salt and whipped cream. A few years later, the trend caught on in China, where high-end tea chain HeyTea created versions using premium ingredients.
Wong and his wife, Melina Chen, had been planning a tea cafe since they were married about five years ago.
Chen, a native of China, became devoted to tea while living in Guangzhou, a large city northwest of Hong Kong. Wong wanted to open a restaurant or cafe, and he felt there was a "void in Baton Rouge for tea."
Then Asian tea suddenly appeared in Baton Rouge, with a handful of cafes popping up in the past two years with a focus on bubble tea — tapioca pearls plopped in iced teas. The couple decided to continue on with their vision of curating a menu full of high-end teas and desserts.
In preparation, Chen returned to China to take a short course on tea and became dedicated to crafting her own creations. She traveled to Taiwan and Japan and sampled different teas.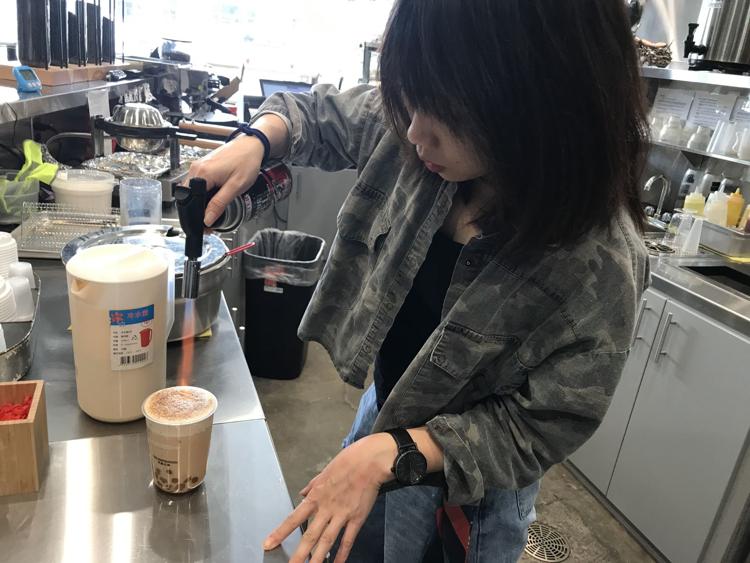 Chen and Wong opened MoMo Tea earlier this year, naming it after Chen — MoMo is kind of a nickname for her Chinese name, Miaoling. The tea shop is located in the Wong family's Ichiban Square shopping center on Perkins Road across a parking lot from the family's Ichiban Japanese restaurant, where Ronnie Wong is a sushi chef.
MoMo is sleek and modern, with a sparse, calming decor. Its floors and tables are soothing grays, and a few thoughtful sculptures grace the walls.
Near the front door, an Instagram-ready mural of angel wings is painted on the wall. The space between the wings is just the right size for one of the cafe's cups.
The cheese tea at MoMo is Chen's own creation, a sweet, creamy layer with a contrasting tinge of salt. Her ingredients are sourced from West Coast suppliers. Wong is particularly proud of the cream cheese and cream he found for the drinks — he doesn't even want to share the country of origin of the dairy.
Among the most popular cheese foam drinks are the matcha, an earthy green tea, and the strawberry smoothie, a light blend of fresh berries.
As he educates new customers about cheese foam tea, Wong instructs them to never stir the cream cheese foam into the drink. Instead, he says, drink through the hole in the plastic lid at a 45-degree angle to allow the tea to seep through the cheese foam.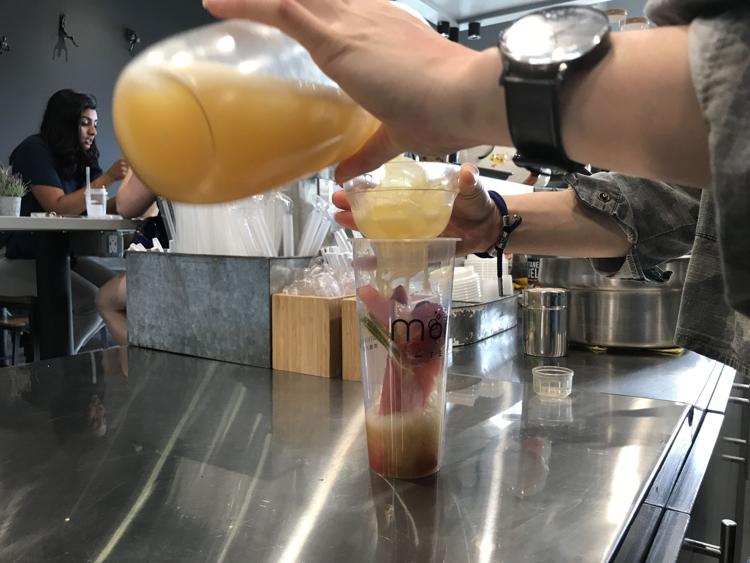 "It's basically like liquefied cheesecake," he said.
Chen's recipes are similar to those found at the China-based company HeyTea, Wong said, with a few alterations. Americans prefer sweeter tea than those served in China, Chen said through Wong, who translated.
As a variation of the cheese foam toppings, Chen has created a milk tea with a creme brulee-like topping. She even caramelizes the cream with a kitchen torch. They also serve a cheese foam coffee, the Frappa-Cheese-O.
Chen also brews more traditional teas like oolong or green tea. The popular superfruit tea is a light, easy to drink type of oolong called seasons tea and is packed with fresh fruit.
"If someone has been to China, then they know the quality," Chen said without a need for translation.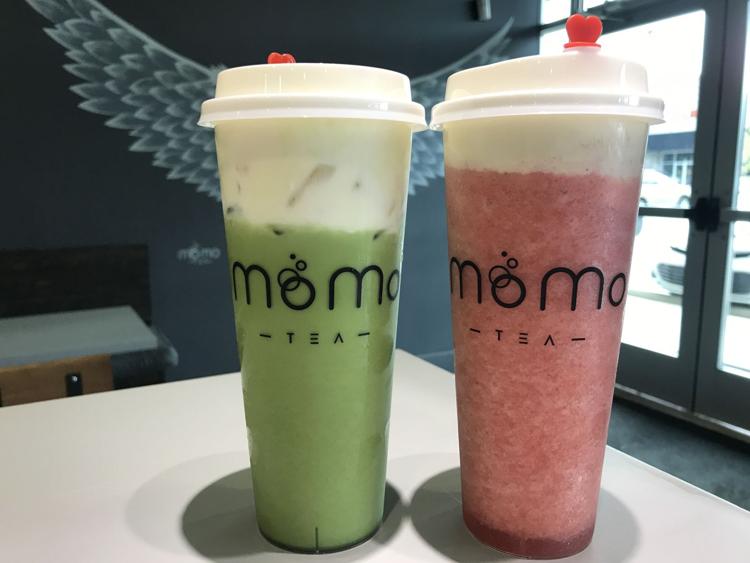 MoMo Tea is experimenting with bubble waffles, a cakelike, crispy concoction popular in Hong Kong, and Korean shaved ice.
High-end tea shops such as MoMo can offer customers something they can't find in other cafes, Wong said. He thinks American tastes can evolve.
"Here, everybody goes out to drink coffee," Wong said. "In China, everybody goes out for tea. I want to create a nice environment where everybody can come and drink tea."
If you're closer to downtown, the new T&T Cafe, at 320 Third St., also serves milk cheese foam tea.
---
MoMo Tea
7673 Perkins Road
10 a.m. to 9 p.m. Sunday through Thursday; 10 a.m. to 10 p.m. Friday and Saturday
On Facebook as "MoMo Tea"