The Porch Light Grill sounds like it would be a homey, family-type restaurant — and that's true on both counts.
The big front porch of the Prairieville restaurant offers outdoor table seating, and several diners were taking advantage of the pleasant temperature on a recent Sunday evening, hovering over trays of boiled crawfish as my husband and I passed them on our way through arched glass-paned double doors into the main dining space.
The large room featured lots of wood and brick, with a long accent wall of alternating dark- and light-colored shiplap. Framed swamp scene prints hung on the walls. Track and florescent lighting tended to over-illuminate the area, while multiple flat screens were tuned to the LSU-Florida State Super Regional baseball game (we won't talk about that score).
We started things off with iced tea and the Bell's shrimp appetizer ($11). The bowl held a half-dozen plump, blackened shrimp atop a mildly seasoned, delectable "Cajun cream sauce," as the menu called it. The menu failed to mention, however, that the sauce is addictive. The accompanying buttered and chargrilled French bread sections made for great dippers for this luscious sauce.
One of the evening's specials was blackened redfish topped with grilled shrimp ($17.99). The large filet was nicely cooked, flaky and tender, while the five shrimp were again plump, well-seasoned and cooked just right (not at all chewy). The chosen side, steamed vegetables, consisted of fresh, mildly-flavored squash and zucchini slices. A crusty roll completed the plate.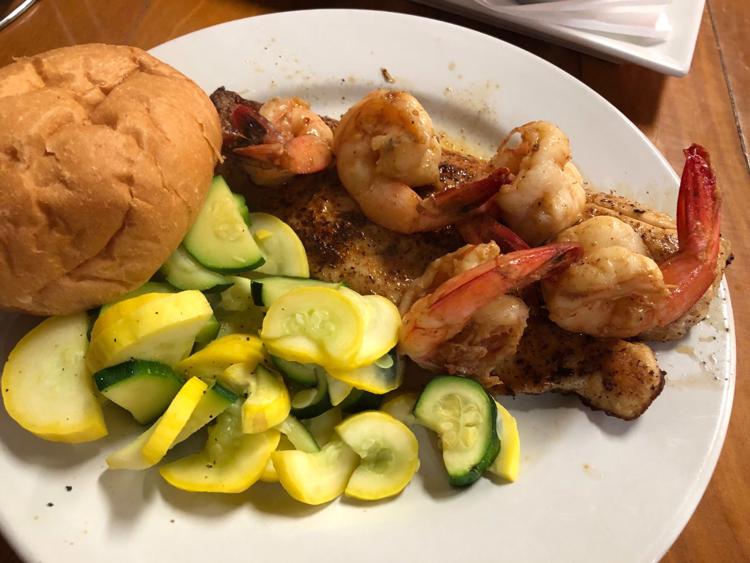 The house salad which preceded the entree featured mixed greens, plum tomato halves and shredded cheddar and mozzarella cheeses. The blue cheese dressing was above average and tasted homemade.
Taking a recommendation from Facebook that was seconded by our waitress, Alexis, I chose the Simoneaux pasta ($16).
The attractively-presented dish was garnished with parsley and Parmesan cheese and featured several jumbo grilled shrimp and slices of smoked sausage and mushrooms tossed with penne pasta, and coated in a cream sauce splashed with white wine and quite similar to the wonderful sauce on the above-mentioned appetizer. This dish also came with a crusty roll and a side (I also chose the steamed vegetables).
Stuffed to the gills, as they say, we took home our desserts — Mississippi mud pie and lemon pie ($3.50 each). Along with a glass of milk, they hit the spot later. The fluffy, chocolaty mud pie had a crushed pecan crust which we prefer to a dough crust. The lemon pie was the icebox type, with condensed milk adding sweetness, along with whipped cream flowers on top and a graham cracker crust. We'd recommend either (or both).
Alexis and the rest of the wait staff were friendly as they tried to keep up with a packed house and the equally busy take-out counter. No doubt this figured into the lengthy wait for our food. The staff was apologetic and the wait worth it. 
---
The Porch Light Grill
37306 Perkins Road, Prairieville
Open 11 a.m. to 10 p.m. daily
(225) 744-6704; facebook.com/theporchlightgrill
PROS: Friendly wait staff, Cajun cream sauce, plump shrimp
CONS: Bright lighting, long wait for food, somebody else got the last piece of bread pudding