If a menu is executed well, a restaurant doesn't have to reinvent the wheel. A fresh dish that tastes great is sometimes all it takes.
Exotic Sweets, a new addition to the Siegen Village plaza at the corner of Siegen Lane and North Rieger Road, casts a wide net with its pan-Asian menu. It doesn't really experiment with new takes on tried-and-true dishes. It does execute them with precision and quality ingredients. You've seen these dishes before; Exotic Sweets just does them well.
The name will initially throw you off. While Exotic Sweets does have a hearty offering of rolled ice creams and milk teas, the bulk of its menu is filled with hibachi, noodle soups, bento boxes, sushi rolls, poke bowls and the usual appetizers you'd find in a Japanese or Chinese restaurant.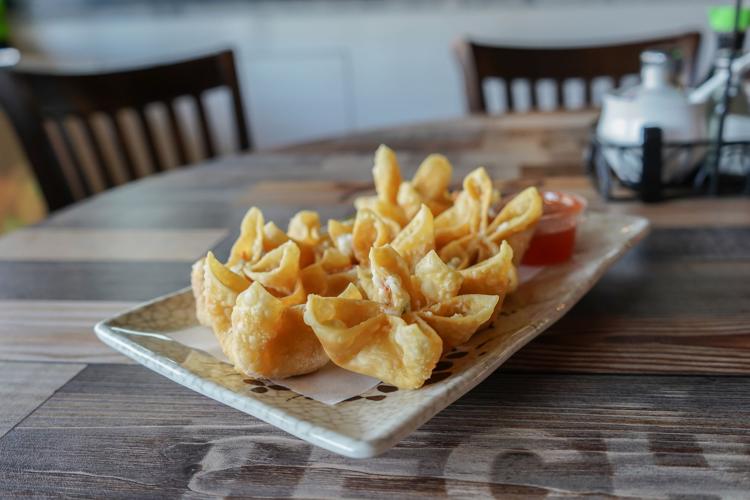 For better or worse — and we think better — it's a versatile menu.
You can order rolled ice cream and milk tea to-go from a walk-up counter; poke bowls and bento boxes make for a quick sit-down lunch; or you can dive in all the way for dinner, appetizers to desserts.
The restaurant space is attractive and modern, mixing a rich orange color scheme with wooden slats.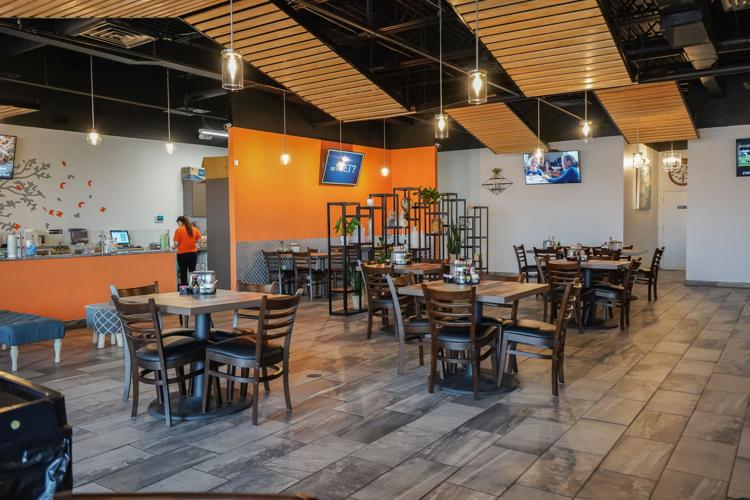 During a recent dinner, my friend and photographer, Minh Kiet, and I gave Exotic Sweets the full commit, trying as much of the menu as we could squeeze onto the table. I'm still full.
To start, we ordered egg rolls ($3.45 for two), cheese wontons ($4.85 for 10) and what the menu lists as dim sum — it's more accurately shrimp shumai or steamed dumplings — (eight for $4.25).
The plates came out fairly quickly. The crew at Exotic Sweets is small, but our servers were nice and accommodating. And the dishes were pleasantly presented.
The wontons were robust, filled with crab stick and cream cheese; these are a hefty step above most of the crab rangoons you'll find in Baton Rouge. The small egg rolls were densely packed with pork and vegetables. And the shumai were solid, if a little generic.
Oxtail soup ($8.25) caught Kiet's eye, so we added it to our table. Exotic Sweets offers a choice of noodles with their soups (egg, rice, udon and vegetable noodles); we opted for rice noodles. A steaming bowl of soup came out pretty quickly. The oxtail was tender and savory, with a hefty portion of noodles, but the broth was missing something. It was neutral, like a chicken noodle soup made too quickly. A longer, slower cooking time could help.
Before the oxtail soup had a chance to cool off, out came our order of a steak bento box ($10.45, with a California sushi roll, shrimp tempura, egg roll and fried rice), the Yummy Roll ($7.25), Exotic Sweets Roll ($9.75) and the Volcano Roll ($7.25). Our table started to wobble a little.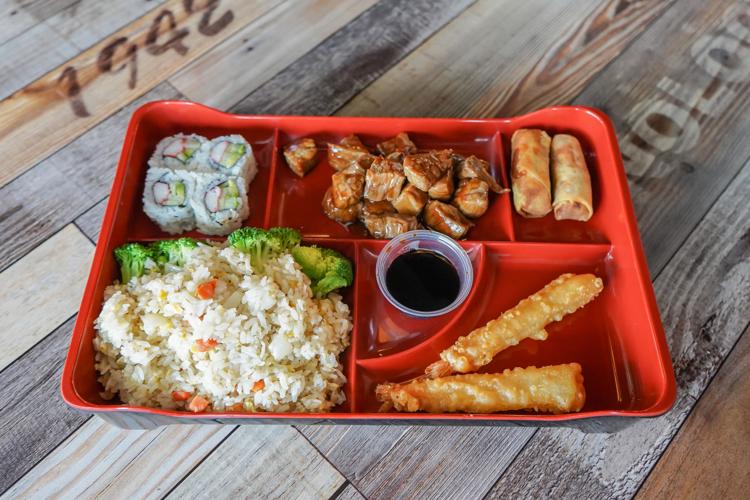 All around, the ingredients used in the sushi rolls, including the California roll in the bento box, were fresh and flavorful. The Yummy Roll (deep-fried, with salmon, crabmeat, avocado and cucumber), the Exotic Sweets Roll (spicy crawfish, cream cheese, crabmeat, shrimp and avocado) and the Volcano Roll (crabmeat, cream cheese and avocado) were all large, appetizing rolls. They come with a few different sauces, like spicy mayo and eel sauce, some of which are poured on a little heavy. I'd probably ask for a lighter touch next time — or a simpler roll.
The other items in the bento box were cooked well. Alone, the box would make for a solid lunch. The diced steak was done well but pretty basic — steak, not marinated, quickly cooked in a wok for full efficiency and then tossed in a simple teriyaki sauce. Also, the broccoli added to the fried rice was cold, like it was a garnish, rather than part of the big mound of rice.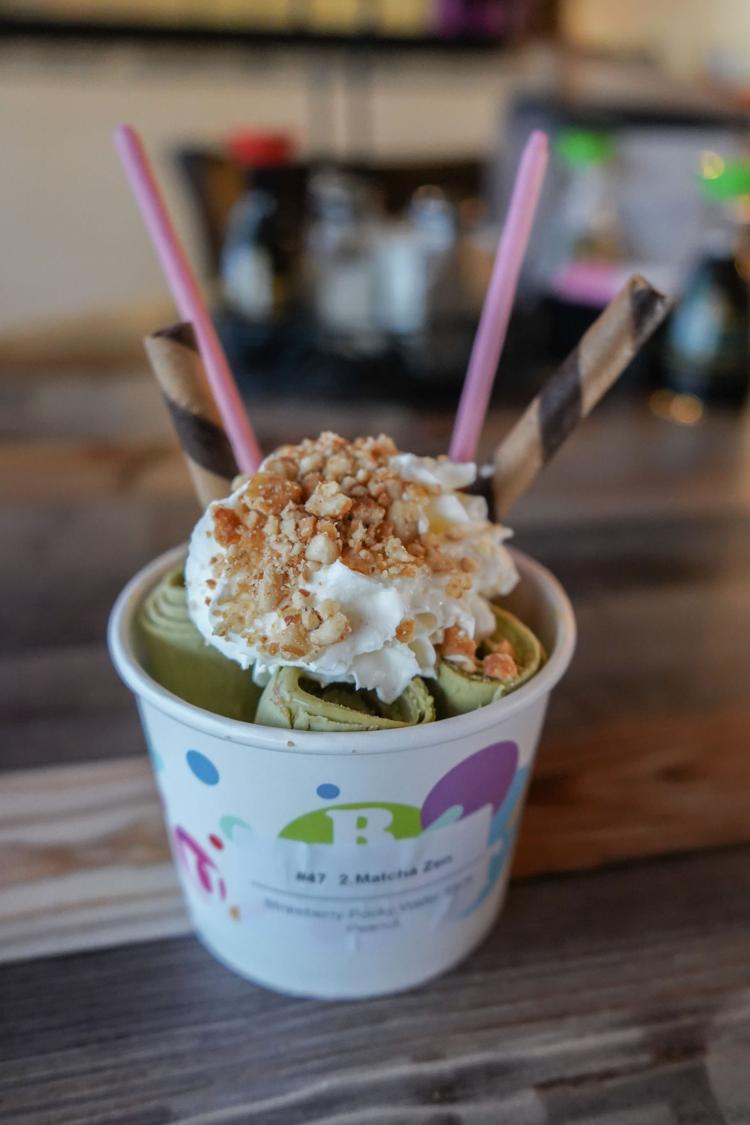 We topped off the meal — and I loosened my belt — with an order of Matcha Zen ice cream rolls ($5.25) with pocky, wafer stick and nuts, and a milk green tea with boba ($3.50 for a 16-ounce; $4.25 for the 22-ounce). It made the restaurant's name make a little more sense. The rolled ice cream was delicious, with the matcha flavor subtle, and the milk green tea refreshing.
Exotic Sweets offers a diverse menu, attentively prepared, on a stretch of Siegen Lane where other such offerings are rare. Are there other restaurants in Baton Rouge that offer a more unique take on sushi or hibachi? Yes — and that is perfectly all right. Those restaurants will be there for those special occasions. And so will Exotic Sweets when you just want a satisfying, quick meal.
---
Exotic Sweets
7064 Siegen Lane, Suite A
11 a.m. to 9:30 p.m. everyday
(225) 295-8287; facebook.com/hotcoldgrill
Pros: Fresh ingredients; delicious rolled ice cream; solid meal option on Siegen Lane
Cons: Oxtail soup could use a kick; sauces heavy on sushi rolls; Jack of all trades, master of none