Bumsteers, the new concept with a rooftop bar in the Perkins Road overpass neighborhood, held its grand opening on Tuesday, April 23. Chad Hughes, Eric Carnegie and Chris Brooks worked with chef Phil Beard to create the new restaurant in the former Crispy Catch building, adding a second level for a sunny dining space, a bar, AstroTurf, foosball and pool tables.
The Bumsteers menu focuses on specialty burgers — look out for the "Welcome to Graceland," which adds peanut butter, caramelized banana and bacon to a thick beef patty — tacos, fries, sandwiches and salads. The bar offers around 20 beers on tap and a craft cocktail menu.
The new restaurant is located at 3109 Perkins Road, and more information can be found online at facebook.com/bumsteers. Get in good with the bartenders now for the Wearin' of the Green Parade 2020.
Susanne Duplantis going to World Food Championships
Baton Rouge chef and "Makeover My Leftover" blog creator Susanne Duplantis will compete in October at the World Food Championships in Dallas. This will be Duplantis' fourth year to compete at the massive food competition. At last year's competition, Duplantis created a "Cool Surf-n-Hot Turf" burger — a beer-infused steak burger blended with hickory-smoked mushrooms and blackened in a cast iron skillet — that won a competition hosted by The Mushroom Council and gave her a Top 10 finish in the overall burger category. The win also qualified her for this year's competition, where she'll again compete in the burger category.
Duplantis' team will include sous chefs Cory Ann and Andy Imhof of the Pardon My Fork Podcast. More information about Duplantis can be found at facebook.com/makeovermyleftover. Another team from Baton Rouge, the BouillaBabes, will also be competing at the World Food Championships in the seafood category.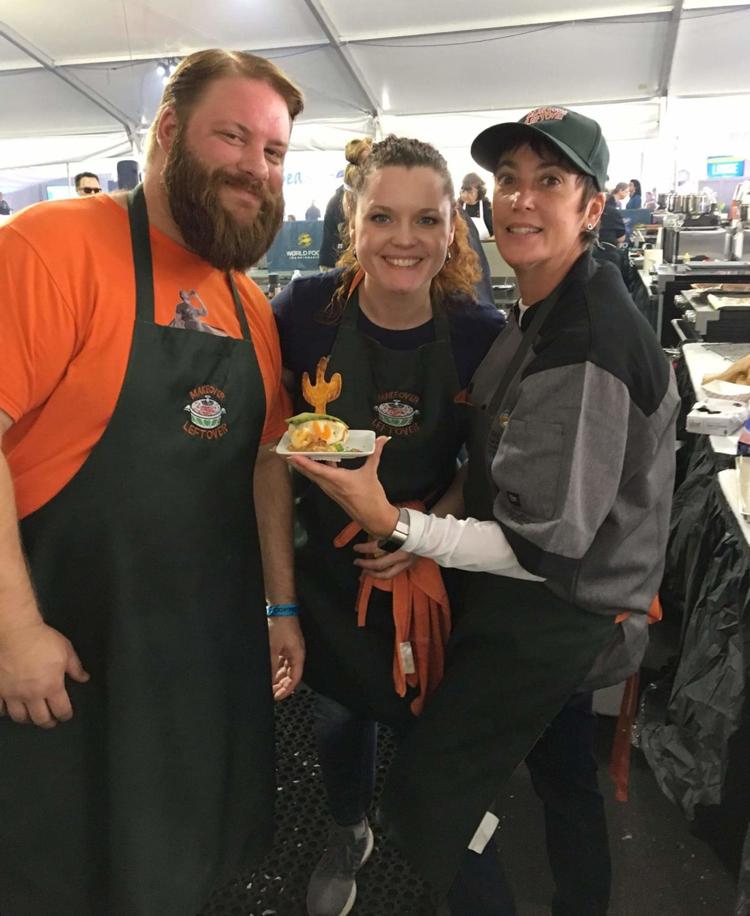 The Cove lives again on Essen Lane
Smuggler's Cove, the new restaurant and bar by the owner of The Cove, which shuttered last fall, is now in its soft opening phase. The new business, in the former French Quarter Daiquiri location at 5625 Essen Lane, serves pub fare along with a large beer menu and cocktail selection. The Cove opened on CitiPlace Court in 2008 and became well-known for its extensive beer and spirits selection. More information about Smuggler's Cove can be found at facebook.com/smugglerscovebr.
Kona Grill out of Louisiana
Upscale casual restaurant chain Kona Grill has closed its Perkins Rowe location in Baton Rouge.
The restaurant, which served American food, sushi and cocktails, shut its doors April 17, the result of the Arizona-based brand closing several stores across the country due to financial struggles, said Erinn Sala, Perkins Rowe marketing manager.
Two new restaurants are planned to open in Perkins Rowe this summer: Jinya Ramen Bar, a fast-growing chain will open its first Louisiana location in the former Voodoo BBQ space, and ROUJ Creole, a new restaurant by City Group Hospitality, will open in the former Applebee's location.
On the calendar
Wine on the River will take place 3 p.m. to 7 p.m. Saturday, April 27, at the Old State Capitol grounds in downtown Baton Rouge. The wine-tasting event will feature local, national and international wines, with an "Around the World" theme. Ned Fasullo & The Fabulous Big Band will perform and food will be available from local restaurants. Tickets are $50 advance; $60 day of; and $100 VIP via eventbrite.com. A portion of the proceeds will benefit Our Lady of the Lake Children's Hospital.
Local chefs Phil Beard (Bumsteers), Danny Santana (Bin 77), Barrett Meeks (Mansurs on the Boulevard), Jonathan Breaux (The Overpass Merchant), Ryan Andre (Soji) and Justin Lambert (The Gregory) are this year's lineup at Slow Food Baton Rouge's annual Dinner in the Field. The six-course, farm-to-table event will take place 4 p.m. to 8 p.m. Sunday, April 28, at Baton Rouge Gallery, 1515 Dalrymple Drive. The event will start at 4 p.m. with a cocktail hour, and dinner begins at 5 p.m. Tickets are $150. Proceeds benefit the farm-to-school program. Tickets and more information can be found online at slowfoodbr.org.
---
Leftovers is a food and restaurant news column. Have a tip? Sent it to jclapp@theadvocate.com.