Baton Rouge finds itself fortunate when it comes to finding the cuisine of the Mediterranean, with a pantheon of choices serving up fresh and savory dishes. Each spot makes its own wrinkle on what we have come to know as the classics: hummus, shawarma, gyros and kabobs.
The clarion call of these classics led me to Jordanian Lebanese Cuisine, in the Oakbrook Shopping Center on Nicholson Drive near LSU. The nondescript exterior belies a spacious dining room, tan with dark wood accents and lined with shelves full of wine. The room is dominated by a large bar with a selection of taps featuring a mix of drafts. Some early Christmas decorations added to a festive atmosphere.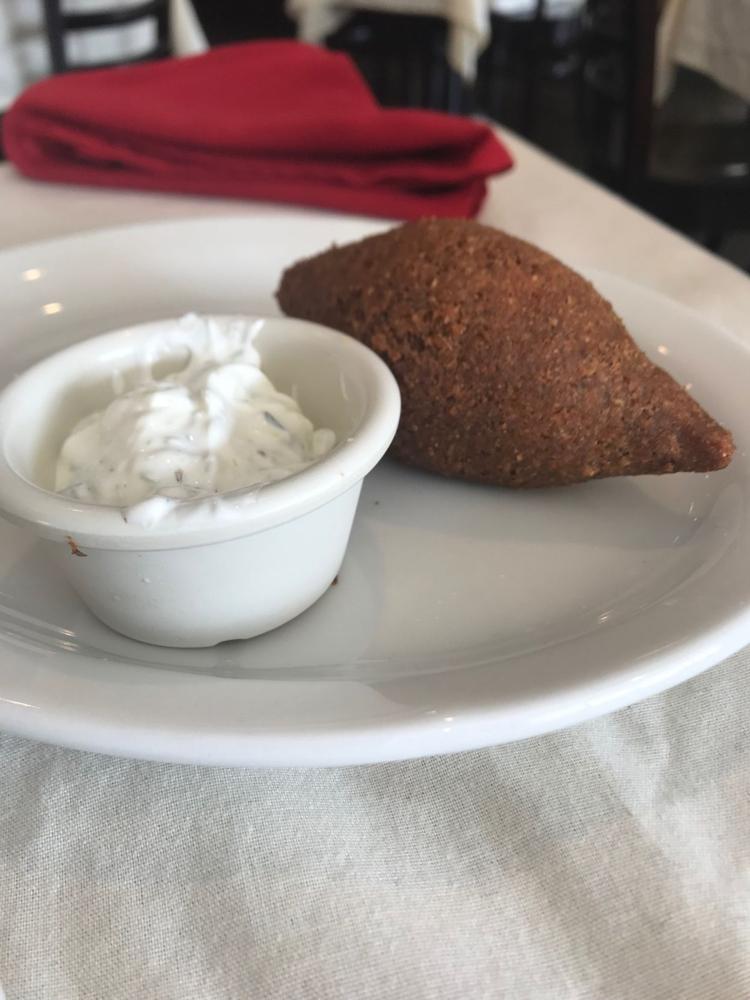 I was greeted by strains of Middle Eastern music and loud bird sounds. I attributed the latter to the puzzling decision to leave a side door wide open on this unseasonably warm day. This apparently was to accommodate the staff, a couple of whom sat just outside the door having a smoke. Even after the door shut, I still found myself serenaded by cockatiel chirps. The mystery was solved when a trip to the men's room revealed a birdcage.
Service was prompt as I had the place to myself for a Sunday lunch. The restaurant's menu has a multitude of options — all of the salads, kebabs, sandwiches and other staples of Greek and Lebanese food we've come to expect, along with a few curve balls like a fried duck entree and even a roasted quail dish.
I put my order in for a Nasser sandwich ($11.50), a large, thin pita stuffed with chicken shawarma, garlic dip and sour, spicy Arabic pickles served with fries and salad. After a short wait, an immense sandwich (nearly enough for two) arrived hot and crispy from the press along with a modest but perfectly cooked serving of fries. The sandwich had good flavor and texture but was heavy in such a large portion. The salad featured a tart garlicky dressing that was good enough to risk eating the romaine lettuce it topped.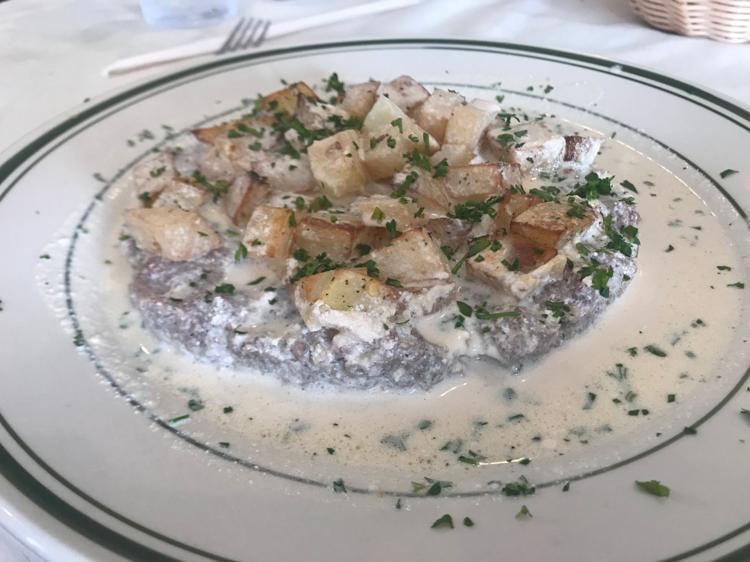 Suddenly, my Sunday lunch veered into a Coen Brothers movie. A rumble in the kitchen grew into clapping, then ululating and finally into an Arabic singing. A birthday cake appeared for a surprised employee, herself startled by the entourage of staff complete with confetti poppers and rolling iPhone cameras. And it came with a treat: I was rewarded for being the only customer with a fat slab of delicious chocolate birthday cake.
Returning with some companions for a dinner visit, we again had the place to ourselves. Our meal began with a round of kibbi ($4.50) which arrived piping hot with a ramekin of yogurt sauce. The crispy cracked wheat shell contained ground meat fragrant with allspice, containing slivers of almond rather than the more commonly found pine nuts.
For our entrees, we opted for the lamb kabob ($15.95), the classic chicken shawarma plate ($12.95) and for a twist, the Jordanian baked beef kafta ($16.95).
The lamb kabob again highlighted the restaurant's penchant for big portions, with several large chunks of aggressively seasoned grilled lamb with grilled onions and peppers, a serving of buttery rice pilaf, feta salad and a swirl of creamy hummus. The peppery lamb was cooked to medium and packed a piquant punch, quickly becoming a favorite of the table when combined with its fresh minty dipping sauce.
The chicken shawarma plate similarly delivered with hot and crispy chicken shaved fresh off the rotisserie, providing a great texture unlike some of the flabbier shawarmas we have encountered around town. It too was equipped with sides of rice, hummus and salad.
The Jordanian baked beef kafta proved to be a swing and a miss. A flat beef patty the size of a salad plate came covered in a watery, sour tahini sauce and topped with diced potatoes. Unlike its neighboring entrees, the kafta lacked flavor and the potatoes were undercooked, which made for an unappetizing combination. This dish can also be ordered with a topping of roasted potatoes, tomatoes, onions and jalapenos which might yield a more successful result.
Jordanian Lebanese Cuisine has the feel of a family restaurant, like someone's home kitchen writ large. This is part of its quirky charm — and the source of some of its weaknesses. Their food is good but inconsistently executed. The service we received on our visits was by turns attentive, indifferent, surly and warm. One of our servers (who was clearly new) all but had to beg for instruction to ring up our bill, which came grudgingly and late. Her exasperation was palpable.
---
Jordanian Lebanese Cuisine
5251 Nicholson Drive
(225) 767-1299
Pro: Attractive setting; quality Lebanese food offerings; large portions
Con: Inconsistent execution; some long wait times; disorganized staff