Provisions on Perkins' website boasts that it's "creating a whole new kind of restaurant, one that's never existed before."
That's taking it a bit far. Granted, OnePack Hospitality Group, which opened Provisions in September, has made cosmetic changes to the building that previously housed Galatoire's. It now has a more casual, eclectic, fun tone and, of course, a new menu quite different from Galatoire's fine-dining fare. But something that's totally unique? We didn't feel it on either our dinner or lunch visits.
Kudos for closing in the outdoor patio to allow for more year-round dining space. And likewise for keeping televisions to a minimum (there's only one in the main dining room). The accent wall anchored floor to ceiling with shelves of Campbell's tomato soup cans is also a conversation starter Andy Warhol fans will appreciate.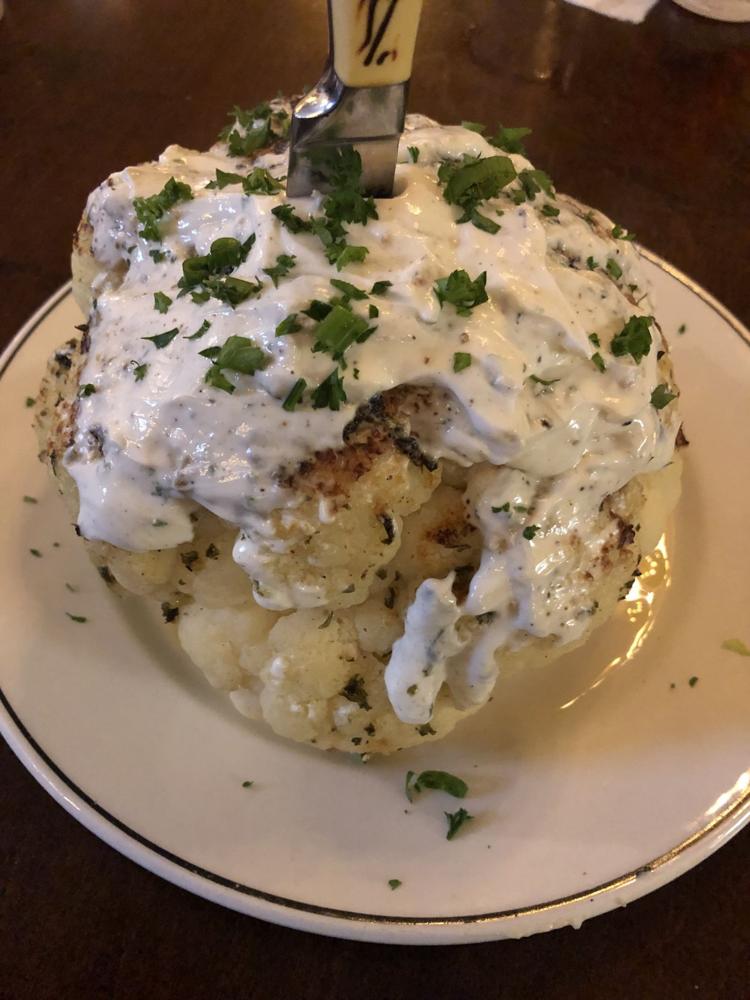 What they won't like, however, is having to practically shout at their dining party to be heard. The room's acoustics haven't been improved upon since the Galatoire's days. It's still just plain noisy, even when it's not full. And my 20-year-old daughter agreed, so it's not just a middle-age thing.
That said, both of our waitresses, Gabrielle and Katie, were pleasant, efficient and helpful. And another cheerful waitress who was handling a nearby table even offered a food recommendation to us.
As for appetizers, Gabrielle suggested the crawfish cornbread skillet or maybe something from the farm-to-table (vegetables) section of the menu. We gave roasted cauliflower with whipped goat cheese ($11) a whirl.
The dish is a head of cauliflower cooked whole in the oven and brought to the table that way, finished with a parsley garnish and speared with a knife. It looked pretty, but it had its problems. Roasting it whole probably requires more time than the restaurant could give it to achieve tenderness throughout. We found it a little undercooked and difficult to cut. Being whole, seasonings didn't appear to or taste like they were evenly distributed, although we did like the creamy, flavorful goat cheese and the bacon bits the other waitress suggested.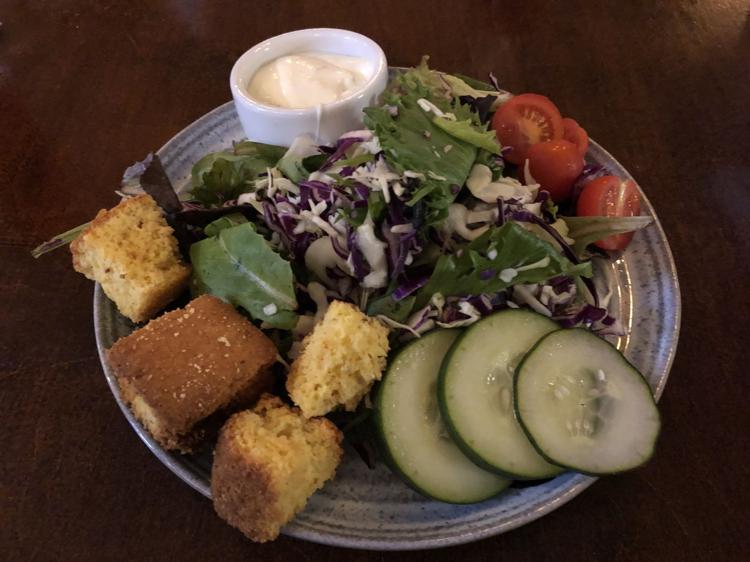 There's always a level of surprise in ordering a side salad — we've been served everything from a handful of iceberg lettuce and a couple of tomatoes in a kiddie-sized bowl, to a generous mixture of veggies and toppings verging on a full-size salad. Provisions' take on a side salad ($4) leans to the generous, thoughtful side with a pleasing presentation of mixed greens, purple slaw, grape tomato halves, cucumber slices and giant croutons that were actually cornbread, another nice surprise. A delicious, creamy blue cheese dressing pulled it all together.
The grilled redfish ($25), an average-sized fillet covered in a Creole rub, was surrounded by sauteed tomato wedges and a lemon half also thrown on the grill. A flavorful lemon butter sauce upped the fish's moistness, a plus because the bottom portion of the fillet was a tad overdone. The additional topping of four plump grilled shrimp ($8) was delicious. We would try this one again.
My Mighty Fine Roasted Chicken ($21) was an attractively presented thigh and leg section stuffed with soft, mild Boursin cheese. The chicken rested on shaved asparagus and mushrooms, all surrounded by a pleasing lemon-thyme cream. Satisfyingly moist and flavorful, the chicken contrasted with the shaved vegetables, so thinly sliced there was little discernible asparagus or mushroom flavor retained.
Save room for the Monster Mud Pie ($8) — it's four layers of sinful deliciousness in a serving plenty enough for two. A crumbled Oreo crust holds an airy, delicate chocolate mousse with a dollop of fresh whipped cream and drizzled with more chocolate.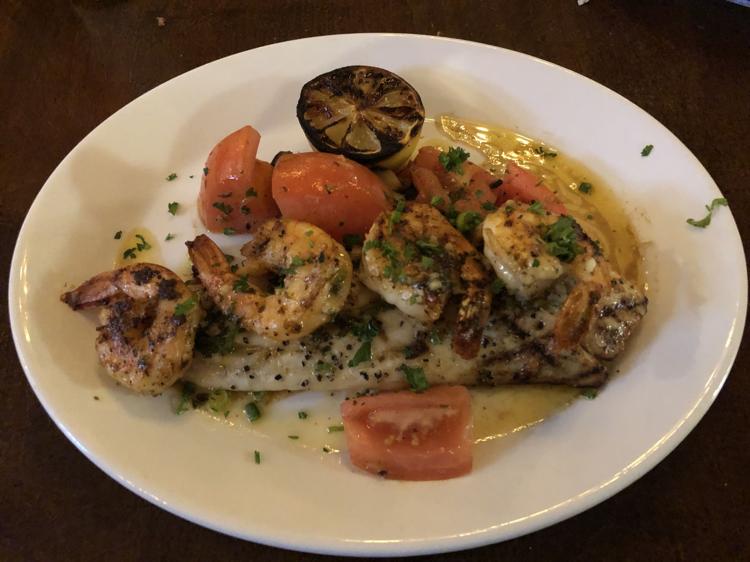 Returning for lunch, a guest tried the Napa flatbread ($12), which featured bits of green apple, Brie, bacon bits, arugula and local honey.
The flatbread offered some nice flavors, though the honey could be overpoweringly sweet and it could have used more savory elements to balance it. It was a lighter but filling option, but not one we'd necessarily go back for. Kind of underwhelming due to the prominent honey sweetness, it also was room temperature, and the cheese not melted as the menu said it would be. We just expected something more toasted, warm and slightly gooey.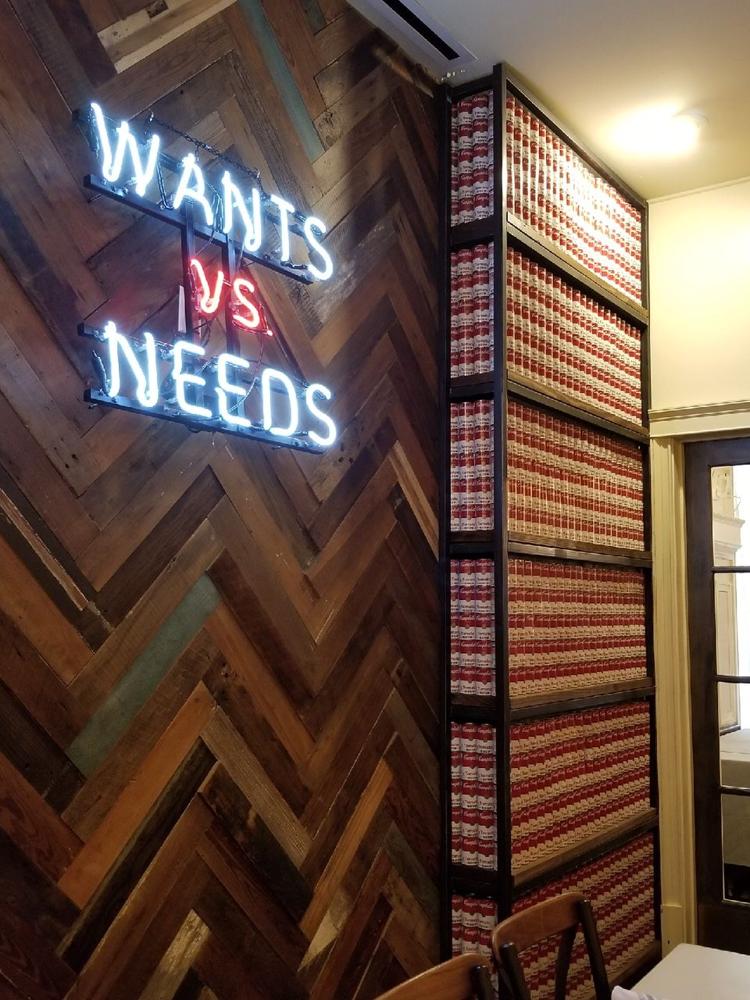 One of the day's specials was an oyster BLT on large, thick slices of toast ($16). Eight large, nicely fried oysters complemented the crispy, thick bacon, fresh tomatoes and leaf lettuce. We would have liked a little more aioli for moistness, but otherwise it was an above-average sandwich.
The apple crumble cobbler ($9) arrived in a small hot skillet, and we liked that the pie wasn't excessively sweet and the streusel had a nice crunchy texture, but it felt like something flavorwise was missing. Maybe more cinnamon and nutmeg, and a higher-quality apple would have helped. Still pleasant, it could have been better.
---
Provisions on Perkins
3535 Perkins Road, Suite 400
11:30 a.m. to 9 p.m. Monday through Thursday; 11:30 a.m. to 10:30 p.m. Friday and Saturday; 10:30 a.m. to 5 p.m. Sunday
(225) 753-4864; provisionsonperkins.com
PROS: Casual atmosphere; friendly, helpful staff
CONS: Recipes could use some revisions, menu some rethinking