Restaurants continue to sprout up around Juban Crossing's outer corridor.
Most recently, chain eatery Texas Roadhouse opened a new location there, and its parking lot has been pretty much packed since opening day. It was the same on Saturday night.
Zea Rotisserie & Bar next door has been open since January, and they were likewise busy that night, but we were able to be seated immediately in the bar area.
At other places, we've been asked first if we minded eating in the bar, but this time the hostess brought us straight there, to a small, high-topped table for two with high stools. It was OK, but those comfy, cushioned booths looked really nice.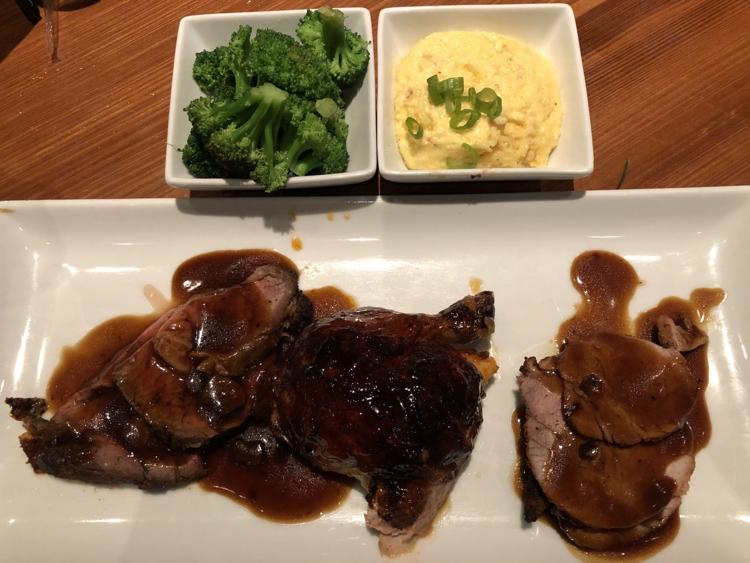 When the new Zea was announced (there are 10 locations in Louisiana now, including Baton Rouge, and one in Mississippi), plans were for a more modern design than previous locations, and the designers definitely came through in the sleek interior, with industrial elements and lots of windows mixed in with exposed wood beams and earth tone walls.
Recessed and dropped pendant lighting, outdoor seating and two TVs behind the bar add to the restaurant's casual vibe. Eye-catching is the large, colorful oil painting, also behind the bar, depicting a group of people (wait for it) sitting at a bar. Speaking of vibes, the sound system, set at a reasonable volume for conversing, brought us back to the '80s, with head-bopping hits such as Madness' "Our House," Kool and the Gang's "Celebration" and Blondie's "Heart of Glass."
When it comes to appetizers, it's hard to pass up crabcakes, and Zea's Tokyo Crab Cakes were an original take on this Louisiana favorite. A small order ($10.25) offered a pair of plump cakes lightly breaded in panko and filled with fresh Gulf crabmeat atop slices of marinated cucumber. Attractively presented with swatches of wasabi aioli and sriracha on the plate, the delicate and delectable cakes were topped with thin shreds of seaweed and sesame seeds for a little added crunch. Scrumptious.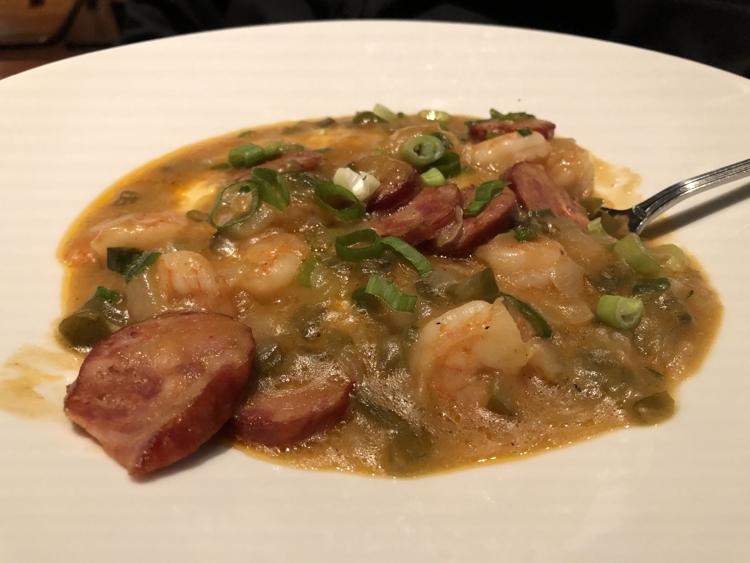 Zea is known for its French open flame rotisserie entrees, so to get a good taste of those my guest tried the Rotisserie Sampler ($21.50). The dish offered a chicken quarter, three ounces of beef and three ounces of pork, and came with two sides of his choice. There's also a choice of sauces for the meats.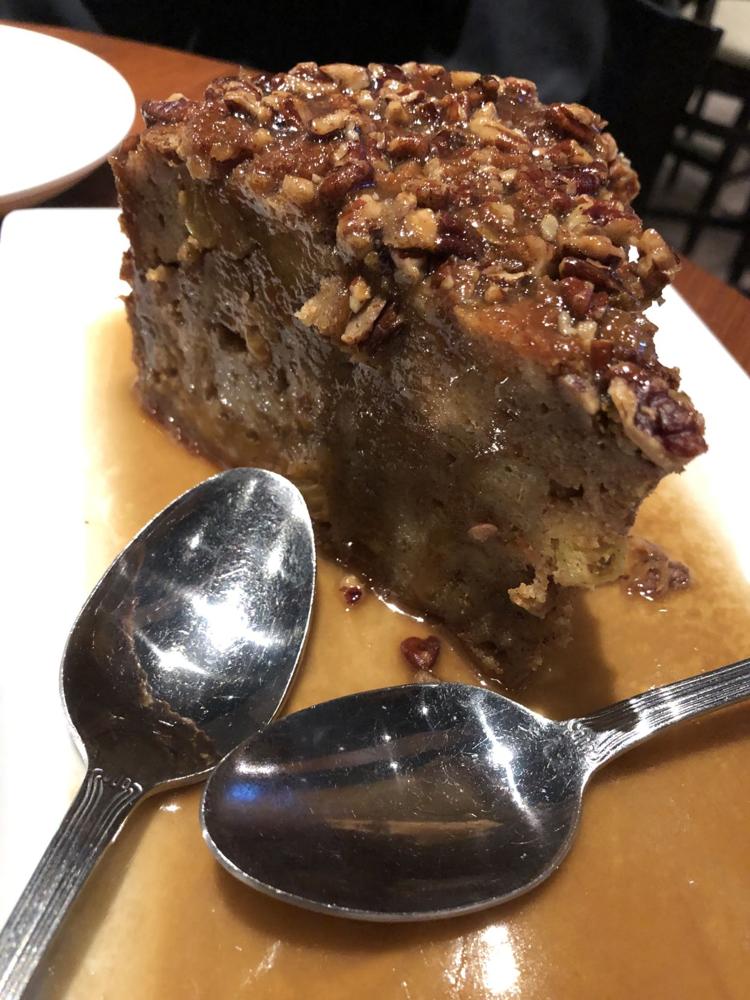 The pork was the star here, tender and moist, its flavor able to stand up to the sweet chili glaze he chose. The chicken was likewise moist, but its flavor was overpowered by the glaze's salty soy sauce component. The beef, a cut of roast beef, didn't seem to benefit from the rotisserie process, and could have been more tender had it been cooked by another method. The side of steamed broccoli was nothing special, but the roasted corn grits were wonderful. Creamy, with some pieces of corn still intact, this is comfort fare at its best. 
Shrimp and grits, another Louisiana specialty, gets special treatment in the Zea kitchen. Their version ($15.25) tops more of those melt-in-your-mouth roasted corn grits with at least a half-dozen sautéed shrimp and slices of chef Paul Prudhomme's andouille sausage, all covered in a well-seasoned but not too spicy étoufée sauce. Another thing I loved about this dish was the portion size, a bowl large enough to be filling for dinner, yet not so big that a to-go box was necessary. Too often we find portion sizes excessive (with corresponding prices), so this was a nice change.
We ended the evening by sharing one of the most delicious bread puddings we've ever consumed. Zea's Sweet Potato Pecan Crusted Bread Pudding ($6.95) is a giant square of ultra-moist, almost cakelike pudding, with the sweet potatoes adding more texture and flavor, along with a topping of crunchy pecans, all dripping with a spoon-scraping worthy rum sauce. We would return just for this dessert, but there's so much more we still want to try — Twice-Cooked Crispy Duck, Thai Ribs, and how about that Pepper Jelly Chicken Salad?
---
Zea Rotisserie & Bar
27186 Crossing Circle, Denham Springs
11 a.m. to 9 p.m. Sunday through Thursday; 11 a.m. to 10 p.m. Friday and Saturday
(225) 998-0111; zearestaurants.com
PROS: Bread pudding; crabcakes; grits; did I say bread pudding?
CONS: Taken directly to small bar table without being asked preference; sweet chili glaze overpowered chicken