Good things often come from small menus.
At Fete au Fete inside White Star Market, chef Micah Martello has created a collection of traditional Southern dishes with small tweaks that reinvigorate those Cajun and Creole favorites.
Fete au Fete's abbreviated menu features red beans and rice, shrimp and grits, and gumbo prepared with premium ingredients. However, Martello's take on these dishes veers slightly from the norm: Crawfish poutine pairs étouffée with new potatoes and cheese, the muffuletta is crispier — it's grilled like a panini — and the shrimp and grits touts an unforgettable tomato basil sauce, a less common version of the coastal classic.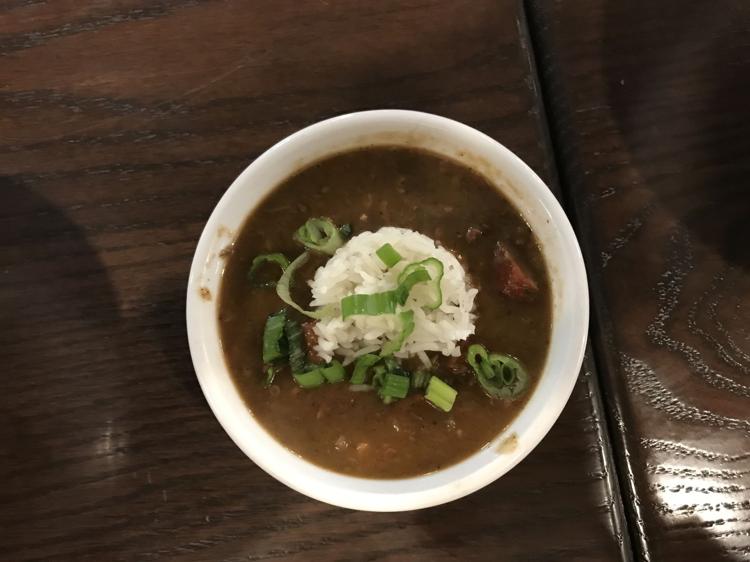 After prominent positions in Lafayette and New Orleans kitchens, Martello worked in the corporate world developing restaurant concepts, according to his biography on the Fete au Fete website. Then he created his first food truck, King Creole, in North Carolina before returning to New Orleans.
Martello's first Fete au Fete has become a mainstay at the St. Roch Market food hall in New Orleans, and another location opened recently at the Pythian Market food hall. He has also opened a Fete au Fete food truck that is regularly stationed on the LSU campus in Baton Rouge, and the White Star location opened with the market this summer.
On my first trip to Fete au Fete in White Star, I tried the shrimp and grits ($11), and I have returned several times to have it again. It isn't an overly cheesy shrimp and grits like you'll find at many brunch spots, and it's not your typical New Orleans-style barbecue shrimp with grit cake, either. The entree features a savory tomato-basil shrimp sauce with chunks of sausage over stone-ground grits. It's less tangy than a traditional Creole sauce, but the flavor is more complex.
Each spoonful has the power to reveal another flavor, first the acidic tomato, then the aromatic spice of the basil and the sweet, grainy grits. The salty and plump sausage bits complement the light, juicy shrimp. My guest's only criticism was that her bowl was light on shrimp.
From the first time scanning the chalkboard menu at Fete au Fete, the crawfish poutine ($11) called out to me. Loosely based on the French Canadian comfort food made of french fries, gravy and cheese curds, poutine easily translates to a Cajun menu. At Fete au Fete the poutine includes crawfish étouffée, pepper jack cheese and boiled new potatoes. While it may sound like too much, it's not as rich as it sounds. The cheese is lightly layered between the étouffée and the new potatoes, and the étouffée is balanced, neither too spicy nor too creamy.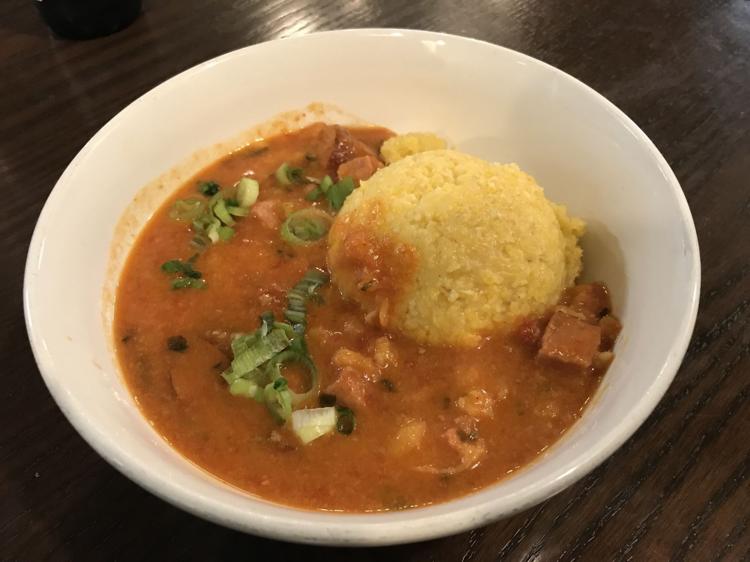 My small bowl of gumbo ($6) was a pleasure. Each spoonful featured a perfect melange of rich, dark roux with white rice, peppers, herbs, sausage, shrimp and okra. Thicker than many restaurant gumbos, it is also deeper in flavor than most. The bowl was gone much too soon.
On a return trip at lunchtime, I tried the much-raved-about muffuletta ($6), which was named one of the best in New Orleans by a Wall Street Journal writer. It was crispy and warm, and the carrots in the spicy and pungent olive salad rose an octave or two above the rest of the ensemble. The provolone was too gooey and drew my attention away from the aromas and flavors of the sweet, salty and tangy muffuletta.
Small menus could signal a lack of imagination. But the modest collection of inventive dishes at Fete au Fete indicates that Martello is focused on quality, and the veteran chef is working steadily to reinvent Southern staples.
Seek out Fete au Fete at one of its food hall locations or food trucks. It will not disappoint. Instead, the small, carefully cultivated menu will likely surprise you.
---
This article is part of a series of reviews of White Star Market vendors. Look for more in future issues of Red. Click here for a review of Gov't Taco.
---
Fete au Fete
Inside White Star Market, 4624 Government St.
7 a.m. to 9 p.m. Tuesday through Thursday; 7 a.m. to 10 p.m. Friday; 8 a.m. to 10 p.m. Saturday; 8 a.m. to 5 p.m. Sunday
Pros: Small menu features interesting updates of Southern classics
Cons: Overly cheesy muffuletta