Four summers ago, Maria A. Finley, a Louisiana attorney, packed her things and was prepared to move to Washington, D.C. Her children had all grown up, and she was ready for a fresh start.
After touring Georgetown University with her son and his friend, the trio visited a Rita's Italian Ice. For Finley, it was love at first bite. 
"I got the blue raspberry and I tasted it, and I mean, literally within two or three minutes I called my realtor and said, 'Take my house off the market. I'm coming back to Louisiana and opening a Rita's Italian Ice franchise,'" Finley said.
With that blue raspberry, Finley picked up on something a lot of people have known about Rita's for more than three decades — it's delicious.
The frozen treat company started in 1984 in Bensalem, Pennsylvania, and has grown to around 600 locations across the country. The Baton Rouge location, the only Rita's in Louisiana, opened late last year.
Rita's cool treats have an obvious taste of freshness. The ice consistency is slightly less creamy than an original Italian ice, but smoother than the widely-known shaved ice. The dessert shop also features a variety of handmade and soft serve custard flavors, which when layered with an ice flavor of choice makes a Rita's original, the gelati.
The Italian ice recipes sometimes call for fresh fruit to be added to them, which, Finley said, her team purchases at the nearby Rouses Market.
"The response has been wonderful," Finley said. "The secret is to get it in their mouths. And that's part of the excitement that makes me so happy to have brought this franchise to Louisiana — practically every person I see taste it gets this amazing look on their face."
Finley is well aware that Louisiana's frozen treat of choice is the sno-ball, but she doesn't make it a point in comparing the two.
"If somebody wants a sno-ball, they're going to go get themselves a sno-ball," she said. "I just try to get people to taste our Italian ices that we make fresh in the store almost every day. I don't knock sno-balls, but we are definitely an alternative when someone wants a frozen treat. I just leave it up to them to decide after that."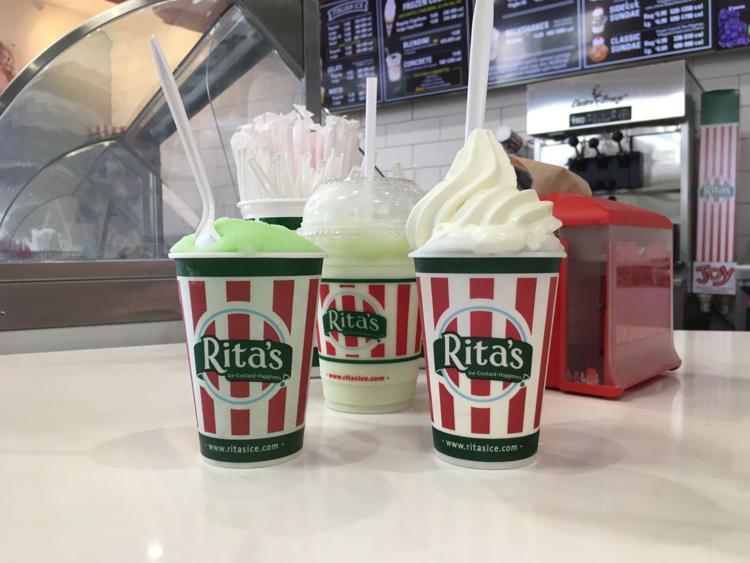 Finley's process to open a Rita's Italian Ice location started immediately following that 2015 visit to Washington, D.C. However the first thing Finley did was reobtain her law office. After a few setbacks, including the 2016 flood, Rita's on West Lee Drive opened on Oct. 15, 2018.
"It took a year just to find the spot — it was a really tough process," Finley said. "But I was determined. And it's just fun. I really try to make the mood light in here, because it's just all about making people smile."
In May, Rita's began operating a mobile unit, Rita's on the Road, which serves ices and custards as well as the layered combo gelati. The unit currently sets up at Capitol Cyclery on Essen on Tuesdays and Wednesdays and Capitol Cyclery in Gonzales on Thursdays and Fridays.
"The main thing is making sure we make Rita's a good experience for all of our customers so that they want to come back and tell other people."
If things go well for the Lee Drive location, Finley said she would consider opening other locations and more mobile units.
"If we're here in another year, that means we made it," she said.
---
Rita's Italian Ice
Noon to 10 p.m. Monday through Sunday
1082 W. Lee Drive
(225) 769-2139; facebook.com/ritasbatonrouge