For people who haven't already jumped on the poke bandwagon, walking in to Poke Loa can be intimidating.
There are several protein options, from octopus to tofu, and marinades like tamari and ponzu that might need a little explaining. Luckily, between the signature bowls and the helpful staff behind the counter, there's a roadmap to guide first-timers through their selections.
If you haven't heard of it, poke (pronounced poke-ay) is a dish centered around diced, raw fish and topped with veggies, seasonings and marinades. Think of it as deconstructed sushi meets salad. And Poke Loa, which started in New Orleans and recently expanded to Baton Rouge, near LSU's Northgate, is one of the newest shops in town serving up the meal.
The first step, the base, is pretty simple: white rice, brown rice, spring mix or zucchini noodles. There's no wrong choice there. But during my meal at Poke Loa, the zucchini noodles were a highlight for the crunch they added to the concoction, rather than the watery heap that the vegetable can sometimes be.
Second, the protein. This is without a doubt the most important selection because it becomes the nucleus of the meal. I went with a safe salmon while one of my friends chose a combination of the aloha chicken and the kalua beef and our other companion picked the octopus and shrimp. A perk of Poke Loa, specifically, is they have enough options to allow for such a range of choices.
While different, all three of us enjoyed what we picked and would order it again. Everything was fresh — they even cooked up the chicken and beef in front of us. The combination wasn't just good options for people trying to dip their toes into the idea of a poke bowl. They were viable choices for poke-lovers who might want to shake it up every once and awhile.
The octopus, the most adventurous item of the entire meal, was slightly chewy, but that oddly wasn't a turnoff. In fact, we agreed that next time my friend should go all in for octopus and leave the shrimp behind.
Next comes the onslaught of mix-ins, marinades and toppings. I picked the salmon poke bowl, one of Poke Loa's four signature bowls, so my toppings were pre-selected but still customizable. I skipped the chili paste, for example, after the employee warned me that it did have a spicy kick that I wanted to avoid. I also added avocado for $1 because I'm a Millennial, of course.
Aside from those changes, I felt confident that the experts behind the counter were creating something that works. Poke Loa has found success at its two New Orleans restaurants and one in Metairie.
My friends, however, chose to go the more personalized route and pick through the options in front of them. The octopus eater commented on how helpful the staff was in recommending what paired well with octopus — that's not a choice he faces every day.
Ultimately, he put his octopus and shrimp over both zucchini noodles and brown rice, topped it with seaweed salad, radishes, wasabi kobico (fish eggs), tamari (gluten-free soy sauce) and ponzu (citrus-based soy sauce.) For him, the radishes were the ultimate topping.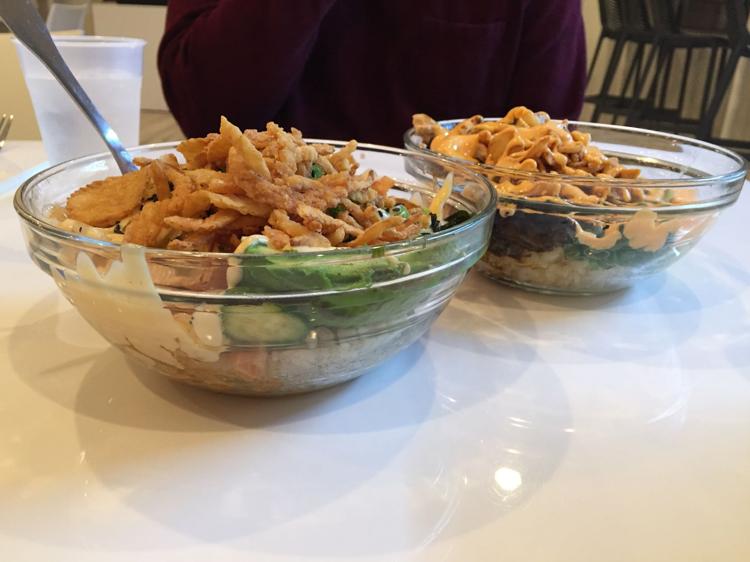 Our other guest kept it simple: chicken and beef over brown rice, topped with green onions, mango, plenty of sriracha aioli and crispy onions. The aioli came on a little strong, so people not committed to spiciness should ask them to keep it light.
At the end of the meal, all of our bowls were empty and we were all content.
Poke Loa offers two sizes: a regular with two scoops of protein for $12 or a large with three scoops of protein for $14. There one signature bowl, the King Loa Bowl, that includes two scoops of salmon and tuna each, clocking in at $16.
Extra protein, avocado and crab salad will cost extra, so be careful your stomach doesn't get ahead of your wallet. The base cost can rack up quickly.
To drink, Poke Loa has a cooler of soft drinks and kombuchas. But it's worth trying its in-house aqua fresca, ($3.25) which comes in lemonade, cilantro pineapple and watermelon cucumber. They're all light and fruity without being overpowering. As odd as cilantro and pineapple sound together — I don't like either of those ingredients on their own — I enjoyed that one the most.
I developed my love for poke at Southfin Southern Poke on Perkins after reading a review. I was slow to warm up to the idea of "raw fish salad," as I called it then, but the dish captured my taste buds. Despite feeling a tinge of infidelity because I liked Poke Loa so much, I think I'll be splitting my meals between the two places from now on.
---
Poke Loa
3260 Highland Road, Suite 6
11 a.m. to 9 p.m. every day
(225) 367-1119; eatpokeloa.com
PROS: Many options; easy to get there; plenty of parking.
CONS: A little pricey; numerous options can be overwhelming.