Every time I enter White Star Market, I walk by CounterSpace and eye all the made-from-scratch cookies and brownies, multilayered cakes and berry-filled muffins arrayed beneath glass domes. On the other end of the Government Street food hall, Rêve Coffee Roasters brews slow, thoughtful cups of coffee.
This arrangement makes it far too easy to grab a post-meal coffee and a cookie on my way out the door.
During one recent visit to the food hall, a tall, pink-frosted cake decorated with tiny gold stars and confettilike sprinkles stood out at CounterSpace. The Champagne cake ($5.75 per slice) was made up of two layers of moist, light white cake. What made it special was the strawberry buttercream icing, which was soft and creamy with a light sweetness and a hint of strawberry flavor.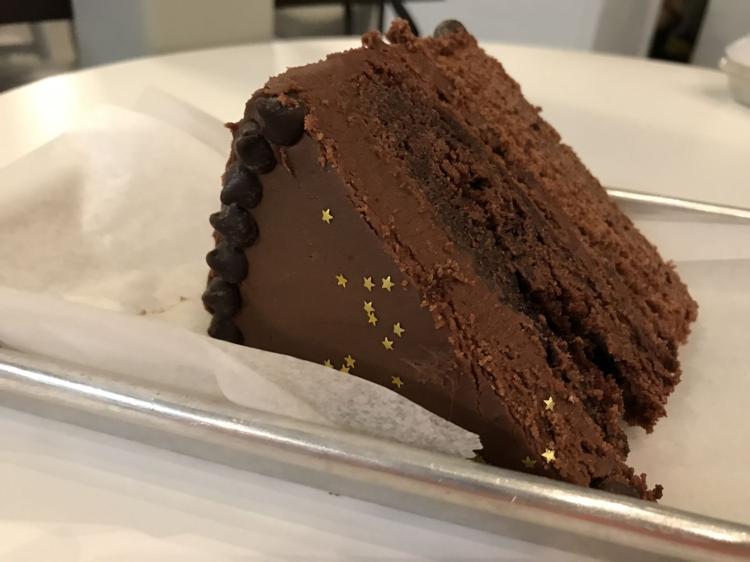 Almost every cake or cookie has a special little touch that isn't advertised on the handwritten notes on the outside of the glass displays. Ask the staff: They will tell you the strawberry frosting is made with freeze-dried strawberries, and the secret ingredient to the chocolate cake's equally amazing icing is Ovaltine.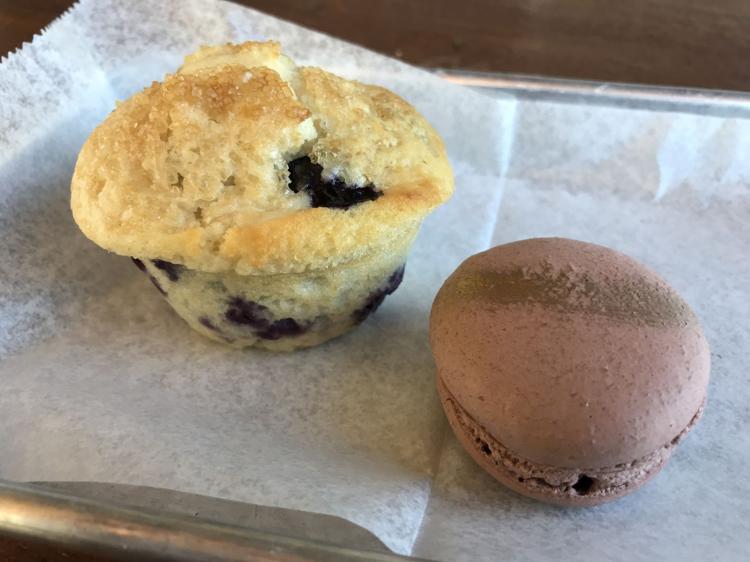 I was delighted by the cookies at CounterSpace. They rotate regularly, but a mainstay is the salted chocolate chip ($2.74), a gooey chocolate chip cookie sprinkled with sea salt, a topping that intensifies the understated sweetness of the cookie. While I loved the soft center, some may find it a little too doughy.
You don't have to wait for breakfast to try their muffins. I was impressed by a blueberry muffin ($3) with crunchy sugar sprinkled on top and berries so plump they stained my fingers purple.
On my last visit to CounterSpace, I was drawn to a delicate pink macaron — and I was surprised by its contents. This wispy cookie was a chocolate bacon macaron ($3.50), with a crispy outside and a sticky, savory, bacon-flavored inside. Like everything at CounterSpace, it was subtle and complex in flavor. And it begged for a cup of coffee.
Taco purists might balk at Gov't Taco. The innovative joint combines Cajun, Southern and Mexican flavors to create tacos centered around count…
Between its micro-roasting facility in Lafayette and its meticulous brewing techniques, Rêve Coffee Roasters attends to nearly every detail in the coffee-making process. Like most third-wave coffee houses — the post-Starbucks generation of shops that take a more artisanal approach to coffee — they aim to emphasize flavor notes found in the coffee itself.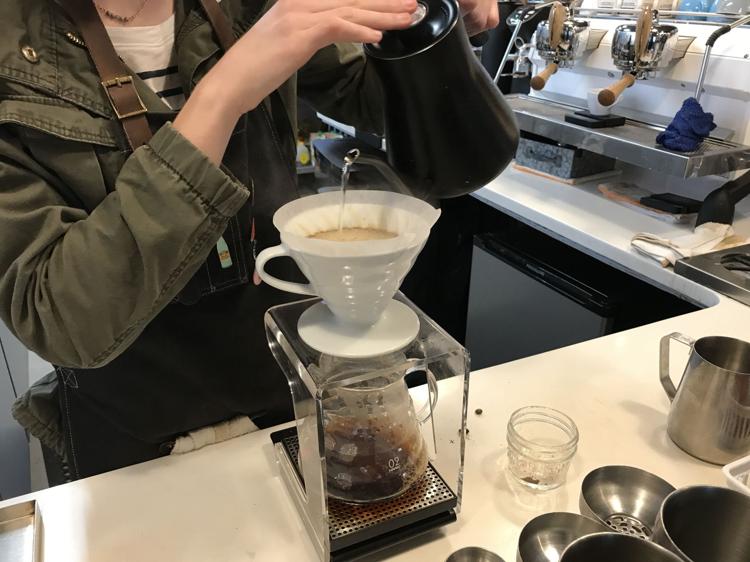 Because of this philosophy, Rêve's espresso is nutty and complex, flavors exemplified by their macchiato ($3.50), a shot of espresso with a small amount of foamy milk. The combination tasted slightly caramelized and chocolaty.
Good things often come from small menus.
At Rêve, vividly drawn chalk illustrations detail the two selections of beans available each day. Earlier this month I tried a cup made of isekaka peaberries from Papua New Guinea brewed through the pour-over method ($4.25). I watched the barista carefully grind the beans and patiently pour water over the grounds.
It was a delicious cup from start to finish with no bitterness at all. The chalkboard said the beans carried notes of lime, cherry and cocoa, and all but the lime stood out to my palate.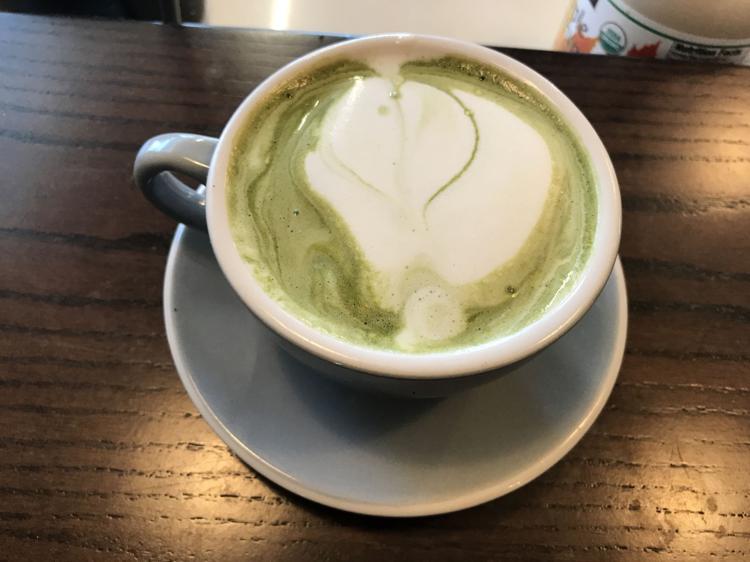 On my last trip to Rêve, I decided to try something different. I sampled the fizzy kombucha — a fermented tea — made by a Lafayette local, and it was great, but I decided on a matcha latte ($5.25) with Rêve's house-made almond milk.
A green tea packed with antioxidants, matcha has an earthy taste. The barista ground the tea with a mortar and pestle before brewing. There's the attention to detail again. It tasted grassy, and the milk added a nutty flavor. I opted for a drizzle of honey to sweeten it. While the matcha was not my preferred drink, adventurous tea drinkers will appreciate the handmade treat.
Rêve and CounterSpaceBR create meticulously crafted sweets and beverages that should be relished. Because of their high quality, they also carry a slightly higher price tag than your regular cup of coffee and cookie you may grab on the way to work. But these items are worth the occasional splurge. They are to be savored and celebrated.
Pizza has come a long way in Baton Rouge.
---
This article is part of a series of reviews of White Star Market Vendors. Look for more in future issues of Red.
---
CounterSpace and Rêve Coffee Roasters
Inside White Star Market, 4624 Government St.
CounterSpace
10 a.m. to 3 p.m. Sunday and Monday; 10 a.m. to 9 p.m. Tuesday through Thursday; 10 a.m. to 10 p.m. Friday and Saturday
Rêve Coffee Lab
7 a.m. to 3 p.m. Monday; 7 a.m. to 7 p.m. Tuesday through Friday; 8 a.m. to 7 p.m. Saturday and Sunday
whitestarmarket.com; facebook.com/counterspaceBR; facebook.com/revestick
Pros: Attention to detail. Premium ingredients and preparation.
Cons: Price (but you get what you pay for). Slightly doughy salted chocolate chip cookie.