Baton Rouge loves Mediterranean food — or, at least, the south Louisiana version of it.
Every neighborhood has at least one joint serving shawarma and gyros. Hummus and pita bread and stuffed grape leaves are some of our comfort foods.
On an oak-shaded corner in St. Francisville, Café Petra is filling this need for the Felicianas.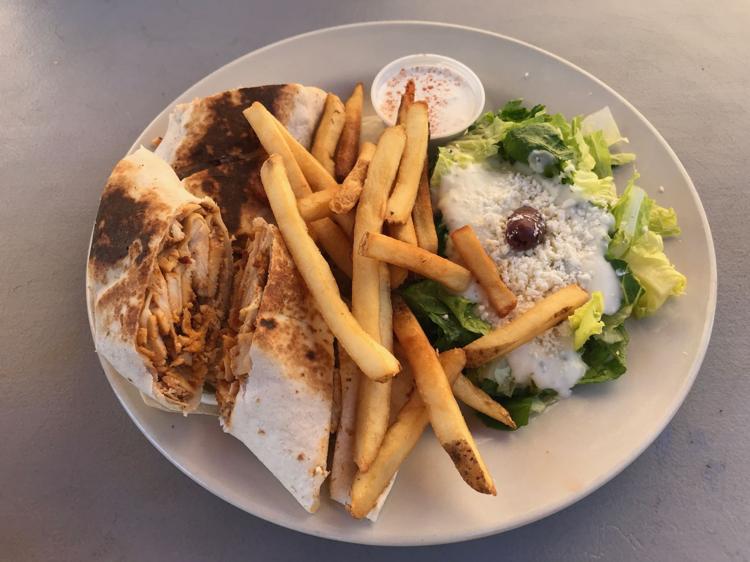 Another Mediterranean restaurant previously served the community at the crossroads near downtown, but Petra has earned the loyalty of St. Francisville and surrounding communities.
When we tried the new restaurant on a sunny fall Saturday, the dining room and patio were crowded, and the waitstaff was hurried trying to serve them all.
Café Petra's menu is varied, containing the staples and appealing variations. Most dishes were as good as the local Baton Rouge chains that have set the standards for Louisiana Mediterranean. A few exceeded expectations.
We first chose an old standby for an appetizer, the fried cheese ($10.95), a surprisingly fresh take on the junkiest of junk foods. At the center of the platter were six slabs of lightly fried, semi-soft, brined cheese — halloumi, a salty, chewy cheese. It was drizzled with olive oil and spices and garnished with tomatoes, cucumbers and olives, which we relished. The oil-drenched olives and cucumbers were an unexpected delight.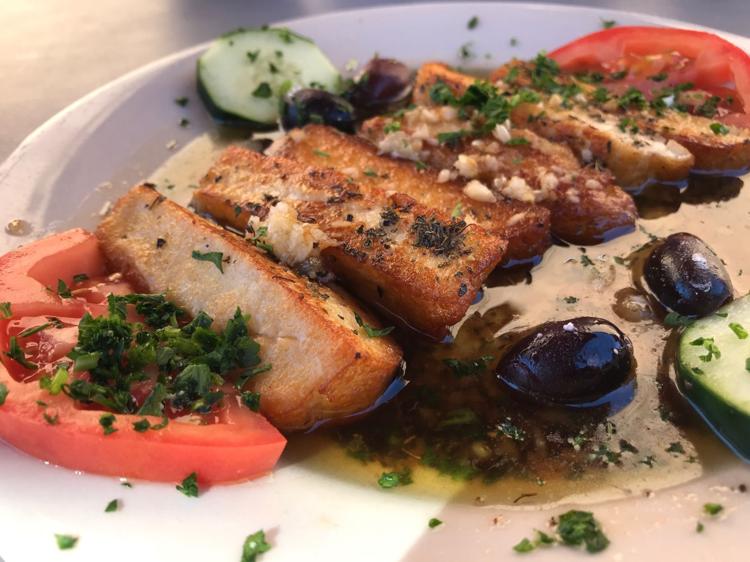 For entrées, Petra boasts an array of interesting dishes, like roasted quail and fried duck. When trying a new restaurant, I often want to sample the basics. If the kitchen can handle the mainstays, then they can be trusted with the exotic.
The main dish with the largest selection of Greek and Lebanese staples, the Meza ($21.95), included chicken shawarma and beef and lamb gyros, which were prepared just as expected, along with nine other items. The shawarma was a bit dry, but the gyros were flavorful and moist. The kibbeh, a ball of fried bulgur wheat and ground beef, was crispy and brightly spicy. While the hummus was overly oily, the baba ganoush was excellent, with pops of tahini and paprika flavors.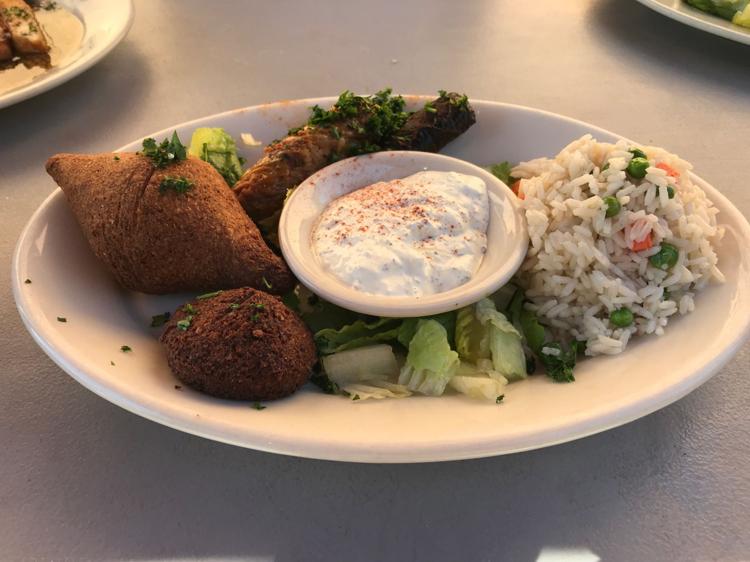 Two small pieces of the Meza made me want to return: the cabbage rolls and stuffed grape leaves. Typically cabbage rolls taste nothing like cabbage. They are overrun with spice. Cafe Petra's cabbage rolls tasted of fresh leaves of cabbage, and the spices complemented that pleasantly pungent cabbage flavor. The stuffed grape leaves were dense and appropriately complex for a roll filled with meat and spices.
Our other entrée, the Petra sandwich ($11.50), was a large pita stuffed with chicken shawarma and Arabic pickles, which the waitress said were spicy. The pickles provided little spice, and the sandwich was dry. On a menu packed with interesting dishes, try something with more flavor.
Café Petra dutifully serves St. Francisville and the surrounding towns' needs for Mediterranean. It isn't revolutionizing the genre, but in some ways, the cafe exceeds the fare served by its Mediterranean family to the south in Baton Rouge.
---
Café Petra
5712 Commerce St., St. Francisville
Open 10:30 a.m. to 2:30 p.m. and 4:30 p.m. to 9:30 p.m. Monday-Thursday.; 10:30 a.m. to 10 p.m. Friday and Saturday; and 10:30 a.m. to 8:30 p.m. Sunday
(225) 635-4035; facebook.com/cafepetra1
Pros: Cabbage rolls and fried cheese. Convenient for St. Francisville and surrounding towns
Cons: Hummus overly oily. Petra sandwich dry, bland