"The Unofficial Disney Parks Cookbook" by Ashley Craft; Adams Media; 240 pages
First-time author Ashley Craft has turned her lifelong Disney addiction into something appropriately magical.
Crave that refreshing Dole Whip that's always a must at Magic Kingdom? How about pretzels in the shape of Mickey himself? Or Gaston's Giant Cinnamon Rolls?
These recipes and 97 others from all the Disney parks are featured, so now even if you can't visit Disney, your taste buds can, right from your kitchen.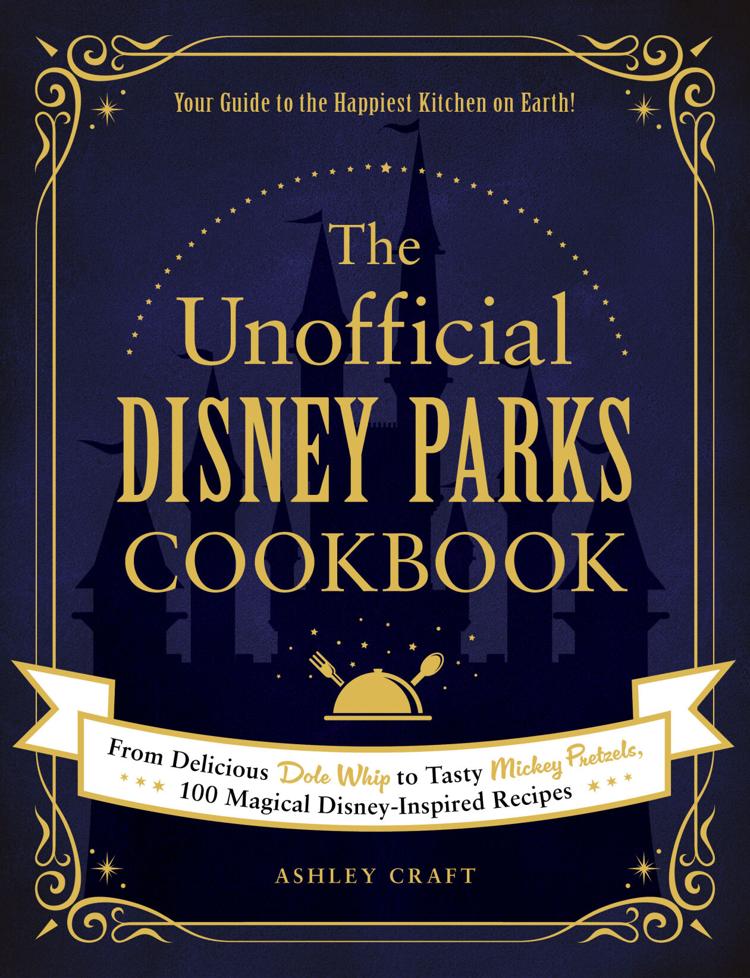 Before jumping into the recipes, this thorough cookbook offers a brief history of food and drink at Disney's six main U.S. parks, from Disneyland, the oldest one, to the newest Disney California Adventure. Then there's a whole section — an alphabetical list including photos — of the cooking tools you'll need to complete the recipes, from baking pans to wooden skewers.
Recipes are divided up by the park in which the food or drink is featured. There's also a colorful map of each park, denoting where each treat is sold. For example, find a taste of home with beignets on New Orleans Square in Disneyland.
Craft notes that although the recipes are assembled from Disney Park originals, home cooks should feel free to experiment with varying flavors and designs. Sounds like fun, right?
Dole Whip
Dole Whip is arguably the No. 1 cult-classic favorite treat of all time at Disney Parks. This fruity-sweet snack began in Hawaii on the Dole Plantation, where parched tourists got to sample the sorbet after a walk around the pineapple bushes. Promoted alongside Walt Disney's Enchanted Tiki Room, guests can buy the treat in line for the show and eat it while listening to the "birds sing words and the flowers croon!"
Serves 6. Excerpted with permission from "The Unofficial Disney Parks Cookbook" by Ashley Craft.
1 cup room-temperature water
1½ cups granulated sugar
2 cups chilled pineapple juice
1 tablespoon lime juice
1. ‌In a medium microwave-safe bowl, combine water and sugar. Microwave 1 minute, stir, then microwave 1 more minute and stir to create a syrup. Cover and refrigerate at least 2 hours.
2. ‌Pour pineapple juice into ice cream machine and add 1⁄2 cup chilled syrup. Add lime juice. Follow ice cream machine instructions and run about 20 minutes.
3. ‌Serve immediately or transfer to a large plastic container, cover and freeze overnight for a harder consistency.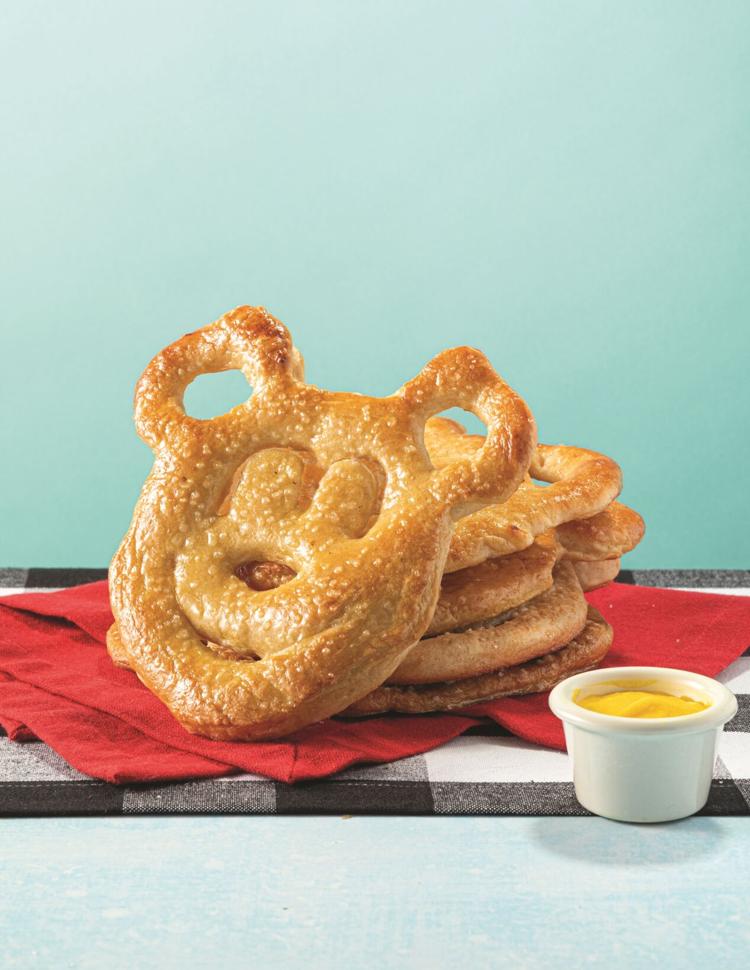 Mickey Pretzels
These pretzels are sold at Disney's Hollywood Studios in the iconic shape of Mickey's face, but you can get creative with other Disney-inspired shapes in your own kitchen. Cutting the dough, rather than twisting it like traditional pretzels, allows for more creativity and fun. Kids can use cookie cutters or plastic knives to score their shapes, while an adult makes the final sharp cuts. Also, feel free to get wild with the toppings. Try cinnamon sugar or Everything Bagel seasoning.
Serves 6. Excerpted with permission from "The Unofficial Disney Parks Cookbook" by Ashley Craft.
1⁄2 cup warm water (110 F)
1 (1⁄4-ounce) envelope active dry yeast
2 tablespoons light brown sugar
1 teaspoon plus 2 tablespoons salt, divided
4 cups all-purpose flour
4 cups plus 1 tablespoon room-temperature water, divided
1⁄4 cup baking soda
1 large egg
4 teaspoons kosher salt
1. ‌In the bowl of a stand mixer, add warm water and sprinkle yeast on top. Let sit 10 minutes.
2. ‌Add brown sugar and 1 teaspoon salt. Using the flat beater attachment, beat on low speed to combine. Mix in flour. Switch to dough hook attachment and knead 5 minutes. Dough should be smooth and elastic.
3. ‌Remove dough and spray bowl with nonstick cooking spray. Return dough to bowl. Cover with a cloth and let rise in a warm place 30 minutes.
4. ‌Preheat oven to 450 F. Line a large ungreased baking sheet with parchment paper and set aside.
5. ‌In a large pot over high heat, bring 4 cups water to a boil.
6. ‌Turn dough out onto a lightly floured surface. Cut dough into eight equal pieces. Working with one piece at a time, roll dough into a rough heart shape. Using a sharp knife, lightly score or scrape the Mickey shape into the dough. Once you've achieved your desired shape, cut all the way through the dough.
7. ‌Add baking soda to pot of boiling water. Working with one Mickey at a time, use a big, flat spatula to carefully lift a dough Mickey into baking-soda bath, and poach 15 seconds. Remove to prepared baking sheet.
8. ‌In a small bowl, mix together egg and remaining 1 tablespoon water. Brush onto Mickeys. Sprinkle remaining salt over pretzels.
9. ‌Bake until deep golden brown, about 10 minutes. Serve immediately.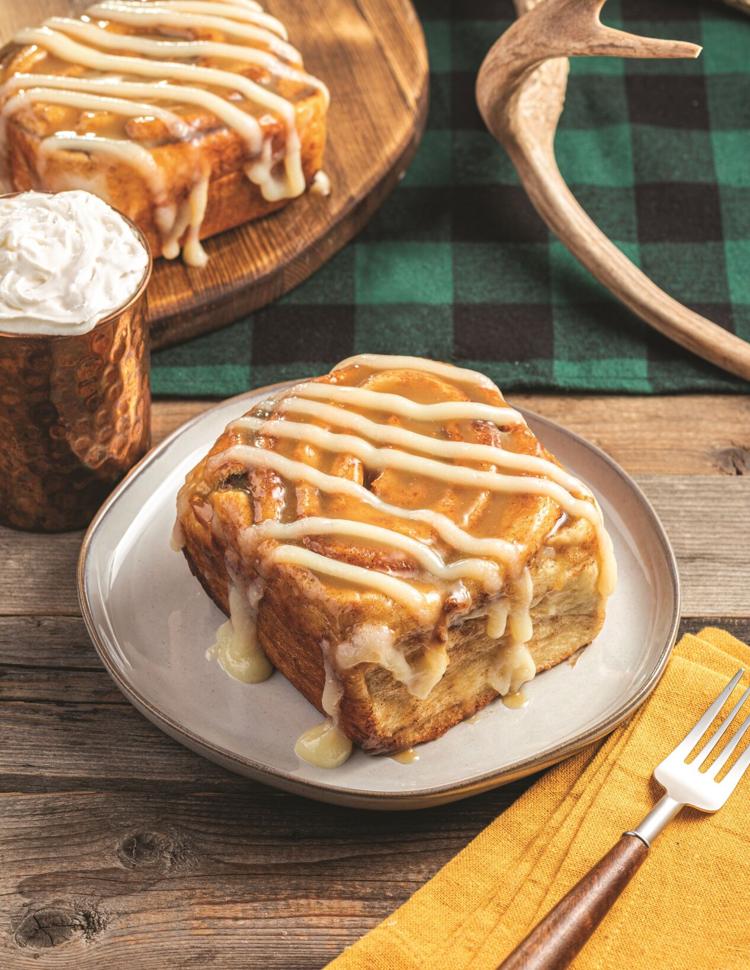 Gaston's Giant Cinnamon Rolls
Disney Parks have sold cinnamon rolls for a long time — regular, boring-sized cinnamon rolls. But in 2012, they upped their cinnamon roll game when they introduced this warm cinnamon roll to their line-up. It is about 8 inches square in size and is smothered in frosting and butterscotch topping. It is perfectly made for the man who eats five dozen eggs each day — or your whole family!
Serves 8. Excerpted with permission from "The Unofficial Disney Parks Cookbook" by Ashley Craft.
For dough:
¾ cup salted butter, melted, divided
1½ cups whole milk
6½ cups all-purpose flour, divided
2 (1⁄4-ounce) packets active dry yeast
1⁄2 cup granulated sugar
1 teaspoon salt
1⁄2 cup room-temperature water
2 large eggs
1. ‌Grease a 9-by-13-inch pan with nonstick cooking spray and set aside.
2. ‌To make the dough: In a medium bowl, combine 1⁄2 cup melted butter and milk.
3. ‌In the bowl of a stand mixer, add 2½ cups flour, yeast, sugar, and salt. Add water, eggs, and butter mixture. Using the flat beater attachment, mix until well combined. Add remaining flour ½ cup at a time while mixing until dough starts to form a ball.
4. ‌Switch to the dough hook attachment and knead dough on low speed 5 minutes.
5. ‌Remove dough from bowl, sprinkle some flour in bowl, and place dough back in the same bowl. Let rise 10 minutes in a warm place.
For filling:
2 cups light brown sugar
2 tablespoons ground cinnamon
1 cup salted butter, softened
1. ‌To make filling: In a medium bowl, mix brown sugar, cinnamon and butter together. Set aside.
2. ‌Roll out dough into a long rectangle, about 3 feet by 2 feet. Spread filling evenly across the whole surface of the dough. Starting at short end, roll dough like a jelly roll. Make a cut in the center of the roll, and then cut about 6 inches from the center on either side to make 2 giant rolls.
3. ‌Place both rolls swirl-edge down in prepared pan.
4. ‌Drizzle remaining 1⁄4 cup melted butter over rolls. Allow rolls to rise at room temperature 30 minutes.
5. ‌Preheat oven to 375 F. Bake rolls 20 minutes, then cover loosely with foil and bake another 10 minutes.
For cream cheese frosting:
8 ounces cream cheese
¼ cup salted butter, softened
2 cups confectioners' sugar
1 teaspoon vanilla extract
3 tablespoons heavy cream
1. ‌To make cream cheese frosting: In a medium saucepan over medium heat, add cream cheese and butter. Combine and heat until melted, about 3 minutes. Remove from heat and stir in confectioners' sugar. Add vanilla, cream and salt. Stir, then set aside.
For butterscotch topping:
1⁄2 cup light brown sugar
4 tablespoons salted butter, softened
1⁄2 cup heavy cream
1⁄4 teaspoon salt
1 teaspoon vanilla extract
1. ‌To make butterscotch topping: In a separate medium saucepan over medium heat, add brown sugar, butter and cream. Bring to a boil and boil 5 minutes, stirring frequently. Remove from heat. Add salt and vanilla. Set aside.
2. ‌To serve, place each giant roll on a large plate. Drizzle cream cheese frosting in one direction along each roll's swirl, then drizzle with butterscotch in the other direction.
Tip: The dough left over on either end of the giant rolls need not be wasted. Make cuts about 1-2 inches along the extra roll. Lay swirl-side down in a glass 9-by-13-inch baking dish greased with cooking spray and bake about 20 minutes or until golden brown and cooked through.