As a lifelong meat eater, I have never considered becoming a vegetarian or vegan.
However, the menu at The Dish has me thinking that wouldn't be so undesirable.
The new vegan concept opened in September at the White Star Market after MJ's Cafe, another plant-based spot, moved to its own freestanding location.
Chef Domini Bradford created The Dish after working both at MJ's and Sukha Cafe, a recently closed vegan restaurant. Bradford and The Dish team have designed a menu that should appeal to all diners, whether or not they follow a plant-based diet.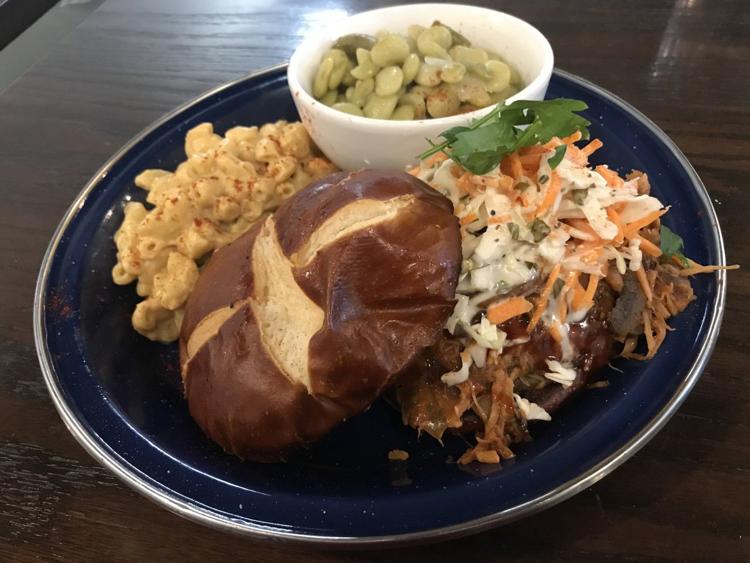 For its regular daily menu, The Dish prepares wraps, salads and a rotation of soups.
On my first visit, I chose a falafel pita wrap ($12) and a cup of soup. My buzzer rang, alerting me that my order was ready, and I immediately dug into the cup of broccoli cheddar soup I chose for my side. I would have never guessed that the cheddar used in the soup, which had a strong, sharp flavor, was a vegan approximation. A red pepper accented the tender broccoli with an unexpected zing.
The falafel wrap came packed with lightly fried chickpea falafel, marinated red onions, cucumbers, romaine lettuce and a creamy faux-feta cheese vegan dressing. It was a delightful mess, with falafel and sweet red onion slices falling out to be eaten later.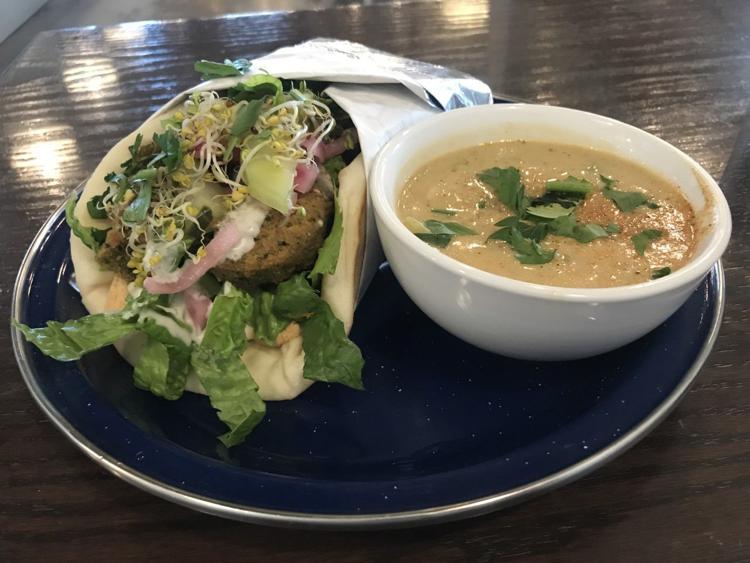 Later that week, I returned for a salad, but the daily special changed my mind. On the whiteboard was a barbecue jackfruit sandwich plate with macaroni and cheese and lima beans on the side ($14.50). In most cases, vegan foods masquerading as meats are a letdown, but the owner, who took my order, assured me it was good. Slathered in tangy barbecue sauce and cut into a stringy pile like pulled pork, the jackfruit was a bit sweet, pairing well with the sauce. While the jackfruit barbecue did not fully mimic the taste of pork, it was delicious on its own, with coleslaw complementing the fruit and sauce. The freshly baked pretzel bun was good enough to eat on its own.
On the side, the macaroni and cheese was better than the boxed stuff, but the vegan cheese still tasted a bit off. The lima beans were plump, soft and lightly salted — perfect.
All this comfort food is served on speckled blue enamelware plates, adding to the homey feeling evoked by the menu.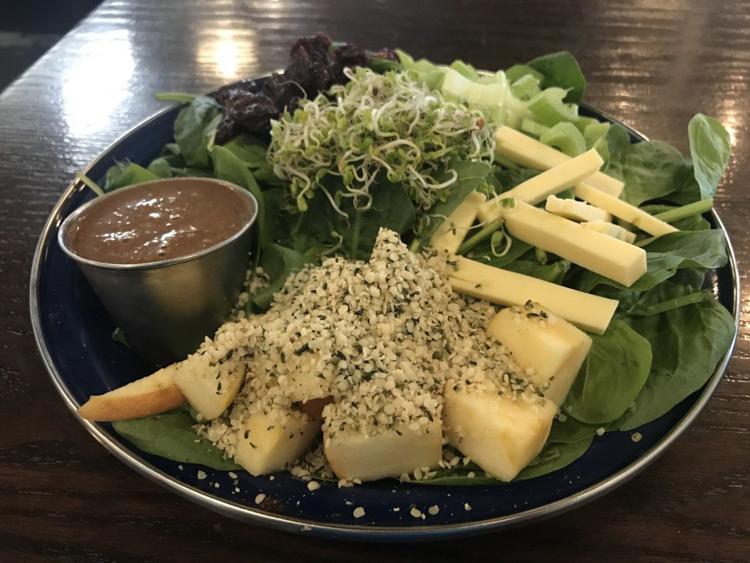 I finished the barbecue lunch meal with a cup of banana pudding ($6). It was slightly sweet and creamy with vanilla wafers on top, as good as any other banana pudding served in Baton Rouge.
I felt compelled to return one more time to try a salad. As some lettuce had been recalled nationwide the day before, only spinach was available. The spinach salad ($11) came with sliced apples, smoky vegan Gouda, dried cherries, celery and sprouts. All this came artfully arranged around the plate with a container of walnut vinaigrette. The ingredients were all premium and fresh, and the vegan Gouda was impressive. Although the salad was enjoyable, but it did not rise to the level of a good meal the way a great salad can.
Each day at The Dish, there are beautiful vegan cakes waiting on the counter and an array of colorful, aromatic ingredients awaiting construction. It's all enough to convince customers to try the vegan life, at least for one meal.
---
The Dish
Inside White Star Market, 4624 Government St.
11 a.m. to 3 p.m. Monday-Thursday, 10 a.m. to 10 p.m. Friday and Saturday, 8 a.m. to 8 p.m. Sunday
PROS: Wraps and daily specials
CON: Slightly high prices