Mid City's Tiger Deaux-nuts and Barbecue has closed.
Jeff Herman, the owner of the specialty doughnut shop and barbecue joint at 5162 Government, announced the surprise closure on Thursday on the business's Facebook page.
"For the last 7 years of my life, starting and building this business has been the main focus of my life. It has been filled with highs, lows and everything in between. Some of the decisions made were great, and others not so much. For both financial and health reasons, I have decided to end this journey," the post on Facebook said.
"It's something that I've been thinking about for a little bit," Herman said Thursday. "It got to a point where the amount of effort I was putting in to what I was getting in return kind of just didn't make sense anymore."
Herman started Tiger Deaux-nuts in 2012, originally on Jones Creek Road, and the shop developed a following in the city for its unique creations. Two years later, Herman moved the business to its Government Street location, and in 2017 renovated the building.
"You know when I was 23, 24 and started this, it felt like you have nothing to lose," Herman said. "I turn 31 next month, and it's worn me out both mentally and physically. It's time to move on to something fresh."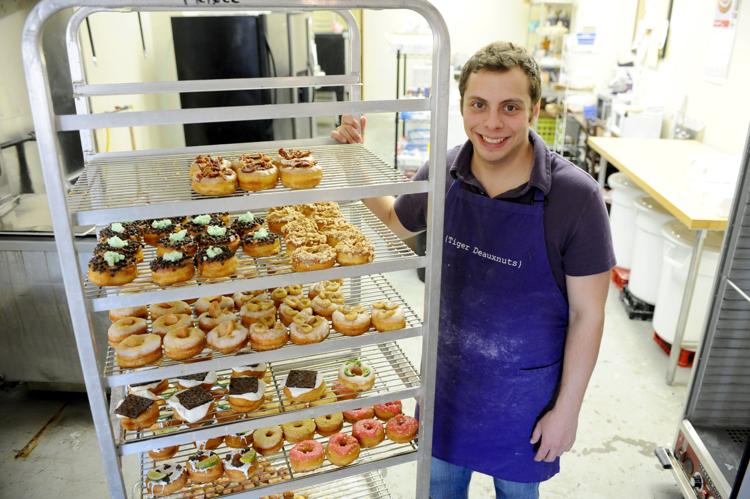 Soon after moving to Government Street, Herman bought and took over Smokin' Aces, the Mid City barbecue restaurant. Last year, the two businesses merged into Tiger Deaux-nuts and Barbecue.
"We definitely came a long way," Herman said. "It was kind of a journey, from opening up on Jones Creek for a day or two a week to then having our own spot. I think we accomplished a lot of what we wanted to, being part of the neighborhood, being part of Mid City coming back to life, putting out a product that we were very proud of and that people really enjoy. I think we brought a lot of joy and memories to a lot of people."
In both the Facebook post and interview, Herman express gratitude for Tiger Deaux-nuts staff and customers. "I have been blessed with an incredible staff, who not only acted as employees, but as a key support structure for me," Herman said on Facebook.
Within an hour of posting, the post had received more than 120 comments, most saying they'll miss the business or talking about a memory there.
Herman said he has a couple of ideas for the future and plans to remain part of the Baton Rouge community. The business's space is for lease and equipment and furniture are for sale, Herman added.
"I'm very grateful and gracious to what people have said," he said. "I'm gonna take some time to try and get back healthy and back into shape and start fresh — take lessons I've learned from this and apply them to whatever my next journey is."