Brett Favre and Lindsay Lohan could tell you that not all comebacks are successful. But sometimes, when they are, they can surpass the original attempt. Marcello's Baton Rouge is back in its old haunt after a short hiatus and is now busy reminding the city of what made the business popular in the first place: providing exceptional upscale Italian dining in the heart of Southdowns.
A lunch visit on Friday (the only day lunch is offered), with a light crowd, made it easy to take in the attractive space on Perkins Road. It's a casual setting, free of red booth and white tablecloth cliché, and you're more likely to be greeted by the strains of Semisonic than Sinatra. The walls are filled with eclectic art, and the racks of wine bottles speak to its roots as the former Enoteca Marcello.
A full menu was offered, featuring an array of soups and salads, small plates, shareable dishes, and main courses. Many of the greatest hits of the Italian canon are here: bolognese, carbonara, lasagna and riffs on Piccata. Additionally, a separate menu of specials was provided.
My repast began with a square of complimentary house-made focaccia so tall it looked like cake. The bread was herby and crisp and served on a saucer with olive oil and balsamic vinegar. The classics of Sicily beckoned, but I couldn't pass up one of the special small plates, the oxtail and ricotta raviolo ($13). It arrived in a bowl napped with velvety cream sauce, flavored with crab fat, and Italy's spreadable salami, Nduja. An arugula and tomato salad topping provided a fresh and acidic foil to the rich oxtail and herbed cheese filling.
Another intriguing dish was the Nashville calamari ($13), Marcello's fun riff on Nashville hot chicken. Rather than the blast of biting cayenne you might expect from the original, Marcello's version of this crispy-fried squid brings a slow burn of sweetness and smoky paprika warmth.
The calamari appears topped with shreds of pickled leeks and peppers, along with fresh mint. Sinus-clearing and addictive, these made for a great shared plate. For the less adventurous, a more traditional preparation served with marinara sauce is also available.
Dinner at Marcello's was a different experience: The restaurant was crowded and boisterous the night before a big game in Baton Rouge. For all of its elegant atmosphere, not much in Marcello's absorbs sound, so it can be difficult to hear servers or carry on a conversation over the din.
What remained the same was the pleasant and attentive service that I received during the lunch visit. My guest and I settled in, and a busy and backed-up kitchen gave us ample time to survey the menu. We settled on the Agnello Carpaccio ($13) from the small plates menu. Paper-thin slices of shaved lamb are drizzled with extra-virgin olive oil and topped with crispy bits of toasted olives, capers and cashews. Marcello's likes its pickles, and this dish is no exception, coming topped with a tangy and satisfying artichoke salad. Maybe it was from the wait, but we wiped this dish out in record time and easily could have ordered another.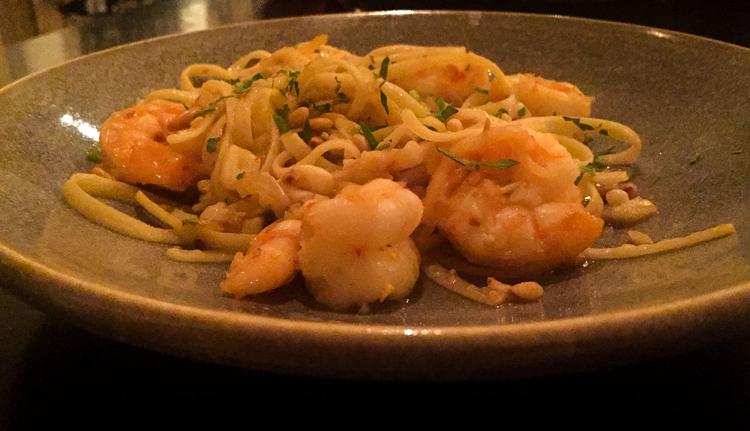 Our entrees this night were the shrimp pepate ($22) and the pork cheek stracci ($22). The pepate is a dish of linguine tossed with shrimp, pine nuts and chili flakes. Garlicky, savory flavors come through here, pairing well with a scant amount of al dente linguine and briny shrimp. The shrimp had good flavor, but a few were overcooked and a little mealy. This was a good dish that could have been made better by a larger portion of pasta and little less cooking time.
The stracci was a bowlful of umami — little rags of pasta in a sweet wine sauce, with tender chunks of braised pork cheek, earthy mushrooms and carrots, and bright pea pesto. It came crowned with a poached egg, whose yolk when mixed with the sauce was near sublime. This was the kind of dish that got passed around the table because it was just too good to enjoy alone.
Full from our escapades, we could only split a dessert and thus opted for the traditional tiramisu ($10). It looked like it might be heavy due to its impressive height, but its boozy, coffee-soaked lady fingers were offset nicely by a light mascarpone cream dusted in cocoa powder. It's a delicious finish, but rich — my guest and I agreed it was good that we split it, as neither of us could have finished it alone.
It's easy to forget that gems like Marcello's are often hidden in plain sight in Baton Rouge. It can satisfy your need for the classics of Italian comfort food, but there is more to life than red sauce. Marcello's shines when they stretch out a little creatively, and when they do your trust will be rewarded.
---
Marcello's Baton Rouge
4205 Perkins Road
5 p.m. to 10 p.m. Monday-Saturday (bar opens at 4 p.m.)
Open for lunch 11:30 a.m. Friday
(225) 478-4409; marcelloscafe.com
Pros: Creative dishes and comforting classics done well
Cons: Space can get crowded and loud