Late last year, when Thien Nguyen took over the role of executive chef at Kalurah Street Grill from his mentor, Kelley McCann, Nguyen was excited. And nervous.
Taking the top leadership role in the kitchen of a progressive modern restaurant meant the chance to build whole menus from scratch and help make an impact on Baton Rouge's flourishing culinary scene.
"It was definitely challenging at first and kind of scary," Nguyen said. "But in my mind, if it doesn't scare you and doesn't challenge you, then don't do it."
At 25, Nguyen may seem young to be running a kitchen, but he came prepared.
Nguyen fell in love with cooking as a child and, in middle school, began working in his aunt's Vietnamese restaurant Ba Mien in New Orleans East. At Dutchtown High School in Geismar, he joined the ProStart culinary program and began working in professional kitchens.
"When I was a kid, I always knew what I wanted to do, which is very rare for most people," Nguyen said. "I made my decision what I wanted to do, and I was on the fast track."
The fast track took him to Nicholls State University and its Chef John Folse Culinary Institute, and he furthered his studies at the Institut Paul Bocuse in Lyon, France.
McCann, the founding executive chef of K. Street, offered Nguyen a sous chef position before he graduated from Nicholls in 2016.
McCann "loves working with new chefs and kind of building them up," Nguyen said. "I was that way. I was one of his little projects."
McCann left Baton Rouge late last year for the kitchen at Augusta National Golf Club, and Nguyen was chosen to replace him.
Nguyen builds new menus each season, reinventing the restaurant to offer fresh ingredients. Certain staples remain, like the popular seared scallops dish, but the new menus reflect Nguyen's influences.
"It's more Asian-forward," he said. "But I still have my background in French cooking, too, and Cajun-Creole, which I learned when I was over at" the John Folse Culinary Institute.
"It's kind of a hodgepodge of everything," Nguyen added.
Nguyen and I recently sat down during an after-lunch break from the kitchen to talk food.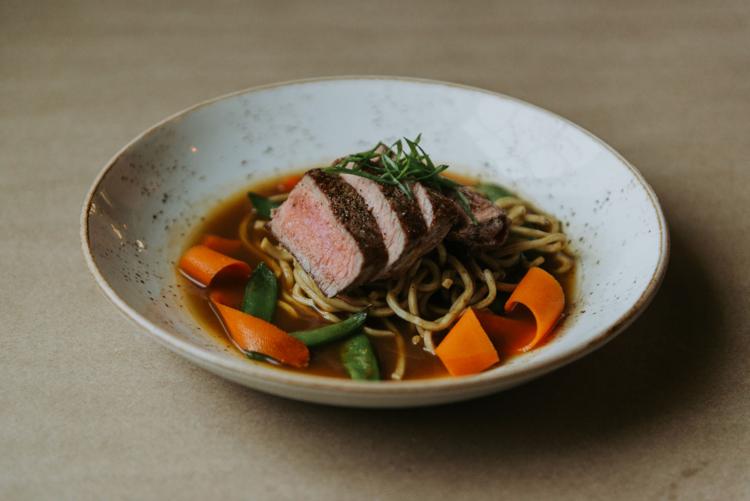 What was the first dish you cooked on your own?
I'm pretty sure I was 7 or 8 years old, and my mom showed me how to make fried rice. She showed me one time, and the next morning I woke up and recreated the dish. My mom came downstairs and said, "Did you just use the kitchen?" That was when she knew I had an interest in cooking. That was the first thing I ever made.
After starting college, your internship took you to a hectic, stressful kitchen in Westchester, New York. What did you learn?
I'm glad I went through that experience because it showed me what kind of chef I didn't want to be. I didn't want to be like that. The environment is definitely changing. Kitchen culture is definitely changing. Chefs are being more understanding and more open with their cooks. I'm not dogging them or anything. I'm grateful for the experience. It taught me a lot.
What is your food philosophy?
Back when I was first cooking, I always thought, "Let's throw all these ingredients together, whatever sounds good." Now I just keep it simple. Don't try to force anything. It's hard being a chef sometimes because you are constantly trying to figure out the next new thing.
A lot of places try to force something on you with their menus. The way I see it now, you just look back on the classics and interpret it in your own way — at the same time still paying homage to the way it was back in the day.
What items on the menu reflect your vision and that philosophy?
A dish from my past is the New York strip dish we have right now. It's grilled New York strip over udon noodles with sautéed snap peas and carrots and a lemongrass broth.
I kind of took the idea from a dish that was in my past called bo kho. It's like a Vietnamese beef stew almost. It's something my aunt and my grandma would make on special occasions. When you look at it, it doesn't look that good. It's just something that brought me back home. I took those same exact flavors and kind of enhanced them a little bit.