Hwy 55 Burgers, Shakes and Fries has developed something of a cult following along the Southeastern Coast.
The North Carolina-based chain models its restaurants after 1950s-style diners, with '50s and '60s vinyl records and era memorabilia decorating the walls, green and pink booths, and a large counter with seating that gives you a full view of the kitchen. The menu is heavy on burgers and fries, sandwiches and cheesesteaks, and frozen custard scoops and milkshakes.
One of the draws has been the restaurant's 55 Challenge: 55 ounces of burger between two buns, dressed, with fries and a 24-ounce drink. If a diner can eat it all within 30 minutes, the dish ($29.99) would be free. The Hwy 55 website lists hundreds of people who have completed the challenge, including reigning champ Molly Schuyler, who inhaled the 3½-pound disaster in a minute and 53 seconds.
Hwy 55, which has more than 130 restaurants around the U.S., opened its first Louisiana location in Baton Rouge in late March at Ben Hur Road and Burbank drive, in the development anchored by Rotolo's Craft and Crust.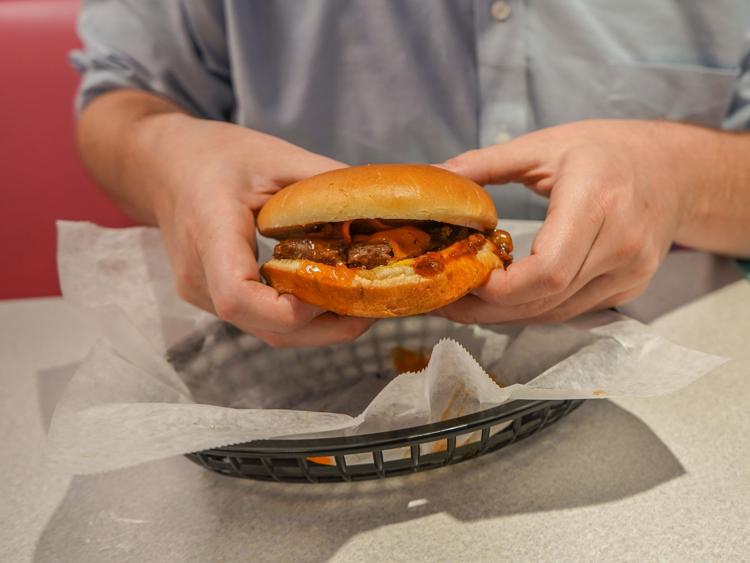 When I recently met my friend Minh Kiet, a Baton Rouge food photographer, at Hwy 55, he knew he wanted to take on the 55 Challenge. Kiet enjoys a good food challenge — his own personal "Minh vs. food" competition, he said — and came prepared in a loose T-shirt and running shorts. I have conflicting thoughts about these kinds of food challenges, but if you'd like to see how Kiet fared against the 55 Challenge, check out his Instagram, @kiet_kat.
I left the challenge up to Kiet and ordered something (relatively) tamer: the John Boy & Billy BBQ Bacon Burger ($6.99 for a small; $9.99 for a regular), a hamburger topped with American cheese, chili, bacon, an onion ring and a tangy special sauce. While the order was cooking, one of the staff walked over to give Kiet some challenge tips.
The food came out right as Bob Dylan's "Rainy Day Women #12 & 35" faded into Them's "Gloria." Kiet had a mountain to climb, so I turned my attention to my own burger and fries. The patty was a thick, well-cooked round of ground beef. It was solid: good, lightly seasoned and fresh from the grill, while not necessarily groundbreaking.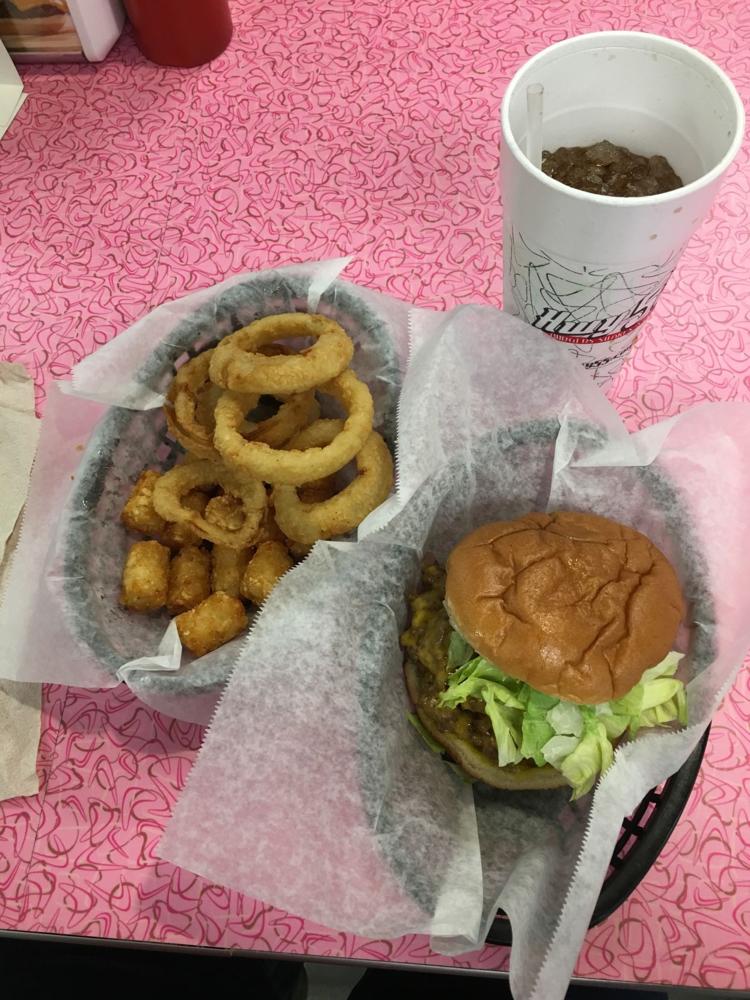 The bacon on top was crispy and, along with the onion ring, came through in distinct flavors. But the sauce on top was a little too sweet and slathered onto the burger in a way that just drowned everything. Like the burger patty, my order of fries was decent — crisp but pretty standard.
As we wrapped up, I ordered a shake ($3.99), made with M & M's and Oreo pieces, to go. Thick and just the right amount of sweet and creamy, it was a great dessert to walk out with.
Kiet, on the other hand, felt "extremely uncomfortable," he said as we left. He would burp up burger into the next day.
I went back to Hwy 55 a couple of days later for a late lunch, and this time sat at the counter. The staff at the restaurant is really attentive and friendly — along with my waiter, other workers checked on me during my meal and a couple made small talk.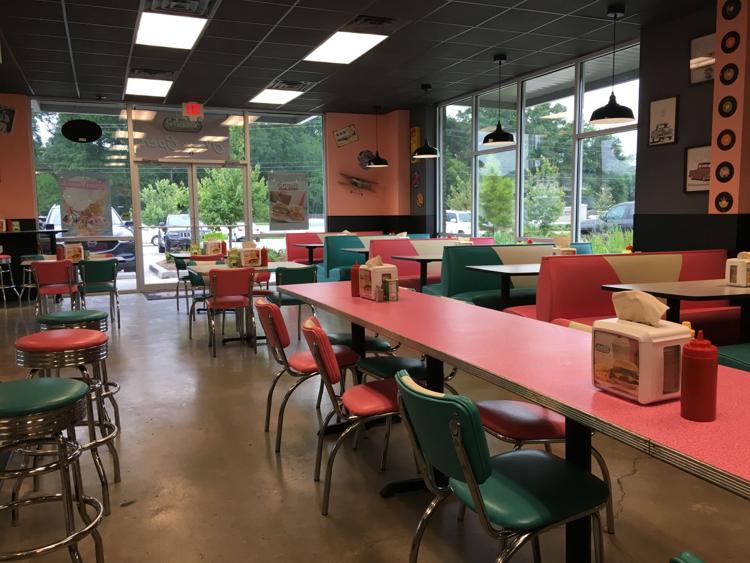 It only took about five minutes for my order — a double cheeseburger with American cheese ($10.99 regular) and a mixed side order of tater tots and onion rings ($1.25) — to come out. Doing the 55 Challenge isn't necessary; the double cheeseburger is mighty. Again, this was a solid hamburger.
The tater tots were conventional, but the onion rings really stood out. They were fresh, thick and the fried batter held its shape around the onion. All around, this was a comfort meal, and I left satisfied.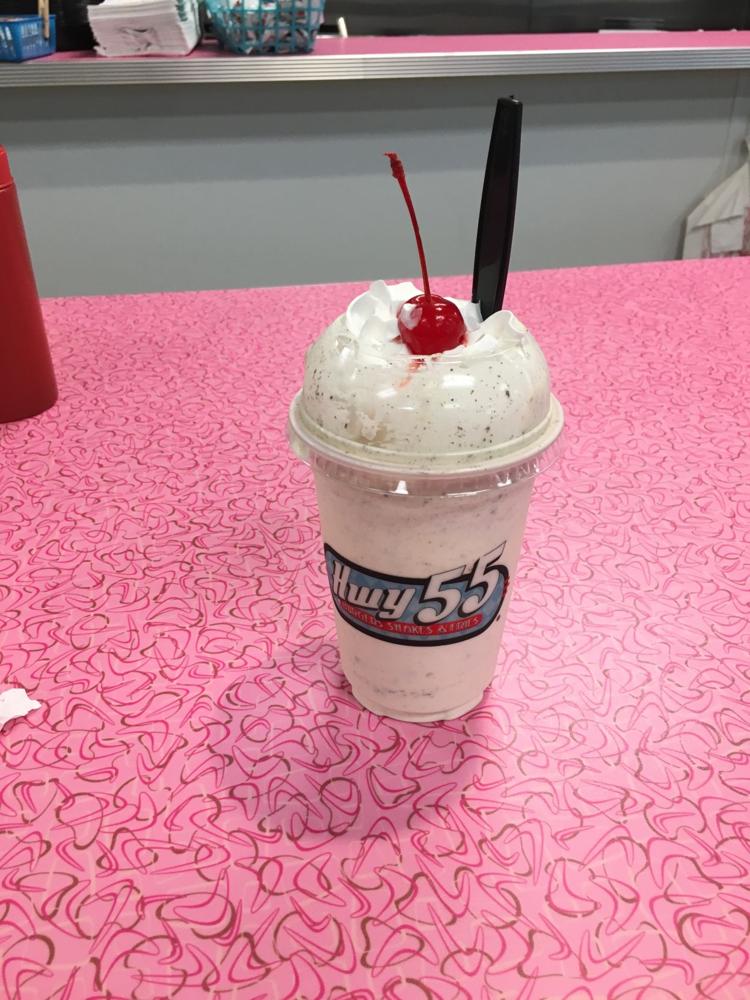 The more that I think about the Hwy 55 concept, its reliance on 1950s nostalgia, the more odd it seems. The food is good, but with other burger options around Baton Rouge (and a new Atomic Burger barely a block away), there isn't a lot on the menu that makes Hwy 55 stand out.
The business, which was started in 1991, seems to trust that the '50s theme will make its locations a destination. Setting aside the misplaced nostalgia some have for 1950s Americana, there are a few things that make the style feel out of place on the corner of Burbank and Ben Hur.
The area has been heavily developed with a pretty uniform, shopping center style. A concept that relies on big personality, like a 1950s-style diner, just seems shoehorned into a blank space — not many old-school diners would feature floor-to-ceiling windows or just-so-perfectly aligned vinyl records. Maybe some neon lights or a jukebox would help.
---
Hwy 55 Burgers, Shakes & Fries
411 Ben Hur Road, Suite A
11 a.m. to 10 p.m. Sunday through Thursday; 11 a.m. to 11 p.m. Friday and Saturday
(225) 442-1955; hwy55.com
Pros: Good, solid hamburgers; friendly staff; thick milkshakes; great onion rings
Cons: Conventional fries and tots; 1950s concept feels forced; just not enough to make the restaurant stand out