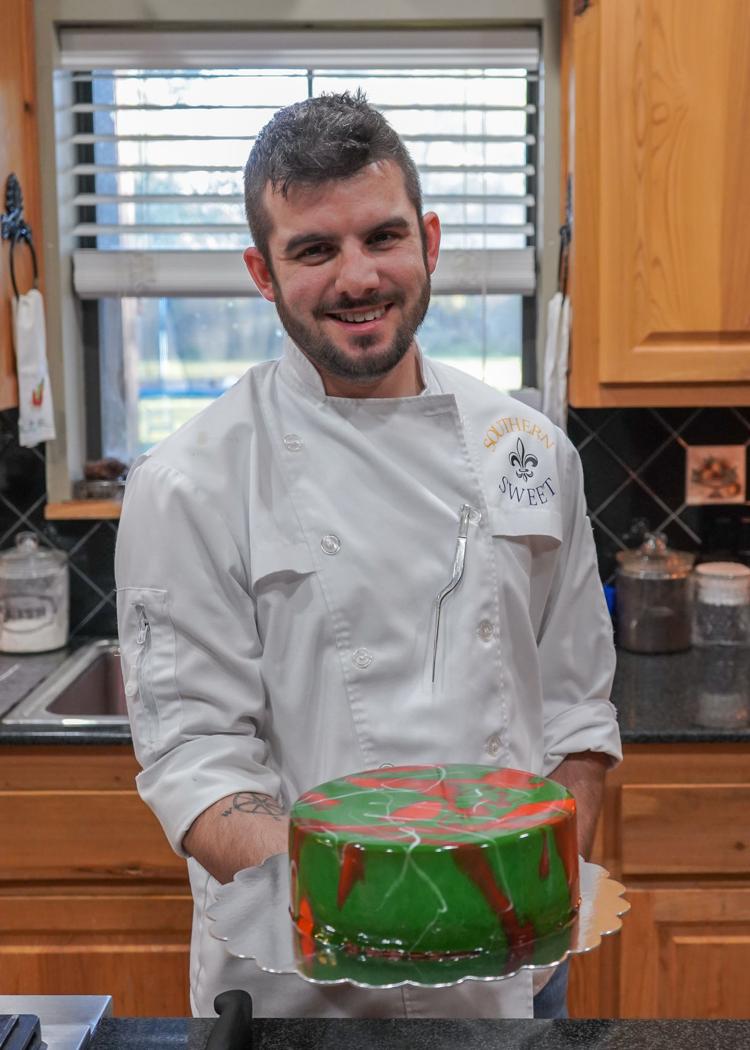 You might have seen photos on social media of cakes that look like shiny pieces of art. Smooth and glossy, the cakes look rock hard until cut. After watching several BuzzFeed videos of people making these cakes, I started looking around Baton Rouge to find a chef that makes similar creations. Local chef Aimee Tortorich quickly referred me to Bret White.
White is a local chef who truly believes in creating art with his pastries. His passion for cooking started when his mother was diagnosed with breast cancer (she is now celebrating 20 years of being cancer-free) and White wanted to learn to cook in order to help out while his mom underwent treatment.
After high school, White attended the Louisiana Culinary Institute and graduated from its pastry program. At 27 years old, White also served in the Louisiana National Guard for four years and has worked at Augusta National for The Masters Tournament and The Greenbrier in West Virginia. After a traumatic car accident, Bret moved home in April 2017 to undergo a spinal fusion surgery and follow his love of creating art through his pastries.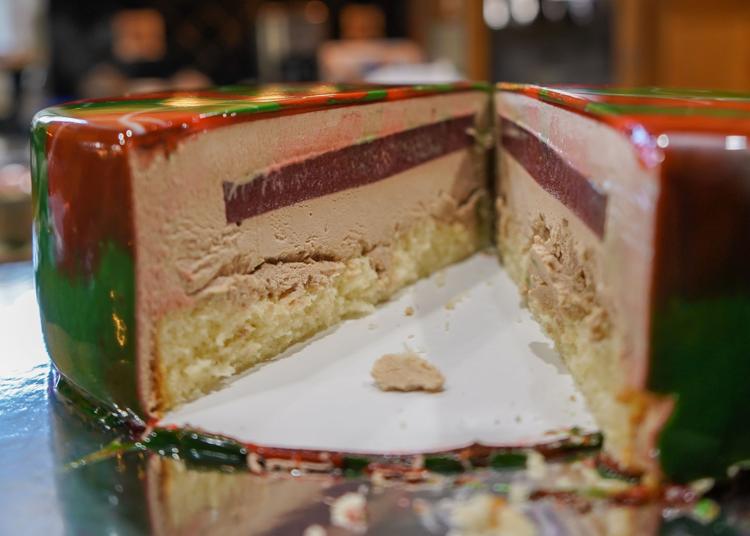 In this month's Let's Dish, White walks us through how to make a mirror glaze cake. The cake's glaze, which tastes like smooth white chocolate, looks like a hard candy shell. But that's not the case at all when a knife gently slices through.
Click through the gallery above for the instructions.
---
The day before our photo shoot, White created a cake using the quick mousse cake recipe below. The cake was then stored in a freezer overnight.
Step 1: Bloom gelatin with ice cold water. Once bloomed, if using sheets, take out and get rid of excess water inside the gelatin. If using powdered gelatin, just bloom and then melt.
Step 2: Place the chocolate you desire into a heatproof bowl.
Step 3: Heat whipped cream on the stove. When the cream starts to ripple, remove from stove.
Step 4: Pour the cream over chocolate and let sit for 3-5 minutes.
Step 5: Add the bloomed gelatin.
Step 6: Mix thoroughly. Continue mixing until the temperature reaches 100 F.
Step 7: Once at the correct temperature, fill your mold and freeze.