Café Americain Restaurant, a fixture in Baton Rouge for 30 years, has a new, hipper sister eatery east of the city.
Diners, meet Café Americain Seafood & Oyster Bar. Located in Denham Springs' Juban Crossing (visible from Interstate 12), its sleek, modern design carries through from the exterior structure into the lobby, spacious dining room and bar.
Gray and cream is the prevailing color scheme. Giant paintings of oysters bookended by equally large abstract pieces play off walls on opposite sides of the dining room. A vintage black and white print of a man in a row boat plying a water lily-covered bayou nearly spans the width and height of another wall, while potted dracaena plants add another note of nature. Stone columns and exposed ceiling beams emphasize the room's height, but at the same time minimize the coziness quotient.
How do you take the Southern classic fried green tomatoes to the next level? Add shrimp.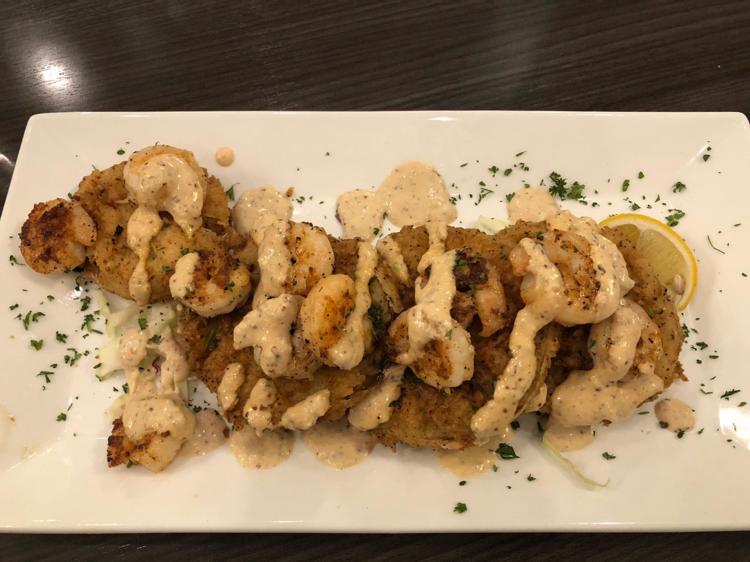 The fried green tomatoes with grilled shrimp appetizer ($10.99) was an attractive presentation of four lightly breaded tomato slices fanned across the plate over a small bed of coleslaw, topped with a dozen tender grilled shrimp. A lusciously creamy remoulade sauce with the perfect amount of spicy horseradish was ladled over the dish, providing a wonderful dipping sauce.
The side salads preceding our entrees, often an afterthought in restaurant kitchens, were likewise impressive. For the house salad, fresh romaine mingled with purple onion, sunflower seeds and a Parmesan, Romano and blue cheese blend, all tossed in a delicious homemade sensation dressing. A great homemade Caesar dressing and not overly crunchy homemade croutons made the Caesar salad satisfying as well.
I've never had grilled catfish that practically melted in my mouth, but there's a first for everything. The two large fillets ($17.99) had a nicely browned crust and cut easily with a fork. The lemon butter basil sauce sent this mild, flaky fish over the top. An average-tasting dirty rice and hush puppy, along with a loaded potato and finger roll completed the plate.
My husband's already talking about going back to Cafe Americain for another ribeye. The 12-ounce filet ribeye ($25.99) is described on the menu as "hand cut, certified Angus beef ribeye that has been aged in-house for 30 days." We believe it. Grilled to a perfect medium, it sliced easily and was everything one craves in a steak: tenderness, robust no-need-for-sauce flavor, and visible juiciness which called for dabbing each bite before consuming. Dirty rice, a hush puppy, potato and finger roll also came with this entree.
The lemon ice box pie ($3.99) was almost too pretty to eat. Keyword: almost. Luscious homemade whipped cream was piped onto the thin slice of light, tart pie, with more on the side. In addition to a graham cracker crust, cracker crumbles were sprinkled atop the confection. Won-der-ful.
Our server, Casey, was warm, friendly and efficient. When we requested, he had a TV that was loud enough to disrupt our relaxing evening muted for us. It's the little things, isn't it?
---
Cafe Americain Seafood & Oyster Bar
27276 Crossing Circle, Denham Springs
HOURS: 11 a.m. to 9 p.m. Monday-Thursday; 11 a.m. to 10:30 p.m. Friday-Saturday; 11 a.m. to 8:30 p.m. Sunday
INFO: (225) 243-5495; cafeamericainjuban.com
PROS: Friendly staff; fresh, flavorful dishes; sleek, new look from the original
CONS: Lack of coziness in dining area, TV with sound on