There are hundreds of types of hibiscus with sizes and colors so varied it would take a lifetime to collect them all.
The name of this gorgeous flowering plant comes from the ancient Greek word "hibiskos," which means marsh mallow or white mallow. A Greek physician, Dioscorides, is credited with coming up with the name.
Dioscorides wrote a five-volume encyclopedia on herbal medicine that was followed for more than a thousand years. So hibiscus has been used for medicinal purposes almost since the beginning of recorded history. Teas are made from hibiscus flower, and it is a flavoring in common beverages.
South Louisiana has been inundated by rain this year, and one thing we can learn from this weather is where our yards have problem spots and g…
The mallow family is made up of many species native to temperate, subtropical and tropical regions throughout the world, including North America. Some species are tropical and act as annuals in our climate, while others are hardy and grow as perennials. Many types grow as woody shrubs and, sometimes, small trees.
Some of the types of hibiscus are the tropical hibiscus, the hardy hibiscus or swamp rose mallow, Turk's cap and althea.
Tropical hibiscus is also called Chinese hibiscus and is native to tropical Asia. It grows well in hardiness zones 9 to 11, and reaches an average height of 6 feet and width of 4 feet.
When you see daylilies putting on their impressive show at this time of year, you have to wonder why they're not in every yard.
It has glossy, deep green foliage and large, showy, funnel-shaped flowers, that come in single and double forms in just about every color combination you can imagine. The tropical hibiscus is widely used in landscapes in the South as patio plantings and in the landscape. They do need to be protected in the winter.
Unfortunately, blooms last only one or two days. Some breeding and specialty hybrids can have longer-lasting blooms.
The hardy hibiscus, sometimes called swamp rose mallow, is native to the wetlands of Louisiana. There are many types of hardy hibiscus, which means it can withstand winter weather, and it returns each spring. Growing best in well-drained but moist soils, these grow upward of 3 to 4 feet and 2 to 3 feet wide. They prefer full sun for the best flower production.
Luna series hibiscus is a cultivated hardy hibiscus that is a Louisiana Super Plant. It comes in shades of pink, white, red, rose and a pink-and-white swirl. Flowers are often referred to as "dinner plates" because they are large and flat. They make an excellent cut flower — even if for just one day.
Althea (or althaea), also know as rose of Sharon, is another great member of the mallow family. It is a deciduous shrub that grows to an average of 8 feet high by 4 feet wide. It is native to Europe but is widely distributed in the South, an heirloom in many gardens.
Aphrodite althea is also a Louisiana Super Plant selection. It has light pink, ruffled petals with a dark red center eye. Flowering begins in early summer and continues throughout the fall. It makes a great accent plant for the landscape. Growing upward of 10 feet, it can be used in the landscape like a small tree. Prune in late winter to encourage more blooms that form on new wood.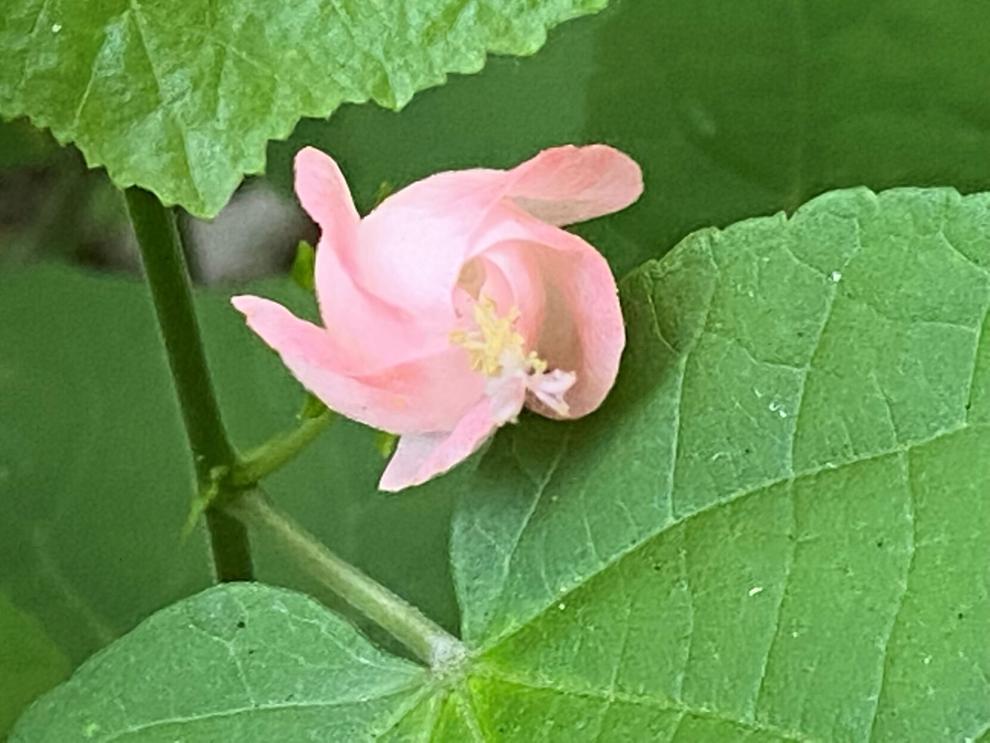 Lastly, there is Turk's cap, another North American native that is widely grown in the southern U.S. It is a herbaceous perennial with semiwoody stems. Most common varieties produce striking red, twisted flowers that never fully unfurl. Light pink varieties can also be found. Hummingbirds and butterflies love this plant, which produces red fruit in the fall. It is an excellent addition to pollinator gardens.
Hibiscus species are great additions to the landscape and for growing in containers. They produce gorgeous flowers loved by humans and wildlife alike.