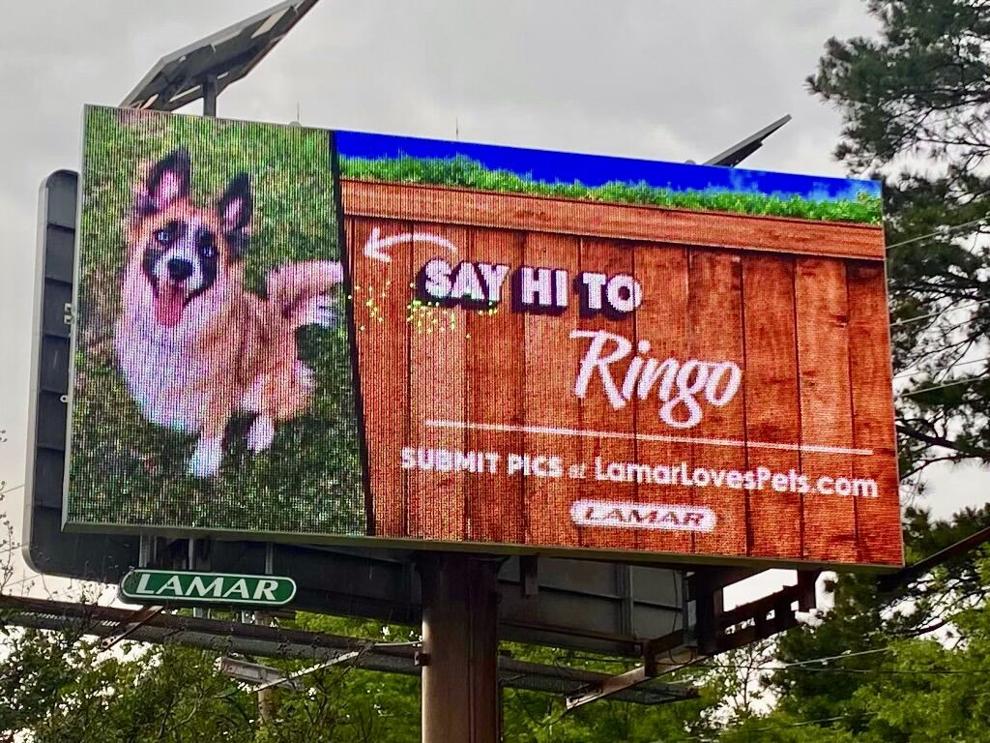 Marla and Emma Elsea timed everything perfectly.
The mother-daughter duo knew the place, day and time when their dog, Ringo, would appear on the Lamar billboard. All they had to do was make sure they were parked with their phone's camera app ready to take the photo.
The Elseas, of Denham Springs, are just one of many area pet owners whose four-legged friends experienced a little star power during the weekend as part of Lamar Advertising's nationwide #LamarLovesPets campaign in celebration of National Pet Month.
The outdoor advertising company began accepting submissions of pet photos, along with their names, on May 1.
"There was no fee for this," Elsea said. "I kept waiting for the catch, but it was free."
Pets were featured on billboards located in the cities and towns where they lived. Pet owners were asked to choose a specific billboard location on which they'd like to see their fur babies on a super-sized digital screen, along with a specific day and time.
"We wanted to make sure there would be plenty of parking near the billboard, where it would be safe to get out and take a picture," Elsea said. "We didn't want a place that didn't have any parking, where we would have to keep driving around to get the picture. That wouldn't be safe."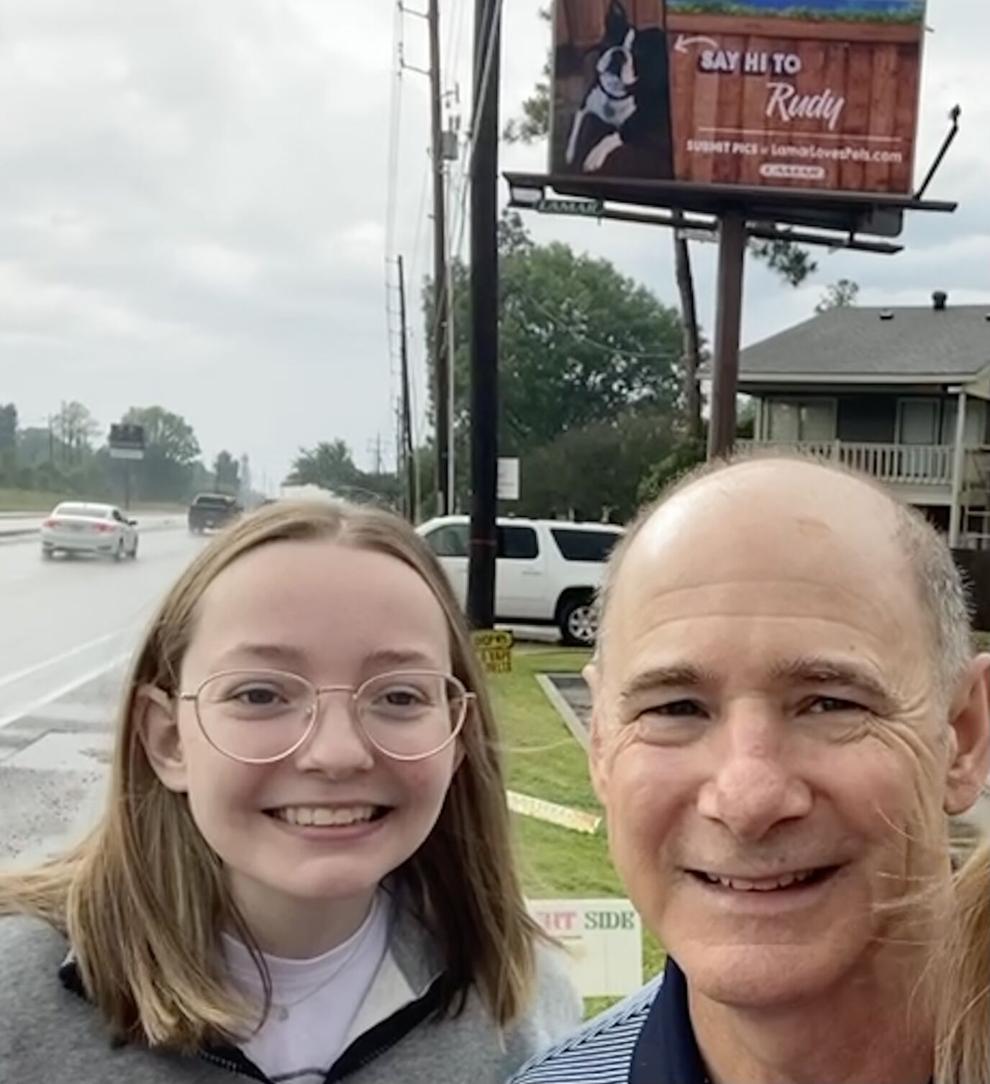 Meanwhile, the Elseas' friends, Ken Duhe, his wife Laura and daughter Emma, chose the billboard at Nicholson Drive at West Lee Drive for their Boston terrier, Rudy.
"We named him Rudy for Rudy Ruettiger of Notre Dame fame due to his small size and can-do spirit as a puppy," Ken Duhe said. "We learned about Lamar's offer in a Friday Facebook post by friend, Marla Elsea. By that evening, we had booked Rudy's 15 minutes of fame at 1 p.m. Saturday."
Even the rain-soaked afternoon didn't deter the Duhes from seeing their "good boy" on the big screen. 
"Laura, Emma and I were determined to see the billboard in person," Ken Duhe said. "Rudy hates riding in vehicles, so that wasn't an option. It rained 'cats and dogs' on the way there, but the skies cleared while we waited in a nearby parking lot."
When Rudy's photo popped up, the Duhes jumped out of their car to pose for a variety of selfies.
"It was fun and quirky, and we got some odd looks, but in that moment, we didn't care what anyone thought," Ken Duhe said. "We just want to say thanks to Lamar for the opportunities to celebrate our 'good boy.'"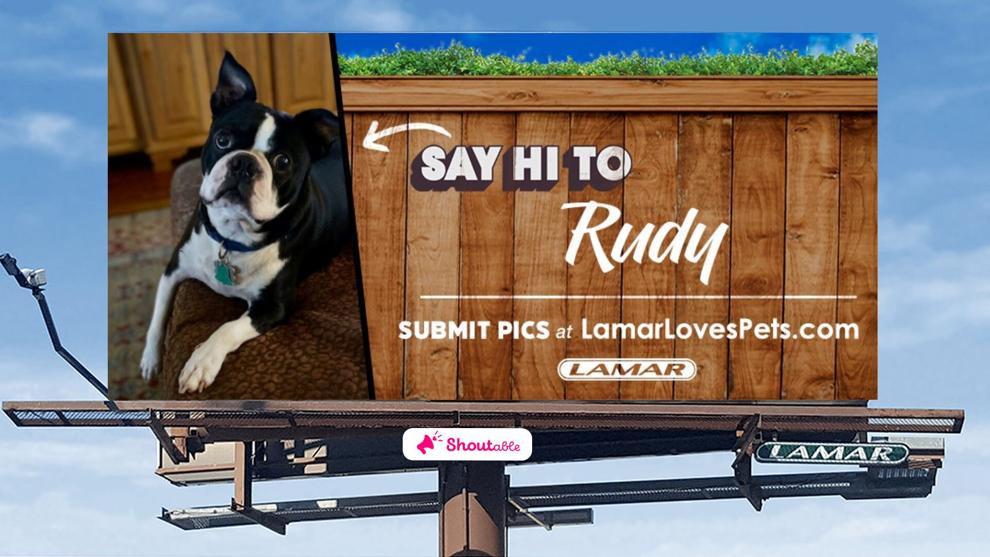 Still, Ken Duhe added, Rudy isn't the first billboard star in his family.
"Laura appeared on a billboard in May 2021 for West Baton Rouge Schools, where she's a first grade teacher," he said.
Parents at Westdale Heights Academic Magnet, or WHAM, were so taken with the idea that they arranged for a Lamar billboard featuring the school's beloved science teacher, Mary Legoria. Legoria, a fixture at the Baton Rouge elementary school, houses a menagerie of 23 interesting animals at the 2000 College Drive campus for the children to love and learn from.
The billboard also coincided with the school's celebration of Teacher Appreciation Week.
A nearby billboard on College Drive showed the following message: "Dr. Legoria — thank you for our loving WHAM family pets!" It showed a picture of Legoria holding Athena, a chinchilla.
But it doesn't end there. Pet owners wanting to feature their pets on a digital billboard can visit LamarLovesPets.com, complete the submission form through the Shoutable platform, and see their pets' names and images on a Lamar billboard in or near their community and at a time of their choosing.
Again, Lamar is offering this opportunity at no charge.
The campaign, created in conjunction with customizable billboard technology company Shoutable, will run throughout May.
"Billboards have never been more popular as a medium for reaching the masses with creative content," said John Miller, EVP of sales and marketing for Lamar Advertising Co. "With this in mind, we thought it would be fun to give pet owners the opportunity to celebrate and showcase their love for their pet on our network while at the same time showcasing the ease with which customized messages can be displayed on selected digital billboards."
Each pet is given a 15-minute window, which will be rotated among other typical advertisements during that time segment.
"Shoutable is proud to work with Lamar to bring joy to the lives of thousands of people and their furry friends across the U.S.," Shoutable founder and CEO Jonathan Gudai added. "The power of billboards brings immense creativity, joy and pride to so many people. Seeing your furry friends on a Lamar digital billboard is heartwarming, and we invite pet owners across the U.S. to share and spread that feeling across their social media channels."