The group that organizes Baton Rouge's Spanish Town Mardi Gras Parade announced Monday that it is extending the route for 2018.
Mystic Krewe for the Preservation of Lagniappe in Louisiana announced on its Facebook page that the traditional route will be altered to add a loop up Main Street to North 9th and back to 4th Street on Laurel.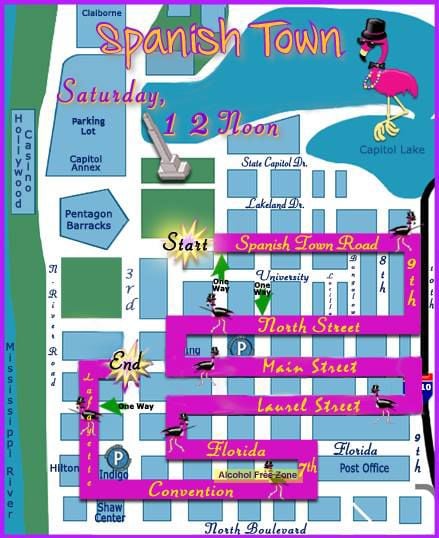 "The SPLL board hopes these changes will spread the crowds out more along the rouge and improve safety for all," the post says.
In recent years, the parade has drawn tens of thousands of people to the Capital City.
The quirky and satirical parade, and the Spanish Town neighborhood at its core, embraces the color pink and its pink flamingo mascot.
Though the 2015 and 2016 parades prompted backlash for jokes about police brutality and sexual assault, the 2017 event struck a different tone.
Most floats stuck to the theme, "come hell or high water, it's slippery when wet" and several also paid tribute to the Cajun Navy and law enforcement officers who were killed during the summer of 2016.
This year's Spanish Town Mardi Gras parade turned Baton Rouge's devastating August floods into cause for laughter on Saturday, with flamingo-t…
Baton Rouge's signature Spanish Town Mardi Gras Parade rolled Saturday. This year's theme was "Come Hell or High Water, It's Slippery When Wet."