Organizers had worked hard and things had come together well before the first Mid City Gras parade last year, but there was still some anxiety.
"We didn't know if people would come," says parade organizer Terri Singleton, pointing to a necklace she's wearing and repeating its words: "The people who were seen dancing were thought to be insane by those who could not hear the music."
"We didn't know if everyone was going to think we were insane," Singleton says. "Ninety-nine percent of everyone in Mid City heard the music. We have been received so well by the community."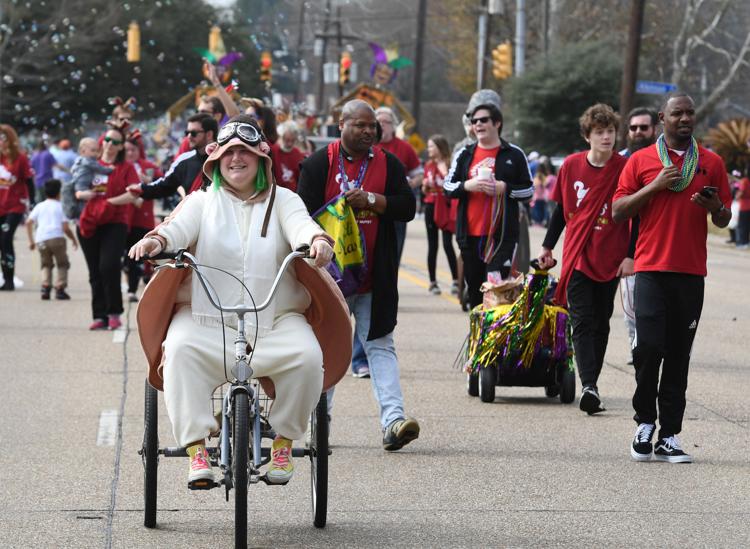 In its second year, Mid City Gras is quickly growing.
The nonprofit organization started the Carnival season with an Epiphany celebration — where the group led a painting workshop on how to decorate small acorns, its signature throws — and held its first ball, revolving around its 2019 theme "Peace, Love & Nuts," a nod to its squirrel mascot.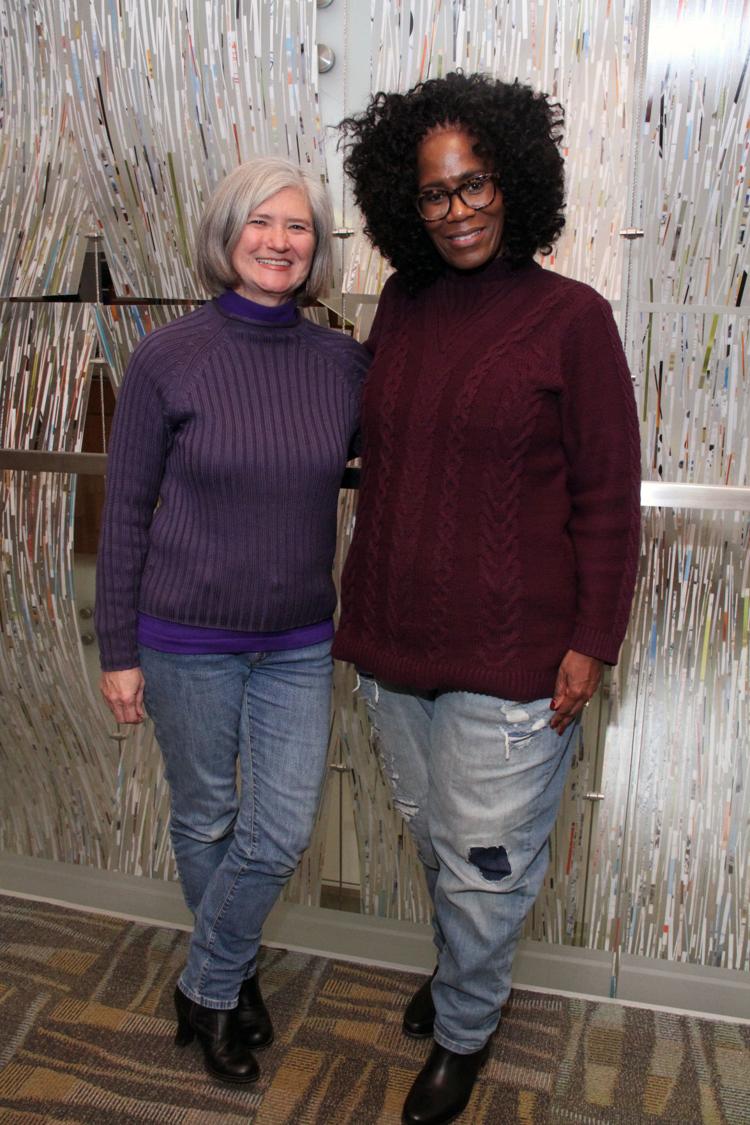 The second Mid City Gras parade rolls at 1 p.m. Sunday, Feb. 24, down North Boulevard, from 19th Street to Foster Drive. Front Yard Bikes, a nonprofit that teaches kids how to fix bicycles, is the grand marshal.
About 950 people have signed up to participate in this year's parade, organizers say, up from around 450 last year.
Mid City Gras is the youngest Baton Rouge Mardi Gras parade by more than a decade and a half. The next group, The Krewe of Artemis, started in 2001.
A Mardi Gras parade to celebrate Mid City had been batted around a lot over the years, Singleton says, until finally a couple of years ago a group finally decided to just set a meeting.
"So I have discovered that by setting an official meeting," Singleton says, "then you are officially responsible for following through on at least that step."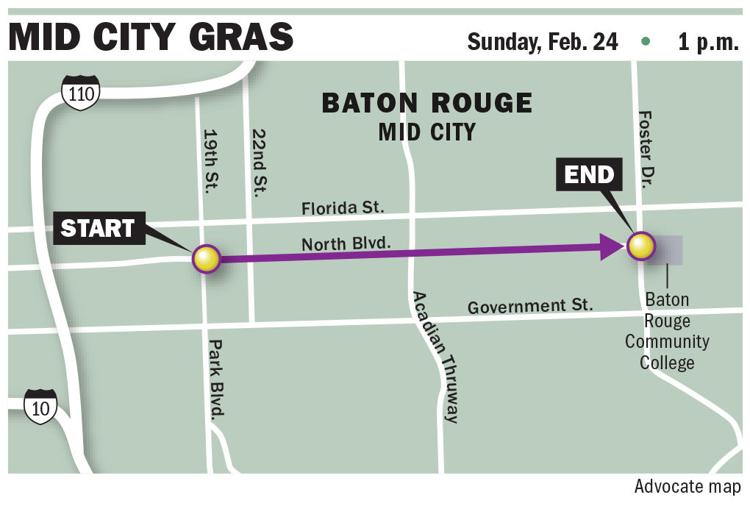 The group met, set a goal, went out to complete that goal, met again, set new goals and so on — steadily working through the steps needed to plan a new parade, like securing the right permits and liability insurance, coordinating with and paying for police, fundraising and working with local businesses and, with a little money still available, arranging portable toilets.
The surprising part, says Mid City Gras board president Twanda Lewis, was how simple it was to get official permission to throw a parade.
"I thought it was going to be more bureaucratic," Lewis says, "especially with the fact that you have to deal with government and law enforcement. The encounters I had with certain groups, they were encouraging. They were very helpful."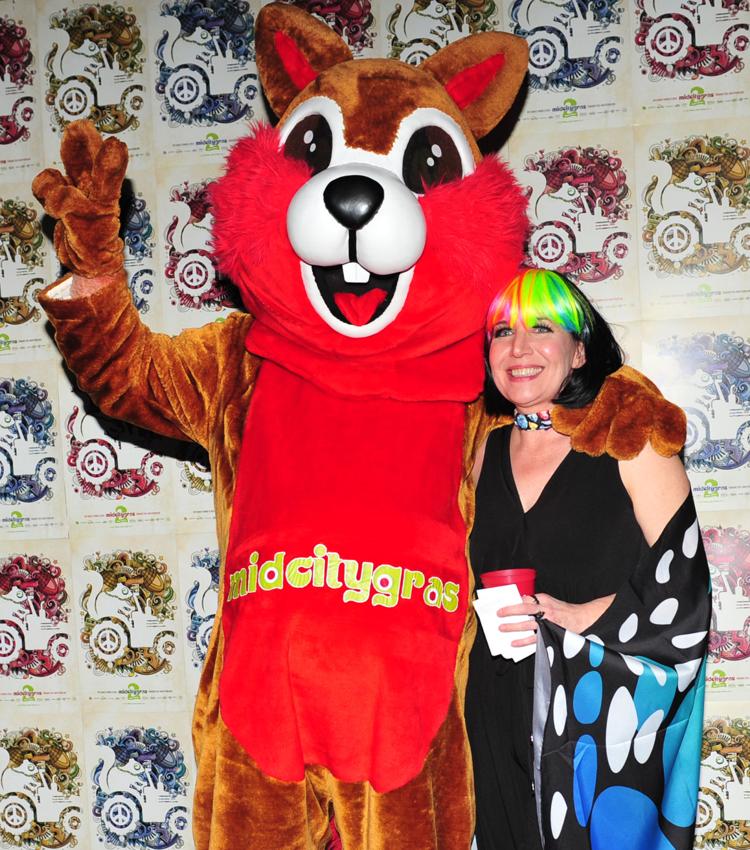 There were several reasons, organizers say, to add a ball to Mid City Gras' Carnival season: Krewes that participate in the parade get a chance to socialize, it's a way to have new people dip their toe into the Mardi Gras waters and the group wanted to show that Mid City Gras was open to everyone.
About 450 people showed up to the first Mid City Gras ball on Feb. 2, including Mayor-President Sharon Weston Broome. The event was intentionally dressed-down with most people coming in colorful costume — many playing up the "Peace, Love & Nuts" theme — and dancing under black lights to mixes by DJs from WHYR Baton Rouge Community Radio. In one corner people looked through an art show or moved over to another part of the room to play giant party games.
An artist associated with the Krewe of Southdowns parade loaned a selection of large, day glo-painted pieces that popped in the black lights, and groups from Spanish Town and Mystique de la Capitale (still in their formal attire from that krewe's ball the same night) took up tables, loaded with food and drinks, around the event space.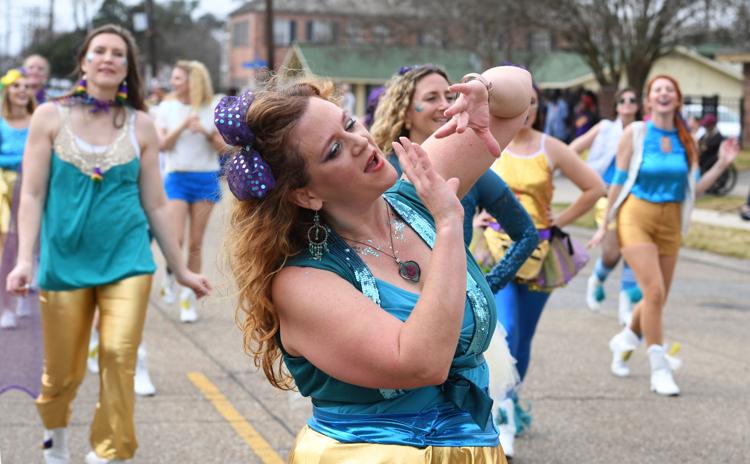 Groups could reserve their own table, but individual tickets were also available, and Mid City Gras intentionally kept the ticket prices low.
"There were different purposes for doing" the ball, says Leslie Gilliland, the ball organizer, "but in the process of talking about it, it became clear that one of the things that can make a ball feel incestuous or that you're excluding instead of including is, No. 1, money, and if you don't have a whole group that can buy this whole table or if you're not part of the parade in general, then you're not a part of that ball."
Mid City is a large, diverse section of Baton Rouge, and the organization wants to reflect that, Lewis says, so organizers try to make sure their actions fit into their mission.
"It can be open. It can promote that diversity," Lewis says. "But we have to do it as a community. We have to come together and participate in efforts like this. We've been very intentional in how we set our fees and how we recruit. We've been very intentional to make sure the we include everyone that's part of Mid City."
---
Mid City Gras Parade
1 p.m. Sunday, Feb. 24
North Boulevard, from 19th Street to Foster Drive